Springtime is right around the corner where a refreshing cocktail will be just what you're craving. This St. Patrick's Day Party Drink, Taste The Rainbow Cocktail or Mocktail is great for spring or summer, but especially perfect if you're looking for something fun to serve for St. Paddy's Day!
Get it? Rainbows are a leprechauns best friend.
Looking for something to make for a crowd? Try my friends Tropical Rum Punch!
Taste the Rainbow Cocktail – St. Patrick's Day Drink
Even though this cocktail isn't for kids on St. Patricks Day, you can make it a mocktail and leave out the vodka.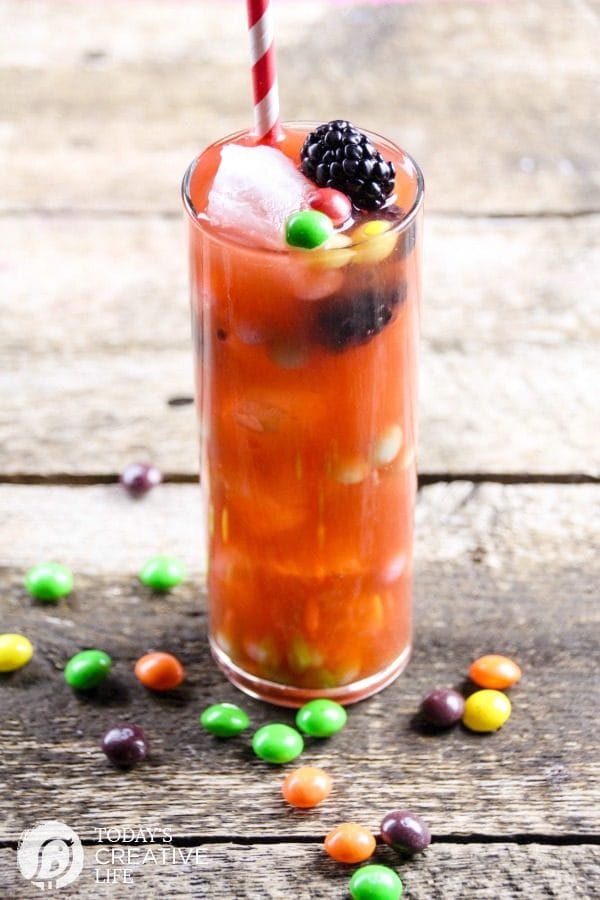 March 17th was my late fathers birthday and I always remember him saying he didn't have to wear green to protect himself from being pinched. I tried using that excuse, but it didn't work.
Other than celebrating my father's birthday, there wasn't much attention given to St. Patricks Day, other than… wear green.
Once I had my son, it still never occurred to me to celebrate, until I picked him up from pre-school one day and he was so excited that the leprechaun had visited the night before and left green glitter everywhere in the classroom!
That's all it took. The idea was born.
I knew I didn't want green glitter thrown around my house, but every year after that the pesky leprechaun would visit during the night and mess things up. He would stack all the sofa pillows, or bring the scooter or bicycle into the house. One year he was extra pesky and tipped a chair over! But he always hid gold coins and a box of Lucky Charms for a fun treat.
Now that my son is 20, we have fun talking about how surprised he was every year and yes, he still gets a box of cereal too.
Celebrate the Silly!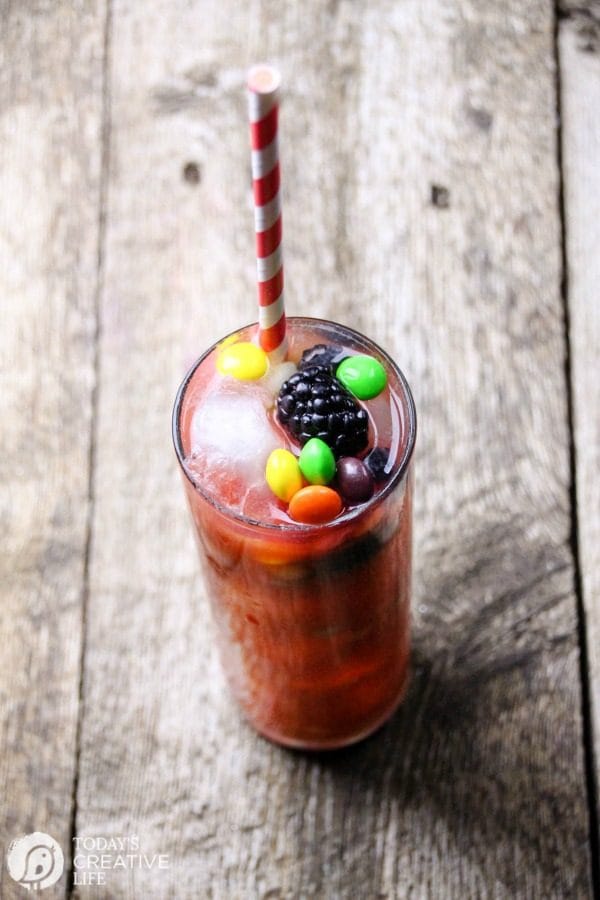 How to Make a Rainbow St. Patricks Day Cocktail
Taste the Rainbow Cocktail Supplies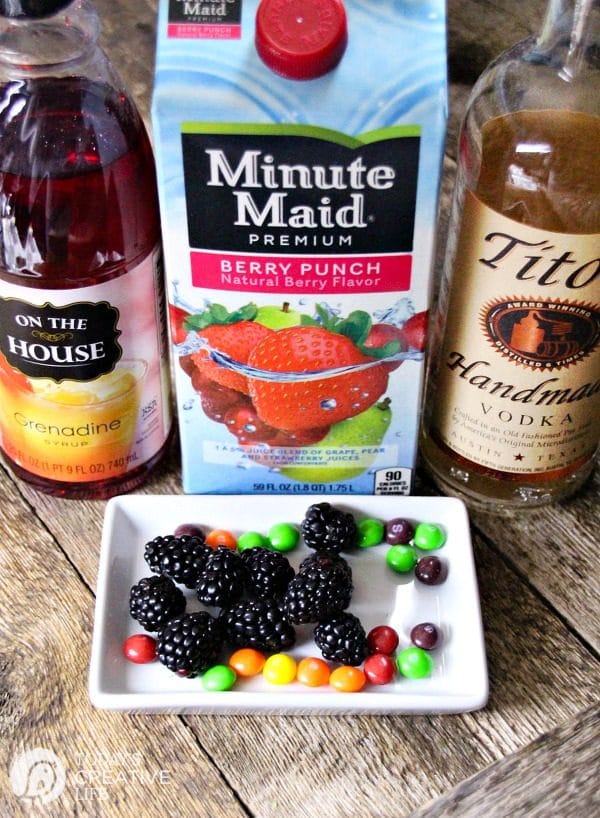 Vodka
Berry Punch
Grenadine
Blackberries
Skittles Candy
Crushed Ice
Tall Highball cocktail glass
Cocktail Shaker
St. Patricks Day Party Drink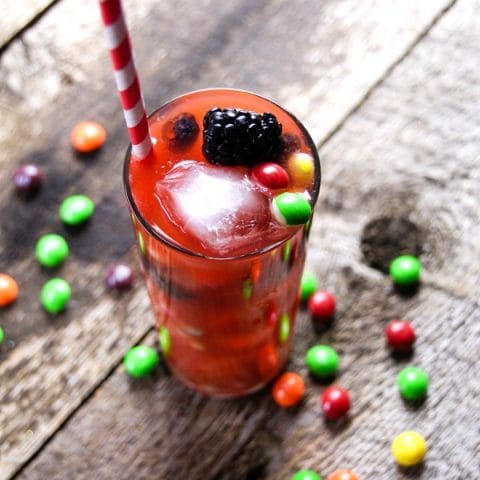 Taste the Rainbow Cocktail
Yield: 1
Prep Time: 5 minutes
Total Time: 5 minutes
The perfect cocktail for St. Patricks Day!
Ingredients
2 ounces vodka
3 ounces Minute Maid Berry Punch
1-ounce grenadine
6 fresh blackberries
1 tablespoon of Skittles candies
crushed ice
Instructions
In a cocktail shaker combine vodka, Minute Maid Berry Punch, grenadine and crushed ice.
Shake, shake and shake for 30 seconds.
Layer crushed ice, blackberries, and Skittles in a mojito glass.
Pour drink into glass.
Top with Skittles and a blackberry or two or three.
Serve.
Drink responsibly, and never drink and drive.
Notes
For a non-alcoholic drink, leave out the vodka.
Recommended Products
As an Amazon Associate and member of other affiliate programs, I earn from qualifying purchases.
Nutrition Information
Yield 1
Serving Size 1
Amount Per Serving
Calories 408
Total Fat 1g
Saturated Fat 1g
Trans Fat 0g
Unsaturated Fat 1g
Cholesterol 0mg
Sodium 28mg
Carbohydrates 70g
Fiber 8g
Sugar 54g
Protein 2g
Taste the Rainbow St. Patrick's Day Mocktail Non-Alcoholic
This St. Paddy's Day drink could be easily made for children by omitting the vodka. You probably don't even need the grenadine either. Here's another great idea for a St. Patrick's Day Cocktail or Mocktail.

If you find yourself wanting to observe St. Patrick's Day, then this cocktail with these St. Patrick's Day Party Food Ideas is perfect to serve for a fun dinner. You could even go as far as decorating the table with a rainbow table cloth or just plain green. Then scatter a few chocolate gold coins around and you're good! St. Patrick's Day decorating ideas will be flowing once you get going.
Taste the Rainbow Cocktail or Mocktail is great anytime, but perfect for St. Patrick's Day!
Follow along on Instagram | Pinterest | Facebook
Cocktail Recipes
Refreshing home-crafted cocktails.
Fresh herbs make this drink special.
Grapefruit drinks with fresh herbs are delicious.
This cocktail is like a dessert!
The perfect cocktail for sitting around the bonfire!
This 4th of July cocktail has a bang!
Find a variety of simple recipes for the summer season.
This cocktail screams summer!