This is a sponsored post written by me on behalf of Cooked Perfect® Fire Grilled Chicken for IZEA. All opinions are 100% mine.
St. Patrick's Day is right around the corner and kids LOVE this holiday! Why not surprise them with a quick party spread of Easy to Make Party Food? It's much better than spreading green glitter around the house!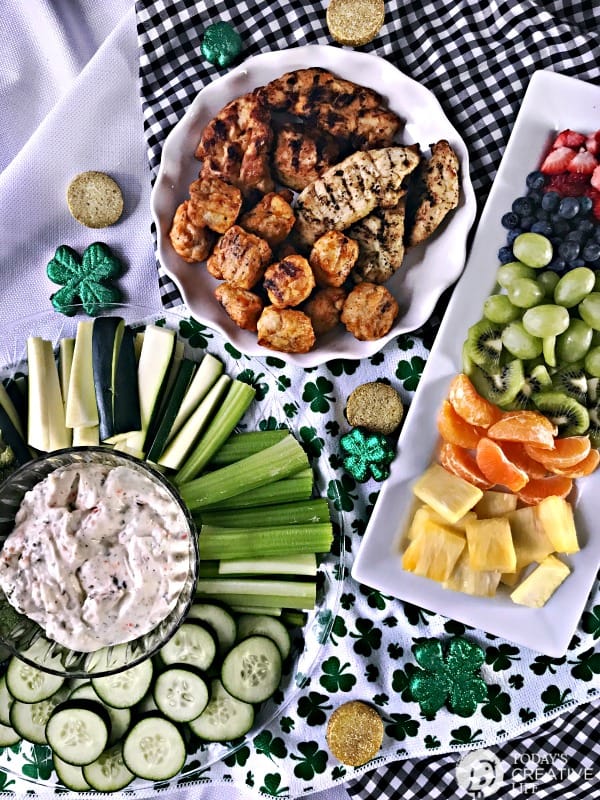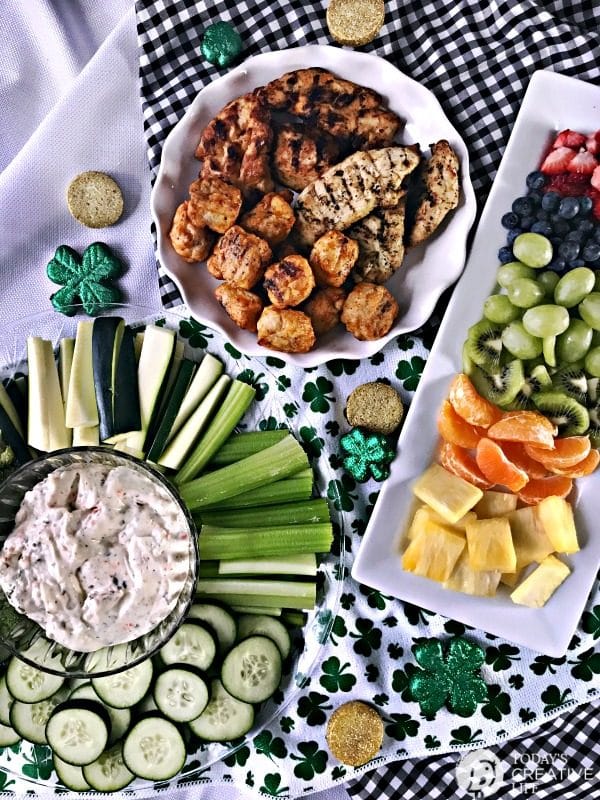 Easy to Make Party Food Ideas
St. Patrick's Day is not usually a holiday I go all out for. But if I can do something fun with minimal effort, I'm in! Maybe you're having book club, a craft night or your kids are having a few friends over? Make it an unexpected celebration! If you're looking for ideas for creating a quick, delicious and fun spread of simple eats, then you must try the Cooked Perfect Fire Grilled Chicken. These free St. Patricks Day printables would be easy too!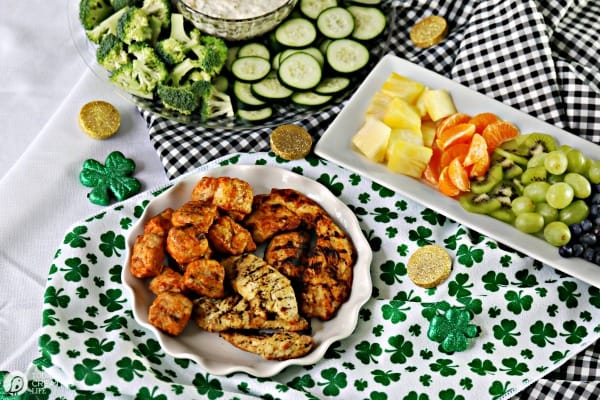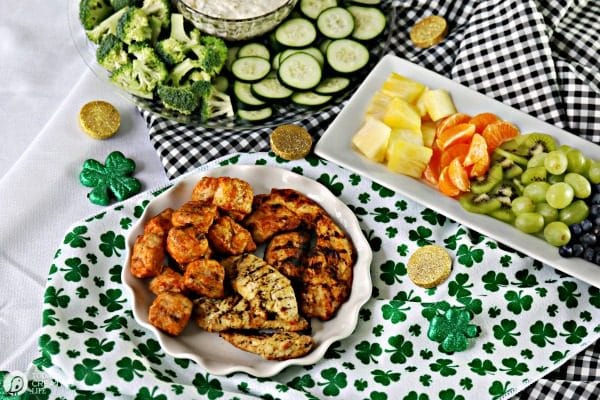 I'm positive this St. Patrick's celebration would make anyone smile! Partnering with Cooked Perfect Fire Grilled Chicken made it easy, flavorful and convenient to whip up something satisfying. You simply heat up the chicken in the oven, microwave, or toaster oven – just follow package instructions. So many flavor varieties to choose from, as well as a convenient of cuts.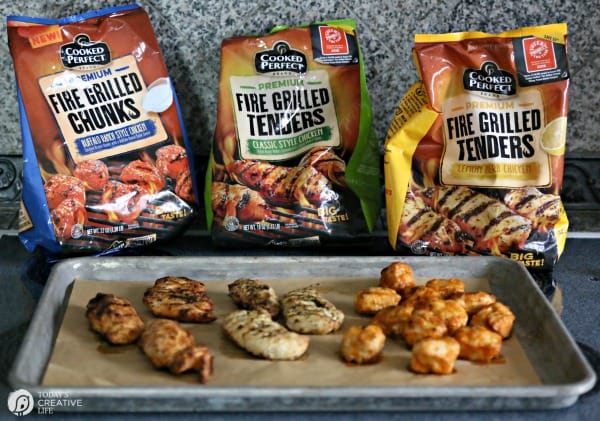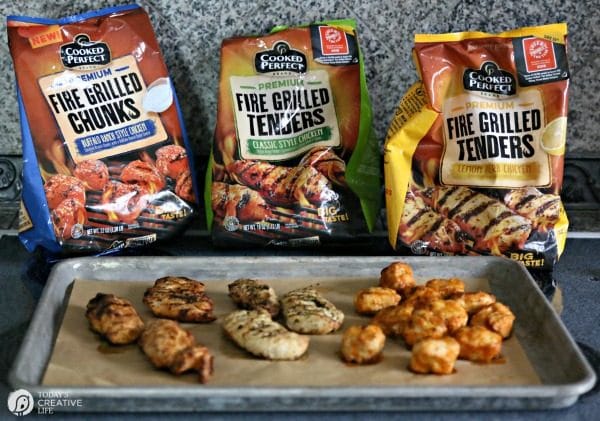 Cooked Perfect Fire Grilled Chicken is grilled over an open fire to lock in all that juicy flavor. Each bite is mouthwatering tender.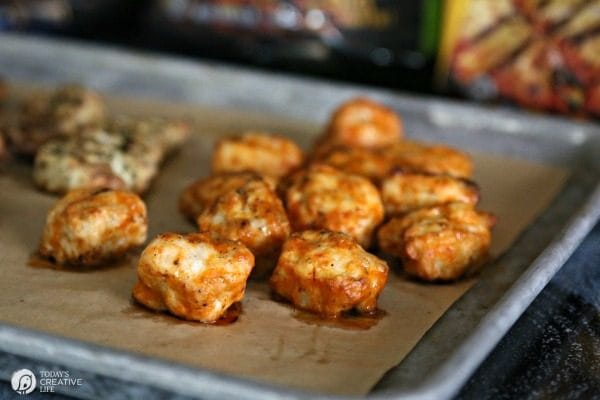 Cooked Perfect Fire Grilled Chicken has a variety of bold, unique flavors, like:

Bourbon BBQ
Buffalo Ranch
Wildflower Honey BBQ
Lemon Herb
Zesty Herbs and Spice
Szechuan
Korean BBQ
Classic Style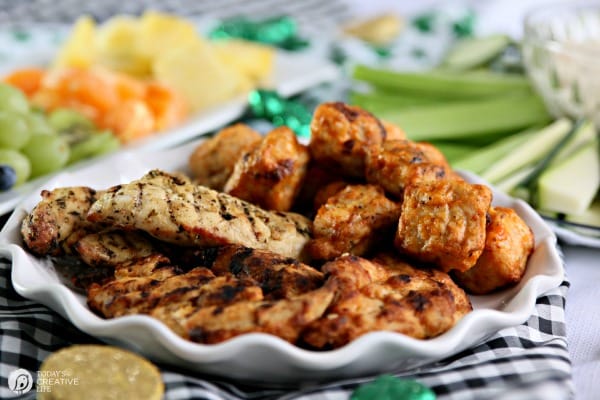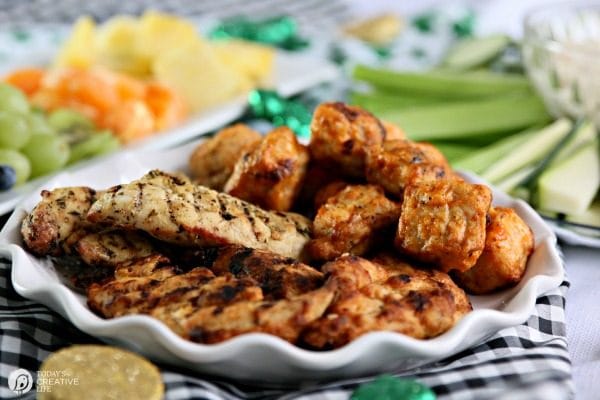 Cooked Perfect Fire Grilled Chicken also comes in a variety of convenient cuts including wings, drumsticks, boneless and bone-in thighs, tenders and chunks! You'll find them in the frozen foods aisle ( find a store).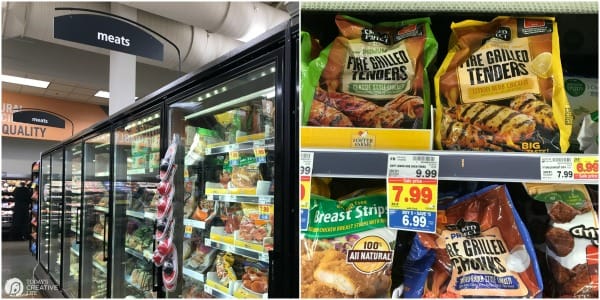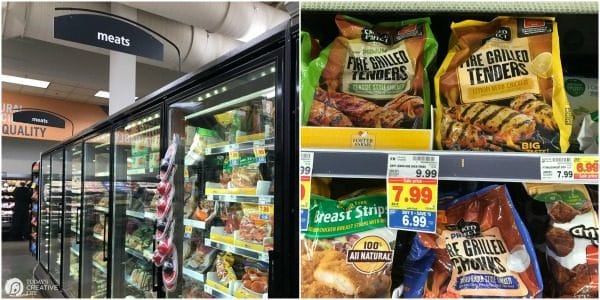 Make Easy Party Food for St. Patrick's Day
Protein – I chose 3 different flavors and cuts of the Cooked Perfect Fire Grilled Chicken. Place them all together or on a separate platter for each variety. Easy to just grab and eat.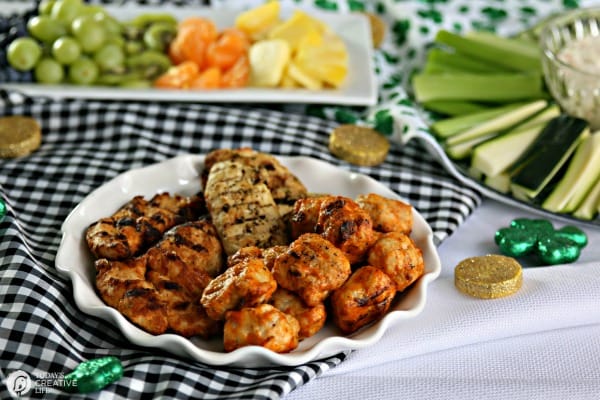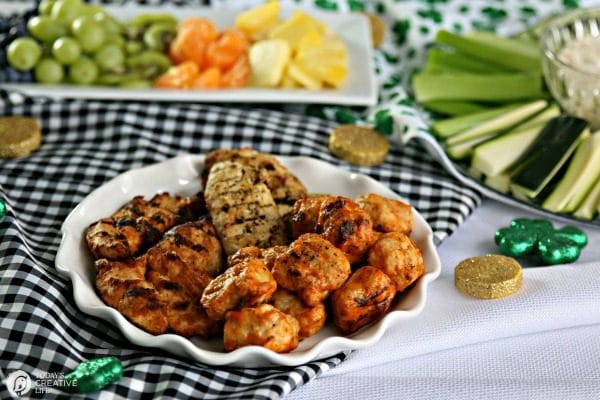 Veggies – I chose all green veggies to go along with the St. Patrick's theme:
broccoli
zucchini
cucumbers
celery
Arrange on a round platter with a round dish of dip in the middle.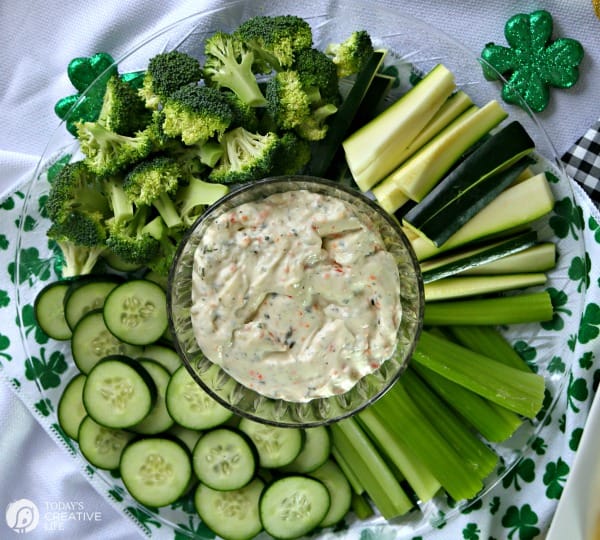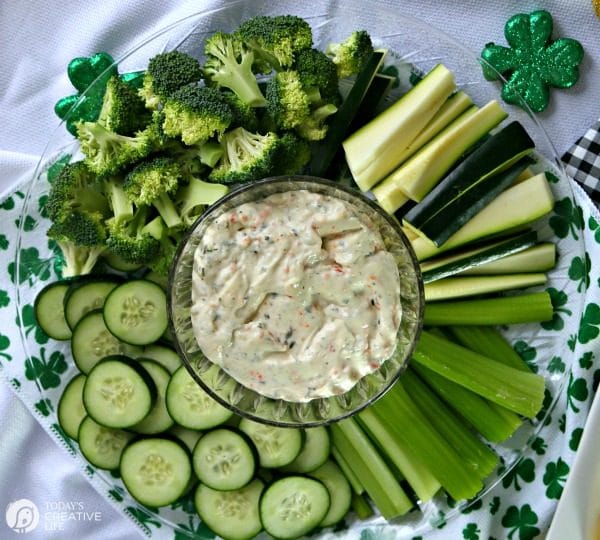 Fruit – I created a rainbow of color to touch on the whole leprechaun idea. I used:
Strawberries
Blueberries
Grapes
Kiwi
Mandarin Oranges
Pineapple
Arrange a line of each fruit on a rectangle platter. If you want to use a round dish, you can create the shape of an actual rainbow.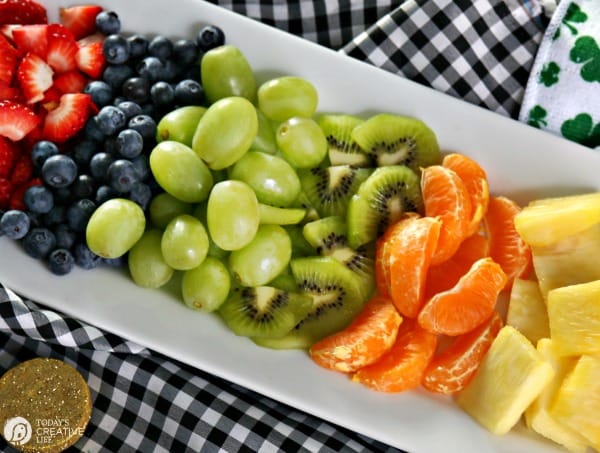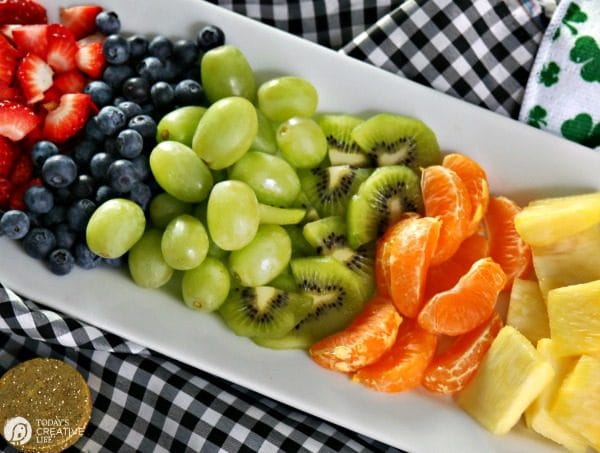 Be creative!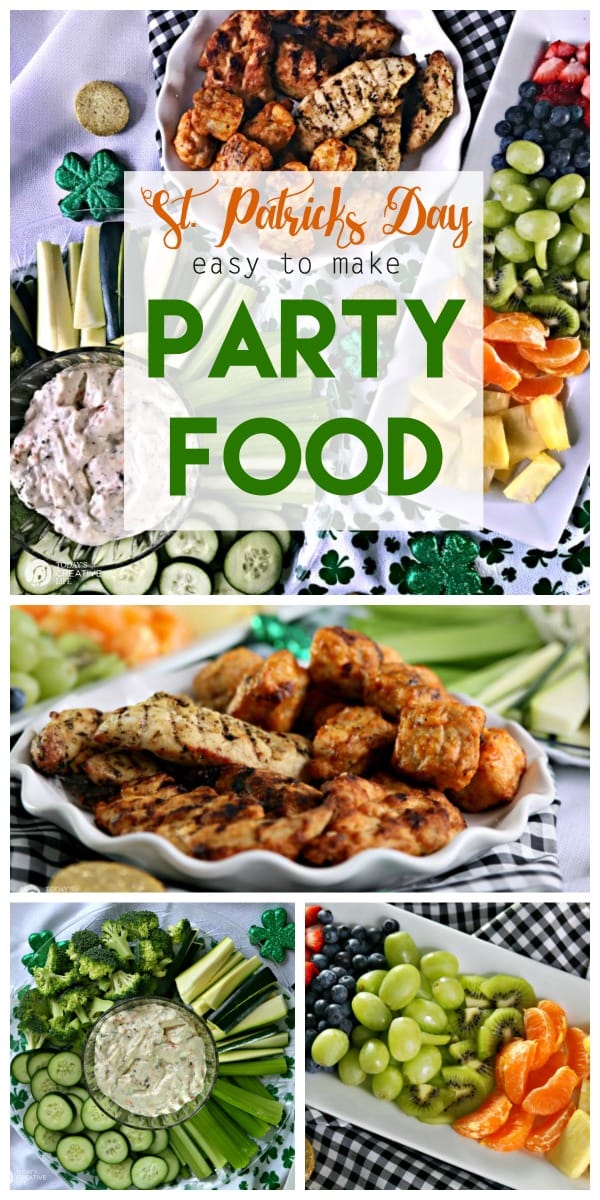 And there you have it! Not a lot of effort, but a whole lotta fun! Being creative doesn't have to be hard! Browse Recipes & Save $1.50