Sour Cream Cucumber and Onion Salad is the perfect salad recipe for spring! Sliced cucumbers and onions along with white wine vinegar make a delicious tangy creamy sour cream dressing that is quick and easy to make! Great for Easter brunch or summer BBQ's. This salad has you dishing up seconds!
If you like the Vinegar Cucumbers recipe on Today's Creative Life, then you'll love this easy creamy cucumber salad with sour cream recipe.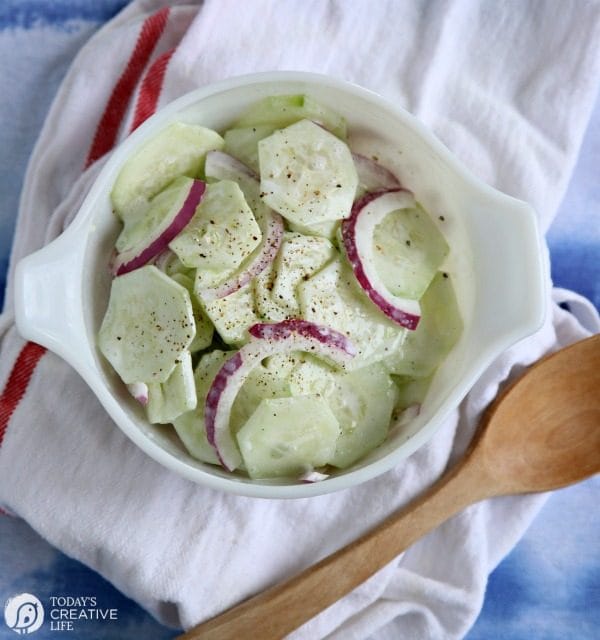 How do you make cucumber and onion salad with sour cream?
I'm not the biggest onion fan of onions unless they're pickled red onions, but even I like this simple salad recipe. I just pick around them for all the cucumbers!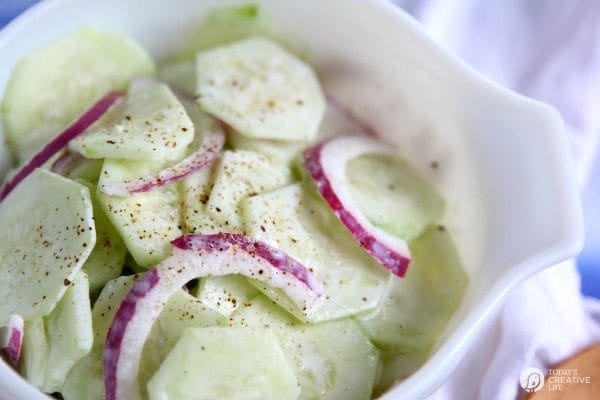 I like using red onions because of the color contrast, but Walla Walla sweets are good too!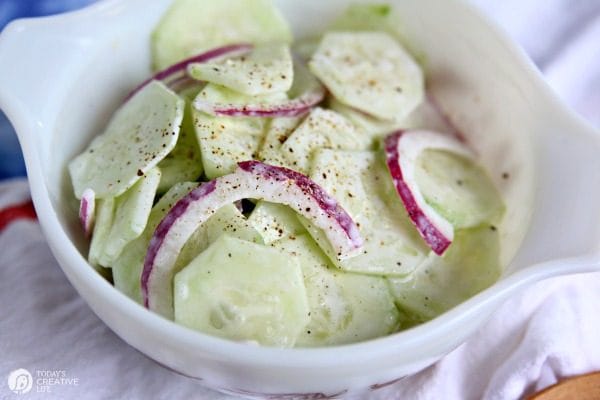 I usually slice the cucumbers really thin, but chunky is a great option as well; it's completely up to you! Of course, the onions can be chopped or sliced smaller, but I love the visual look to the large slices.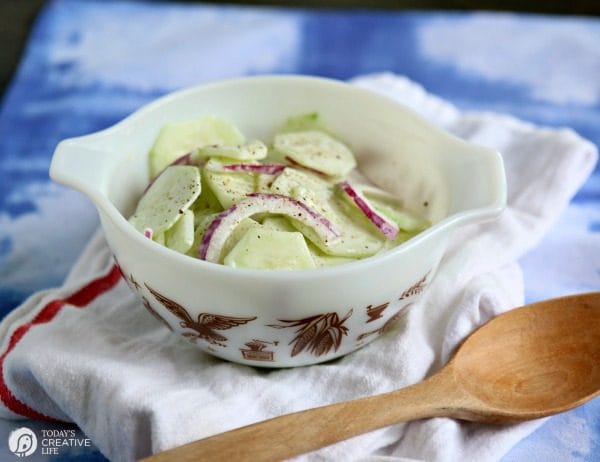 It's a gorgeous, delicious simple summer salad!
Sour Cream Cucumber and Onion Salad Printable Recipe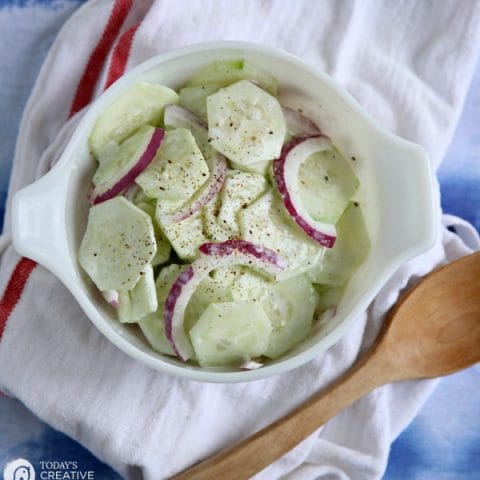 Sour Cream Cucumber and Onion Salad
Yield: 6
Prep Time: 15 minutes
Total Time: 15 minutes
Classic Cucumber and onion salad with sour cream.
Ingredients
1/2 cup sour cream
3 tablespoons white wine vinegar
1 tablespoon sugar
Pepper - just a sprinkle
3 cucumbers, thinly sliced. Peeling is optional.
1 small red onion, sliced
Instructions
In a medium bowl, whisk together the sour cream, white wine vinegar, sugar and pepper until smooth.
Add cucumbers and onion.
Toss to coat, breaking up any slices stuck together.
Chill for a couple of hours before serving.
Notes
- You may want to dish up with a slotted spoon, as it can be a little drippy.
- Try sweet onions instead
Nutrition Information
Yield 6
Serving Size 1/2 cup
Amount Per Serving
Calories 68
Total Fat 4g
Saturated Fat 2g
Trans Fat 0g
Unsaturated Fat 1g
Cholesterol 11mg
Sodium 9mg
Carbohydrates 8g
Fiber 1g
Sugar 5g
Protein 1g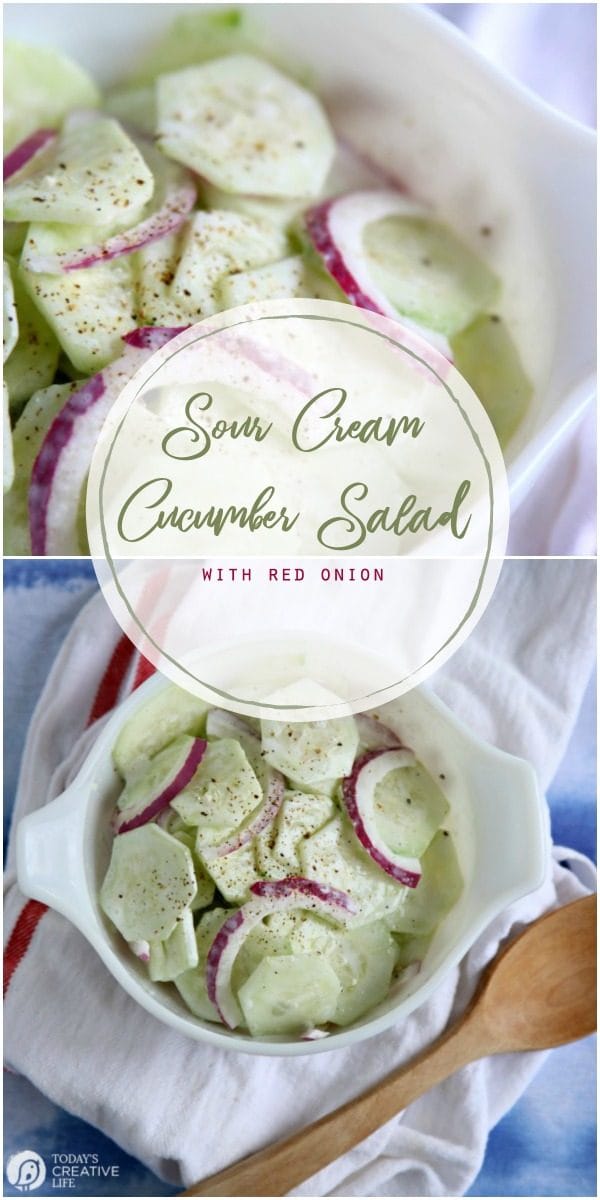 There you go! Pin it or print it to save for later! Keep it handy for your spring and summer meals! This creamy cucumber and onion salad is a great side dish that compliments so many flavors!
See behind the scenes – Follow me on Instagram!
Salad Recipe Ideas
Easy to make salad recipes.
Savory Vinegar Cucumber Salad
This flavor combination is always a hit!
Line up your salad ingredients for a quick and easy dinner idea!
Refreshing with a tangy taste!
This classic is a keeper.
Another classic salad to keep alive.
The fresh crisp taste is full of flavor and crunch.