I was cleaning out the fridge and I just couldn't throw my almost full container of Cranberry Orange Relish from Trader Joe's into the garbage. I've been in the kitchen a lot lately, so I thought I'd make something for our annual tree cutting tailgater party.  I whipped up a Cranberry Muffin Recipe!
Any quick bread recipe will do and just add your left over cranberry sauce or relish.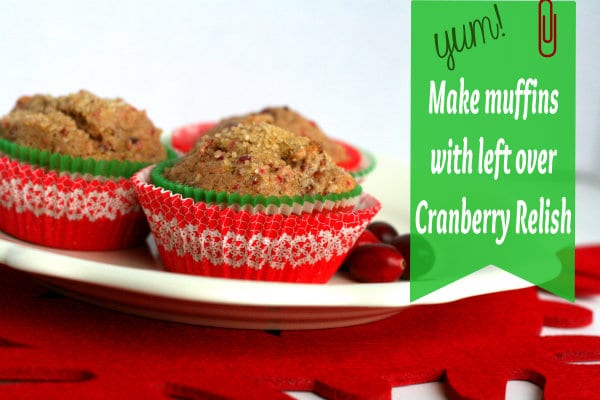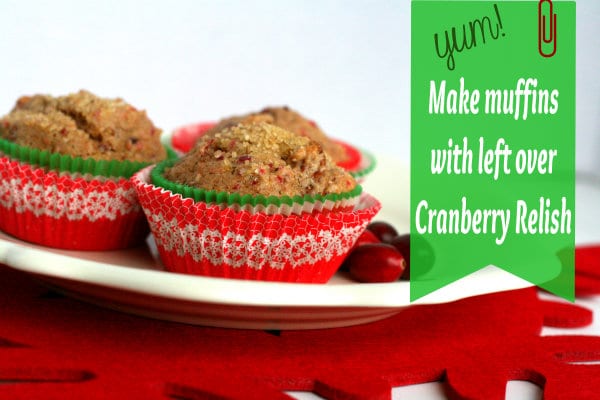 My son loved them and he never even knew I used whole wheat flour!
Before you rush off to make these delicious muffins, you'll want to check out my Creative Girls Holiday Gift Guide PINTEREST Board.  Great gifts from great shops.
Cranberry Muffin Recipe
Ingredients
3 cups wholewheat flour
¼ cup flax seed (optional)
3 teaspoons cinnamon
½ teaspoon baking soda
½ teaspoon baking powder
2 large eggs
1¼ cup almond oil (any veg oil will work)
2 cups sugar
2 cups cranberry or cranberry orange relish (applesauce or pumpkin also work great!)
2 teaspoons vanilla
1 teaspoon almond extract
1 cup pecans (other nuts can be used, or a mixture)
Instructions
Mix all dry ingredients together (except sugar) and set aside.
In a separate bowl, beat eggs, oil, sugar - cream together.
Stir in cranberry sauce, vanilla & almond extract.
Add dry ingredients; mix, stir in pecans.
Spoon into your lined or greased muffin tins (makes 24 muffins)
Bake at 350 degrees for 15 minutes