Crockpot Scalloped Potatoes are the perfect holiday side dish recipe idea! This slow cooker potato recipe makes cheesy potatoes that everyone loves!
It's Slow Cooker Sunday and you're going to love this crockpot scalloped potatoes recipe! It's just as good as my Crockpot Cheesy Bacon Potatoes. Or these Slow Cooker Ham and Cheese Potatoes! This is one of the crossover meals. Great for winter, but perfect for summer potlucks or BBQs, just like my Crockpot BBQ Beans recipe.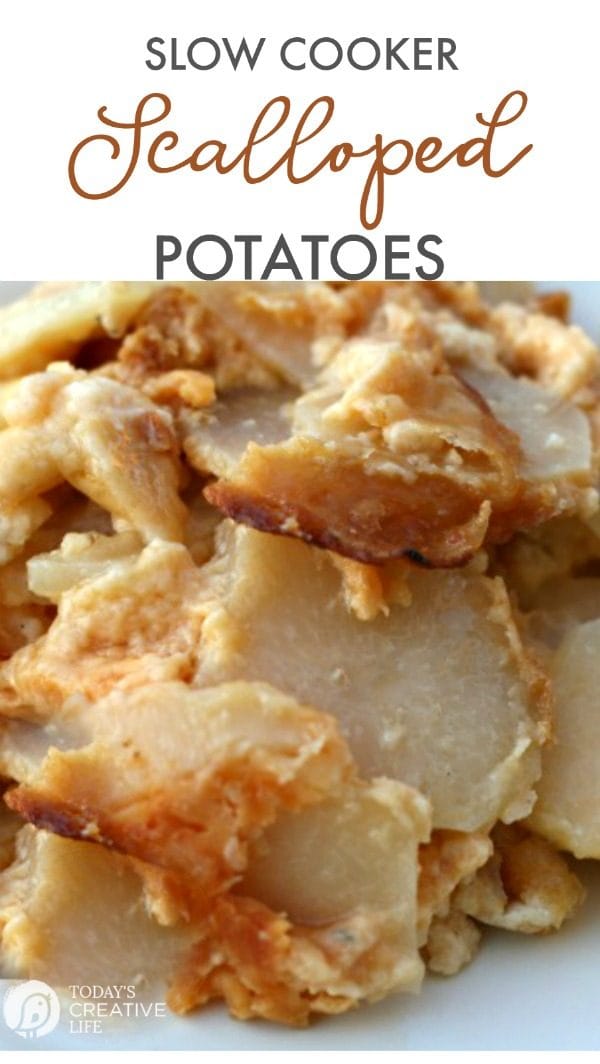 Crockpot Scalloped Potatoes
I make scalloped potatoes differently every time I make them, unsure of why. This slow cooker potato recipe takes more prep than I usually prefer, but it makes the cheesiest potatoes, so it is worth it, right? One of my tried and true methods are to simply layer the potatoes, butter, flour, and cheese, then pour the milk in.
My husband, like most men, loves his meat and potatoes. Especially for Sunday night dinner. He BBQ'd ribs, while these crockpot scalloped potatoes cooked all day.
We added a heap of veggies and had a Sunday night fest. There are 3 of us, with one being a growing teenager and there were still leftovers. I use the 6 qt crockpot.
What kind of potatoes do you use for scalloped potatoes?
The best potatoes to use when making Crockpot Scalloped Potatoes are starchy spuds, preferably russets or Yukon gold. Those starches will help to thicken the sauce.
If you try this recipe, I'd love to know how it worked for you.
Can You Make Crockpot Scalloped Potatoes in the Oven?
Scalloped potatoes can be baked in the oven as well as in a slow cooker. The cooking time is usually between 45-70 minutes at 360 degrees° depending on the size of the casserole dish you're using.
Try this Cheesy Garlic Herb Scalloped Potato recipe if you're looking for a recipe for the oven instead of your crockpot. Looks delicious!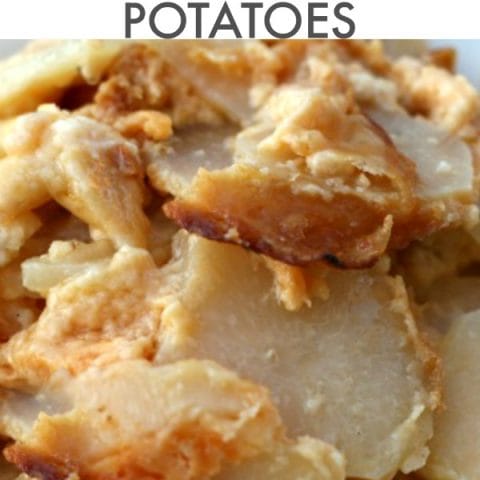 Crockpot Scalloped Potatoes
Yield: 6
Prep Time: 20 minutes
Cook Time: 5 hours
Total Time: 5 hours 20 minutes
Buttery cheesy crockpot potatoes are a great side dish any time of year.
Ingredients
4 tablespoons butter
1/4 cup all-purpose flour
1 tsp. salt
1/8 tsp. pepper
1 1/2 cups milk or 1 cup milk and 1/2 cup half and half
2 shredded cheese
7 medium potatoes, thinly sliced
Instructions
Place your sliced potatoes into your buttered slow cooker.
Combine butter, flour, salt and pepper together in saucepan over medium low heat.
Whisk in milk gradually until no lumps remain.(this reminds me of making mac and cheese)
Heat and stir until bubbly and thickened. Stir in cheese to melt.
Pour cheese sauce over the potatoes.
Cover and cook on low 5 to 7 hours.
Recommended Products
As an Amazon Associate and member of other affiliate programs, I earn from qualifying purchases.
Nutrition Information
Yield 6
Serving Size 1
Amount Per Serving
Calories 390
Total Fat 15g
Saturated Fat 9g
Trans Fat 0g
Unsaturated Fat 5g
Cholesterol 45mg
Sodium 596mg
Carbohydrates 53g
Fiber 5g
Sugar 3g
Protein 12g
We do our best to calculate, however, nutrition information may not be accurate.
Slow Cooker Dinner Recipes
Easy to make slow cooker recipes for busy nights.