If you like ribs, then you'll LOVE these easy to make Slow Cooker Country Style Rib Tidbits! No grill or oven to heat up. All the work is done in your crockpot. These are the best pork ribs you'll ever taste!
Slow Cooker Country Style Rib Tidbits
Grilling is not the only way to make up a batch of ribs. This crockpot recipe creates the juiciest, fall off the bone ribs that will satisfy your rib fan.
My husband LOVES ribs. I'm not a huge fan, since I have this thing about gnawing meat off a bone. I just can't do it. You'd think growing up in Central Oregon with all the hunting my father did, I'd be tougher than that, but it's like fingers on a chalkboard for me. Now if my husband pulls off a few pieces of the meat that's not fatty, I'll eat it. I'm not completely nuts.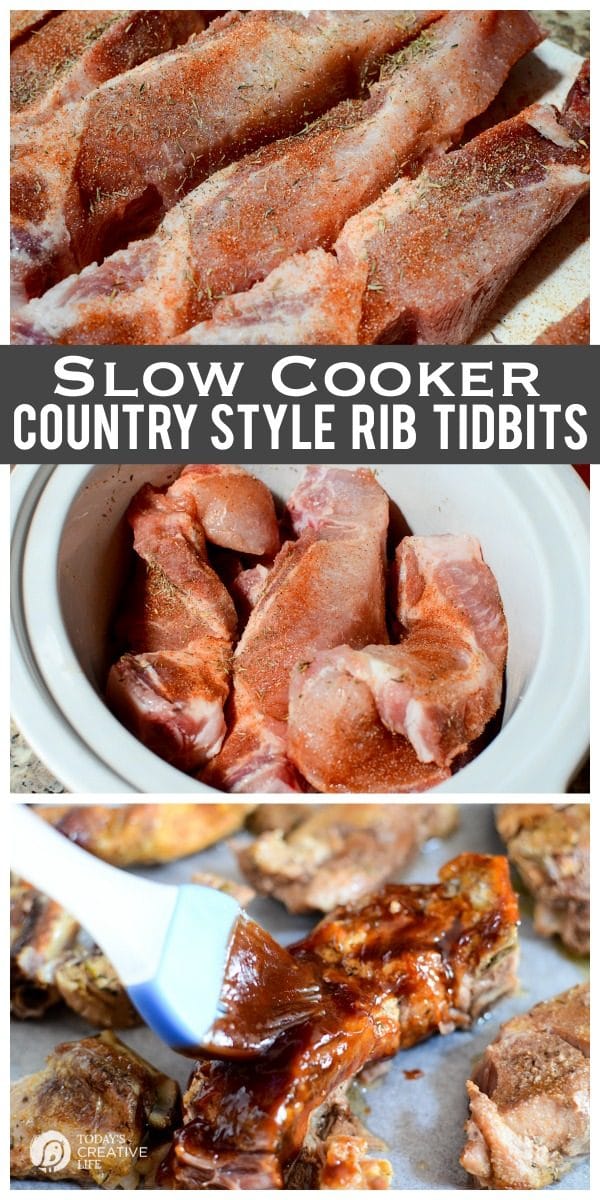 If he's not grilling his ribs, he's asking me to make up a batch in the slow cooker. These Slow Cooker Country Style Rib Tidbits are perfect for the crockpot. Even though these are pork, you could also try it with beef. This Beef Ribs Recipe is on my list to try.
Just recently, our neighbor built a smoker and brought over a full rack of baby back ribs and I thought my husband was going to roll in them. I really should make ribs more often, but it's hard when it's not your thing…. I'm so selfish. 🙂
That's why I love this slow cooker version. It makes it so easy.
How to Make Slow Cooker Country Style Rib Tidbits
Lay your ribs out on a cutting board and season them on both sides.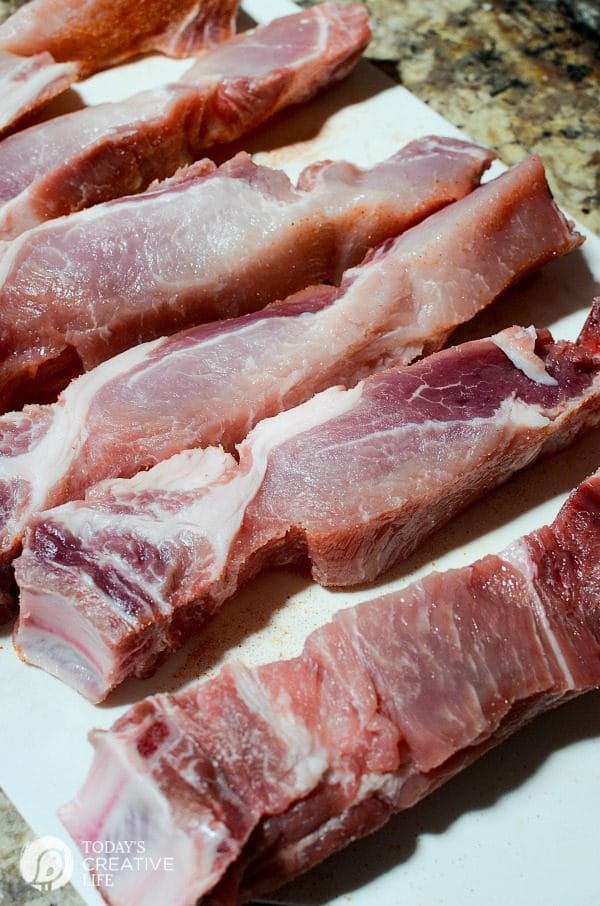 I like to mix all my seasonings together before and add them all together, instead of adding them one at a time. I'll mix them up together in a small ziplock baggy, then sprinkle away. I love making up a little extra for a BBQ rub when I need it. Like this Caribbean Chicken Rub I made. It's always good to have extra.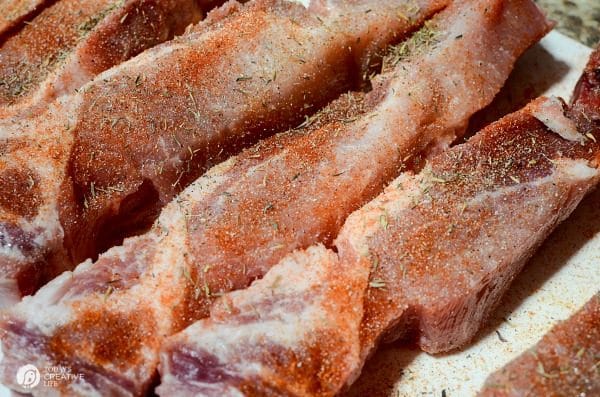 After you've got them well seasoned, just place them in your slow cooker. It doesn't matter if your slow cooker is a 3 quart or 5 quart. The cooking time may vary, but they both work.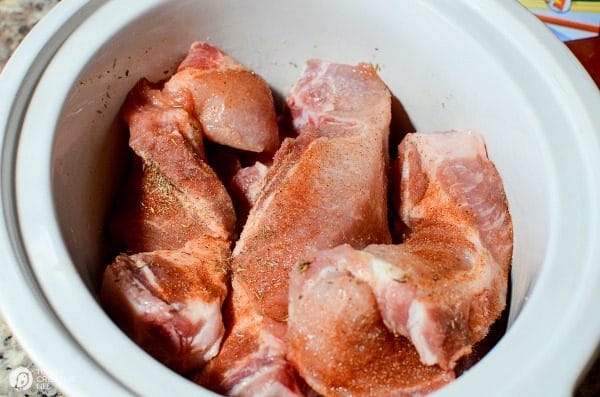 Mix up the water and liquid smoke into a broth and pour over the ribs.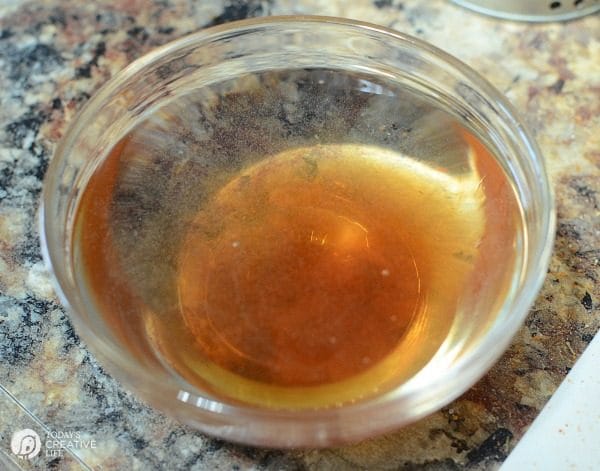 Put the lid on and let it work its magic.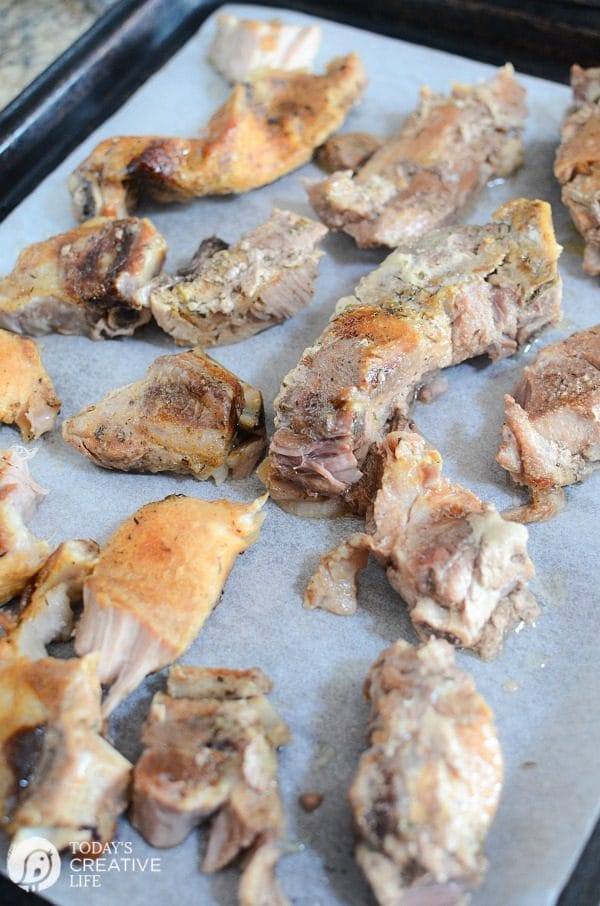 When it's done, take out the ribs and place on a parchment lined baking sheet. Slather on your favorite BBQ sauce. I've been enjoying this Trader Joe's Bold and Smokey Kansas City Style BBQ Sauce.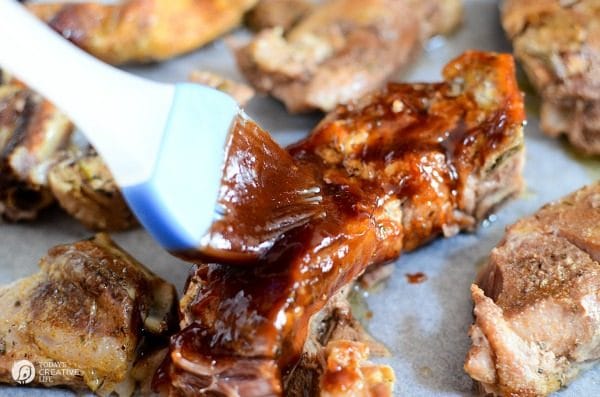 Place under the broiler for a bit to allow the sauce to caramelize. Flip the ribs, add more sauce and broil. About 5 minutes on each side.
Can You Use Beef Instead of Pork?
This slow cooker rib recipe is great with beef, pork, or even chicken! Stick with the same cooking method and you'll be fine!
Can you Freeze the Leftovers?
If you have leftovers, you can definitely freeze these for later. Wrap in foil and then in an airtight container up to 6 mo.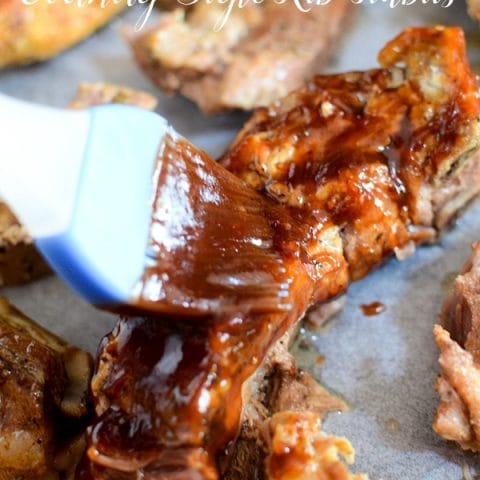 Slow Cooker Country Style Rib Tidbits
Yield: 4
Cook Time: 4 hours
Total Time: 4 hours
Ingredients
3 pounds pork loin rib-end ribs (country style ribs)

½ Cups water
5 drops hickory liquid smoke
3 tsp thyme, dried
 as desired: Seasoned salt, garlic powder, onion powder, pepper, chili flakes (optional)
1 C favorite BBQ sauce
Instructions
Season the ribs with thyme, seasoned salt, garlic powder, onion powder, pepper, and chili flakes. 
Place into the slow cooker.
In a small bowl, add the water and the liquid smoke together.
Pour into the slow cooker
. Cook on high for 4 -5 hours.
Take the ribs out of the slow cooker.
They may begin to fall apart into big chunks.
Place all these pork bits onto a parchment-lined baking pan.
Slather with the BBQ sauce.
Broil on each side for about 4 – 5 minutes or until the sauce begins to caramelize.
When flipped to the other side, re-sauce the tidbits.
Serve with rice or mashed potato. 

Enjoy!!
Notes
I like adding all my seasonings together before sprinkling on the ribs. I keep an extra baggy made up for other meat recipes too.
Nutrition Information
Yield 4
Serving Size 1
Amount Per Serving
Calories 844
Total Fat 36g
Saturated Fat 11g
Trans Fat 0g
Unsaturated Fat 18g
Cholesterol 291mg
Sodium 992mg
Carbohydrates 30g
Fiber 1g
Sugar 23g
Protein 95g
We do our best to calculate, however, nutrition information may not be accurate.
Slow Cooker Dinner Recipes
Easy to make slow cooker recipes for busy nights.