You're going to want to pin this recipe or even share it on Facebook because it's THAT kind of recipe! This Slow Cooker Sweet and Sour Island Beef recipe is great for weekends, week nights and will probably even make your pickiest eaters happy. It's sweet, it's tangy and it's got BEEF and RICE! My husband perks right up when he knows beef is on the dinner menu and me? I love me some rice! Add all the other delicious ingredients and we're all happy!
Slow Cooker Sweet and Sour Island Beef Recipe

Slow cookers sure make our lives easier, don't you think? I love not having to heat up the oven on hot days and honestly, it's all about having something planned and ready when dinner rolls around! It just makes you feel so much better when you've planned your menu, which reminds me…… I need to print up a few of my Printable Menu Planners now that school is fast approaching.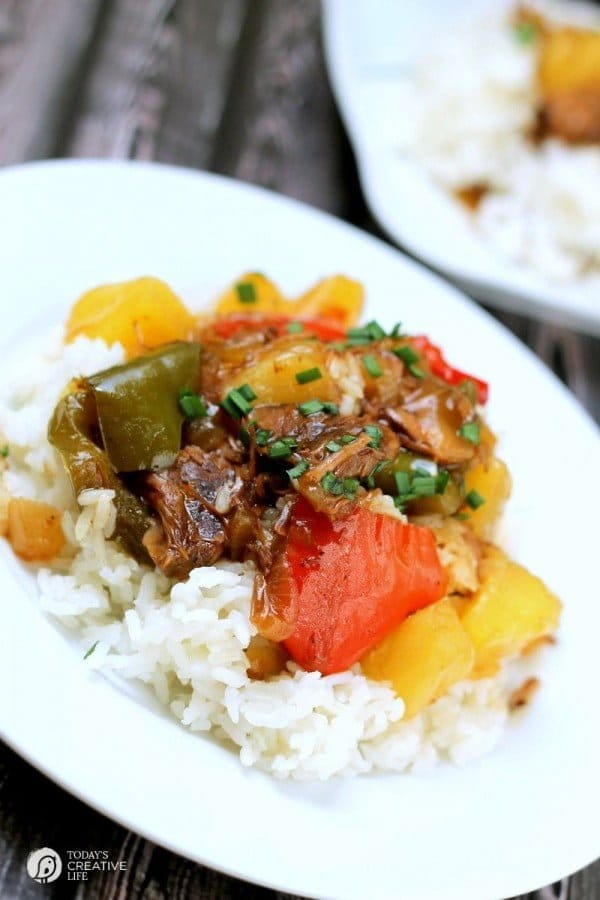 Can't you just taste that?
This recipe is so versatile, making it easy to add extra veggies if wanted. Add broccoli or snap peas, maybe even a few water chestnuts and you've got yourself a whole new meal! I am not normally a red pepper or green pepper kind of girl, but my family is and I knew most of you would be too….. so it's all there. But if you're like me, just omit the peppers and add what you'd like. It still works!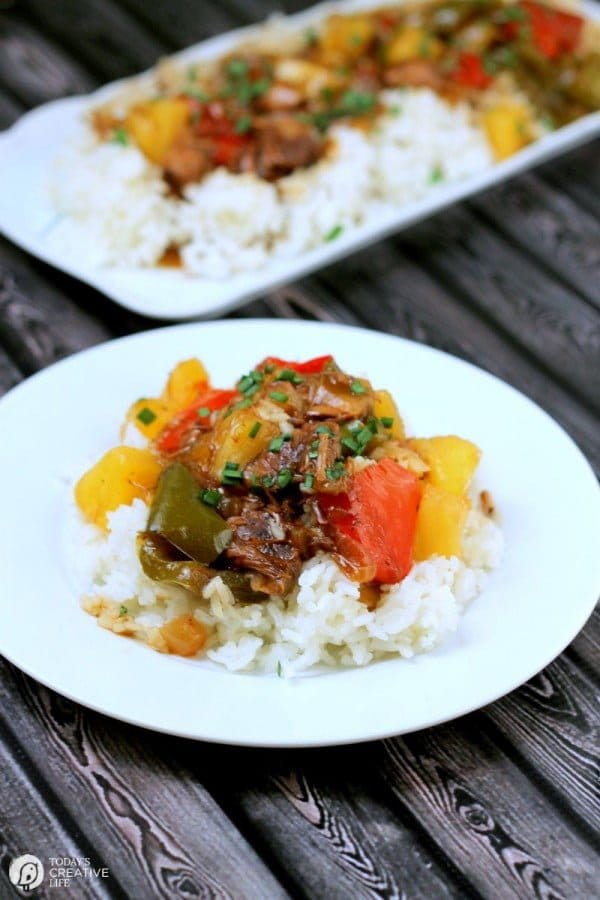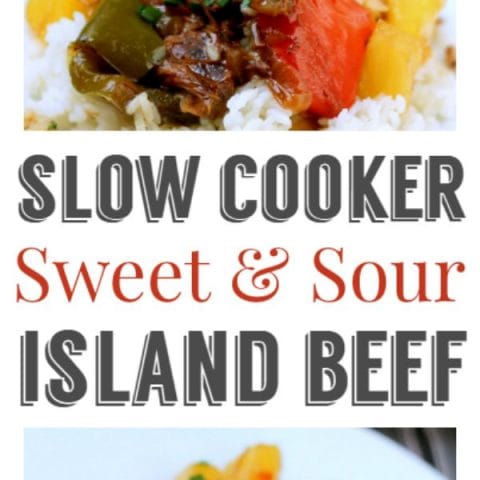 Slow Cooker Sweet and Sour Island Beef
Ingredients
2 pounds flank steak, sliced into ½ inch strips
1 large onion, cut into strips
1 red pepper, sliced into bite sized chunks
1 green pepper, sliced into bite sized chunks
½ cup low sodium beef broth
20 ounces pineapple chunks in juice, juice reserved
5 TBS red wine vinegar, divided
¾ tsp garlic powder
⅛ tsp salt
¼ tsp paprika
¼ tsp black pepper
3 TBS brown sugar
1 ½ TBS cornstarch
2 TBS low sodium soy sauce
2 cups cooked rice, for serving
3 green onions, diced
Instructions
In your slow cooker, add beef, onions, beef broth, pineapple juice (set chunks aside for later), 3 TBS red wine vinegar, garlic powder, salt, paprika, and black pepper; use a spatula to stir. Turn slow cooker to LOW and cook for 6 ½ - 7 hours.
Switch slow cooker to HIGH, add brown sugar and pineapple chunks and stir to combine. In a small bowl combine cornstarch with the soy sauce and remaining 2 TBS red wine vinegar; pour into slow cooker and stir well to incorporate. Cook on high for 45 minutes - 1 hour - the sauce will thicken up.
Serve over rice and garnish with green onions.
This post contains affiliate links for your shopping convenience

Find more Slow Cooker Sunday Recipes