It's time for Slow Cooker Sunday! I have been craving this daily since the first time I made it! This Crockpot Slow Cooker Breakfast Casserole will satisfy everyone in the house with the delicious blend of hash browns, eggs, sausage (or bacon) and cheese!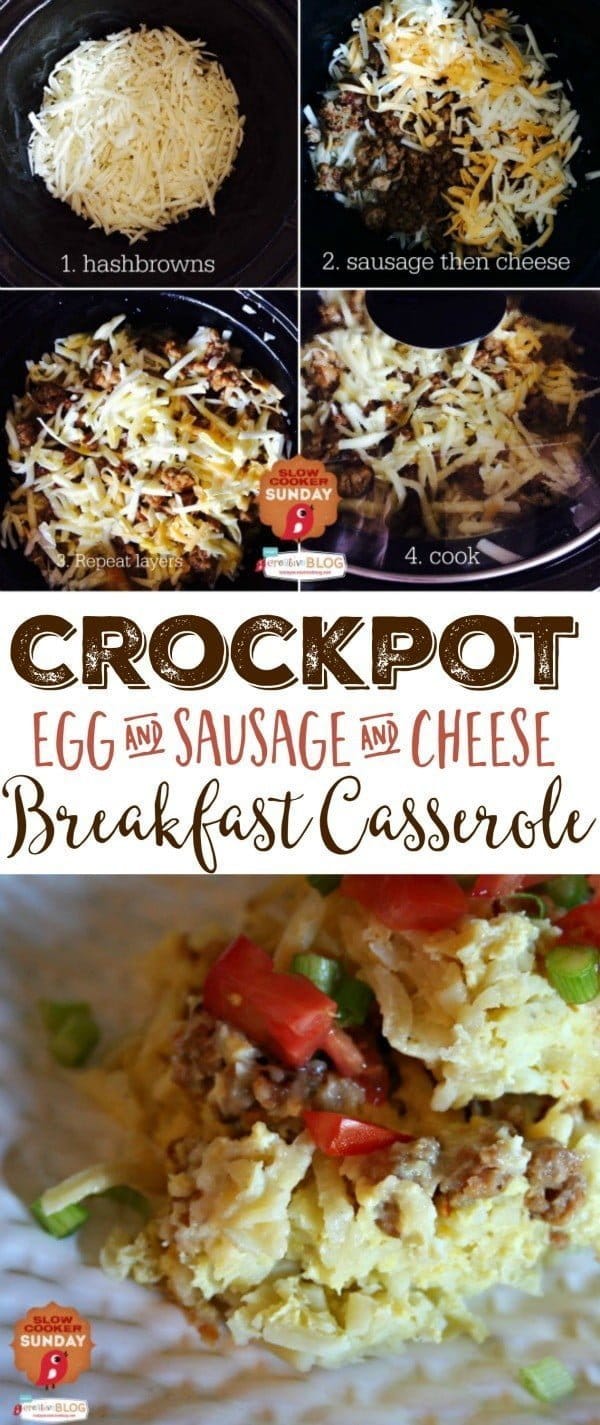 I'm thinking this would be the perfect slow cooker breakfast for holidays, or those busy mornings. Great for brunch too.
Slow Cooker Breakfast Casserole | Slow Cooker Sunday
Anytime I can save time by cooking everything together is a favorite meal of mine! I don't mind if my eggs touch my hash browns.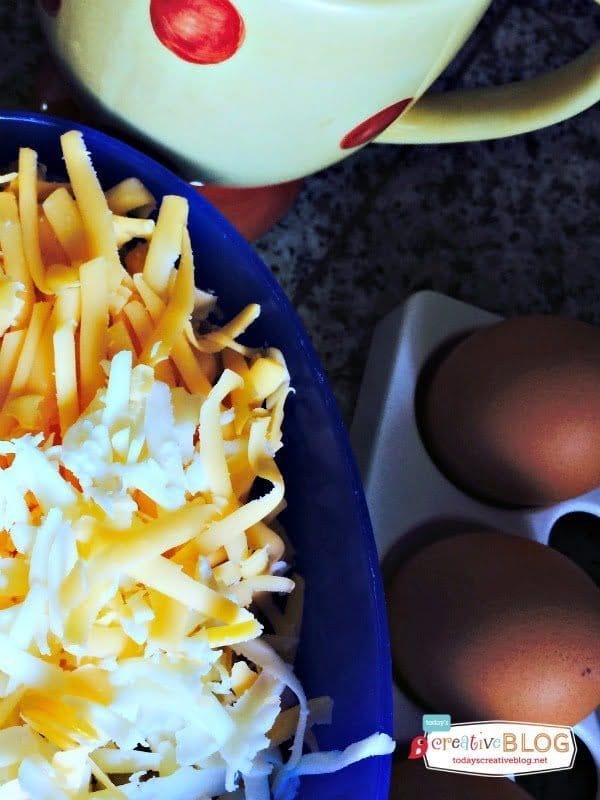 I made this early on a weekend morning. It's so easy, I started it BEFORE I had my coffee, but just when I thought I had it down, I forgot to take a photo of just the sausage layer.
How to Make a Slow Cooker Breakfast Casserole
Grease your crockpot. I use a spray oil that makes it easy. But I bet smearing butter around it would be delicious too!
Place your first layer for hash browns in the bottom. I used the shredded kind, but the chunky kind would also work.
Layer your cooked sausage over the hashbrowns
Layer some cheese over the sausage. I used a mixture of sharp cheddar and Monterey jack cheese.
Repeat the layers
Beat the eggs and pour over everything (my photos don't show that step….remember……no coffee yet)
Put the lid on and cook on high for 4 hours or on low for 8 hours.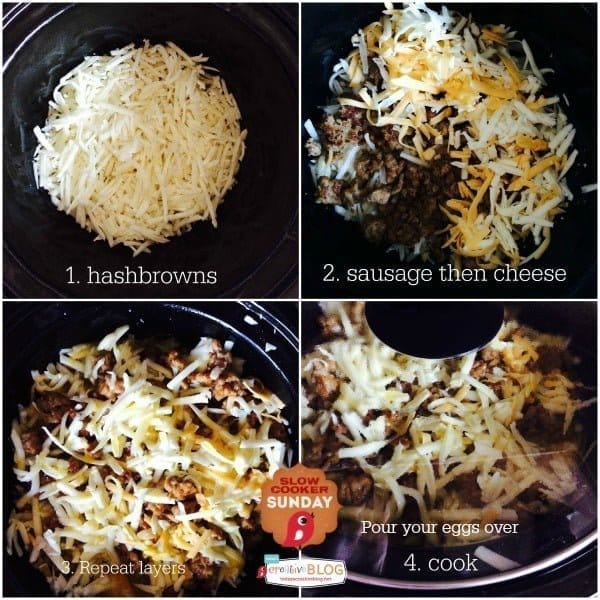 Since I cooked it that morning, it was done just in time for a late breakfast. I served it with some fruit and it was delicious!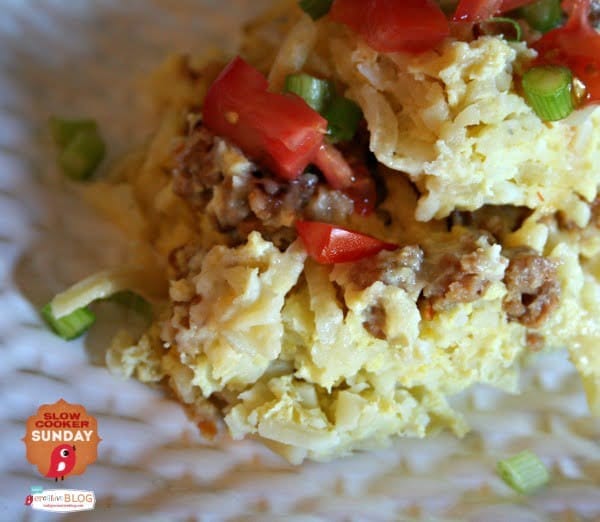 We had left overs since I used a large crockpot. My son loved the left overs for breakfast during the week!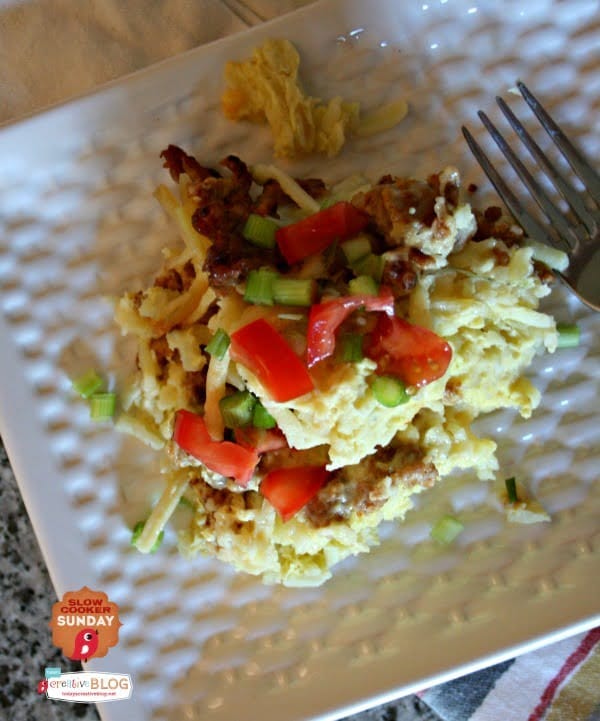 If you like breakfast for dinner……then this is your dish!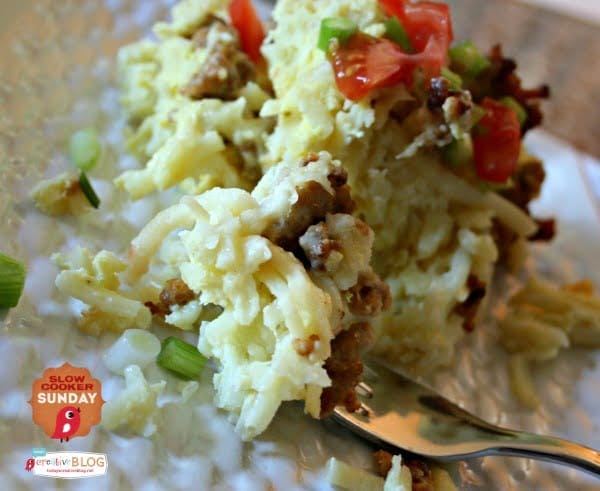 My son added ketchup and I added Tabasco.
I'm thinking I need to make this again today.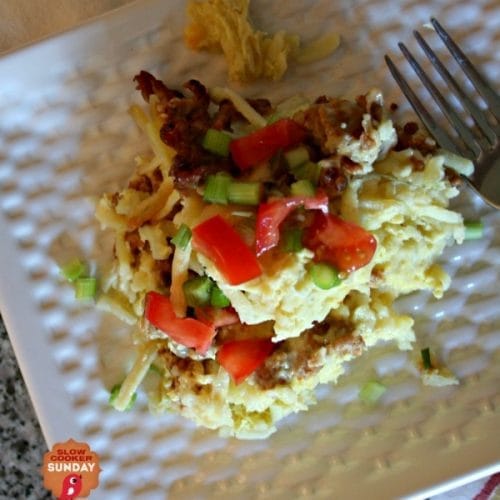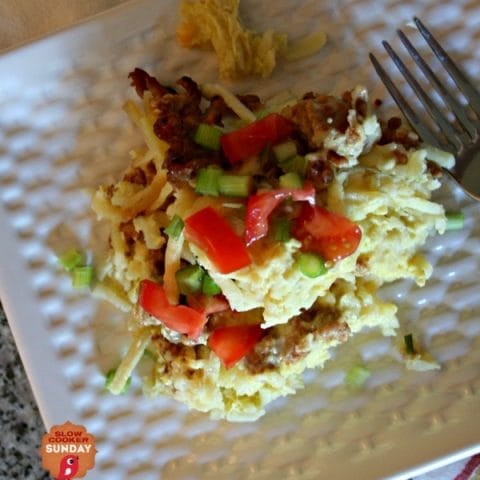 Slow Cooker Breakfast Casserole
Ingredients
12 eggs
1 lb Pork sausage
30 oz bag of frozen hash browns
2 cups cheese (I used cheddar and monterey jack)
green onions - one bunch
1/2 cup milk
1/2 teaspoon salt
pinch of pepper
Instructions
Grease your crockpot (I used my large crockpot)
Layer half of the following - hash browns, sausage, cheese and green onions.
Repeat with the remaining ingredients
In a separate bowl, whisk your eggs with the milk and seasonings and pour over the top of the other ingredients in the crock pot.
Place the lid on and cook on HIGH for 4 hours or LOW for 8 hours.
Enjoy!
Find more Slow Cooker Recipes on my Pinterest board dedicated JUST for Crockpot and Slow Cooker recipes!
Follow Kim Demmon (today's creative blog)'s board Crockpot & Slow Cooker Recipes on Pinterest.