It's been a whirlwind around here. Lots of traveling this past week, which meant I didn't use my crockpot once. Now that's a record! I'm sure my family could have used this Crockpot Breakfast Casserole in my absence, but they survived………probably on sugar cereal. (which I don't allow during the week).
Since I was in a time cruch, I'm sharing a yummy recipe from my friend Stephanie from Crockpot365. Stephanie is the queen of Crockpot cooking and it all started when she vowed to use her crockpot DAILY for one year a few years ago. 3 cookbooks and several TV appearances later, she is still going strong. She's added a LOT more to her site helping you organize your meal planning, your life, your kids…….you name it, she wants to help!
I've been wanting to try a breakfast casserole. My Crockpot French Toast was a hit, so I'm sure my family would also love this one. I love the idea of making a big breakfast with less mess and hassle. I love thinking about waking up with a delicious breakfast already made. Now that's the life.
Crockpot Breakfast Casserole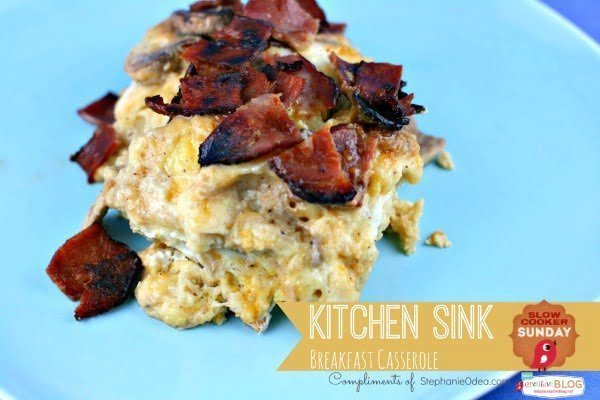 While in Seattle this weekend for a soccer tournament, we ate at a recommended "hole in the wall" cafe. You can always tell it's good by the amount of people waiting. Once seated, I wanted a protein packed breakfast. I ordered their Kitchen Sink Scramble. It's 7 hours later and I'm still not hungry. Yum!
This recipe reminds me of that meal.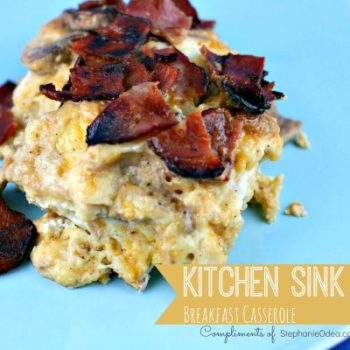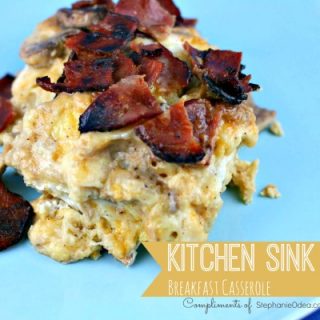 Crockpot Breakfast Casserole - Kitchen Sink
Yield: serves 10-12
Cook Time: 6 hours
Check out how Stephanie makes this gluten free.
Ingredients
12 slices bacon, cooked and crumbled
4 cups toasted (or stale) bread cubes
2 cups shredded cheese (I used a 4 cheese Mexican blend)
8 ounces sliced mushrooms
8 eggs
1 1/2 cup milk (I used fat free cow's, any would work just fine)
1/2 tsp kosher salt
1/2 tsp black pepper
Instructions
Use a 6 quart slow cooker. This makes a lot! Cook bacon to desired crispiness, and toast the bread. Set these aside. Spray the inside of your slow cooker with cooking spray, and set that aside, too.
In a large mixing bowl, combine the shredded cheese, mushrooms, eggs, milk, salt, and pepper.
Put the bread cubes into the bottom of your sprayed slow cooker, and pour the egg mixture evenly over the entire thing. Place bacon pieces on top.
Cover and cook on low for 6-8 hours, or until eggs have set, or on high for about 3-4 hours. When the eggs have completely set, and your casserole has begun to brown on top and pull away from the sides, take the lid off the cooker and let the steam and moisture evaporate for about 15 minutes before serving.
Here are all my favorites for great crockpot meals.
These links are for your convenience, however if you do choose to purchase after clicking on them, I do get a teeny tiny %.