What is about winter and baking? I had a hankering to make these easy Cinnamon Sugar Sour Cream Scones. They are so easy, you don't even need to knead them if you don't want, making them more like a drop biscuit.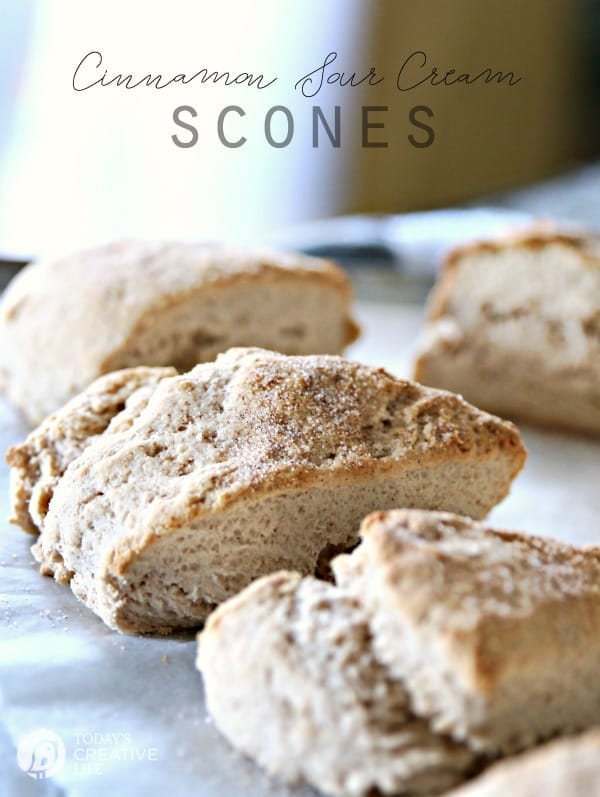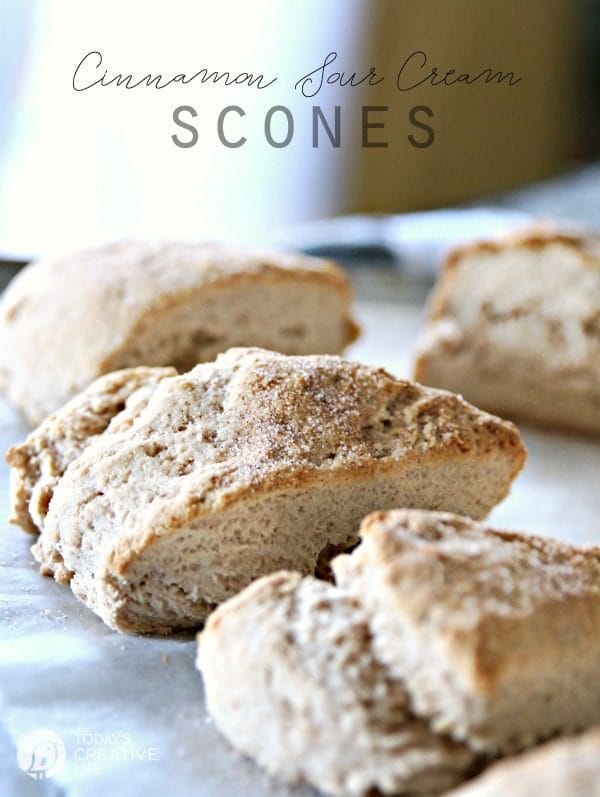 I love weekend breakfast recipes, especially if it's something baked!
Cinnamon Sugar Sour Cream Scones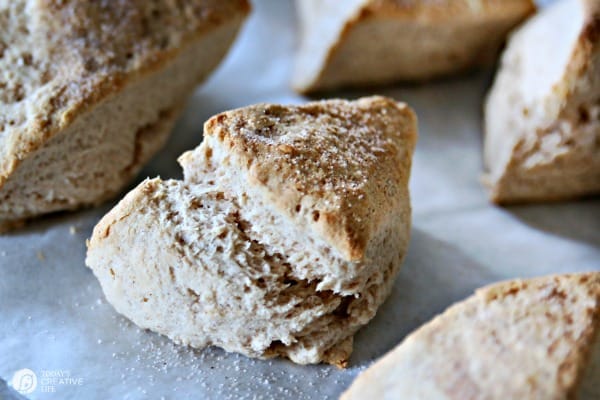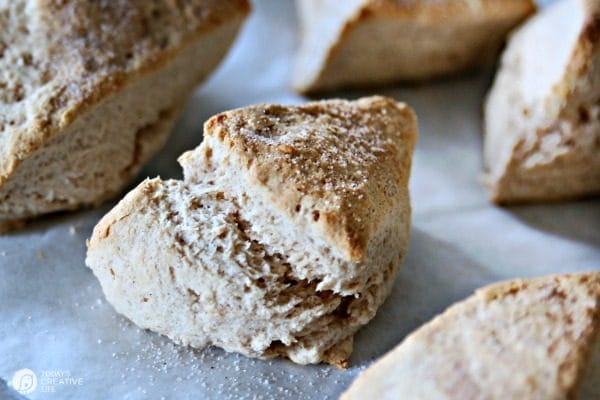 This simple scone recipe is pretty basic, making it easy to add additional ingredients if wanted.
Adding chocolate or cinnamon chips is easy enough. Or maybe add dried fruit like raisins, dried cranberries, cherries, or apricots. I like a recipe that keeps my options open and this scone recipe does just that!
One of the reasons I avoid making homemade bread is the fear of kneading. Why does that seem so intimidating?
But with these Cinnamon Sugar Sour Cream Scones, the kneading isn't like bread dough. It's more like squish it all together so it sticks, then mash it around a little into a round flat circle.
Making these scones was easier when I used my pastry mat, which helped contain the mess. Gosh, I love that thing. It's a must-have if you like making rolled cookies, biscuits or scones. It keeps your counters clean, with easy cleanup!
Parchment paper and a good cookie sheet also help. I inherited my mothers air-bake baking sheet, which I love using anytime I can.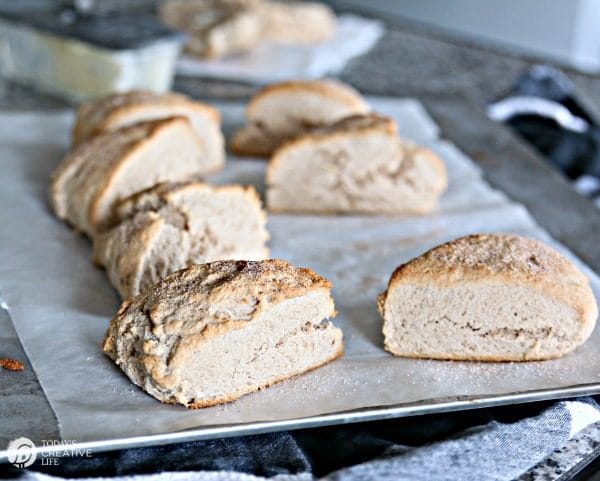 These breakfast scones had the perfect fluff to dense ratio!
I usually don't want a glaze over the top, but if you do, just a simple cream cheese sugar glaze like I used on my Puff Pastry Pumpkin Braid would be delicious.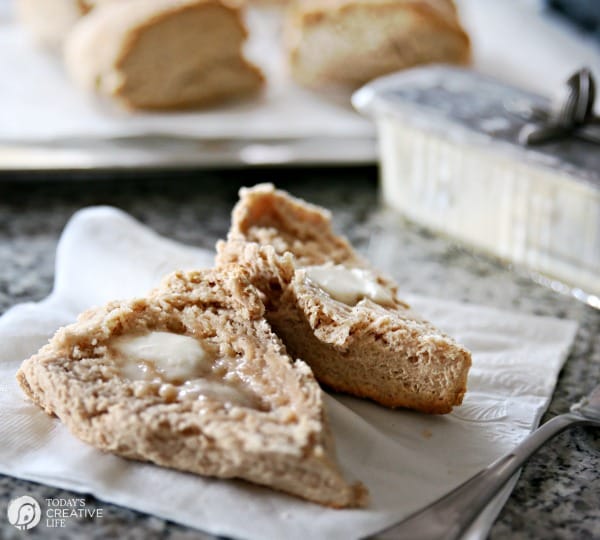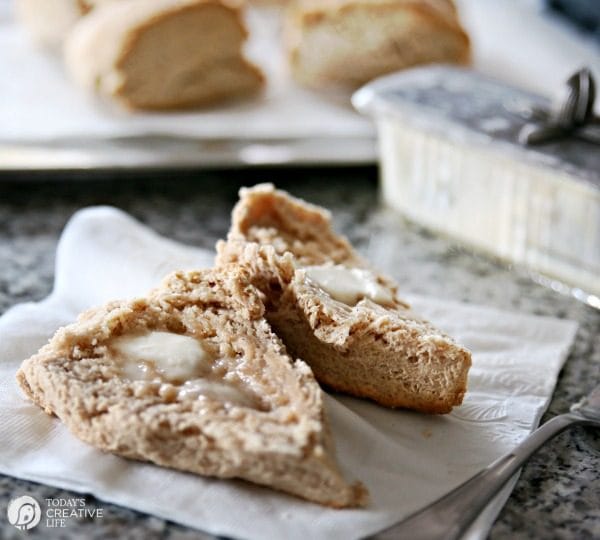 I'm happy just slicing and slathering with butter. Honey or a bit of jam is good too!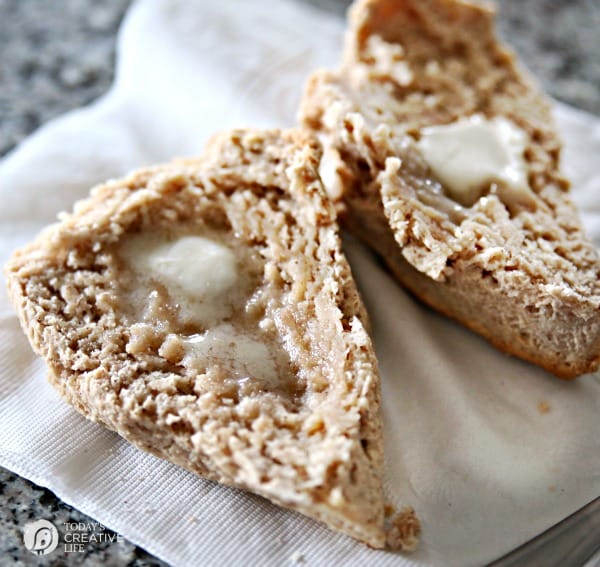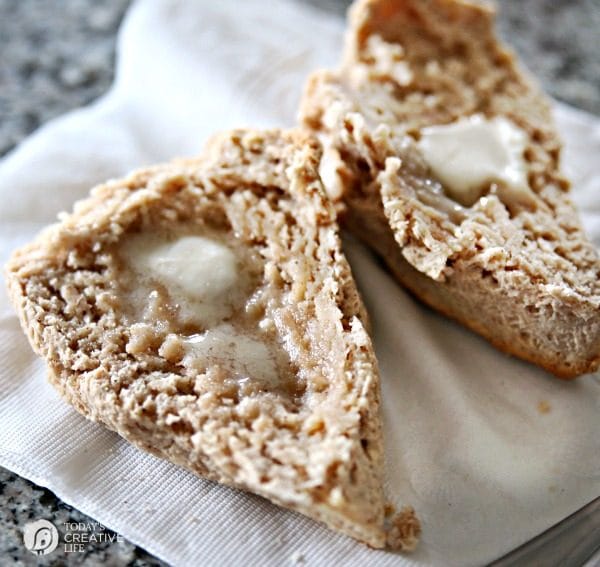 But when they're fresh out of the oven, I can't be bothered with too many options.
If you'd rather not make breakfast scones from scratch, I've also enjoyed pre-made Fisher Original Fair Scone & Shortbread Mix.
Easy Scone Recipe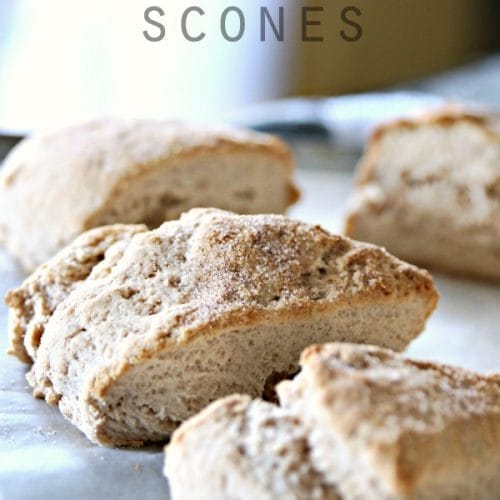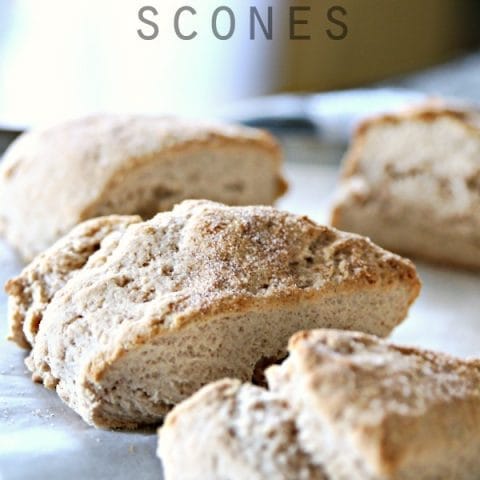 Cinnamon Sugar Sour Cream Scones
Yield: 8
Prep Time: 15 minutes
Cook Time: 20 minutes
Total Time: 35 minutes
Ingredients
3 cups Baking Mix (like Bisquick)
1/4 cup sugar
1/2 cup sour cream
1/3 cup Half and Half, plus 3 tablespoons
1 tablespoon vanilla extract
1 teaspoon ground cinnamon
Cinnamon Sugar
Instructions
Preheat your oven to 375 degrees.
Grab a large bowl, mix together biscuit mix and sugar.
In another bowl, whisk sour cream, vanilla and 1/2 and 1/2 together.
Stir wet ingredients into dry ingredients just until moistened.
Turn onto a lightly floured surface, I used my pastry mat here.
Knead it gently then pat into a 9 or 10-inch circle.
Sprinkle the top with cinnamon sugar.
Cut into at least 8 wedges and place on an ungreased or parchment-lined baking sheet.
Bake for 20-25 minutes, or until they are golden brown.
Notes
Optional:
1. Add a glaze when they are fresh from the oven.
2. Add chocolate, cinnamon or toffee chips to the dough before kneading. Or dried fruits.
Nutrition Information
Yield 8
Serving Size 1
Amount Per Serving
Calories 346
Total Fat 11g
Saturated Fat 4g
Trans Fat 0g
Unsaturated Fat 6g
Cholesterol 13mg
Sodium 589mg
Carbohydrates 58g
Fiber 3g
Sugar 31g
Protein 4g
Nutrition info isn't always accurate.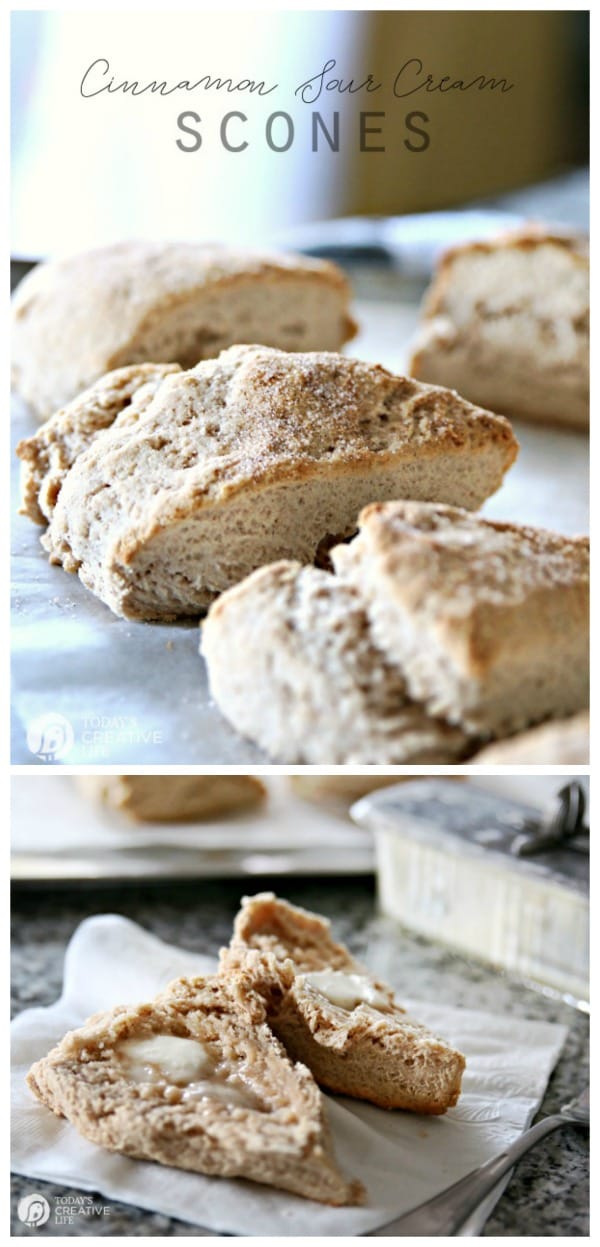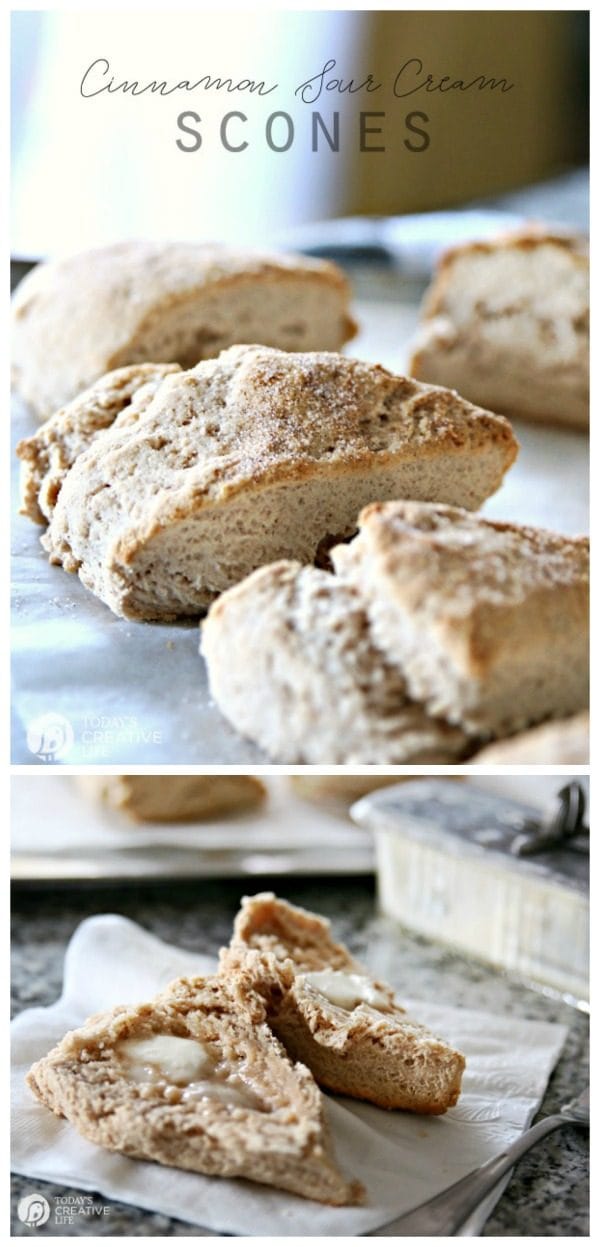 These Cinnamon Sugar Sour Cream Scones will become a weekend favorite! Everyone loves them!
---
Easy Breakfast Ideas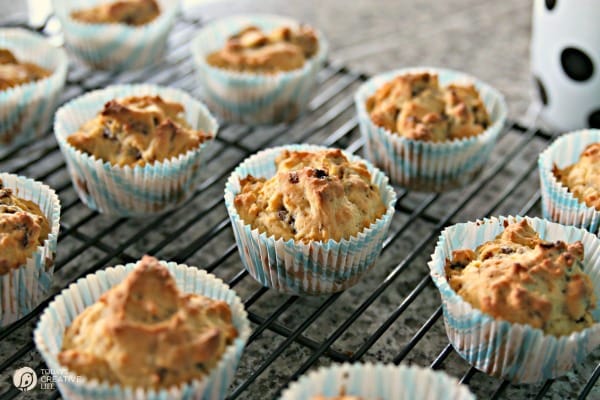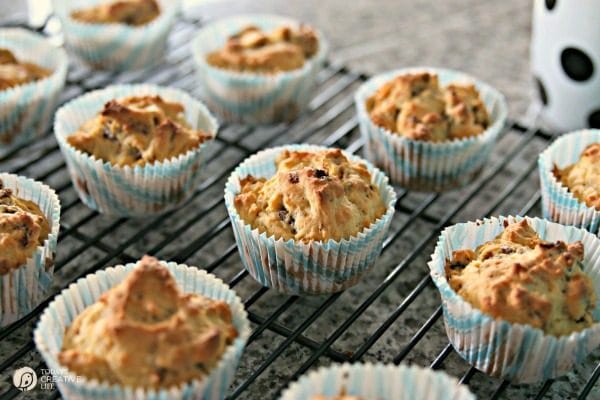 Sausage Cheese Breakfast Muffins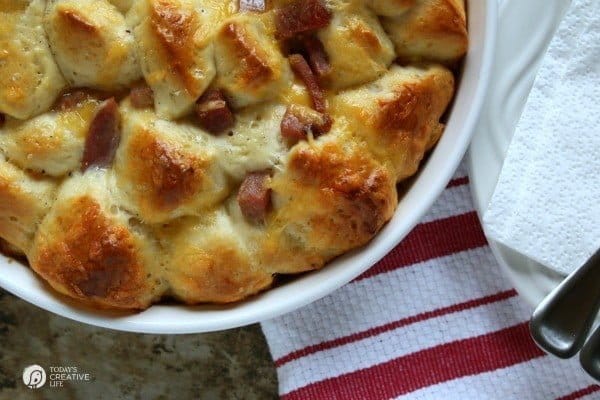 Breakfast Casserole Recipe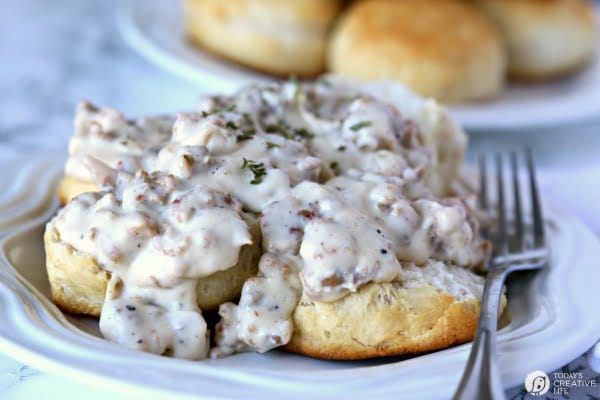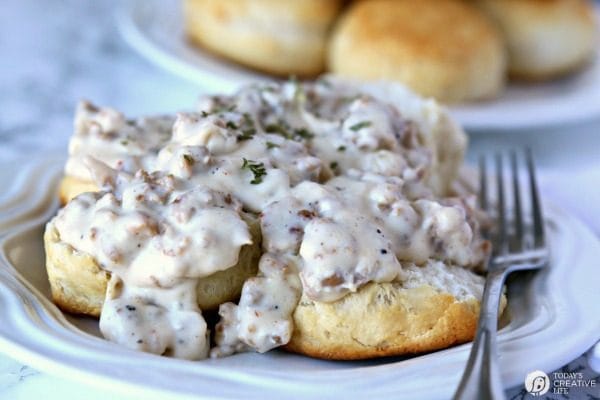 Sausage Gravy and Biscuits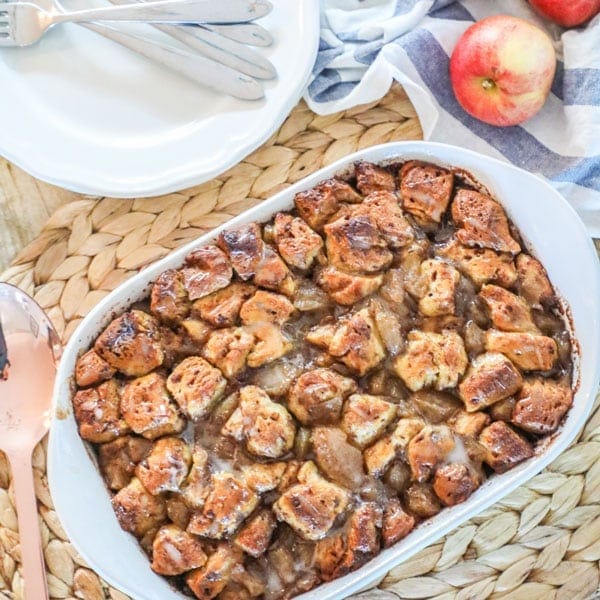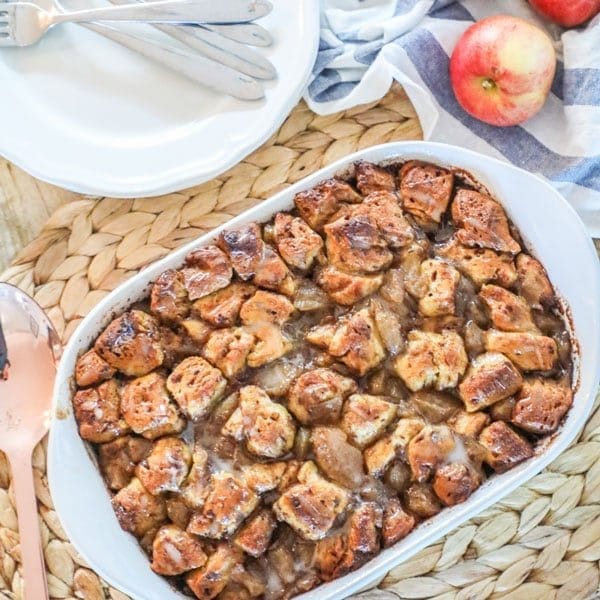 Apple Breakfast Casserole