Cake mix hacks make the best recipes! This Cherry Marble Cake Recipe takes an ordinary cake mix and creates a custom flavor!
The cherry pie filling in my pantry was calling my name! So I made this Cherry Marble Cake! If you've been around Today's Creative Life, then you know my love for cake mix recipes. You'll have try my Chocolate Chocolate Chip Cake Mix Cookies or my Strawberry Lemonade Cake. Both of them start with a cake mix!
Cherry Marble Cake Sheet Cake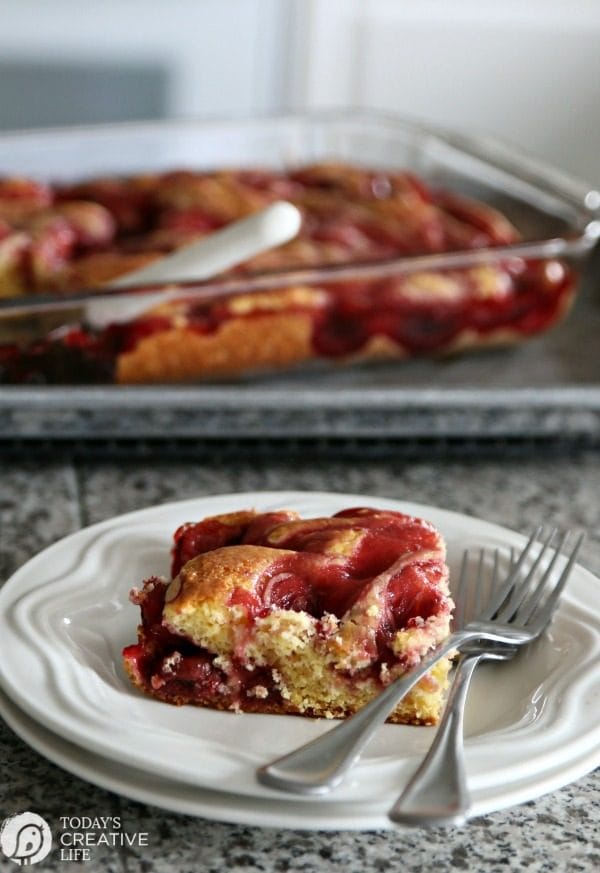 My husband and son aren't big fans of cherry pie, so I knew they wouldn't be interested in my making this Cherry Marble Cake. I can see them turning up their nose now. So while they were out of town, I took advantage of their non-cherry loving selves and decided to make a fun dessert just for me!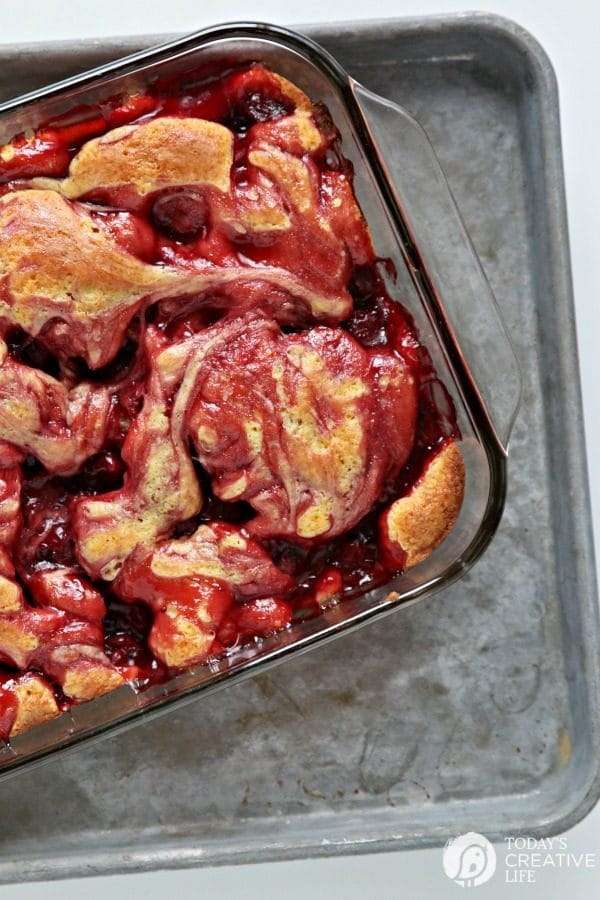 And since I couldn't really eat the whole thing, I shared with a neighbor. There was a bit left when they got home and they said it looked like a Marble Zombie cake.
Which is totally gross! But I can kinda see their point. So…. if you're a fan of The Walking Dead or the new show, The Santa Clarita Diet, this Cherry Marble Cake may be the perfect dessert to make while you watch it. We tried watching both of those shows and it's just not my thing.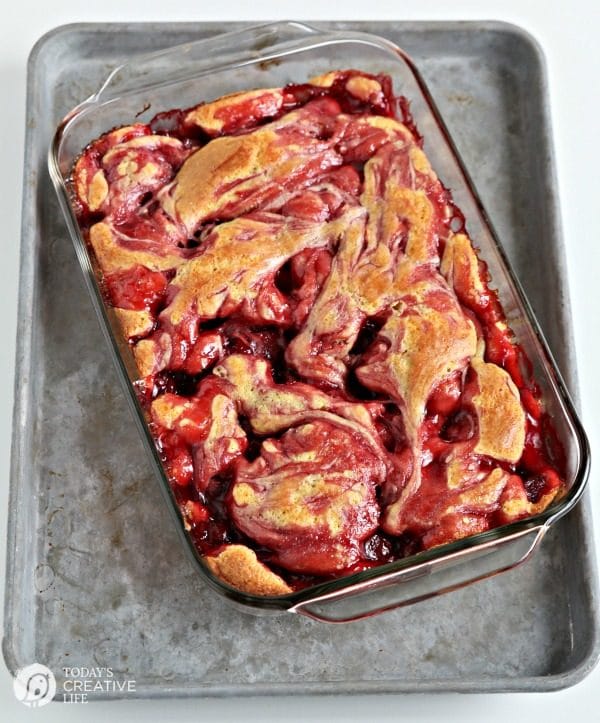 Don't let all this zombie talk scare you way, it really does taste delicious.
I thought about putting a glaze on top or whipped cream, But I have to admit, once this beautiful Cherry Marble Cake was out of the oven, I was only focused on eating a piece. But a simple glaze made with powdered sugar would be nice.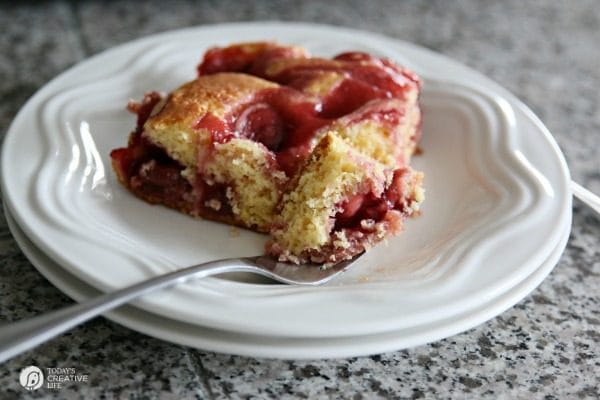 Cherry Marble Cake Supplies
Affiliate links for products listed are for your convenience only. This costs you nothing extra. If you happen to purchase anything as a result of clicking, TCL will receive a small percentage. Thank you for your support. This allows me to continue to offer you free content.
Yellow or White Cake Mix
Vegetable Oil
Eggs
How to Make a Cherry Marble Cake with Cake Mix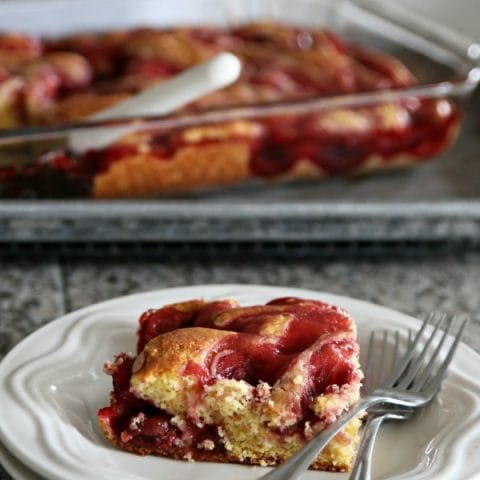 Cherry Marble Cake
Yield: 12
Prep Time: 10 minutes
Cook Time: 30 minutes
Total Time: 40 minutes
Ingredients
1 white or yellow cake mix
1/3 cup vegetable oil
2 eggs
1/2 cup water
1 can (21 oz) cherry pie filling
Instructions
Preheat your oven to 350 degrees and grease your cake pan. You'll need a 9 x 13 pan.
I used my KitchenAid mixer to mix the cake mix, oil, eggs and water together. Any hand mixer will also work.
Pour batter in your prepared pan.
Scoop out the cherry pie filling and drop randomly on top of the batter.
Use a spoon to blend in the cherry pie filling for the desired marble look.
Bake 25 - 30 minutes
Notes
If you'd like, you can add a glaze to the top after baking.
Mix 1 cup powdered sugar with 1 1/2 tablespoons milk. Drizzle over the top and enjoy!
Or serve with whipped cream!
Nutrition Information
Yield 12
Serving Size 1
Amount Per Serving
Calories 253
Total Fat 9g
Saturated Fat 2g
Trans Fat 0g
Unsaturated Fat 7g
Cholesterol 31mg
Sodium 351mg
Carbohydrates 39g
Fiber 1g
Sugar 21g
Protein 3g
Nutrition information isn't always accurate.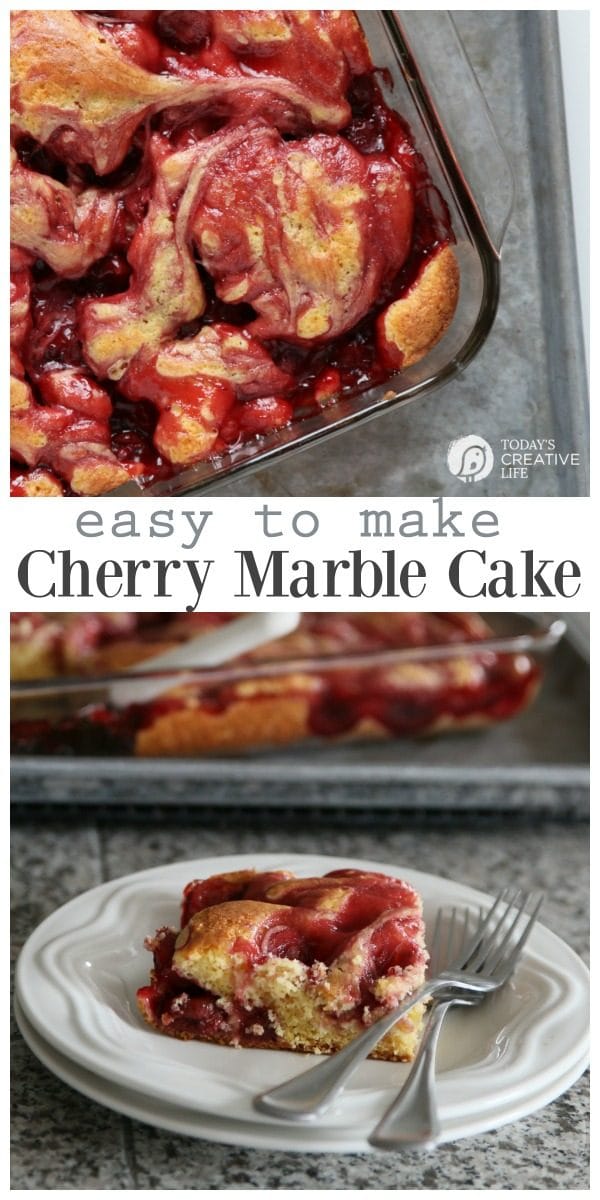 Cake Mix Hack Recipes
Why reinvent the wheels when you can use a cake mix for your base!
Photo Credit: www.thecountrycook.net
The Ultimate Cake Mix Hack!
Soft and chewy cake batter cookie bars.
Cake mix makes a great base for quick bread!
When you need a quick and fail-proof cookie recipe, chocolate cake mix cookies are the answer! Chocolate lovers will love you!
Whip this up for all your spring and summer events.
This warm and gooey dessert is the perfect blend of sweet and tangy!
---