At some point in your life, you're going to need to know How to Set your Formal and Informal Table. Tabletop Etiquette and entertaining tips also come in handy.
My entertaining style is pretty casual. I prefer relaxed entertaining with little attention on how to set the table correctly, but sometimes it's necessary.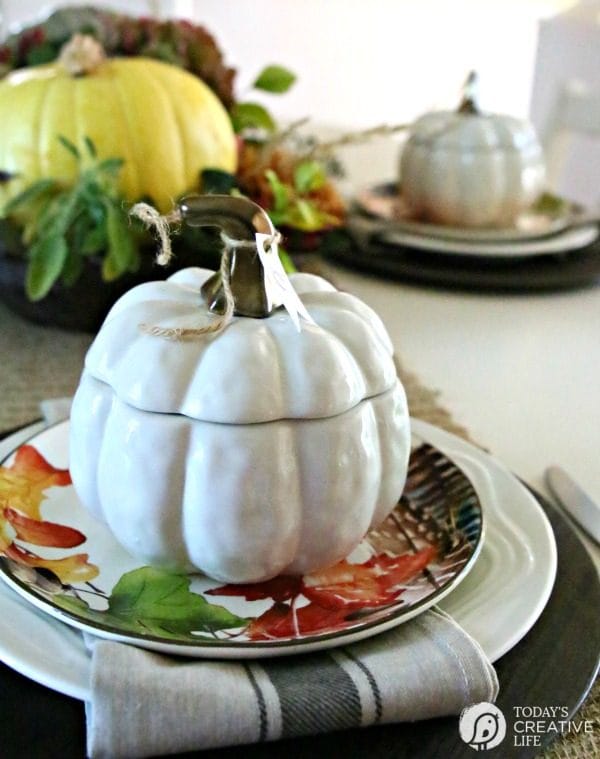 Do you host Thanksgiving? We do……EVERY. SINGLE. YEAR. As much as I enjoy it, I don't always enjoy the prep. Using these free Thanksgiving Prep Printables has made it much easier.
How to Set Your Formal and Informal Table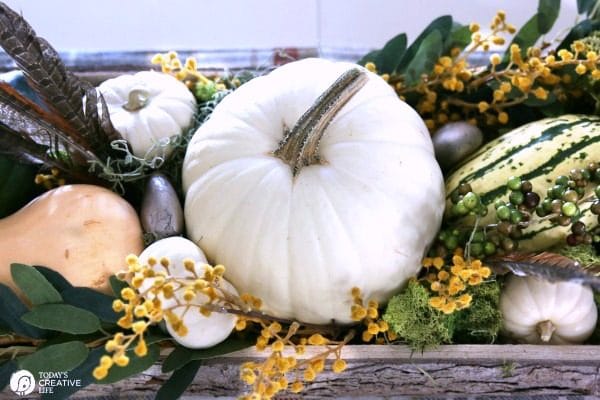 My favorite part of setting the table is the centerpiece. Creating a fall theme Thanksgiving centerpiece is what I look forward to the most.
Our Thanksgivings aren't very formal, so I usually don't even worry about placing the silverware in the correct place. But believe it or not, I've had guests tease me and point out that the forks were on the wrong side.
Table Setting Diagram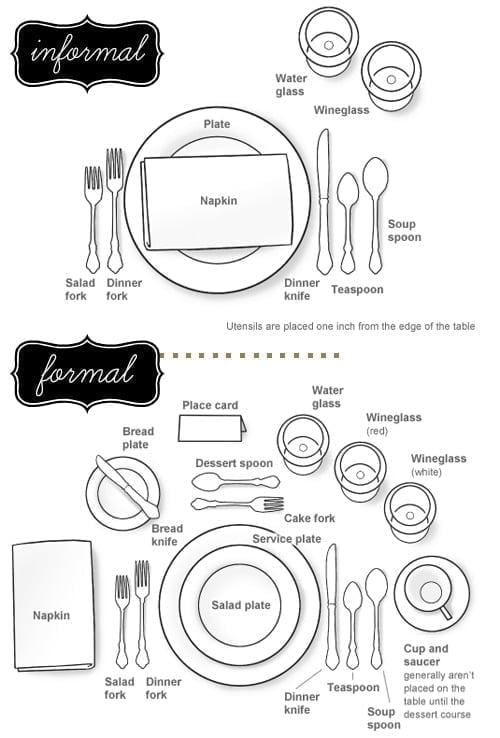 This handy visual table setting diagram can be printed by right-clicking on the image and "Save As", then open it up on your device and print. Store it with your holiday dishware so you have it when you need it.
Setting the Table – Holiday Tabletop Etiquette
Knowing how to set a table is one of those life lessons.
Dinner Plate
Place the largest plate with or without a charger.
Salad Plate
Place the salad plate directly on top of the dinner plate. This plate is removed after the salad course if finished.
Soup Bowl
My diagram doesn't show the soup bowl, but it if you are serving soup, it would be placed right on top of the salad plate.
Bread Plate
This small plate is placed above and to the left of the dinner plate. It will be directly above the forks.
Dinner Fork
The dinner fork is larger than the salad fork. Place it next to the dinner plate on the left side.
Salad Fork
The Salad Fork is smaller. It is placed next to the dinner fork on the left.
Dinner Knife
Place the dinner knife directly to the right, next to the dinner plate.
Teaspoon
Next to the dinner knife on it's right, is the teaspoon.
Soup Spoon
If you're having soup, this larger spoon would be placed next to the teaspoon on the right.
Napkin
There are so many choices on how to present your dinner napkin. If you're not sure what to do, you'd be safe placing it off to the left.
Water Glass
The water goblet is placed right above the dinner knife. It is best if you fill them before guests arrive.
Wine Glasses
If you're at my home, you have one wine glass. If you're serving the queen, you'd probably have 2 or even a champagne flute. These go to the right of the water glass.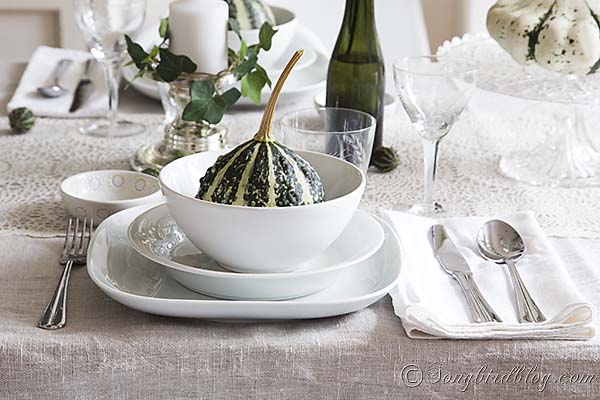 Formal Table Setting Ideas
My friend Marianne from Songbird sets a beautiful and casual table for fall. I love the idea of using squash as part of the decor. Great idea for Thanksgiving.
If you've been reading my blog for any amount of time, I'm sure you already know I'm a complete INFORMAL kind of table setter. Heck…I'd place all the utensils in a jar if I could and use hand stamped diy napkins. I am SO not a formal person in any way…….shape or form. So when it comes time to get the table ready, I have a small panic attack wondering if I have it somewhat "proper". And really, if you light enough candles, and serve enough wine, does it really matter if you know how to set your formal and informal table?
I do remember…LONG ago attending a fancy-schmancy dinner with my friend Valerie. She LOVES formal. In fact, in high school, she'd pick me up for a movie wearing a velveteen blazer (it was the late 70's people) and I'd be in jeans and a sweatshirt. It's still pretty much the same when we get together, except we've updated our wardrobe. She even tried taking me to High Tea once in Victoria at the Empress Hotel…..Anywhoo…….this dinner……I sat down and I had never seen so many pieces of silverware! What in the heck was that fork at the top of my plate for? Needless to say, I was thrilled when I learned it was for dessert! And thankfully she was sitting next to me to whisper to me what to use when. True story.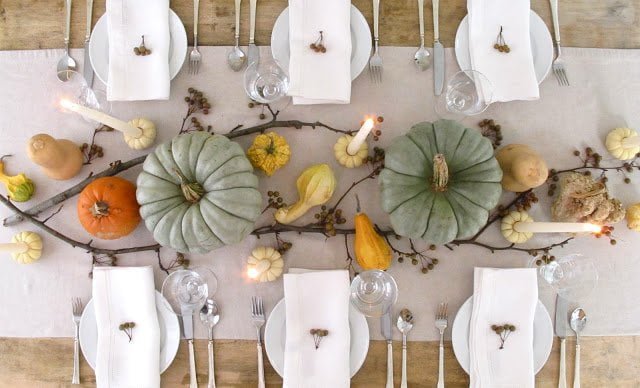 I LOVE LOVE LOVE simple and I love this centerpiece. I must replicate this for my table this year. Jenny from Everyday Occasions has GREAT ideas too!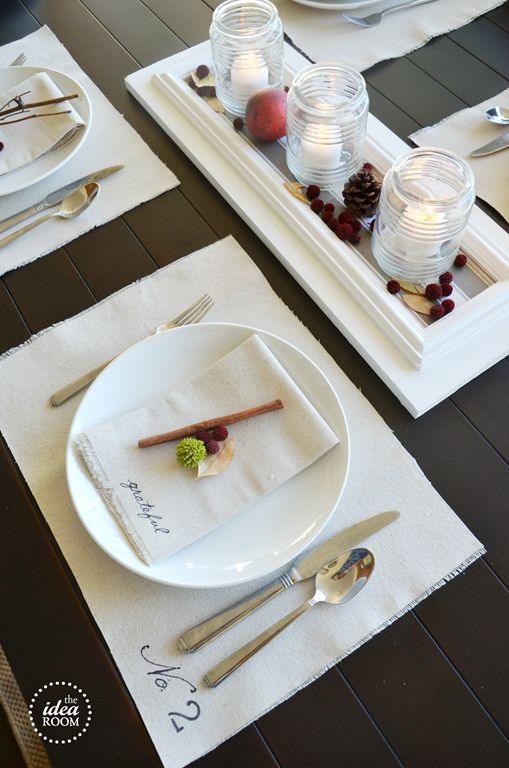 Amy from The Idea Room brings simplicity AND style to this informal setting. Can you believe she made those napkins and placemats from drop cloths? She's brilliant. She also made the centerpiece from molding pieces.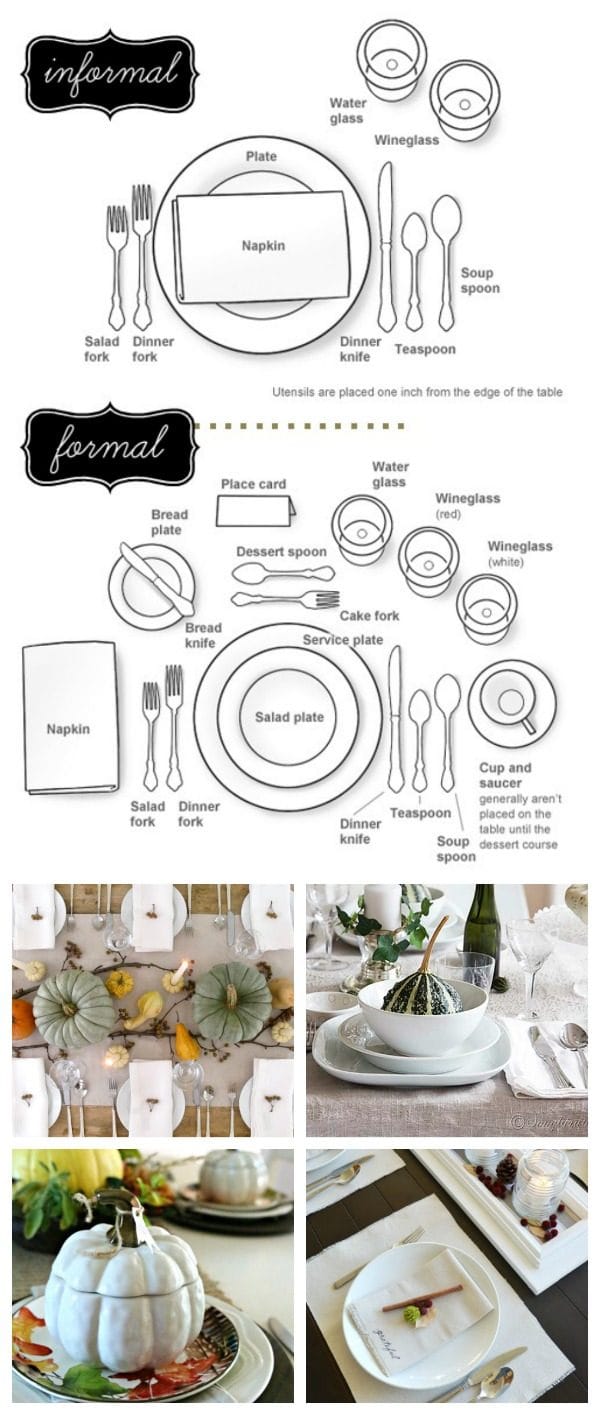 Easy Entertaining Tips
Set your table ahead of time – I've set my holiday table a couple of days ahead. If you're worried about dust, just cover it with one of those thin plastic table clothes you find at the dollar store.
Clean your Glassware – Streaky or cloudy glassware is annoying and looks like you're setting out dirty dishes. Even though I put away all our wine glasses clean, they seem to look a little cloudy. How to clean wine glasses or any glass doesn't have to be a huge task. I usually hand wash with hot soapy water, with a splash of white vinegar. Sometimes, I'll sprinkle a bit of salt on the glass before I scrub it with a soft cloth or sponge.
Measurements – If you're hosting a formal dinner, the professionals say to have your tablecloth drop 12-18 inches from the edge. You can use what's called a silence cloth underneath to protect the table if needed. My table is already distressed, so nothing is going to ruin it. Place settings should be 12 inches apart and the silverware should be 1 inch from the edge. I remember seeing this when I was watching Downton Abbey.
Unscented – Keep your candles unscented and your centerpieces free from really fragrant flowers. You don't want these scents competing or interfering with dinner. Some guests may also be extra sensitive or allergic.
No Blocked Views – I love a large centerpiece, but you want your guests to be able to see people on the other side of the table. This goes for candles too. Keep your table decor lower so people can see everyone easily.
Mix & Match – Don't be afraid to mix and match your dinnerware. For less formal events, I've even used some of the fancy disposable flatware and plates.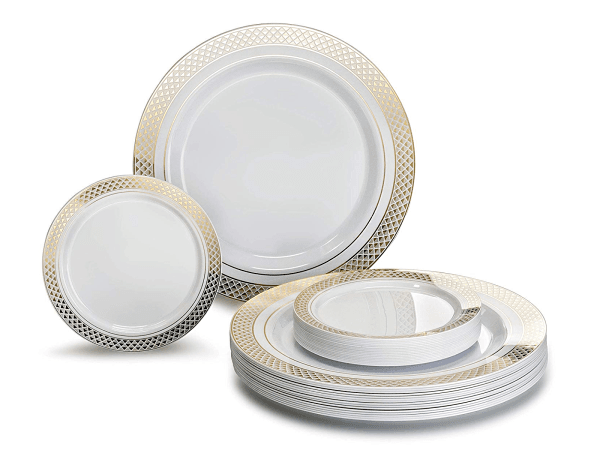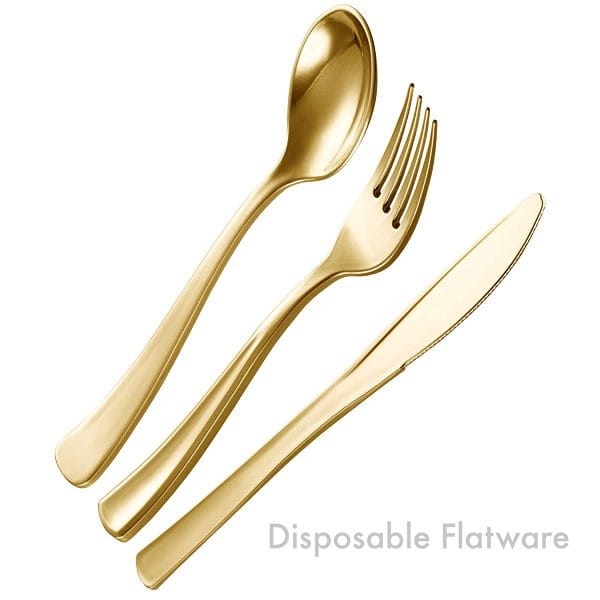 ---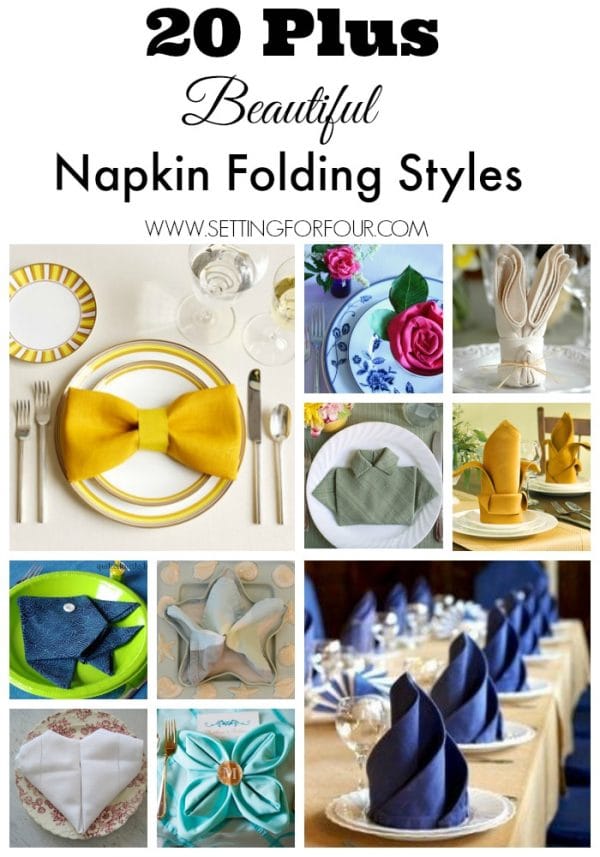 20+ Napkin Folding Styles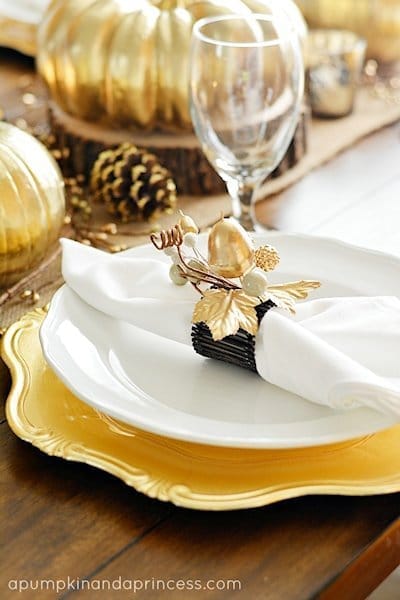 10 Creative Thanksgiving Table Ideas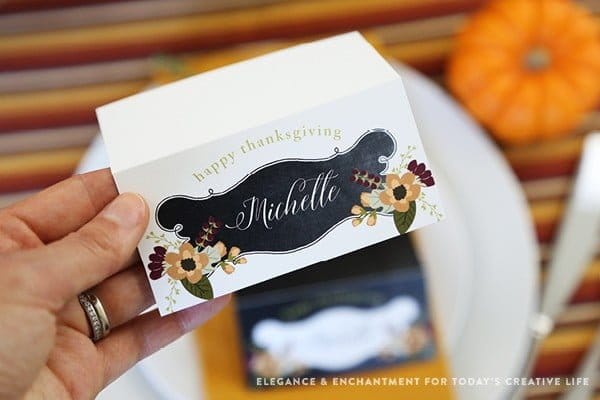 Free Printable Thanksgiving Place Cards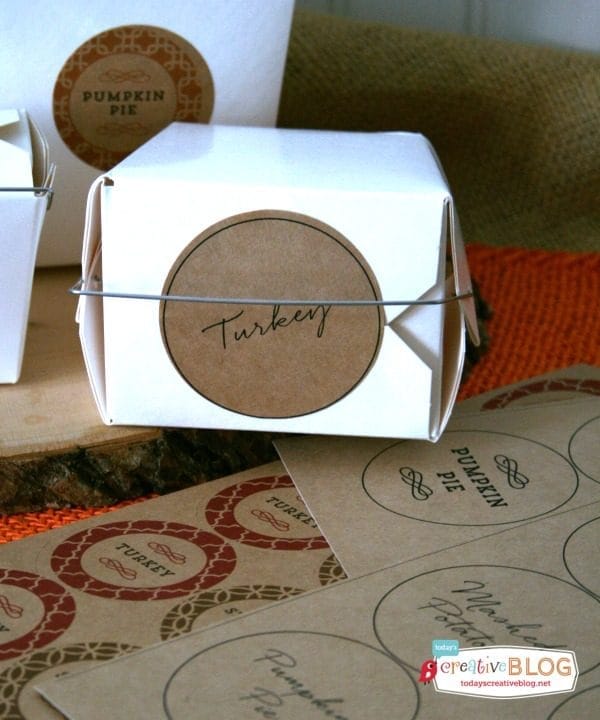 Thanksgiving Leftover Station with Free Printables