At some point in your life, you're going to need to know How to Set your Formal and Informal Table.
Do you host Thanksgiving? We do……EVERY. SINGLE. YEAR.
As much as I enjoy it, I don't always enjoy the prep. Using these free Thanksgiving Prep Printables has made it much easier.
How to Set Your Formal and Informal Table
My favorite part of setting the table is the centerpiece. Creating a fall theme Thanksgiving centerpiece is what I look forward to the most.
Our Thanksgivings aren't very formal, so I usually don't even worry about placing the silverware in the correct place.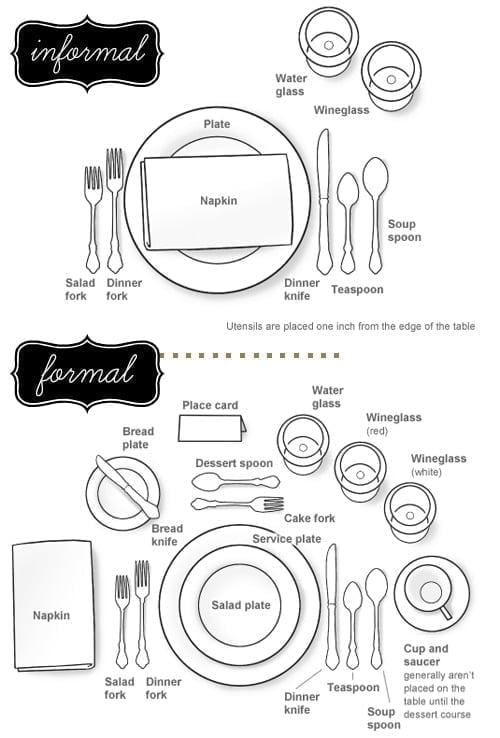 If you've been reading my blog for any amount of time, I'm sure you already know I'm a complete INFORMAL kind of table setter.  Heck…I'd place all the utensils in a jar if I could and use hand stamped diy napkins. I am SO not a formal person in any way…….shape or form. So when it comes time to get the table ready, I have a small panic attack wondering if I have it somewhat "proper".  And really, if you light enough candles, and serve enough wine, does it really matter if you know how to set your formal and informal table?
I do remember…LONG ago attending a fancy-schmancy dinner with my friend Valerie.  She LOVES formal.  In fact, in high school, she'd pick me up for a movie wearing a velveteen blazer (it was the late 70's people) and I'd be in jeans and a sweatshirt.  It's still pretty much the same when we get together, except we've updated our wardrobe. She even tried taking me to High Tea once in Victoria at the Empress Hotel…..Anywhoo…….this dinner……I sat down and I had never seen so many pieces of silverware! What in the heck was that fork at the top of my plate for? Needless to say, I was thrilled when I learned it was for dessert! And thankfully she was sitting next to me to whisper to me what to use when. True story.
Looking at this table setting above couldn't be more informal…..you don't even get a spoon……they didn't need it, so why put it out, right?  I still think it's cute and thought I'd share it anyway. It's not a Thanksgiving table, but any other time of year would be fun.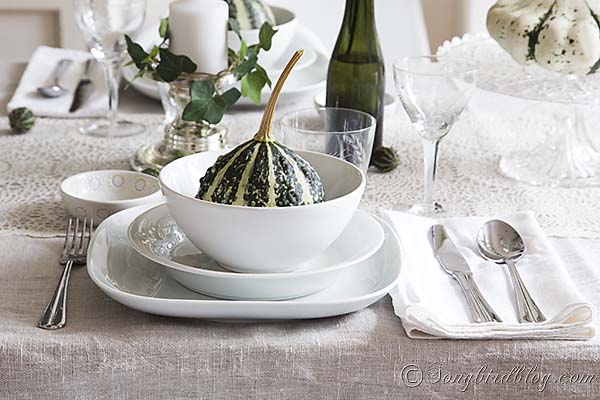 My friend Marianne from Songbird knows the difference. This is gorgeous! Great idea for Thanksgiving.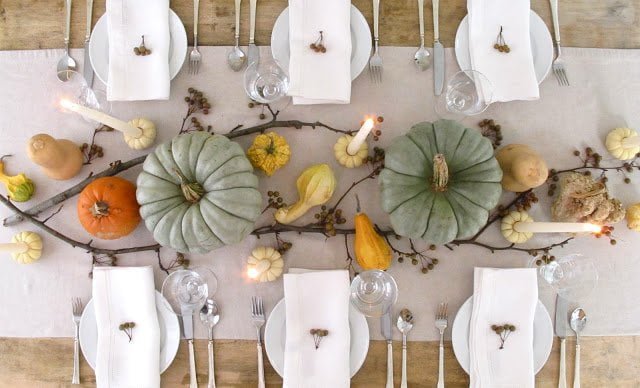 I LOVE LOVE LOVE simple and I love this centerpiece.  I must replicate this for my table this year. Jenny from Everyday Occasions has GREAT ideas too!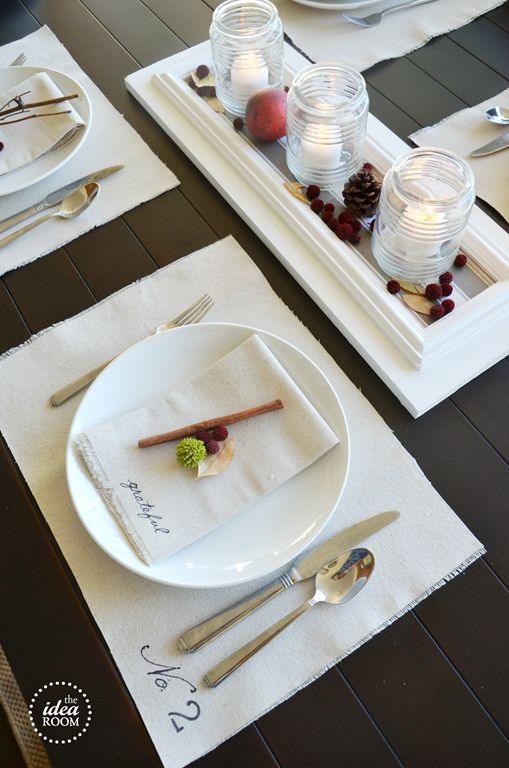 Amy from The Idea Room brings simplicity AND style to this informal setting. Can you believe she made those napkins and placemats from drop cloths?  She's brilliant. She also made the centerpiece from molding pieces.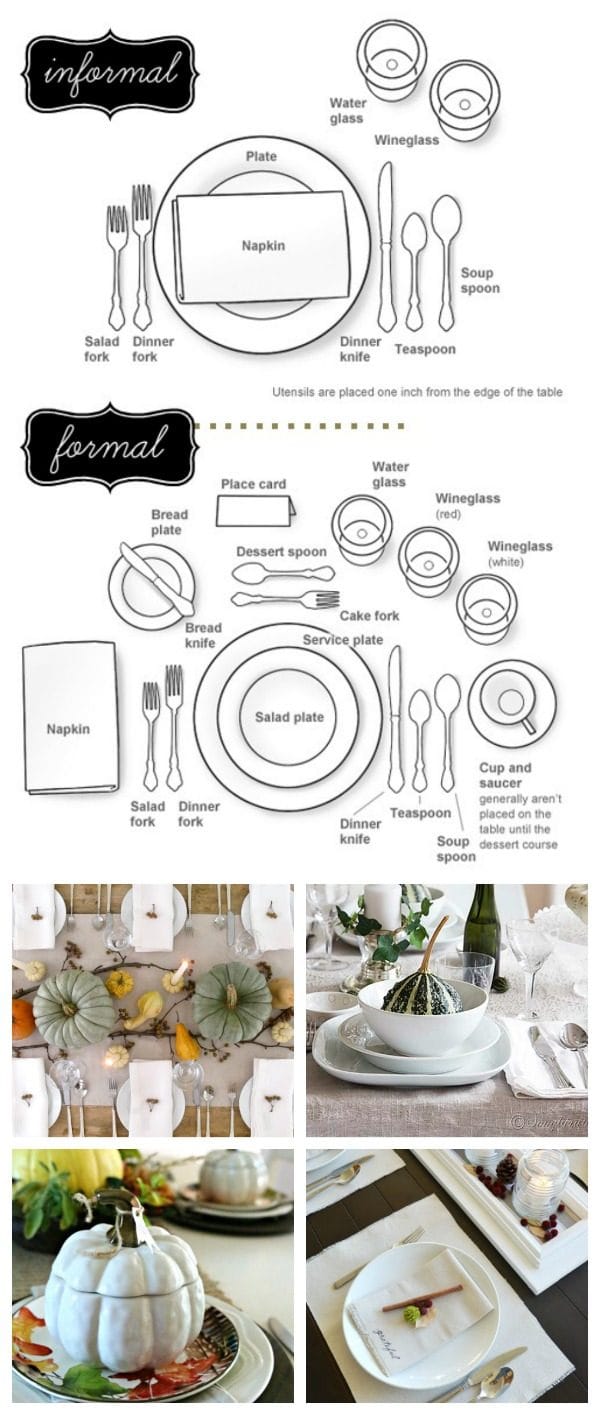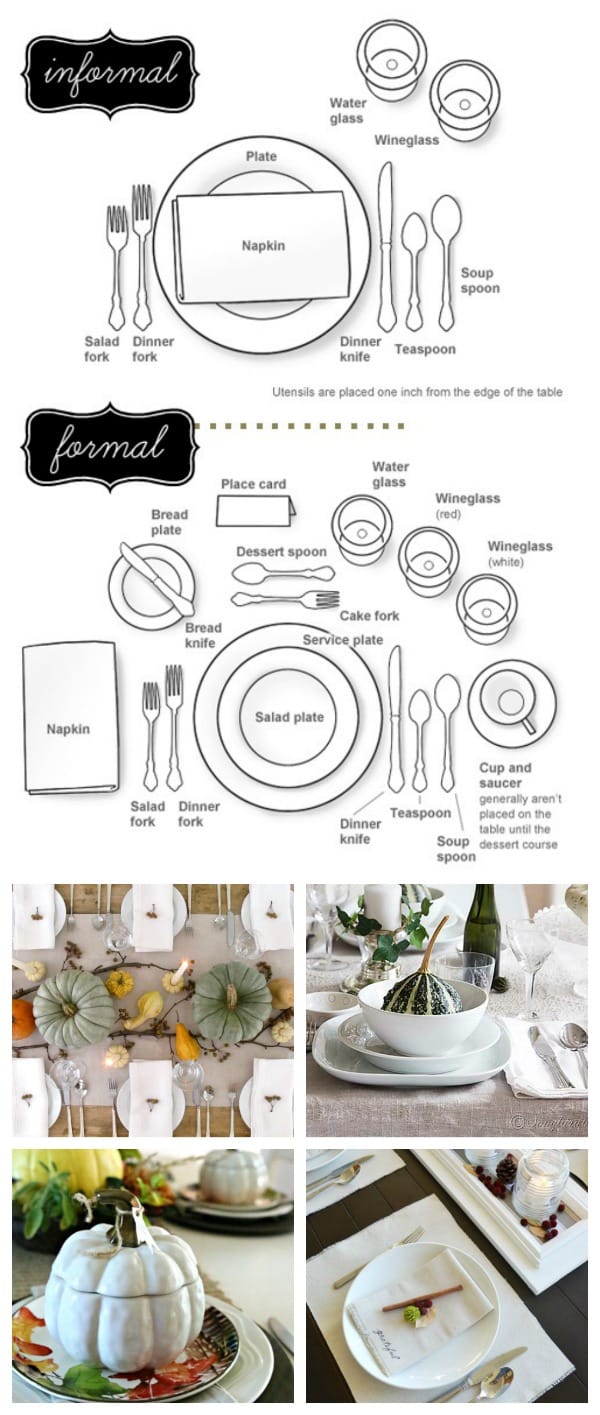 ---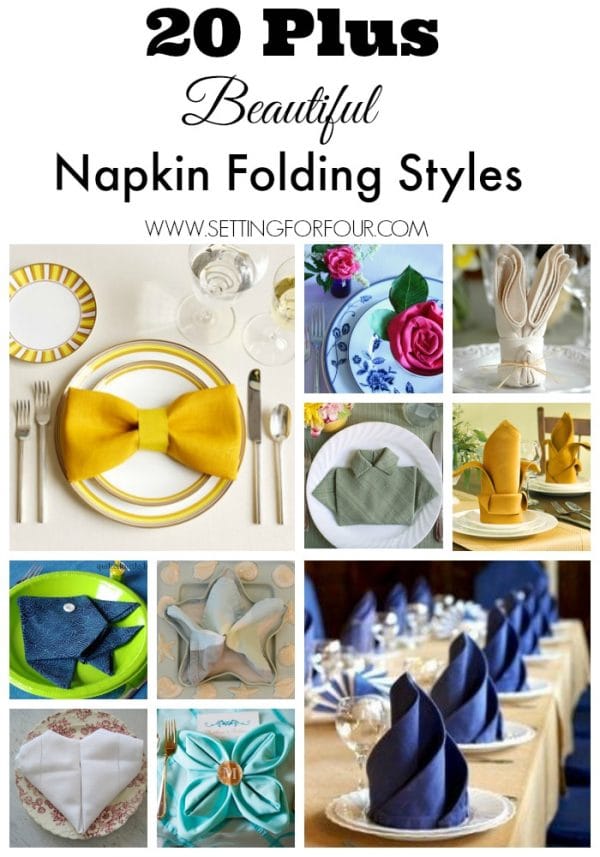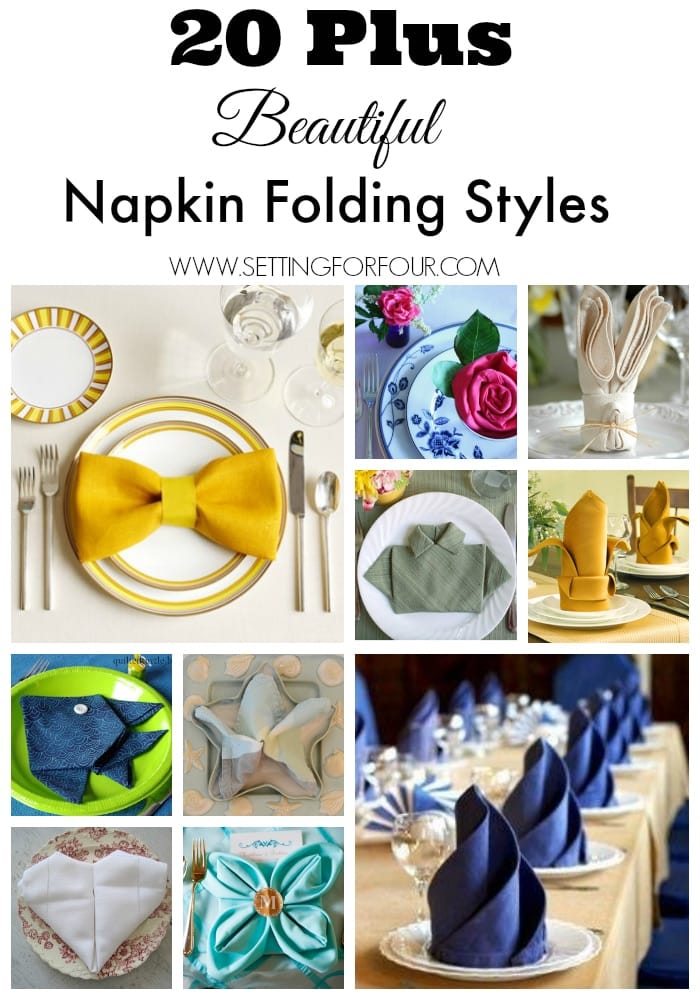 20+ Napkin Folding Styles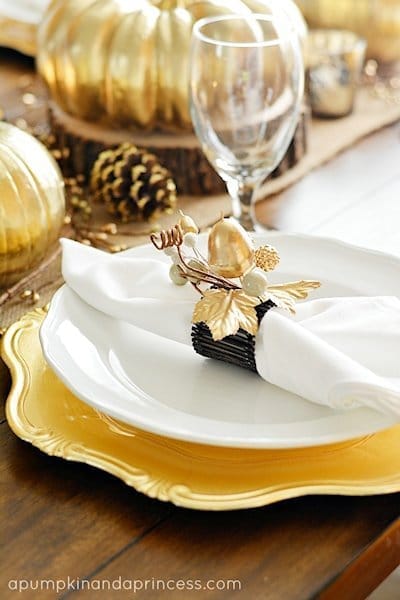 10 Creative Thanksgiving Table Ideas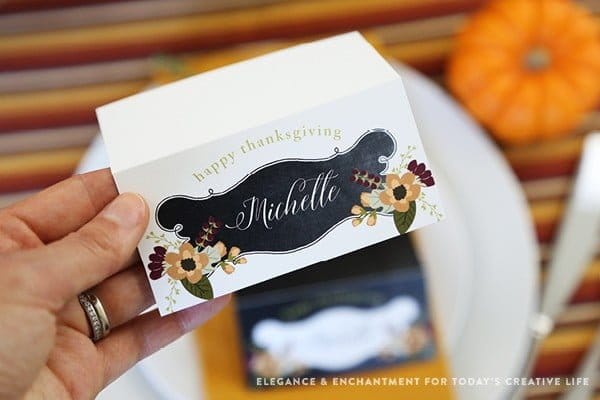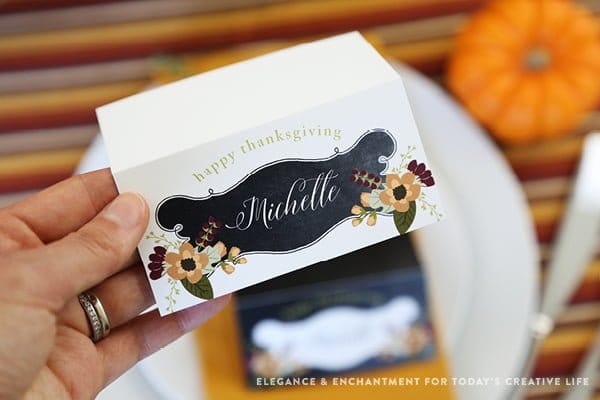 Free Printable Thanksgiving Place Cards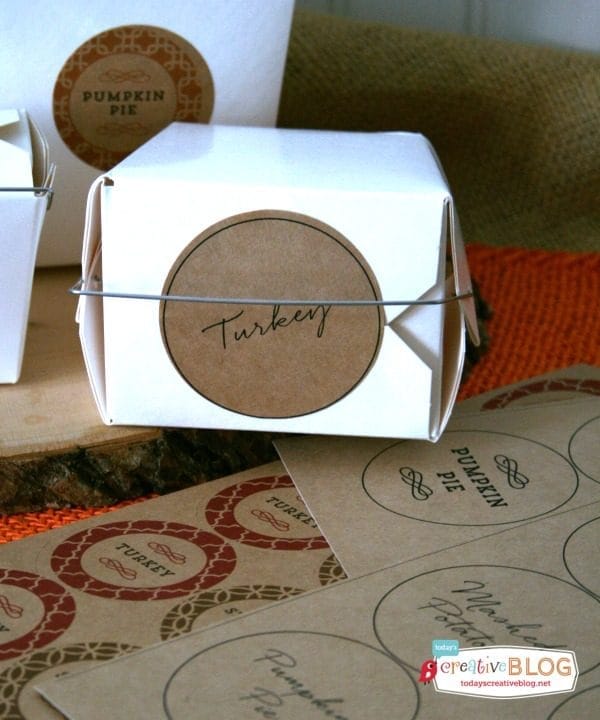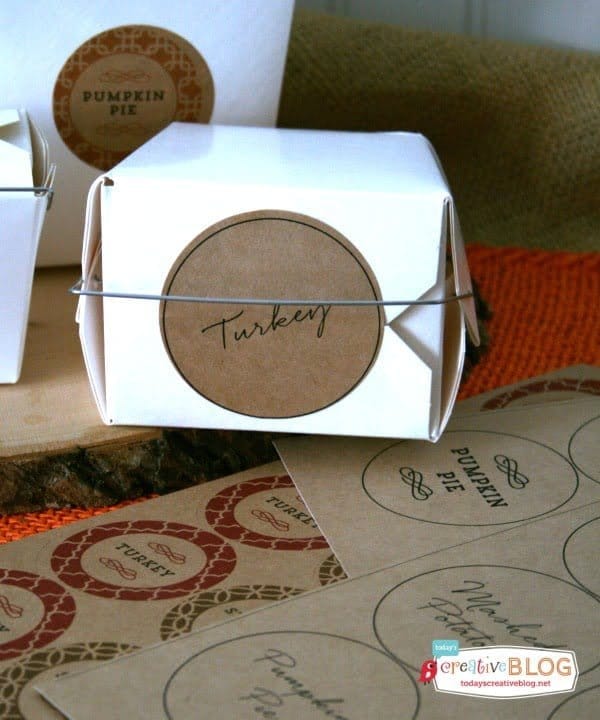 Thanksgiving Leftover Station with Free Printables