10 Creative Thanksgiving Table Settings to get you thinking and planning for this year! Create a stylish table with DIY ideas.
Since we host Thanksgiving every year, one of my favorite things to do is look for creative Thanksgiving Table Settings and Fall Table Centerpieces each year. I usually keep it pretty simple, like you can see from my table last year.
I figured most of you are like me and that's why I'm sharing 10 Creative Thanksgiving Table Settings to get your creative mojo heading in the right direction.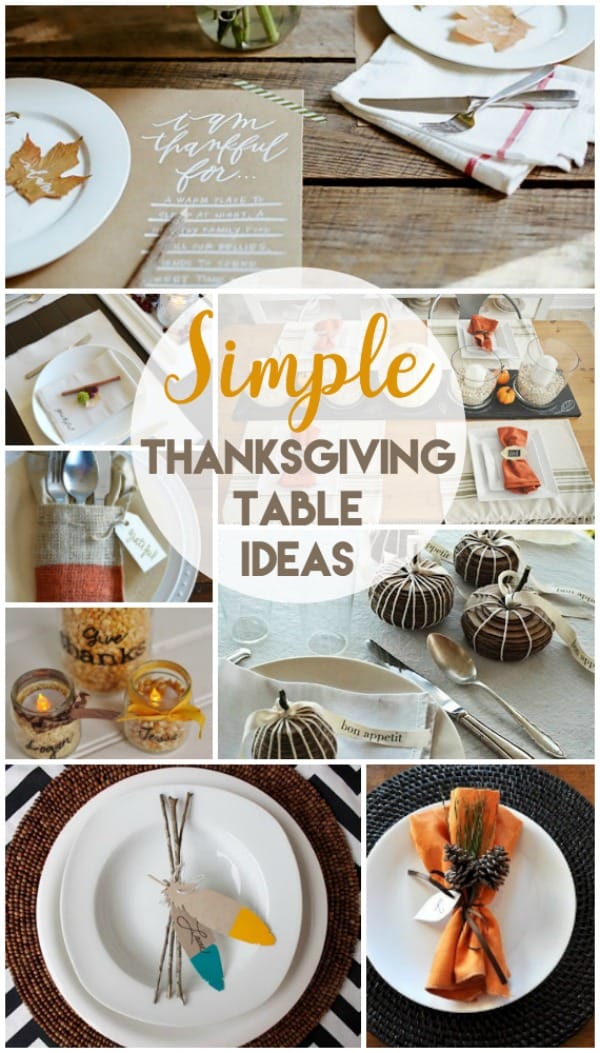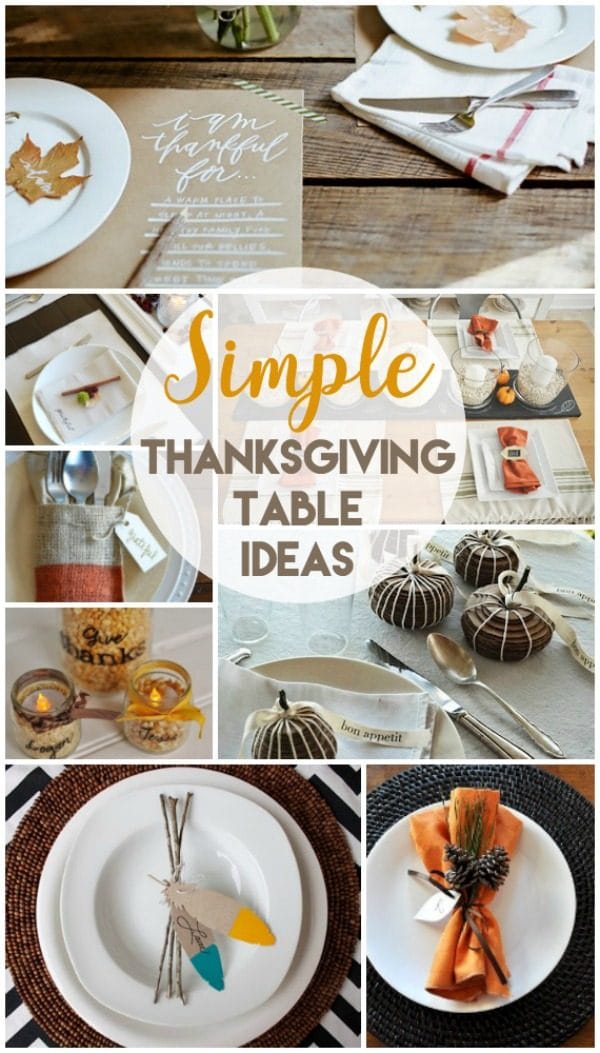 10 Creative Thanksgiving Table Settings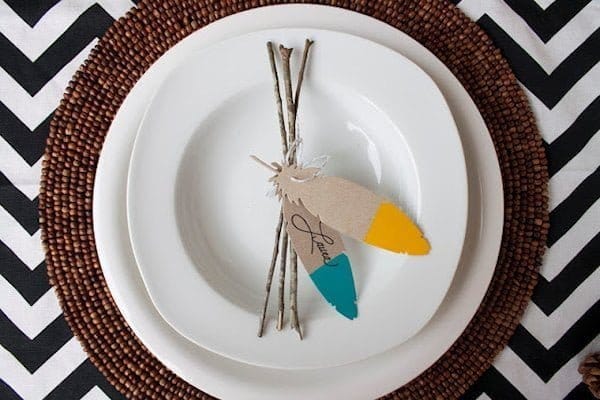 Laura Lucille | I LOVE simple place settings! These paper feathers with a hint of color, tied with 3 simple branches are beautiful! See this feather place setting here.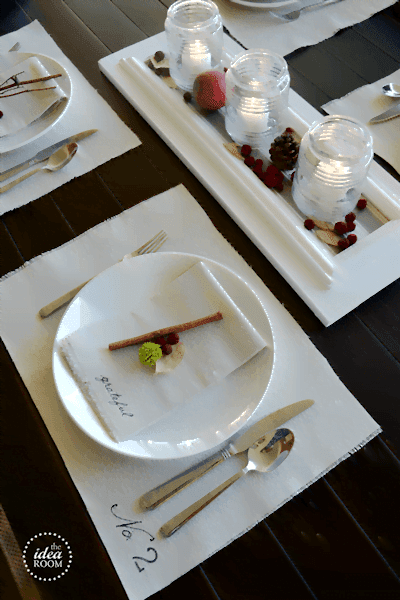 The Idea Room | I remember when Amy did this for last year! This was for a Lowe's Creative Ideas challenge we had and I just thought it was so brilliant! No over thinking, just pure style. These placemats were made from drop clothes believe it or not. See this Thanksgiving Table Setting here.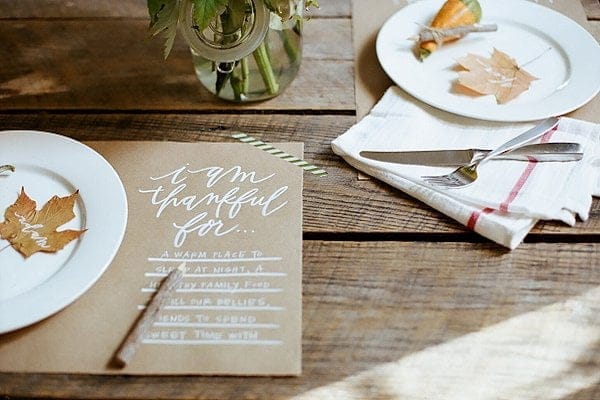 Oh My Deer | Speaking of simple and easy placemats! How cool are these? And you can tuck them away to read year after year. I love the natural and rustic look, don't you? See this diy Thanksgiving placemat tutorial here.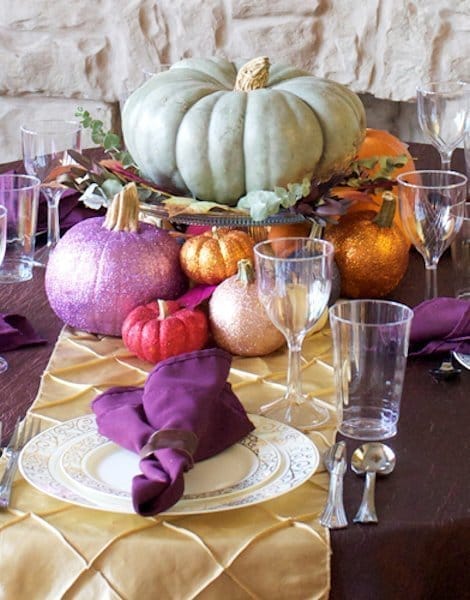 Smarty Had a Party | Be bold and bring in non-traditional colors for the holiday! Glitter is always welcome! See this glittered Thanksgiving Table here.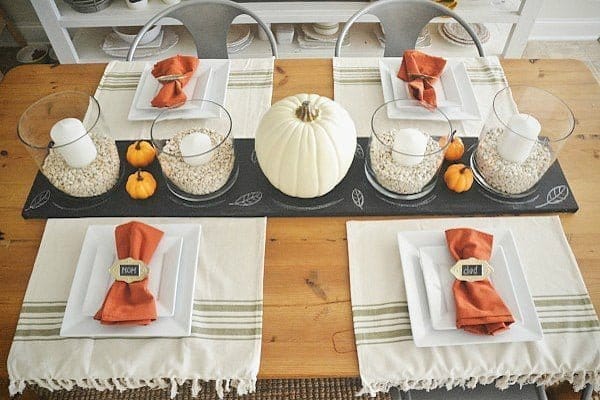 Liz Marie Blog | Liz has such great style! This chalkboard table runner is a fun focal point and I'm loving the chalkboard napkin rings. See how here.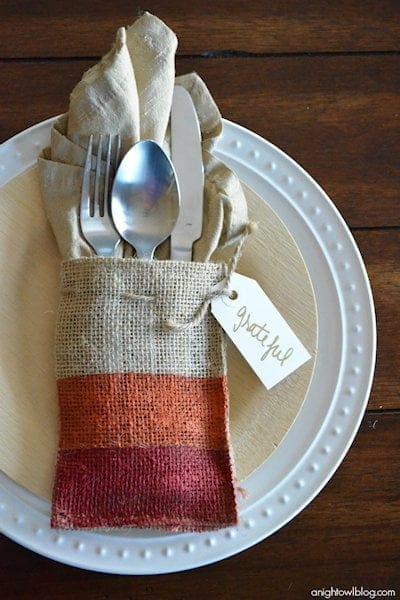 A Night Owl Blog | Kim is so creative! Burlap is one of my favorite things in the world. These painted burlap utensil and napkin holders are adorable! They really make a statement! See how here.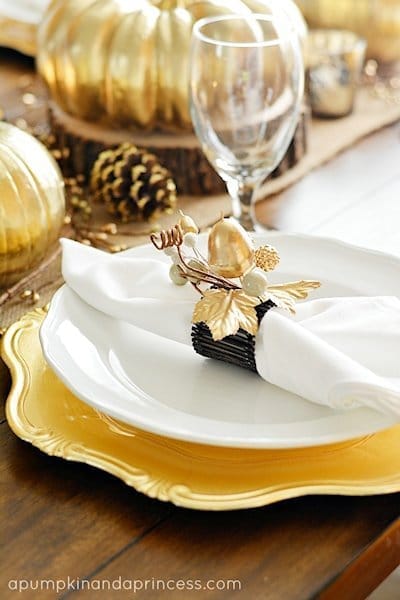 A Pumpkin and a Princess | Gold is the "it" color this year! It's trendy, elegant and it will make you happy! This gold table setting is full of great ideas! See how here.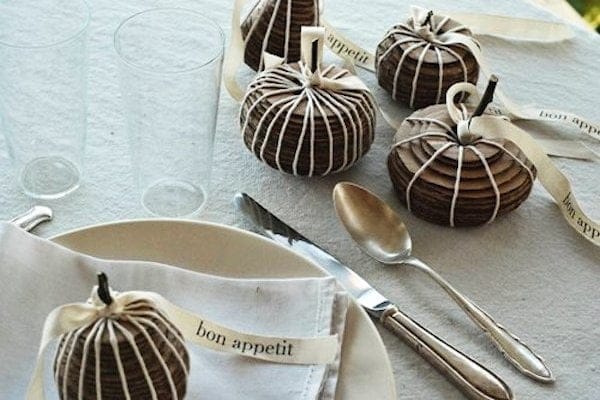 Design Sponge | I still can't believe these unique and stylish pumpkins are made from cardboard! CARDBOARD!!! This proves that creative ideas are all around you! See the full tutorial here.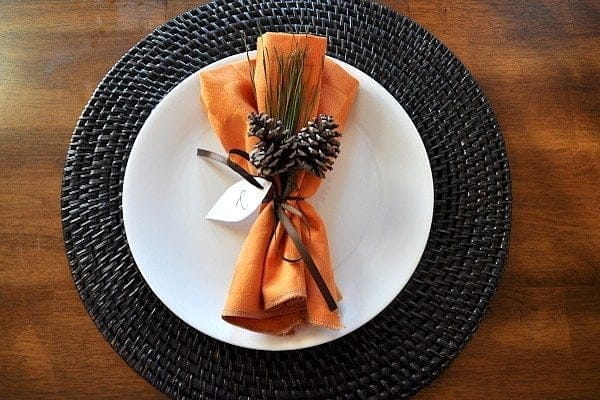 The Mother Huddle | I've always leaned toward using natural elements when creating a festive table. Nature usually provides us with all the supplies we could ever want. See the tutorial here.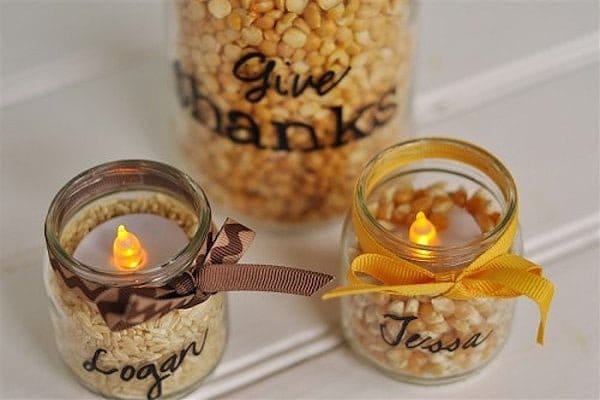 Your Homebased Mom These simple name place settings are adorable! Jars, grains, and a sharpie! LOVE! Using grains, popcorn, lentils from your kitchen can often create the best table setting. See how Leigh Anne did it here.
Thanksgiving Recipes and Ideas
Thanksgiving comes together easily with these creative recipes and ideas.
Keep your holiday planning easy and organized.
Savory Roasted Sweet Potatoes with Garlic Butter is the perfect side dish for Thanksgiving or Sunday Dinner.
Set up a leftovers table complete with takeout boxes and stickers.
Add style to your holiday table.
Simple table centerpiece for fall and Thanksgiving.
This easy craft can be done on most surfaces for any fun DIY.
Follow these step by step instructions and make your own.
This natural elements centerpiece is so easy!
Quick and easy holiday decor.
Stylish decor in minutes.
Simple ideas for a festive porch.
The first side dish to go!
Slow Cooker Stuffing Recipe packed with flavor!