It's fall, which means it's all things pumpkin! This Crockpot Crustless Pumpkin Pie recipe is easy to make and crushes that craving for pumpkin pie!
CrockPot Crustless Pumpkin Pie with Vanilla Pumpkin Whipped Cream
Yesterday we were craving pumpkin pie, but of course, we didn't have any and we weren't going to go buy one in the midst of all the carpet cleaning chaos we had going on. I knew Stephanie would have a yummy dessert recipe that I could whip up. We went with the CrockPot Pumpkin Pudding, it's basically crustless Pumpkin Pie.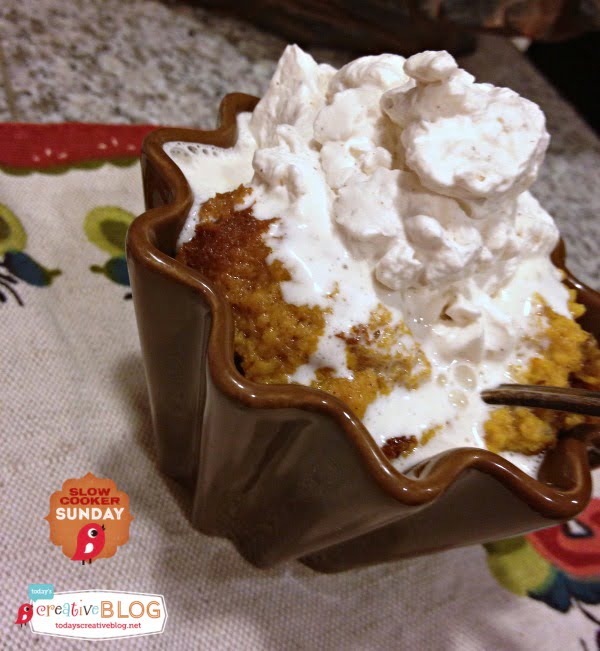 I had all the ingredients except for the baking mix but thought I'd try using my Trader Joe's Pumpkin Pancake mix instead. It worked OK, but I think it would have set up nicer had I used a baking mix. (or I probably could have let it cool longer) It was still delicious and we enjoyed it just as much. Seriously……….who doesn't love the pumpkin pie custard part of pumpkin pie?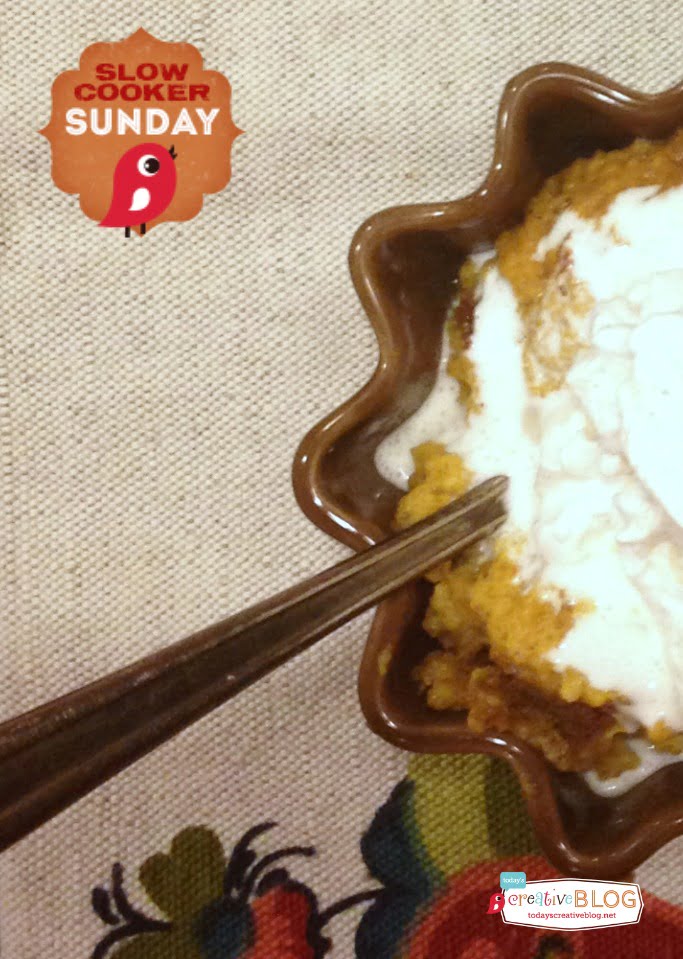 My house was in shambles due to moving every piece of furniture into the entryway and kitchen so we could shampoo the carpets, so a yummy dessert at the end of the day was just what we needed, but it also meant no open spaces on any flat surface to take a nice photo……Thank Goodness for the iPhone. I snapped a couple of shots before handing the dessert to my husband.
I had whipping cream in the fridge just begging to be whipped up, so I added a couple of teaspoons of vanilla and a teaspoon of pumpkin pie spice…….because you can never have enough pumpkin pie anything in your life.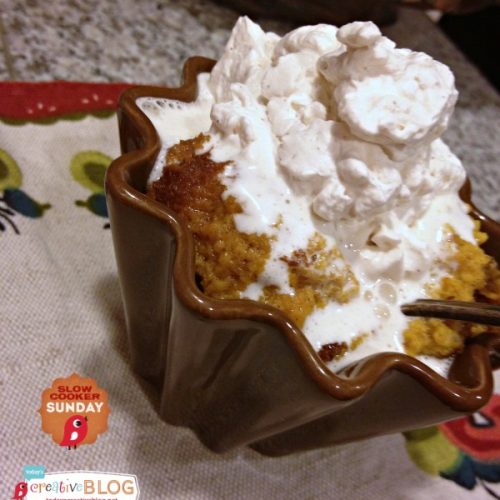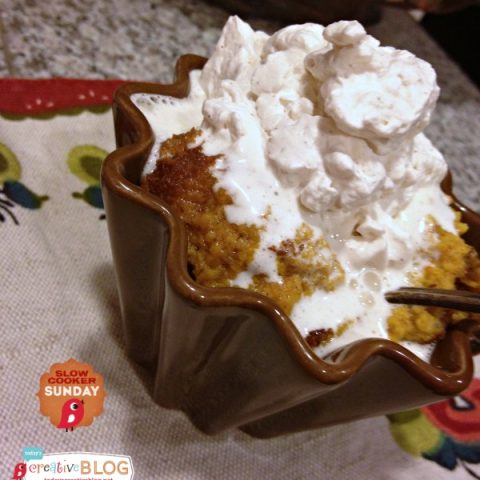 CrockPot Crustless Pumpkin Pie
Slow Cooker Crustless Pumpkin Pie has all the taste as regular pumpkin pie.
Ingredients
1 can Pumpkin Puree (15 oz) I used Organic Pumpkin from Trader Joes
1 can evaporated milk (12 oz)
3/4 cup sugar
1/2 cup Bisquick type mix
2 eggs
2 Tablespoons butter- melted
1 1/2 teaspoons pumpkin pie spice
OR
( 1 1/4 teaspoon cinnamon, 1/2 teaspoon nutmeg, 1/4 teaspoon cloves, 1/8 teaspoon ginger)
2 teaspoons vanilla extract
Instructions
This recipe was tested mostly in a 4 qt. crockpot. You can use a bigger one, but the cooking time will be quicker.
Spray cooking spray into your crockpot
Set aside
In a mixing bowl, combine all the ingredients, and whisk until fully blended. Make sure your spices have clumped up.
Pour the batter into your prepared slow cooker.
Cover and cook on high for 3-4 hours or on low for about 6 hours.
Check your "pie" after 2 hours on high, and 3 hours on Low, then check every 30 min.
When fully cooked, the pie will look just like a finished pumpkin pie. The batter will be browned on top and will crack or pull away from the sides. The center is set enough for you to touch it without getting batter on your finger.
Turn off when finished and let it sit until room temperature. I didn't wait and it was still pretty tasty.
Serve with whipped cream.
Other Slow Cooker recipes you may enjoy: