This time of year is all about soup! I like a chunky hearty soup and this Red Cabbage Kielbasa White Bean Soup is all that and more!
The star of this soup is the Aunt Nellie's Sweet & Sour Red Cabbage. The flavors along with all the other vegetables, beans and kielbasa pack a delicious flavor that even your kids will love!
This post is sponsored by Aunt Nellie's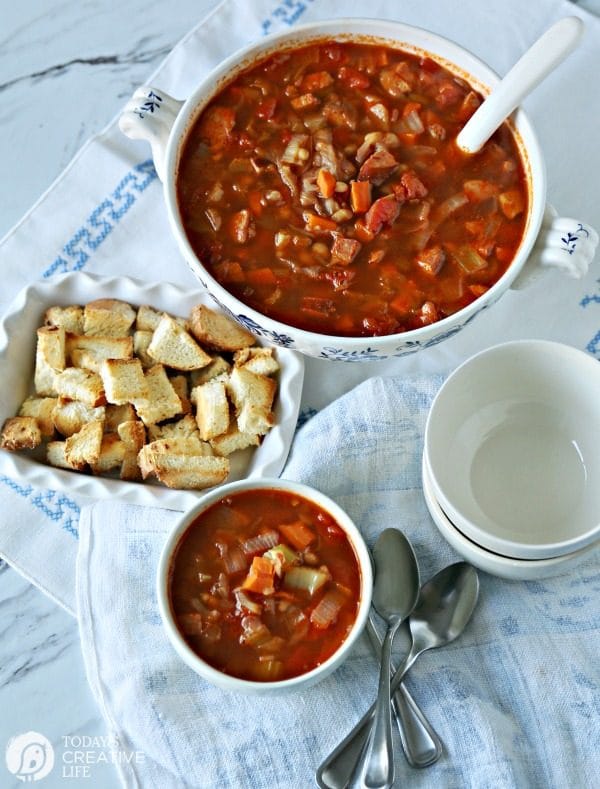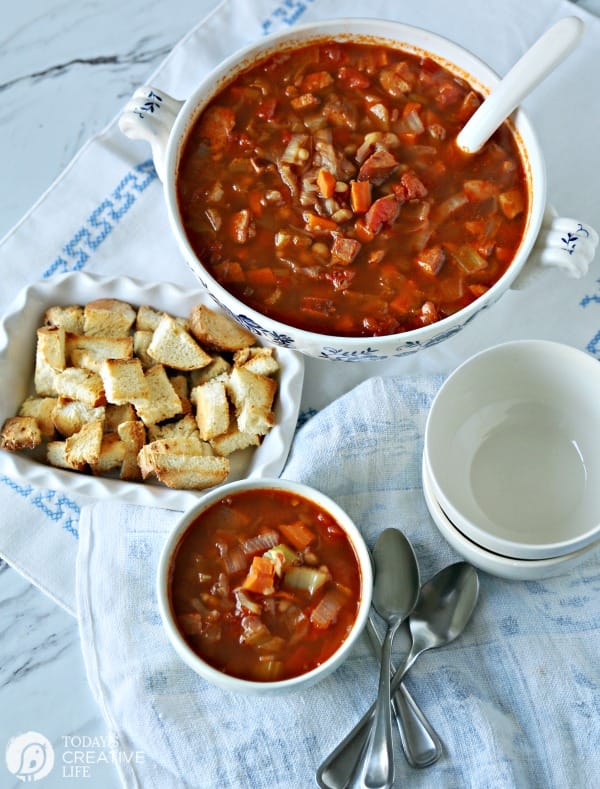 Red Cabbage Kielbasa White Bean Soup
This soup makes a lot, so it's perfect for large families, potlucks, or having leftovers to freeze.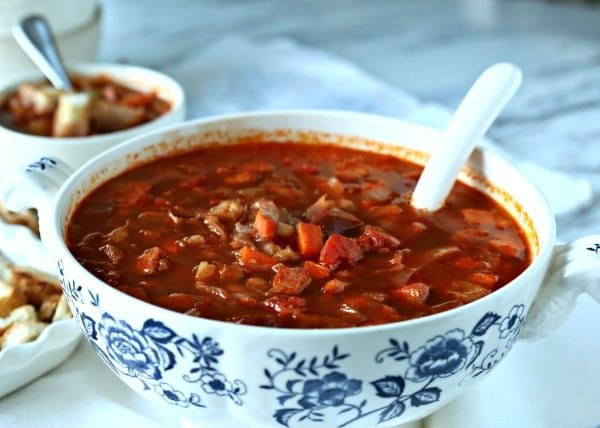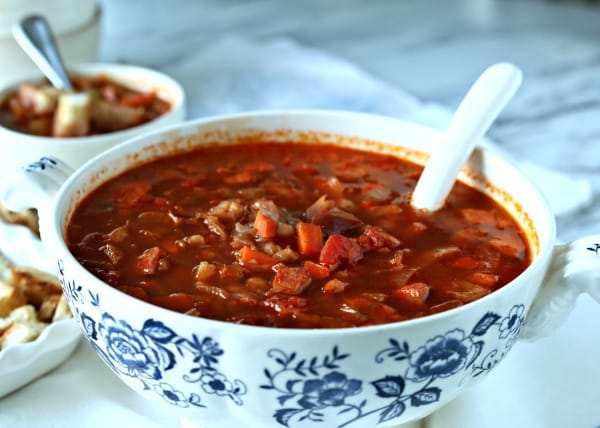 Serve it up with a fresh green salad, crusty bread or maybe some homemade croutons. I had a bit of the garlic bread left over from making my Cheesy German Potato Soup last week, so I cut the rest of the bread into bite-sized cubes and toasted them under the broiler. They were perfect with this Red Cabbage Kielbasa White Bean Soup! It really hit the spot!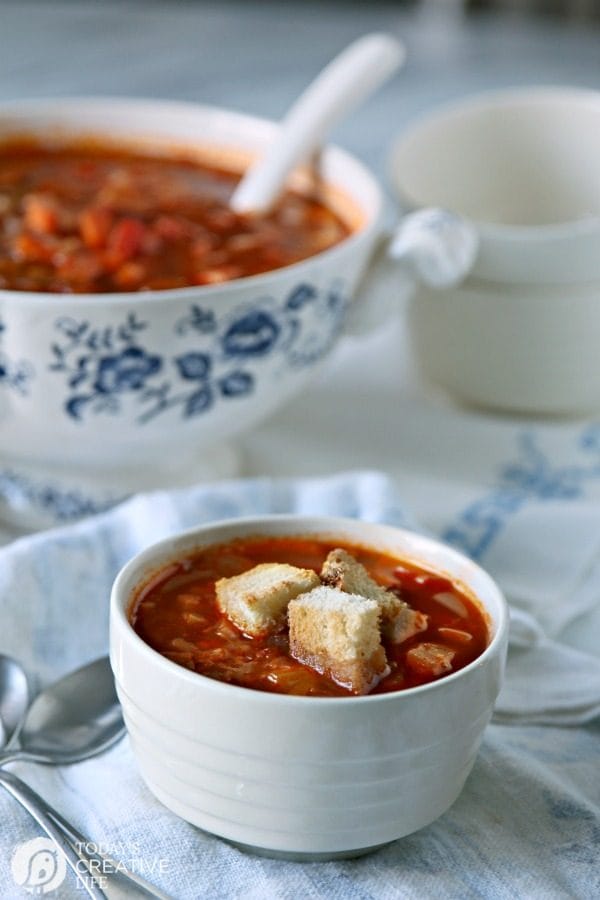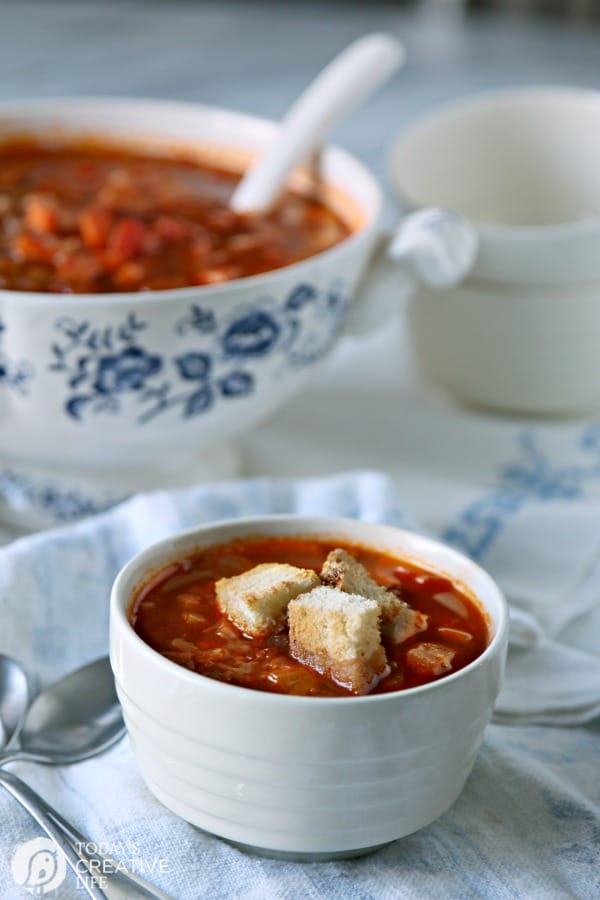 I'm not sure what I was more excited about… having a warm and hearty soup for dinner, or being able to use my late mother's soup tureen which really brought out the beautiful color of the soup.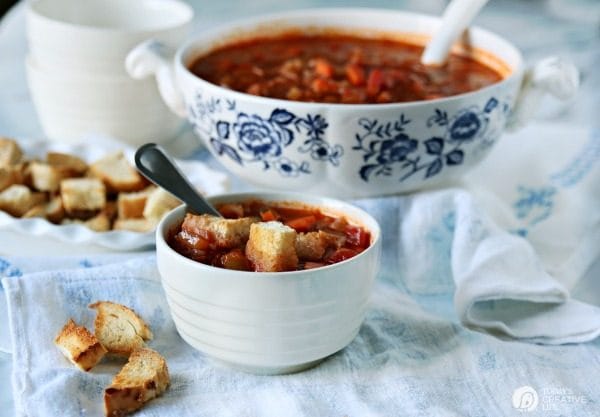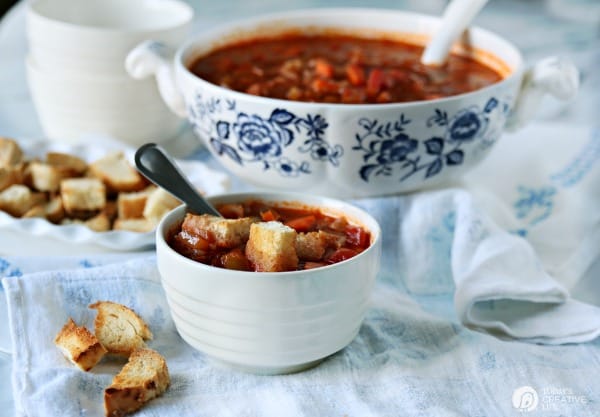 I believe in using your most cherished dishes. I know my mother was loving it too. She was the master of making a good soup and every one of them, she always added some sort of bean.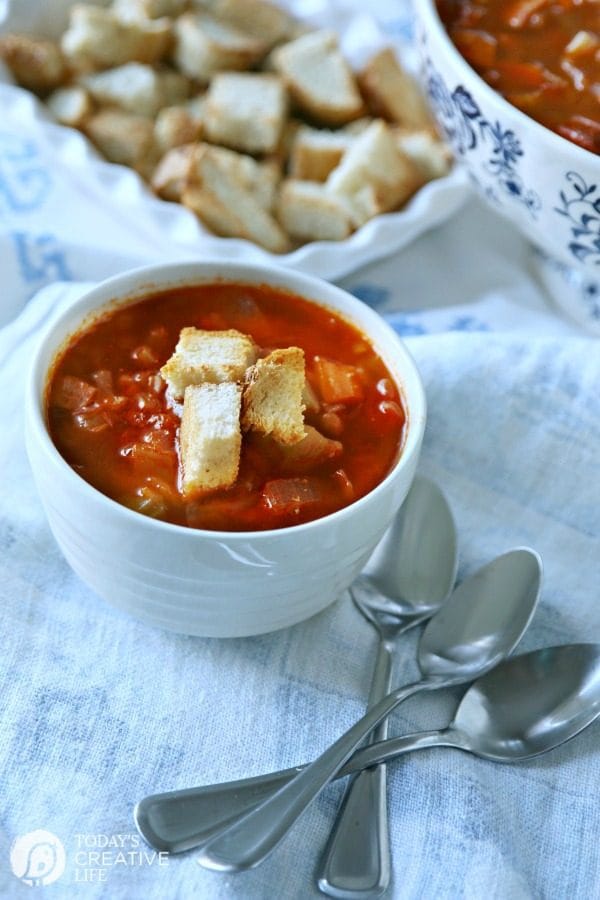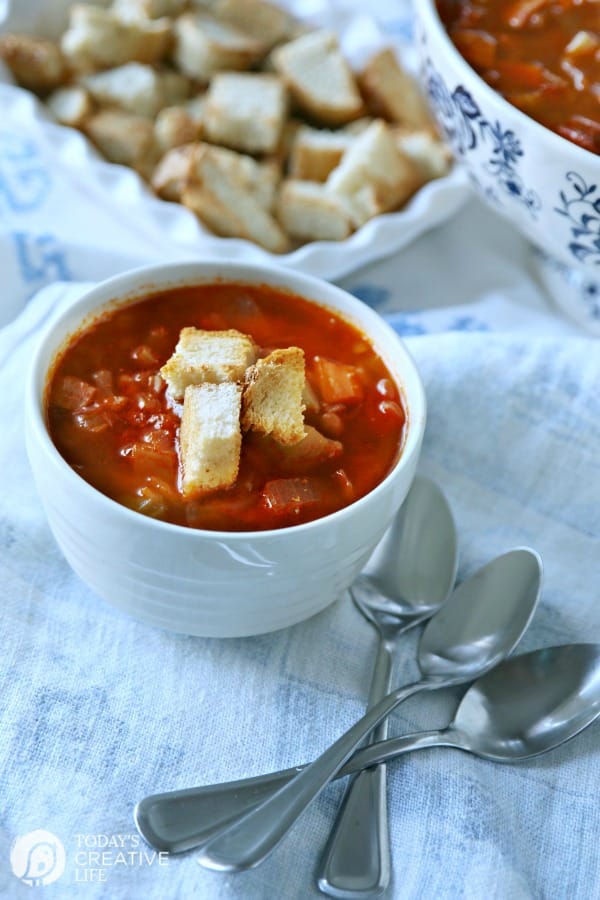 There was nothing more comforting to her on a cold day than a pot of beans. Growing up during the depression I guess will do that to a person.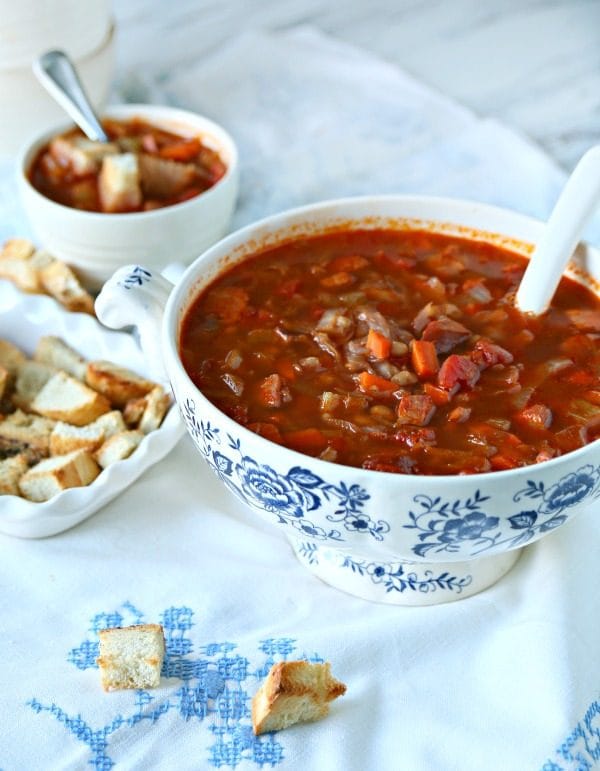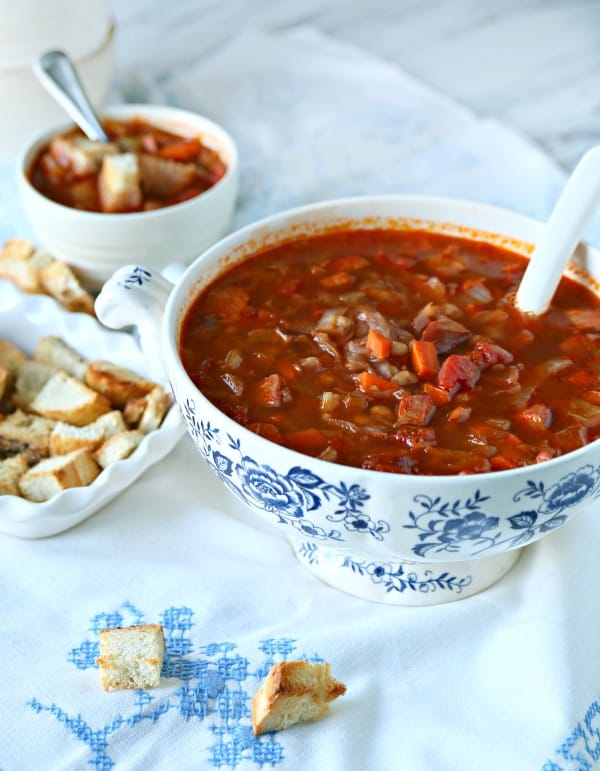 Who's ready to pull out their Dutch Oven and make some Red Cabbage Kielbasa White Bean Soup?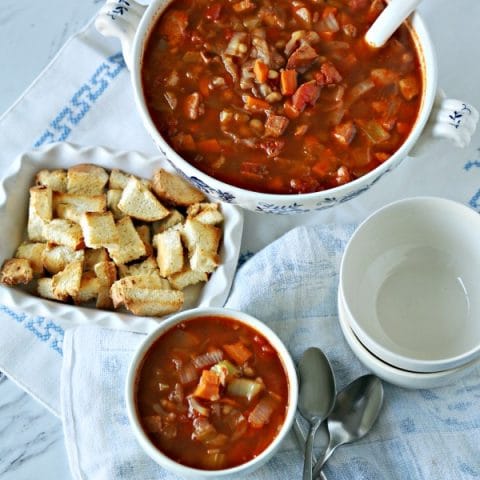 Red Cabbage Kielbasa & White Bean Soup
Yield: 10
Prep Time: 20 minutes
Cook Time: 20 minutes
Total Time: 40 minutes
Ingredients
Prep Time: 20 minutes
Cook Time: 15 to 20 minutes
Ingredients:
2 tablespoons olive oil
1 medium onion, chopped
3 large carrots, chopped
3 celery stalks, chopped
3 cloves garlic, minced
1/2 tablespoon smoked paprika
1/2 tablespoon curry powder
1/4 teaspoon ground pepper
8 cups low-sodium chicken stock
1 cup vegetable juice
1 can (14.5 to 15 ounces) diced tomatoes, undrained
2 jars (16 ounces each) Aunt Nellie's Sweet & Sour Red Cabbage, undrained
1/2 to 1 pound kielbasa sausage, cut into bite-size pieces.
2 cans (15 ounces each) cannellini (white kidney) beans, drained and rinsed (see note)
Directions: Makes 10 (approx. 1-1/2 cup) servings
1. In Dutch oven, heat olive oil over medium-high heat until hot.
2. Add onion. Cook 3 minutes, stirring frequently. Add carrots, celery and garlic. Continue cooking
about 4 to 5 minutes or until onions are translucent and soft, stirring frequently. Stir in paprika,
curry powder and pepper.
3. Add chicken stock, vegetable juice, diced tomatoes, red cabbage and kielbasa. Bring to boil.
Reduce heat. Add beans and simmer 10 minutes, or until soup is desired consistency, stirring
occasionally. Season to taste.
Note: Other white beans may be substituted for the cannellini beans.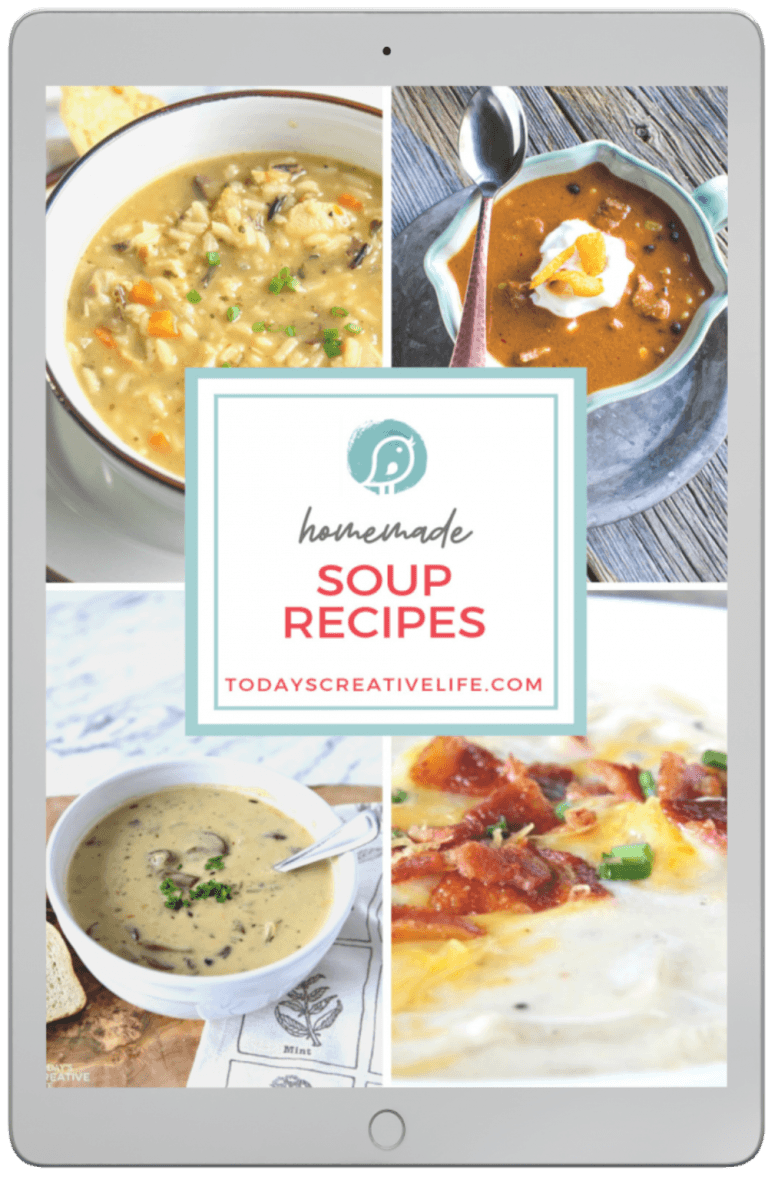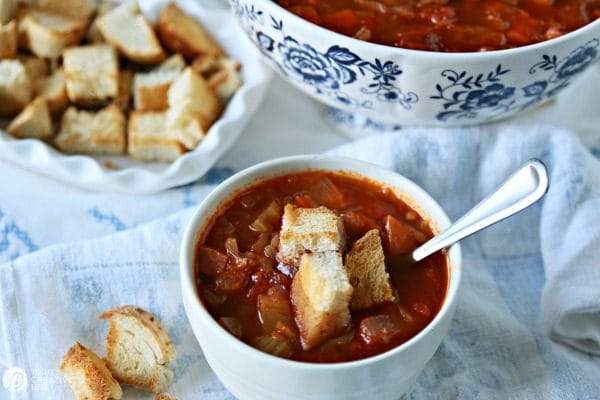 The beauty of this soup is, you can add any vegetable you have in your fridge. If it's a softer type of vegetable like zucchini or mushrooms, you'll want to add it later so it doesn't get mushy. If you're not a kielbasa fan, you can omit it, but it sure does go well with the Aunt Nellie's Sweet & Sour Red Cabbage.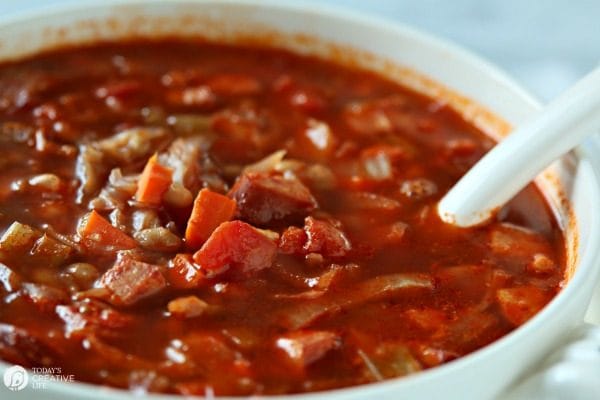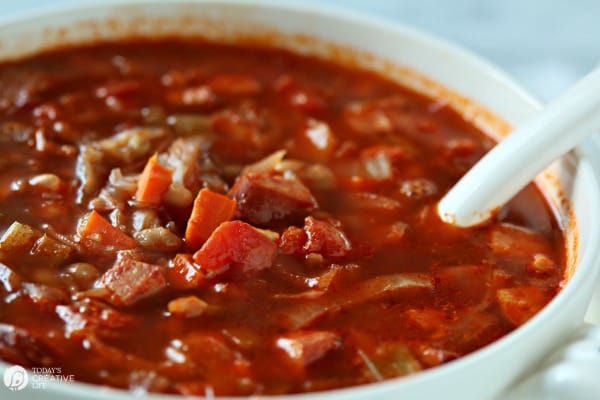 And if you are serving a salad along with your soup, save a small bit of the cabbage to place on top for extra flavor and color!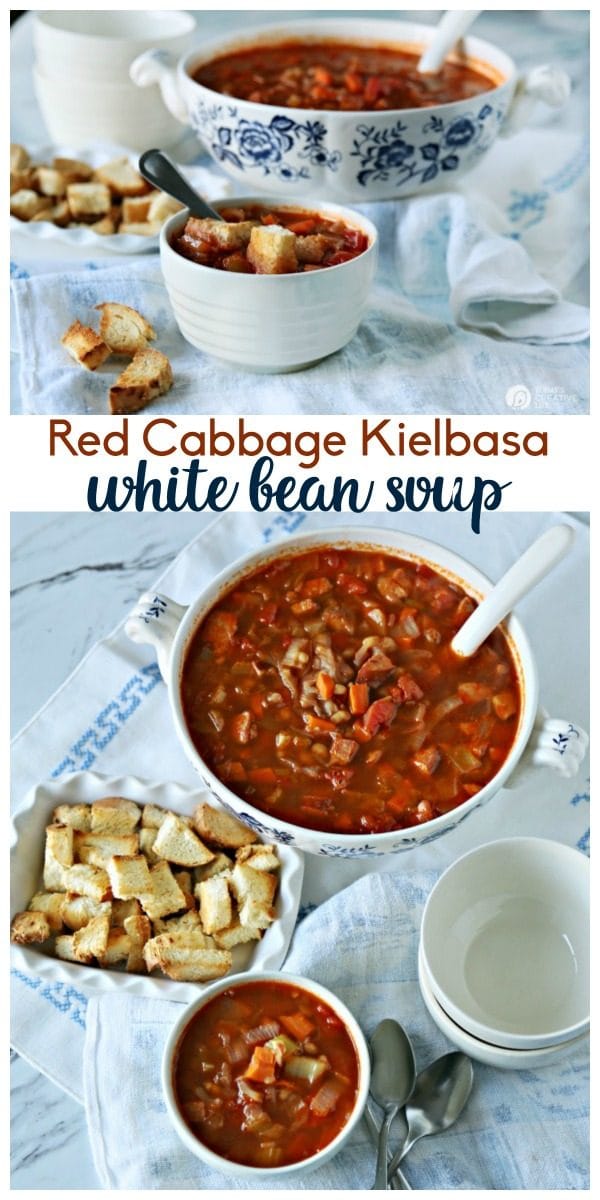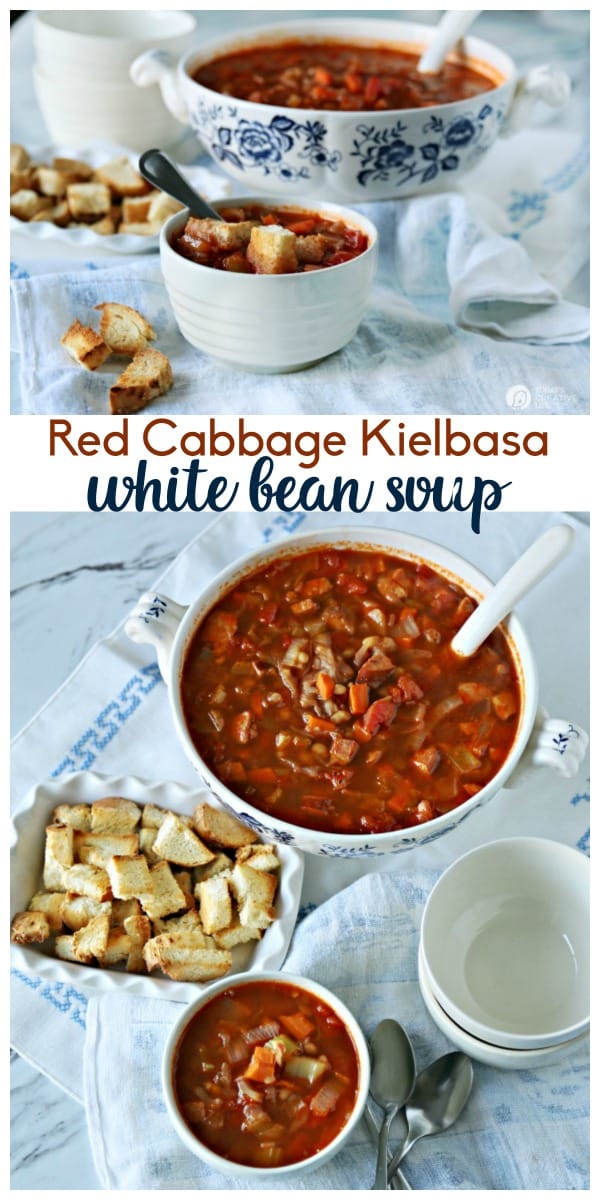 ---
More Soup Recipes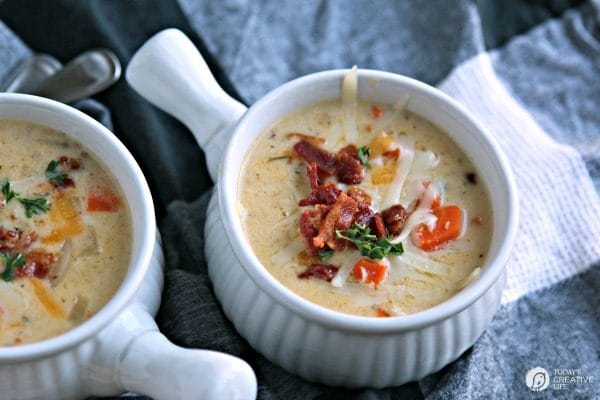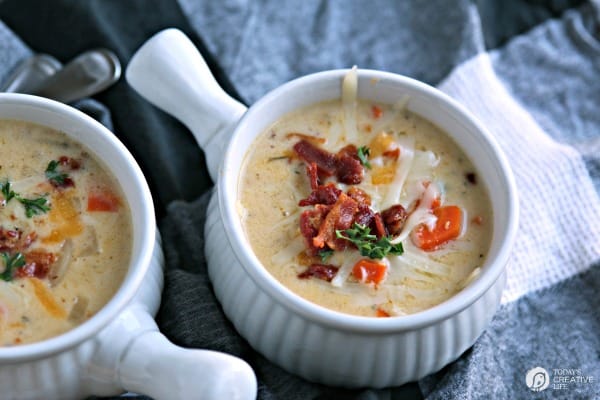 Cheesy German Potato Soup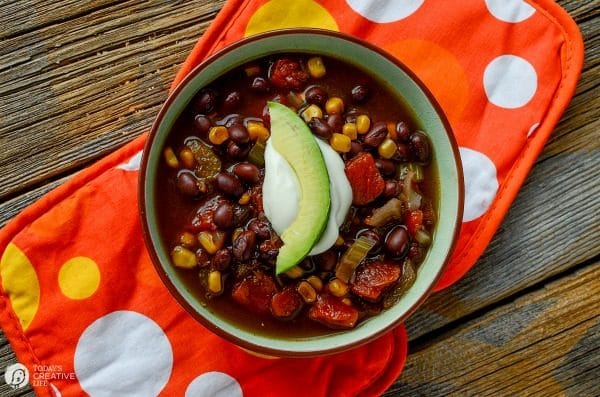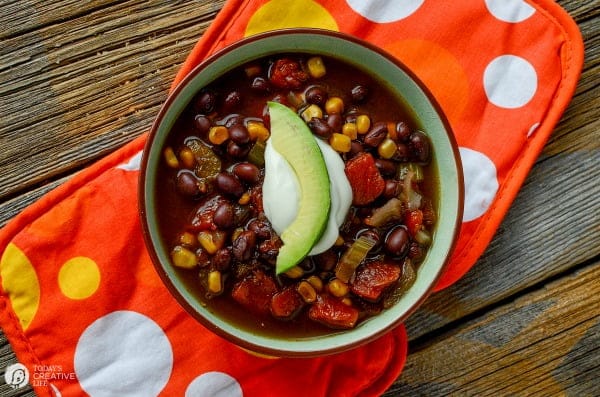 Slow Cooker Black Bean Soup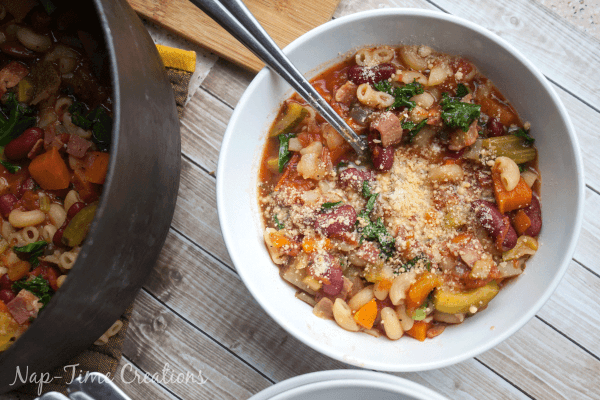 Easy Minestrone Soup Recipe
This post sponsored by Seneca Foods. All ideas, suggestions, and opinions are mine. TCL is not responsible for giveaway outcome or delivery.