I think you're going to love the Thanksgiving wall decor I am sharing today! Is Thanksgiving decor still a thing? It is in my home! Seems like the minute kids unwrap their candy wrappers, it's time to bust out the Christmas decorations. This is fine if that's what you love, but for those of us who want to keep the harvest autumn look alive until Thanksgiving, I've got a few budget-friendly decorating ideas for Thanksgiving and fall.
Head straight to the Thanksgiving Prints Here.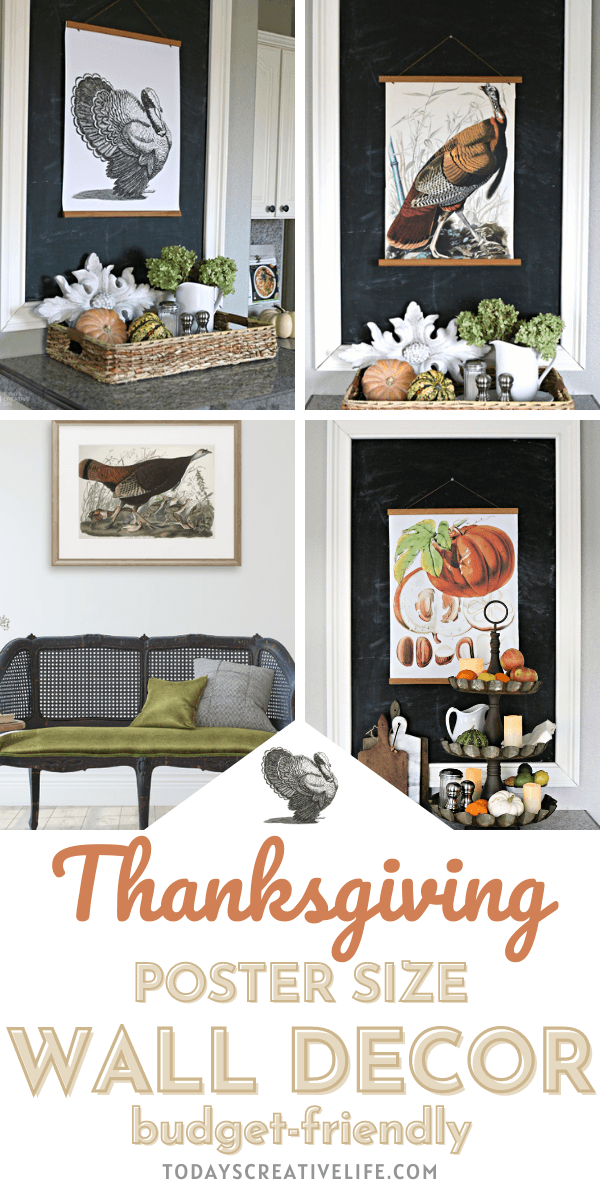 Wall Art for Thanksgiving Decor
I love vintage and botanical images so naturally I took all the digital images I've collected and had them uploaded to Staples to make poster-size wall art. I use a simple magnetic frame to hang them because it's easy to swap out and I like the look. But you can frame it any way you love. You can also print into any size you want. I generally choose the 18×28 size. Here is a tutorial on how I order from Staples.
Wall Decor for Fall and Thanksgiving
Budget-friendly wall decor for fall and Thanksgiving. Print into any size. Vintage and botanical digital wall art that you can print for many other uses year after year. Use these digital prints for other purposes too! Make place cards, use for iron-on transfer home decor, greeting cards and more.
This image of a colorful turkey and her babies has such a vintage vibe. It would also make beautiful place cards printed into a smaller size.
Is there anything prettier than a grouping of harvested veggies? This sets the tone from September through Thanksgiving. Print large or small.
Honestly, I use this poster-size wall art of these gorgeous oranges any time of year.
One of my all-time favorites! This botanical pumpkin makes such a statement and is the perfect Thanksgiving home decor, or all through fall.
She's stunning! This has all the harvest colors and looks so elegant. I've made so many DIY home decor items with this digital print.
Classic! The black and white sketched turkey is iconic! I use this as large wall art for Thanksgiving, but also printed up wine tags with this image as a hostess gift.
Thanksgiving Holiday DIY
Creative ideas for a creative Thanksgiving!