We're going back to the basics with snowflake crafts and making DIY Snowflake Christmas Ornaments using wooden clothespins. These simple homemade DIY Christmas ornaments is fun clothes pin craft that kids and adults will enjoy. Homemade Christmast Decorations couldn't be easier!
DIY Christmas Decorations
Making your own Christmas decorations is a great way to save money and add more creativity to your holiday decor. Holiday crafting that also creates DIY home decor is one of my favorite pastimes. I have so many ideas here on Today's Creative Life that are easy but WOW! Just check out the Holidays, then Christmas categories and you'll find so much inspiration! Here are a few of my favorites.
Clothespin Crafts
Wooden clothespins are cheap and make great craft supplies. There are so many clothespin crafts to keep you or your kids busy for a very long time. Here are all the supplies that I used to make these cute clothespin snowflakes.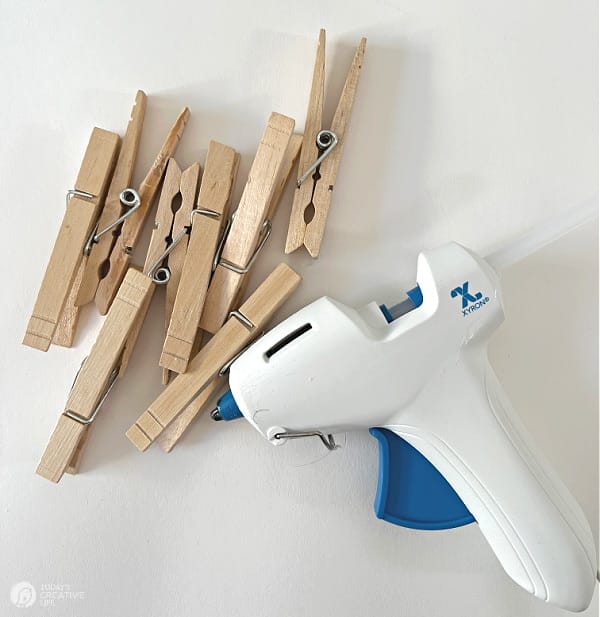 Wooden Clothespins
Glue Gun and Glue Sticks
White Craft Paint
String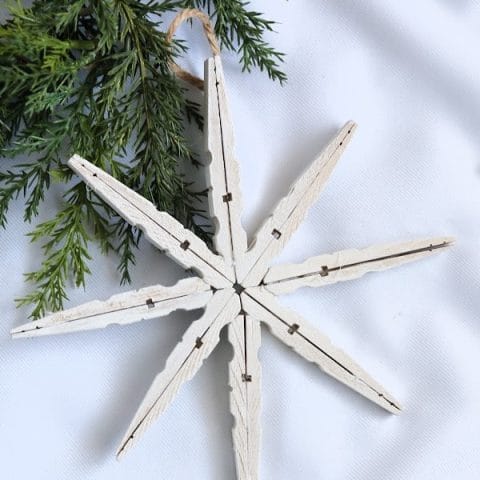 How to Make Clothespin Snowflakes
Clothespin snowflakes are some of the cutest and easiest DIY Christmas ornaments you can make. Use on your tree or as a gift tag.
Materials
String, Ribbon or Twine
White Craft Paint
Instructions
Gather all your supplies and heat up your glue gun. (Always use caution using a glue gun, I always use silicone finger guards)
Separate the clothespins. Save or discard the metal piece.
Add a strip of glue along the flat side of the clothespin piece.
Glue two flat sides together as you match the tips. Set aside and repeat until all pairs are complete.
Start by gluing two of the larger ends together just like this matching the slightly flatter sections together.
Repeat until you have 4 pieces glued together which is the foundation of your snowflake. -
Now it's time to add pieces to each corner.
Time to paint. I used a light coating of white paint so it looked a bit distressed and rustic.
Paint both sides and along the sides of each wood clothespin.
Glue a ribbon or string to the back and you're finished.
Notes
Clothespins Snowflake Variations
Leave as is - if you like the natural wood look, just leave them. They are beautiful.
Stain - use a wood stain for a stained look.
Add Glitter - Add a bit of glitter when the paint is wet, or add a small bit of glue around the edges and add glitter.
Add something festive to the middle.
Add a clothespin snowflake to the center of a wreath.
Recommended Products
As an Amazon Associate and member of other affiliate programs, I earn from qualifying purchases.
Clothes Pin Snowflakes
Clothes pin snowflakes are a great craft to make around the holidays. I'm always in a crafting mood during the holiday season and this is one that many ages can do. Obviously, children will need to be supervised with a hot glue gun. You can also use craft glue, but it will just take longer to dry. The supplies are inexpensive and you can make several in just 30 min.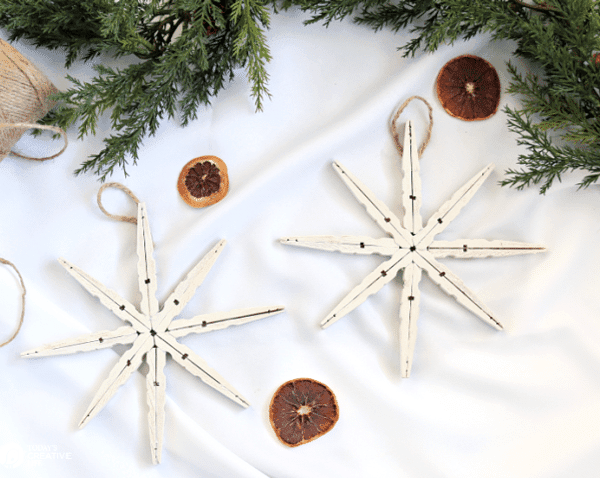 How to Use Clothespin Snowflake Ornaments
DIY snowflake Christmas ornaments can be used for whatever your imagination can think of. Here is a quick list of how I plan to use them.
Hang on the tree
Hang in windows
Use as a gift tag on wrapped presents
Use as gift tags for neighbor gifts
Add to a Christmas wreath
Hang on the porch
Add to evergreen garland
Use as a centerpiece accent on your table
Use as a place card for your holiday dinner
As you can see, they make a great addition to your DIY Christmas decorations. If you make them, I hope you'll tag me on IG and show me how you use them!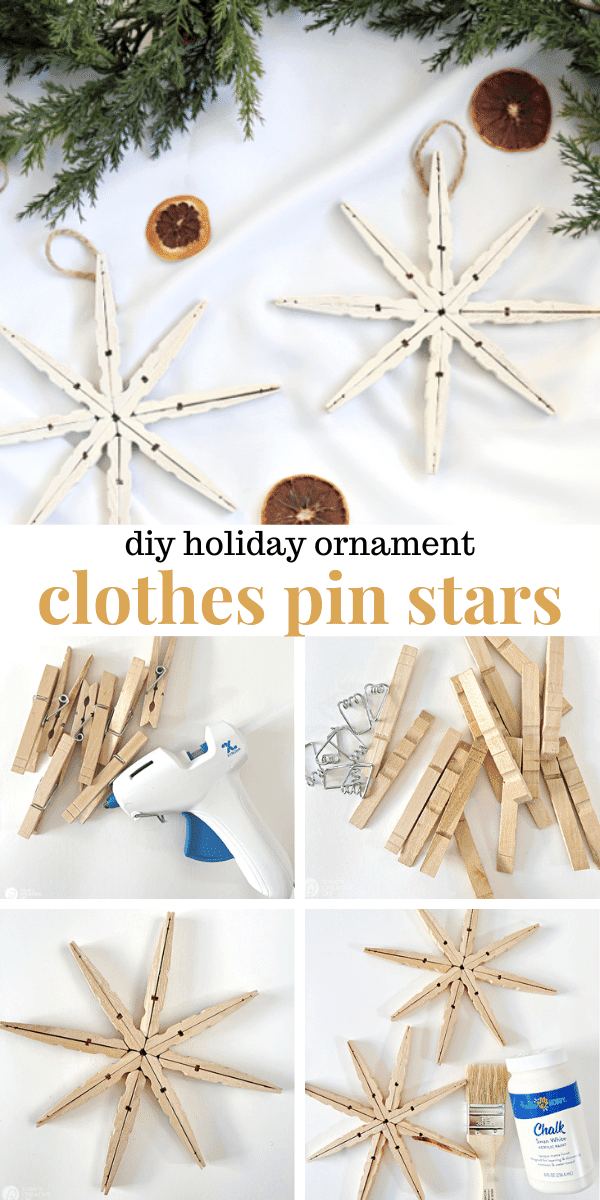 DIY Holiday Decor
Easy DIY ideas for creating your own Christmas decor.
Easy to make holiday craft for Scandinavian Evergreen Stars.
Vintage Rustic porch ideas for Christmas.
Easy to make Christmas pillows using iron-on vinyl and a pillow cover.
Homemade white clay ornaments are fun and easy to make for holiday decorating.
Drying oranges is a holiday classic. How to make Dried Oranges in the oven for holiday decor, potpourri and gift wrapping.
Free Printable Merry Christmas paper tag banner adds quick DIY holiday decor.
Easy to make felted wool ball pom-pom winter pillow cover.
Easy to Make Holiday Ornaments using chip board or cardboard
Easy to make Christmas luminaries with cedar and cranberries.
Use your Cricut Cutting Machine to make holiday snow topped paper houses.