Make planning a festive and stylish Thanksgiving easy with Thanksgiving Printables. Free Printable Thanksgiving Place cards, free printable Thanksgiving Countdown, and a free printable Thanksgiving Invitation. You're set!

Printables for Thanksgiving
Printable Thanksgiving Countdown
This cute Thanksgiving Countdown Printable, designed by Kim from Seven Thirty Three is a great way to get kids focused on what they're thankful for each day. (She has coordinating printables to keep the kids busy on the big Turkey day!) I placed mine inside a regular frame and used a washable marker. Perfect!
All free printables are password protected and found in the Printable Vault. Subscribe for free access. Your password will be sent to you.
Download your free Thanksgiving Countdown by clicking here.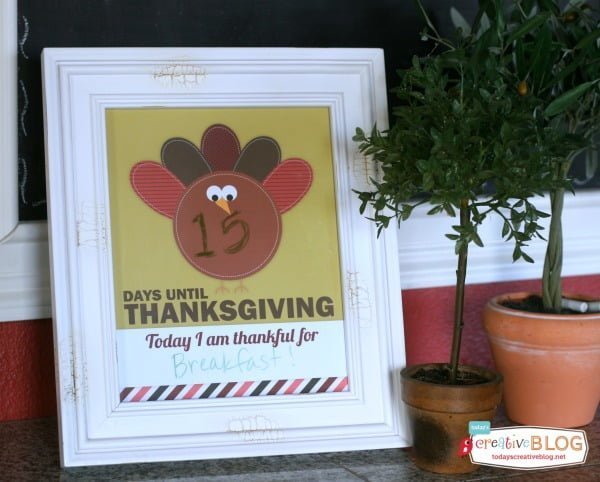 Printable Invitations for Thanksgiving
I love this design. I've never sent invitations……..well not yet anyway. These were designed by SissyPrint for TCB. Download your FREE Thanksgiving Printable Invitation Here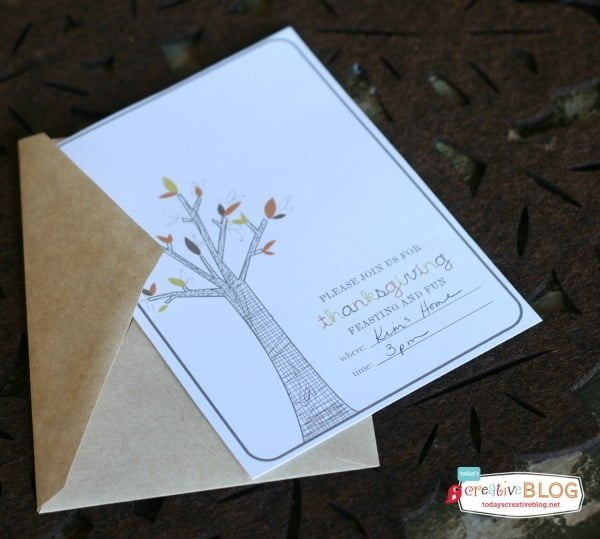 Printable Place Cards
I showed these off last year, but they're so cute it's worth showing them again! Marlynn from Urban Bliss Life designed these for TCB. Loving the Chevron!

If you turn these over, there's a space for people to write down what they're thankful for. Download your Free Thanksgiving Printable Place cards by clicking here.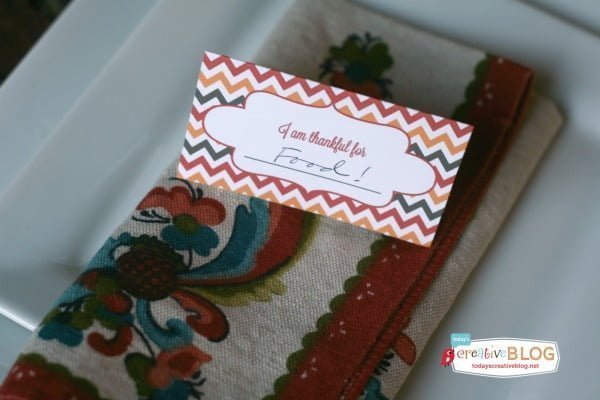 Thanksgiving Holiday DIY
Creative ideas for a creative Thanksgiving!
Photo Credit: todayscreativelife.com
Budget-friendly ideas for easy and beautiful Thanksgiving Table Settings.
Print your own place cards for Thanksgiving. Find free printables in The Printable Vault
Decorate your outdoor areas too. Stick to nature for your guide.
Create a leftovers station for your guests complete with take-out boxes and food labels.
Find 10 different ideas for Thanksgiving table settings.
Create a great entry for your holiday guests. Using items from your yard to create a rustic fall porch.
I've got 3 different oversized wall art turkey images to choose from! Make your own Thanksgiving Wall Decor.
Simple and easy! That's always the best way to decorate.
Mix together faux and real items when creating a Fall centerpiece.
See this diagram that helps you set a formal or informal table. Useful for all holiday dinners.
Another fun fall printable for easy Fall decor.
Grab a few natural items like pumpkins, herbs, flowers and create a beautiful centerpiece.
Today We Give Thanks Thanksgiving place cards are a free printable found in the printable vault.
So many options for a creative table.
Breakaway from traditional colors with these printable napkin ring place cards.