Don't worry if you run out of an ingredient, these free printable baking substitutes will help save the day. Learn what to substitute for what while baking your favorite recipes.
I know many of you will be baking up a frenzy this month, so I thought these Free Printable Baking Substitutes would come in handy. One has all your baking substitutes for flour and the other for sugars and sweeteners.
Free Printable Baking Substitutes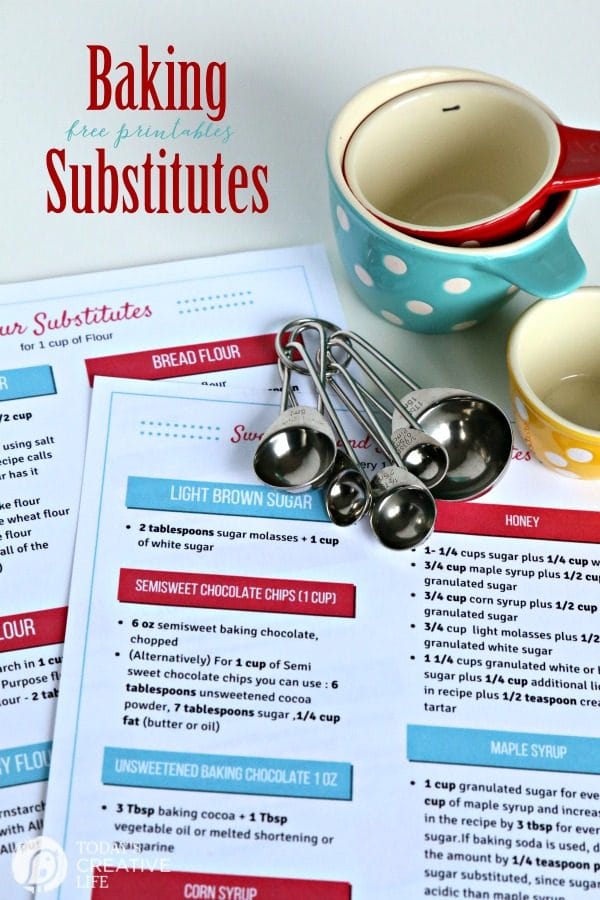 Did you know you can make your own brown sugar with molasses and white sugar? It's true. I even posted about it way back in the day. I need to remake it so I can take better photos!
If you have a recipe that calls for cake flour, but you don't have any. Well, these free printable baking substitutes will show you what to do.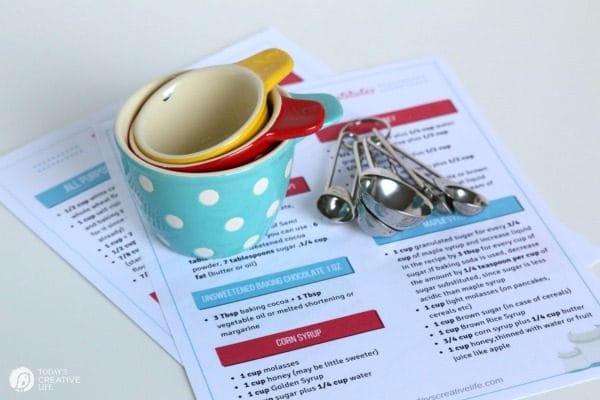 Maybe you already have my Baking Tips and Substitutions that I shared a couple of years ago, or maybe you'll need to grab those too? Both of my free printable baking substitutes downloads are full of helpful information, especially when you're in a pinch.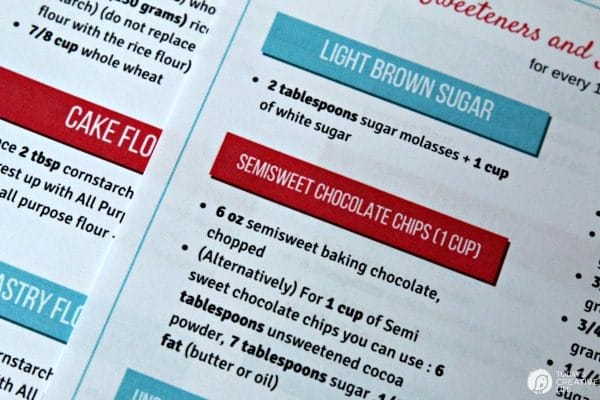 Why is it, I'm all ready to make something, only to realize I'm out of one item? Does that happen to you too?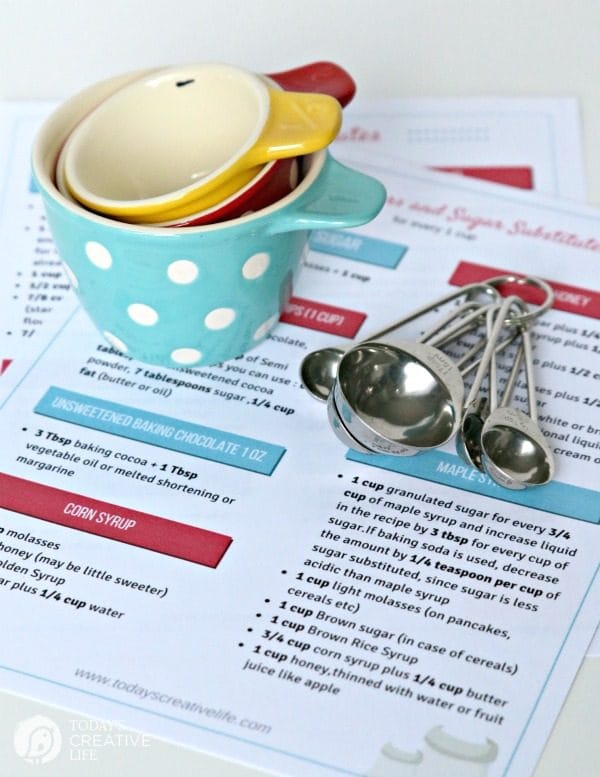 I actually have these free printable baking substitutes taped up to the insides of my cupboards. That way I always have it when I need it. Chances are, I'm going to be annoyed, so the last thing I'll want to do is search for it. Grab those free baking tips and substitutions printables too.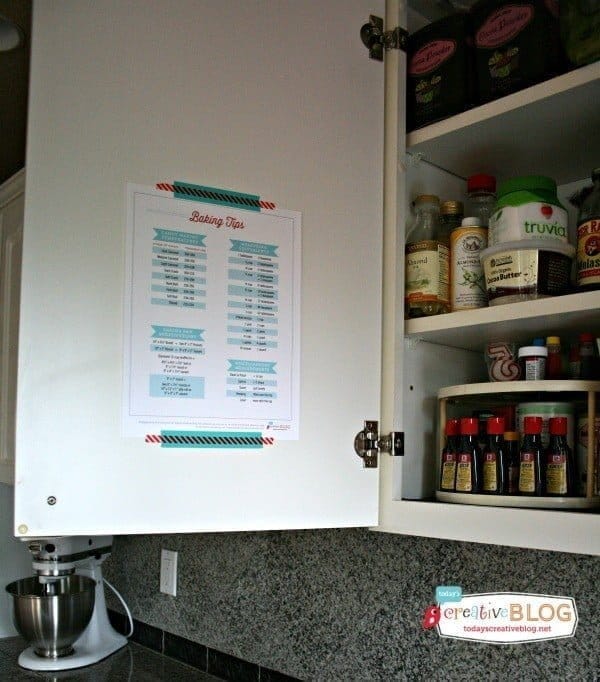 I would also be a great addition to my recipe binder.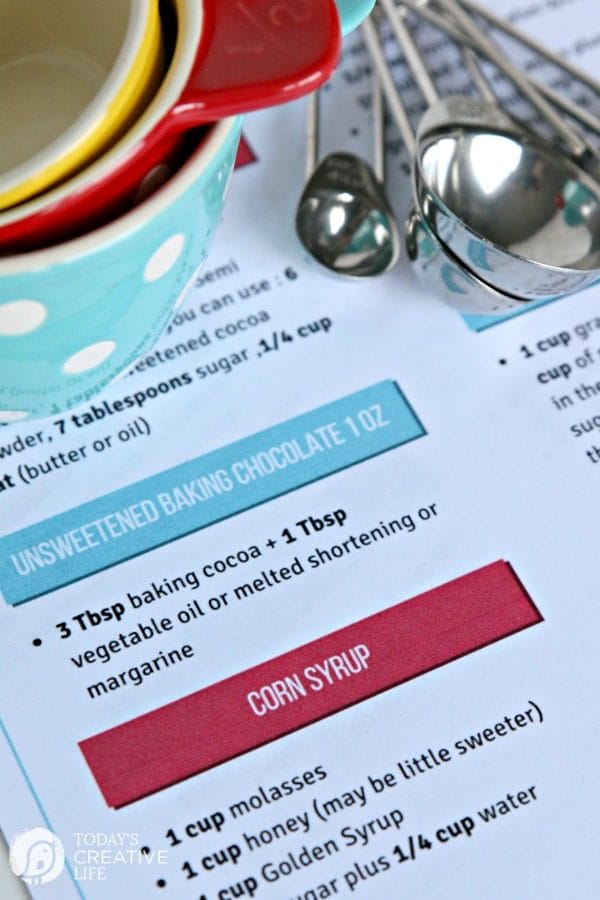 I haven't started baking yet, but I'll be sure to stock up on all the basics. I also like to have 2 or 3 sets of measuring cups and spoons. Aren't these polka-dot ones darling?
My Baking Essentials:
Mixing bowls – always good to have a few extra for mixing dry ingredients firsts. I like these with a non-slip bottom and a pouring spout.
Kitchenaid Mixer – I don't know how I lived without one! This one is on sale!
Baking pastry mat – so much easier to roll the dough out on this, rather than your counters.
Rolling pin
Cookie Cutters
Wooden Spoons
Rubber Spatulas – I had a roommate in college that called them Child Cheaters.
Silicone Baking Mat or Parchment Paper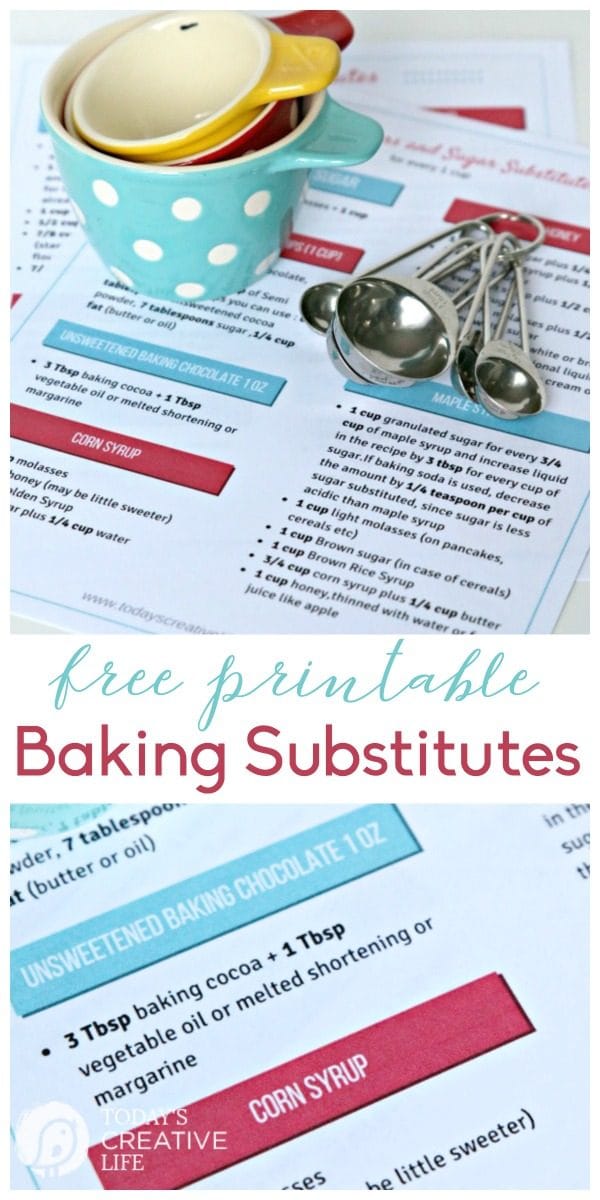 If you're already a subscriber, use your password to access the Printable Vault to download your free printables.
Easy Baking Recipes
Simple and fast baking recipes!
Weekends are better with this easy recipe.
Who says you have to use a bundt pan.
The most delicious cake you'll ever make.
This makes the best toast.
Use any flavor filling. Jams, pie filling, fresh or canned fruit.
Simple, delicious and fast!
Easy, Delicious and Impressive!
Everyone loves a turnover!
One of my favorite quick breads!
Quick and easy apple dumplings made with sprite and crescent rolls make a fast weekend breakfast idea.