A puff pastry braid makes a delicious and impressive sweet treat for brunch or dessert. If you ever want to feel like a French pastry chef, then make this Puff Pastry Braid recipe.
Seriously, puff pastry is SO easy to work with, you'll be amazed at the things you can make with little effort.
What is puff pastry used for?
Puff pastry isn't just for sweet recipes like today's fruit filled puff pastry braid. You can use puff pastry to make appetizers, main dish recipes, and of course, desserts.
Some of the easiest and most impressive recipes I make with puff pastry are Puff Pastry Cinnamon Twists and Puff Pasty Tomato Pesto Tart.
This Pumpkin Cream Cheese Puff Pastry Braid is amazing for a seasonal breakfast or dessert. My French Apple Custard Tart made with puff pastry looks beautiful on a dessert table!
Puff pastry also makes quick and easy breadsticks, like these garlic butter breadsticks.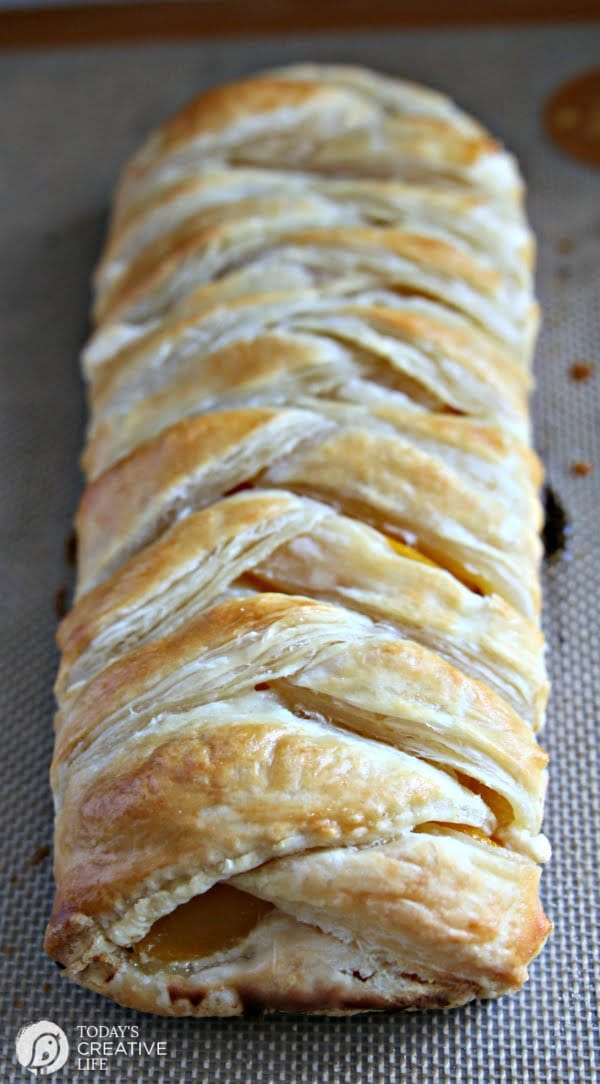 A box of frozen puff pastry has 2 sheets, at least the one I buy does. It's by Pepperidge Farms. Use my affiliate link and order it here if you can't find it in the freezer section of your grocery store.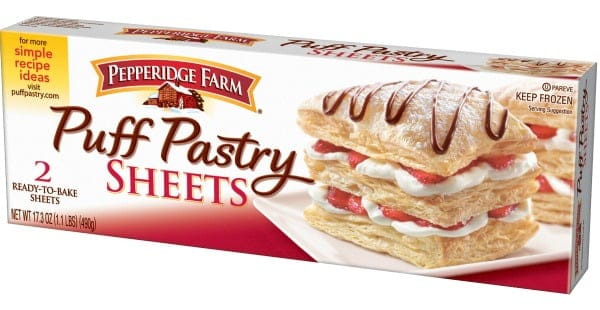 Since I had two sheets, I HAD to make a puff pastry braid in 2 different flavors.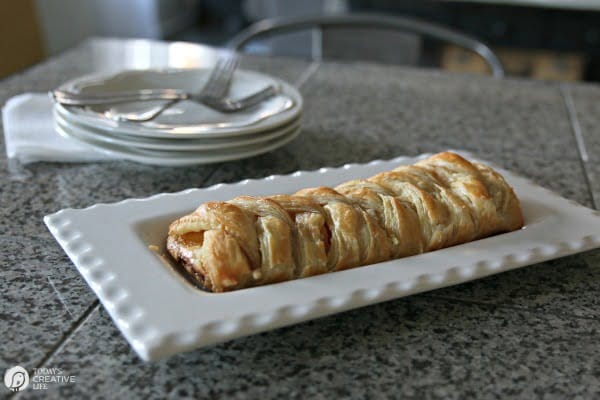 That's why the step by step photos may have different ingredients.
How to Make a Puff Pastry Braid
Affiliate links for products listed are for your convenience only. This cost you nothing extra. If you happen to purchase anything as a result of clicking, TCL will receive a small percentage. Thank you for your support. This allows me to continue to offer you free content.
Take the puff pastry out of the freezer and thaw for about 30 min.
Using a lined cookie sheet (I lined one with my silicone baking mat and one with parchment paper), unfold the puff pastry and lay it flat. It works best if you cut the side edges shorter like I did below. This allows you to fold over the pastry for a much more finished look on your puff pastry braid.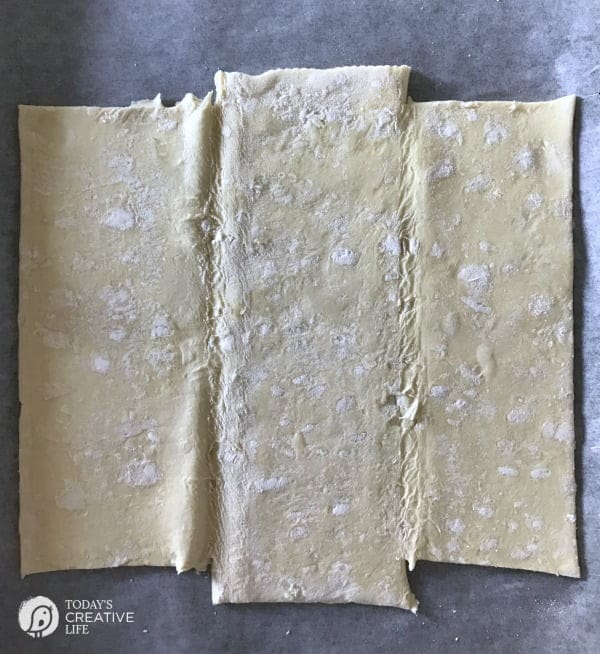 Cut 1 inch sections from the center out. Do not slice into the middle section.
Smear your cream cheese mixture (printable recipe below) on the middle section only. You'll notice on the photo below, that I didn't cut and shorten the side pieces… it was my first puff pastry braid and realized the trick before starting on the second one.
Place your flavor choice next. I used peaches first and cherry jam for the second puff pastry braid.
Start braiding. Start at one end, bring one piece at a time across the center, overlapping and alternating. If you have notched the puff pastry, fold those in before braiding so the braid is over the top of them, closing the ends in.
After you've completed your puff pastry braid, use a pastry brush to brush an egg wash over the top and bake!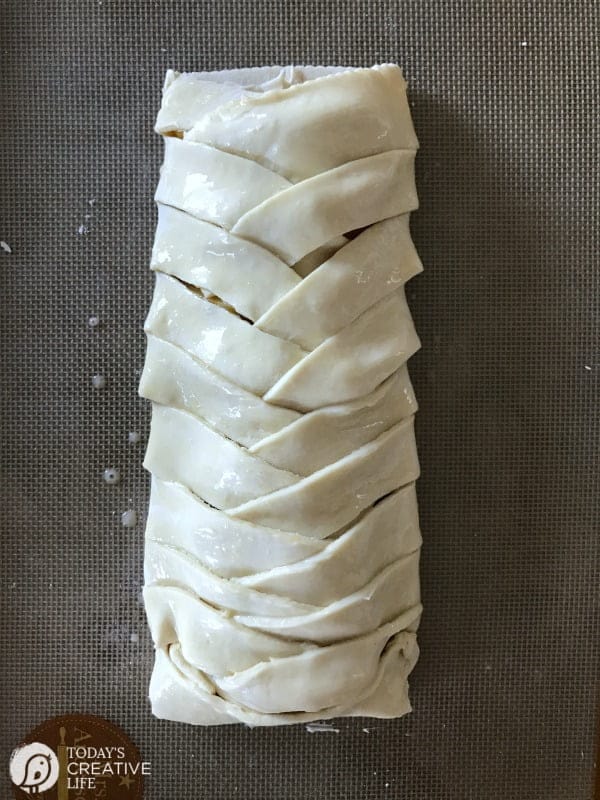 The egg wash allows for that beautiful golden brown crust. Seriously…. isn't it impressive?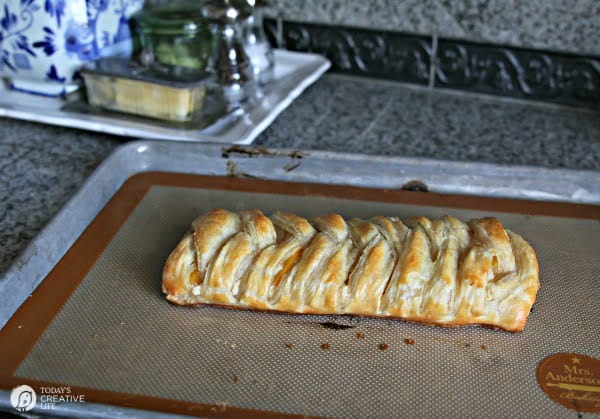 It looks like you bought it at a fancy pastry shop! I still can't believe how easy they are and quick!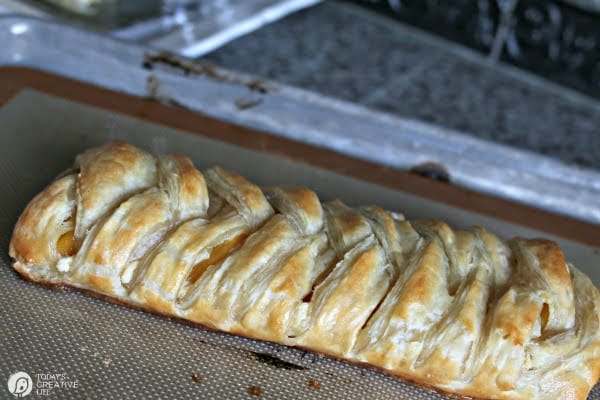 What fillings can be used for puff pastry braids?
For this puff pastry braid recipe, you can use any kind of fruit you'd make a pie with. I haven't tried it with frozen fruit, but I used canned peaches since fresh ones are out of season. Fresh or canned works well.
Other fillings that give you good results are jam or pie filling.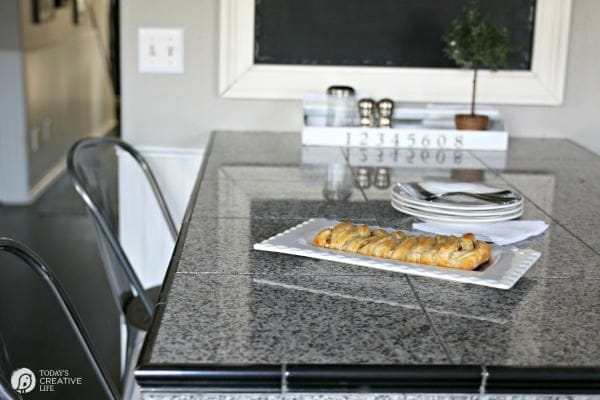 The dangerous part was having 2 of these fresh out of the oven. This is when it really pays to be my neighbor. After I photographed them and tasted each, I wrapped them and gave them away.
Puff Pastry Braid Recipe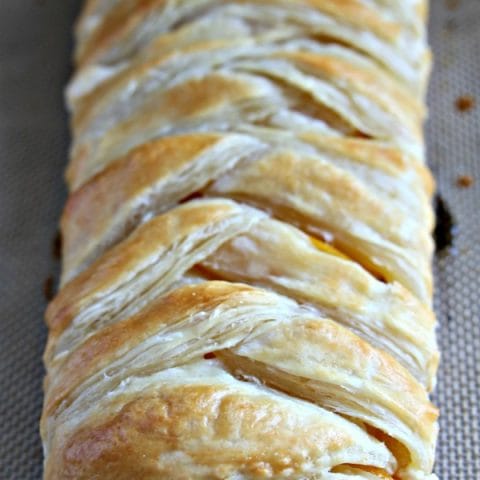 Puff Pastry Braid
Yield: 1 braid
Prep Time: 10 minutes
Cook Time: 20 minutes
Total Time: 30 minutes
Use any flavor filling. Jams, pie filling, fresh or canned fruit.
Ingredients
1 sheet puff pastry - thawed
4 oz cream cheese, softened
1/4 cup powdered sugar
1 teaspoon vanilla
1 egg
1 tablespoon water
1/4 to 1/2 cup Jam or pie filling or one regular can canned fruit
Instructions
Preheat oven to 400 ºF
Mix the cream cheese, powdered sugar, vanilla until well blended. I just used a fork and a small bowl.
Unfold one pastry sheet onto your lined cookie sheet. Line with a silicone baking mat or parchment paper. I didn't roll it out, but you can if you want it a little bigger.
Cut 1-inch strips from the center out along each side. If you want to create a folding notch, trim off the top and bottom strips.
Smear cream cheese mixture evenly on the middle section only.
Add your fruit choice or jam, or pie filling to the top of the cream cheese.
Fold the notches up and over the center, then fold each strip over the fruit, overlapping and alternating, creating a braid.
Create an egg wash by adding 1 tablespoon water to an egg and beat. Using a pastry brush, paint on a light coat covering over the pastry.
Bake for 18-20 minutes or until golden brown.
Notes
Experiment with your flavoring! Savory or sweet!
Nutrition Information
Yield 4
Serving Size 1
Amount Per Serving
Calories 313
Total Fat 17g
Saturated Fat 8g
Trans Fat 0g
Unsaturated Fat 8g
Cholesterol 75mg
Sodium 192mg
Carbohydrates 36g
Fiber 2g
Sugar 22g
Protein 5g

Puff Pastry Appetizer Ideas
Puff Pastry is one of the easiest ingredients to work with. You'll come out looking like a professional pastry chef every time.