Learning how to infuse olive oil without heating is very easy. Using dried herbs, time, and a dark space, I was able to create a few delicious flavors of infused olive oil that can be used for cooking, dipping or for a homemade gift idea. I've even got a free printable label to make it complete.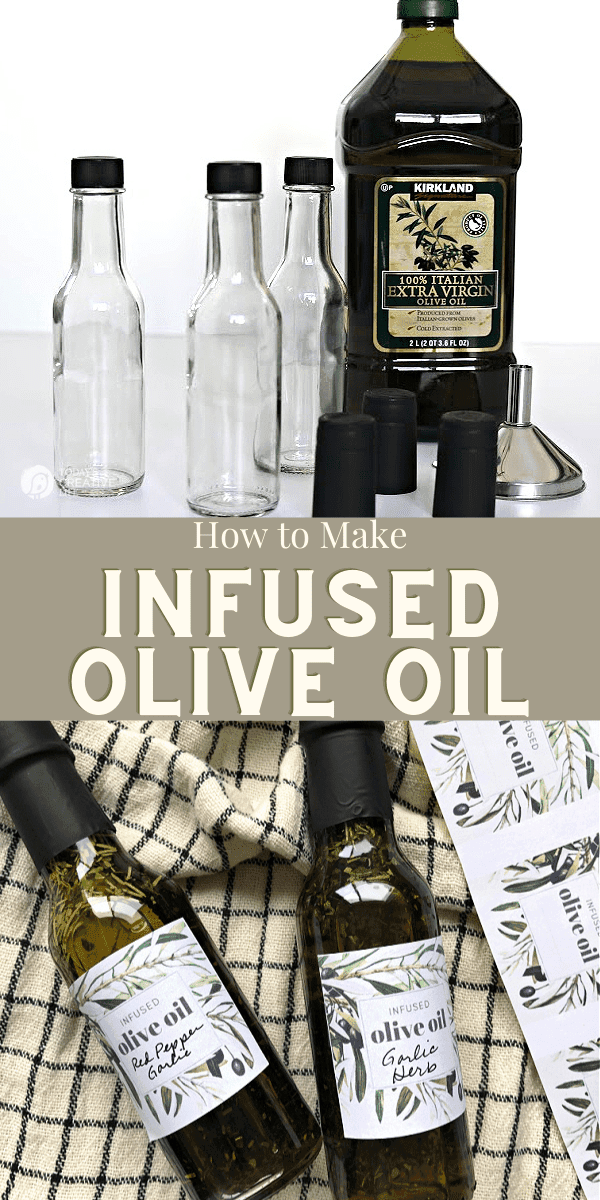 How to Infuse Olive Oil with Dried Herbs and Spices
I was brainstorming ideas for homemade and useful holiday gifts, especially gifts from the kitchen. When I saw the bottles with shrink capsules, that was it! I had no idea you could do this at home. It looks so professional and it was very easy. I bought all my favorite herbs and spices and got to work. There is a printable recipe card at near the bottom of this post.
Supplies Needed for Infused Olive Oil
You can use any grade of olive oil you want, but the higher quality, the better your infused olive oil will be.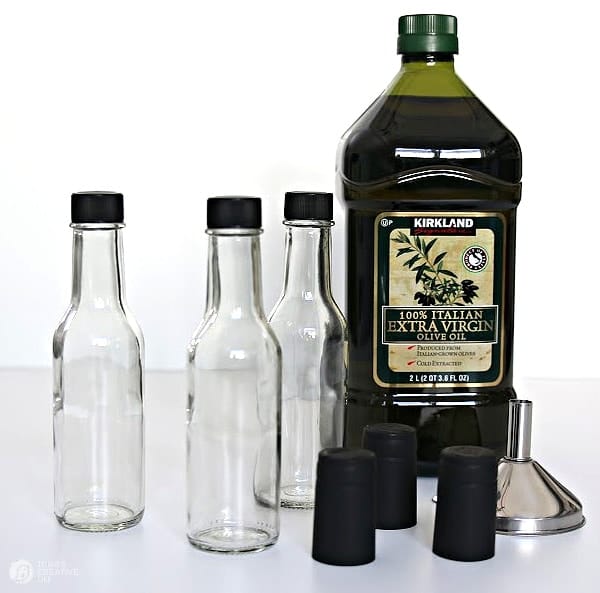 Olive oil – I picked mine up at Costco.
Dried Herbs and spices
Bottles with a good lid. I purchased a set of bottles that also came with the shrink capsules from Amazon.
Heat Tool or Blow Dryer
Herbs and Spices for Making Infused Olive Oil
I used a variety of flavors I already use in my everyday cooking. This list is what I started with but it certainly isn't limited to these only.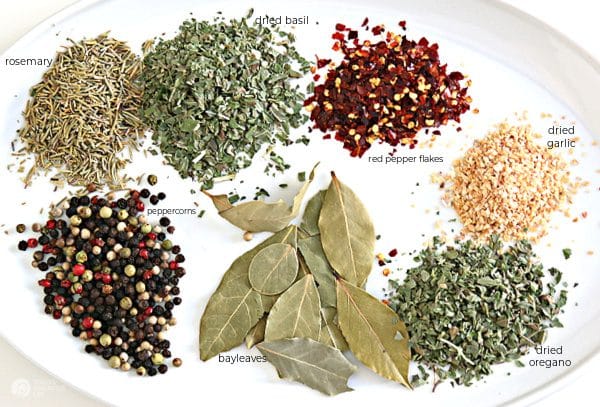 Freeze-Dried Oregano
Freeze-Dried Basil
Dried Rosemary
Peppercorns
Bay Leaves
Red Pepper Flakes
If you're wanting to use fresh herbs, you may want to check out this article on how to make olive oil with fresh herbs.
How to Infuse Olive Oil without Heating
Cold infusion means there is no heating up the oil before bottling. You want to only use dried or freeze-dried herbs and spices. Powders are not recommended. Once you add your flavor combinations, seal up and place in a cool dark place for a couple of weeks since it may take a little longer for the flavors to infuse without any heating.
Clean and dry the bottles you're using.
Figure out what flavor combos you want and start filling your bottles using a funnel.
Now it's time to add the olive oil. Leave a little from the top so they are easier to shake and blend.
Add the lid and tighten.
Add the shrink capsule. You'll need a hot blow dryer or a heat tool as I used. You'll know it's working when you see it magically shrink around the bottle. This made me giddy. I don't know why. If you get too close, you can melt them.
Add the printable label and set it in a cool dark place. You can find the olive oil label in the printable vault. Subscribers to TCL have free access with their password. You can subscribe here if you need to. Please check your spam folder if you don't see the password right away.
If you want to make your own label, I can teach you. See info here. You even get a freebie.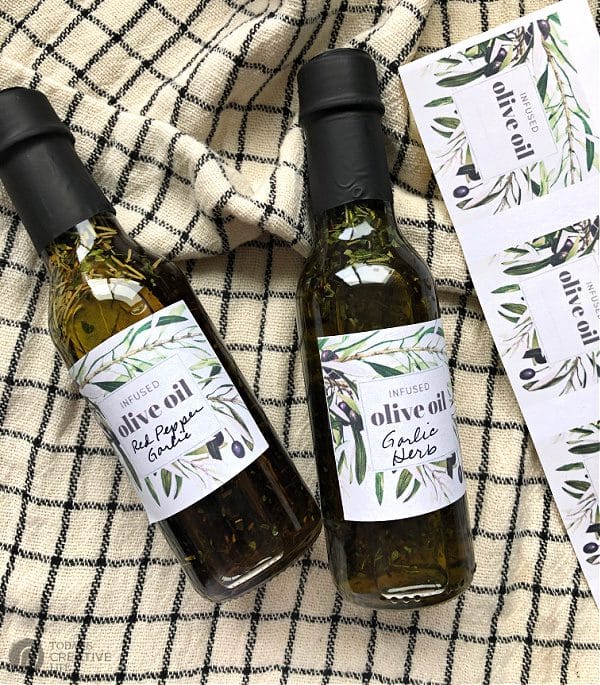 How to Store Infused Olive Oil
If you're using fresh herbs, you really should use the oil within a couple of weeks and store it in the refrigerator. There is a risk of botulism and we don't want to mess around with that. Here is a great article on using fresh herbs for making infused olive oil. If you're using dried herbs like I have, dried herb-infused oil will last up to 3 months if stored in a cool dark place such as a pantry. You can also store them in the fridge.
How to Print Labels
You're going to need:
Inkjet Printer
Olive Oil Label file – you'll find them in the password-protected Printable Vault. They are free to subscribers. Subscribe here if needed. Check your spam folder if you don't see the email.
Sticker paper or Avery square label paper. You can choose a matte finish or glossy. These have the squares pre-cut. If you're using the full sheet sticker paper, you'll cut each label with a paper trimmer or scissors.
Paper Trimmer or Craft Scissors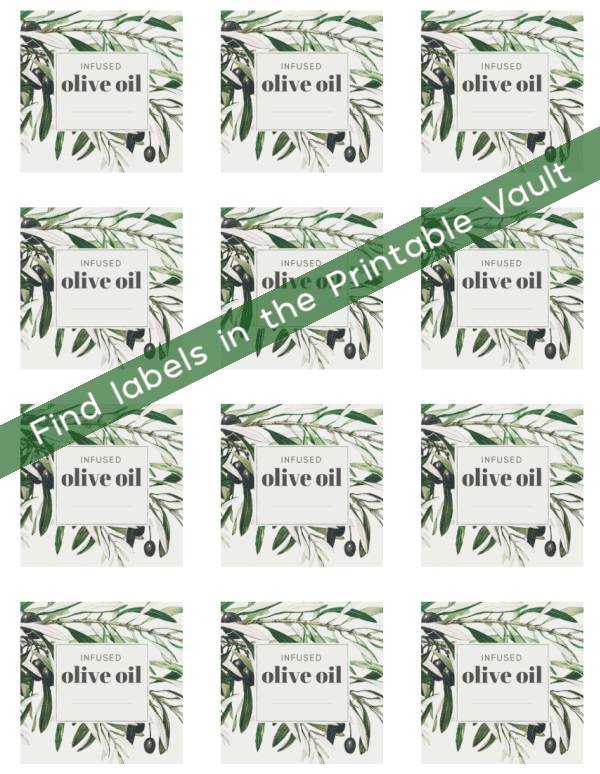 Download label image
Load your printer with your sticker paper or 2″x 2″ square label paper – All printers are different. Make sure you know which direction to place the paper in the printer so it prints on the correct side.
Trim Labels if needed.
Peel label away and add to the bottle where you want it.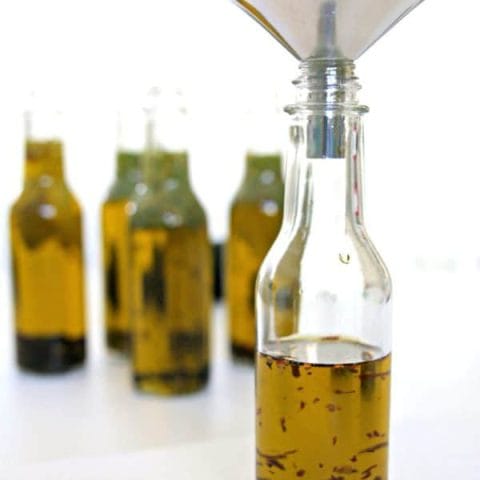 How to Make Infuse Olive Oil
Yield: As many as you want!
Prep Time: 10 minutes
Active Time: 10 minutes
Additional Time: 14 days
Total Time: 14 days 20 minutes
Difficulty: Easy
Estimated Cost: $50
How to make cold infused olive oil with dried herbs and spices for cooking, dipping and DIY gift ideas. Free printable label found in the Printable Vault.
Materials
Olive Oil
Bottles (I used 5oz. bottles)
Bottle Shrink Capsules
Herbs & Spices
Dried Minced Garlic
Freeze-dried Oregano
Freeze-dried Basil
Dried Rosemary
Bay Leaves
Red Chili Pepper Flakes
Peppercorns
Tools
Funnel
Heat Tool or Blow dryer
Instructions
Wash bottles and dry
Using a funnel, pour desired herbs, spices, or both into the bottle. I used varying amounts in each bottle. Use whatever combos you often cook with.
Using the same funnel, pour olive oil and stop about a 1/2 inch from the top.
Add the lid and tighten.
Add the shrink capsule to the top and shrink it by using a heat tool or blow dryer.
Add printable label.
Store in a cool dark place for a couple of weeks to allow the flavors to really infuse.
Notes
The larger the bottle, the more herbs you'll need to use.
These make a great holiday gift using the printable tag found in the Printable Vault on TodaysCreativeLife.com
Recommended Products
As an Amazon Associate and member of other affiliate programs, I earn from qualifying purchases.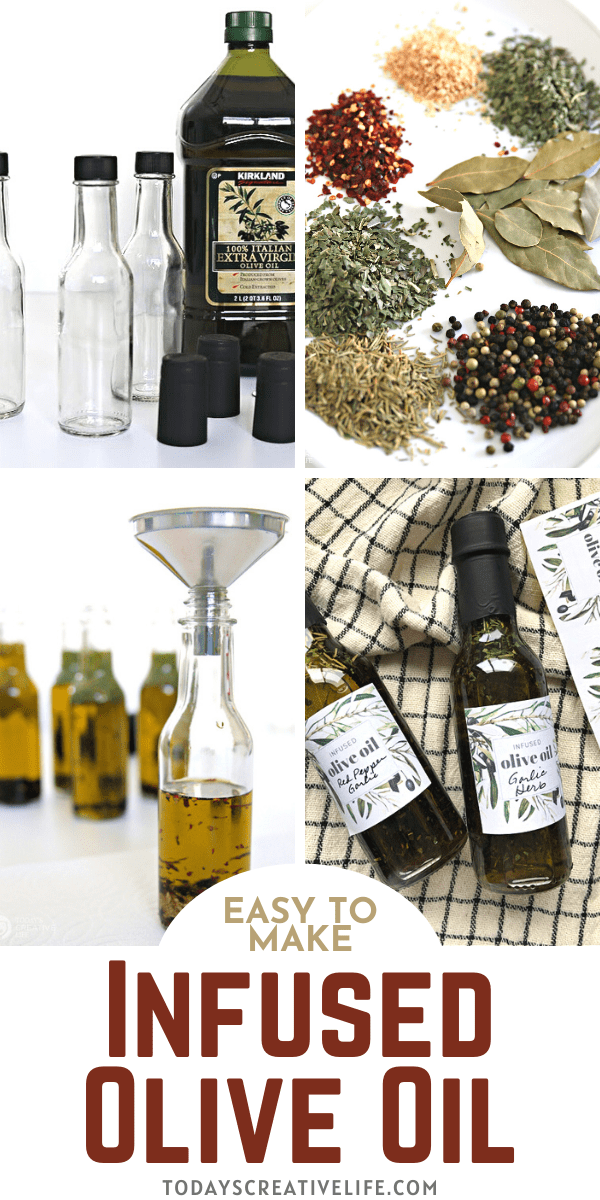 Holiday Gifts from the Kitchen
Simple and easy homemade edible holiday gift ideas!
Who doesn't love cookies?
Another great gift idea you can make.
This is a delicious homemade gift.
Eat as is, or drop them in a mug of hot cocoa.
The secret ingredient makes this homemade gift even better!
Simple, easy and they are beautiful!
Photo Credit: www.texanerin.com
These make great party favors too!