Monkey Bread Recipe Butterscotch Pudding inspired my Pumpkin Spice Monkey Bread. Make with Rhodes rolls or refrigerator biscuits and you've got a breakfast favorite!
Monkey Bread Recipe Butterscotch Pudding
I had a house full of teen boys who had spent the night and thought this quick and easy Monkey
Bread with Butterscotch Pudding would be perfect! My son usually requests donuts for sleepover mornings, but since it was New Years Day and super foggy, I was in the mood to bake. I love baking quick breads and even this English Muffin Bread using quick yeast when the weather is wintery.
I haven't made Monkey Bread in a LONG time! I usually make it with Rhodes frozen rolls, but you have to let that one rise overnight. Who has time for that?
This recipe is SUPER easy and quick by using refrigerated biscuit dough. Since these were teen boys, I didn't even bother cutting the biscuits into quarters, knowing they would devour it within minutes no matter what size the bread chunks were.  By not cutting them, it made this simple and quick recipe even faster.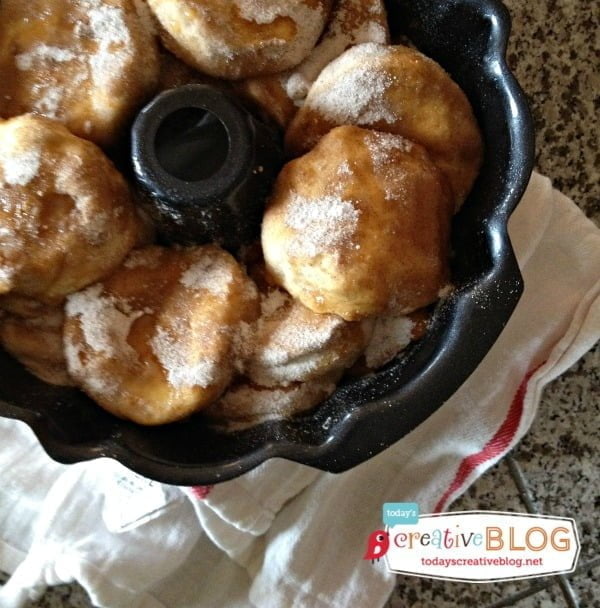 There are so many ways to make Monkey Bread, but I love this recipe that uses butterscotch pudding. I love the rich caramely butter flavor. It's mouthwatering. Really.
I dipped each biscuit in melted butter, dropped it in the ziplock bag, coating it in a delicious mixture of sugar, dry pudding mix, and cinnamon. Layered them in a bundt pan…..poured the leftover butter and mixture over the top and popped it in the oven.  It probably only took me about 10 minutes to prepare before baking.
I thought it would only take about 30 min to bake, but it actually took about 40. I placed tin foil over the top near the end so it wouldn't burn.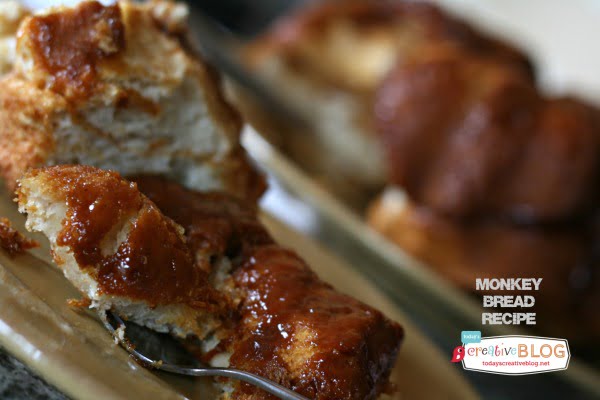 I rushed to take photos before they charged up the stairs from the basement. (it's a nice basement, they're not sleeping on the dirt) But they caught me…..One boy looked a little confused and that's when I said "What?  Doesn't your mom take photos of everything she makes?"   Lucas my son didn't even notice the conversation and simply asked politely  "are you finished?" before tearing off a huge hunk. Yep……he's a son of a blogger.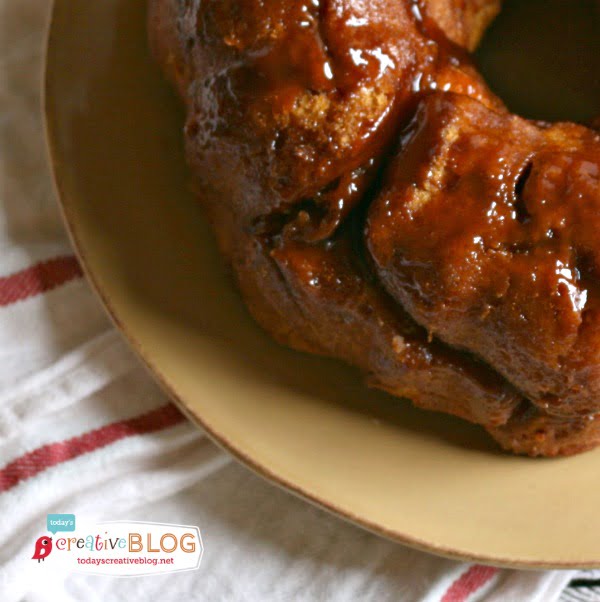 Monkey Bread Recipe with Butterscotch Pudding
Author:
Kim TodaysCreativeLife
Ingredients
1 regular pkg Butterscotch pudding mix
½ cup sugar
2 tablespoons cinnamon
½ cup chopped pecans or walnuts
½ melted butter
2 large tubes refrigerated biscuits ( I used Pillsbury Grands)
Instructions
Preheat oven to 350° and grease a regular size bundt pan.
Dump the dry pudding mix, sugar, cinnamon and nuts into a large ziplock plastic bag.
Melt butter - I use a large pyrex measuring cup
Dip each biscuit in the melted butter, and place into the ziplock bag. I place about 3 at a time. Shake around until each biscuit is completely coated with the dry mixture.
Place biscuits into the bundt pan, layering as you go.
When you're finished, go ahead and sprinkle the rest of the dry mixture over the biscuits, then pour the remaining butter over the top.
Bake for 30-40 min. I placed tin foil over the top near the end to avoid the top getting overly brown.
Test with a butter knife, poking all the way to the bottom. If the knife has gooey dough on it, it's not done.
Enjoy!
Notes
If you want smaller chunks, cut the biscuits into halves or quarters.

If you don't have any melted butter left over, I'd melt about ¼ cup and pour over the top.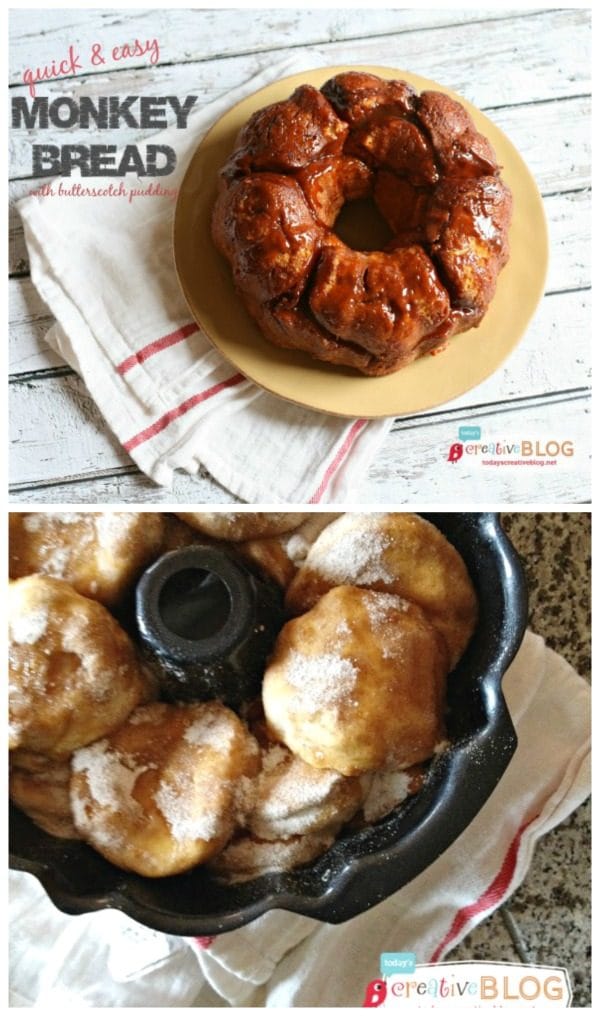 Be sure to print this Monkey Bread Recipe Butterscotch Pudding and tuck it away for weekends or holidays.
---
More Weekend Breakfast Ideas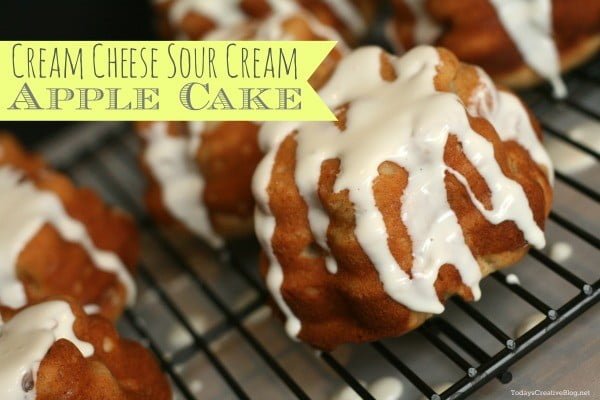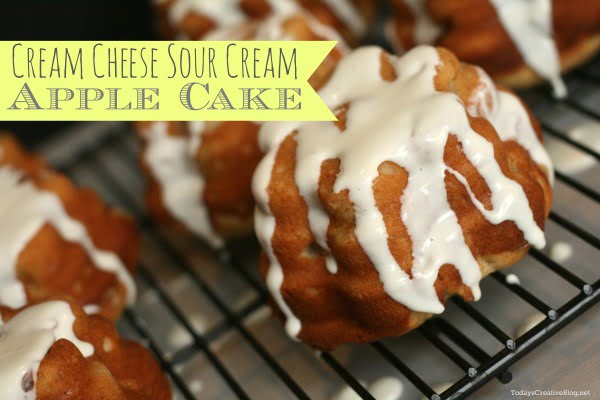 Sour Cream Cream Cheese Apple Cake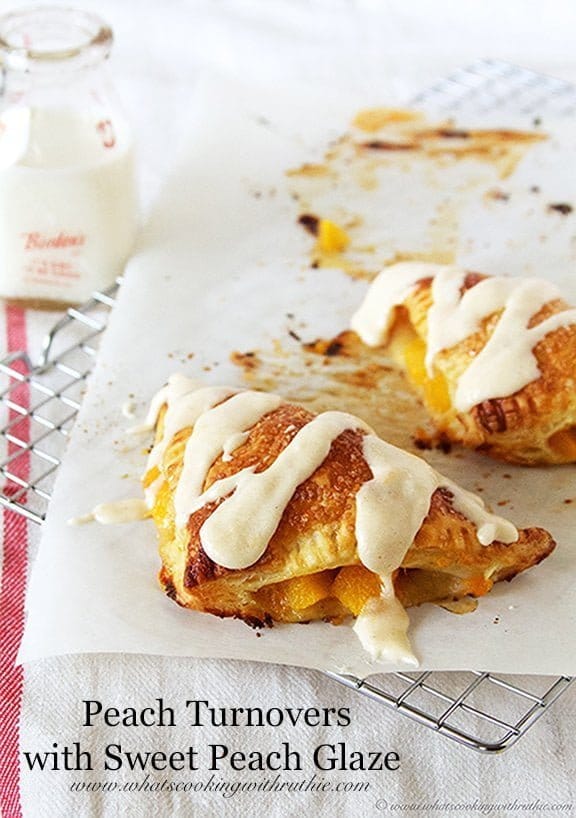 Easy Peach Turn Overs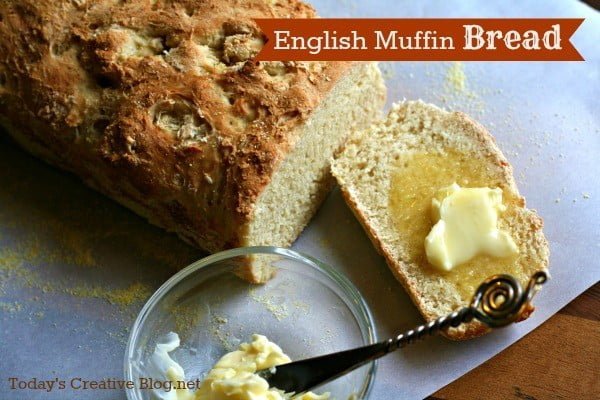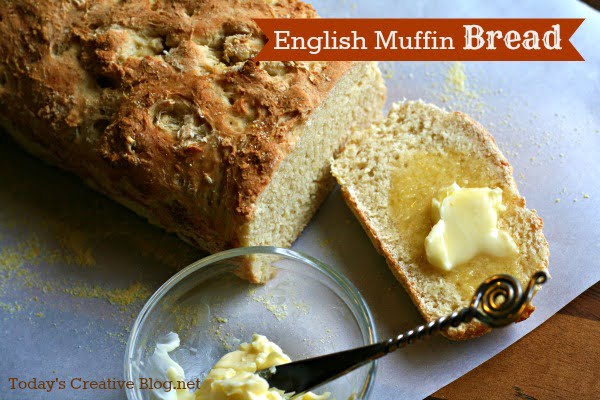 English Muffin Bread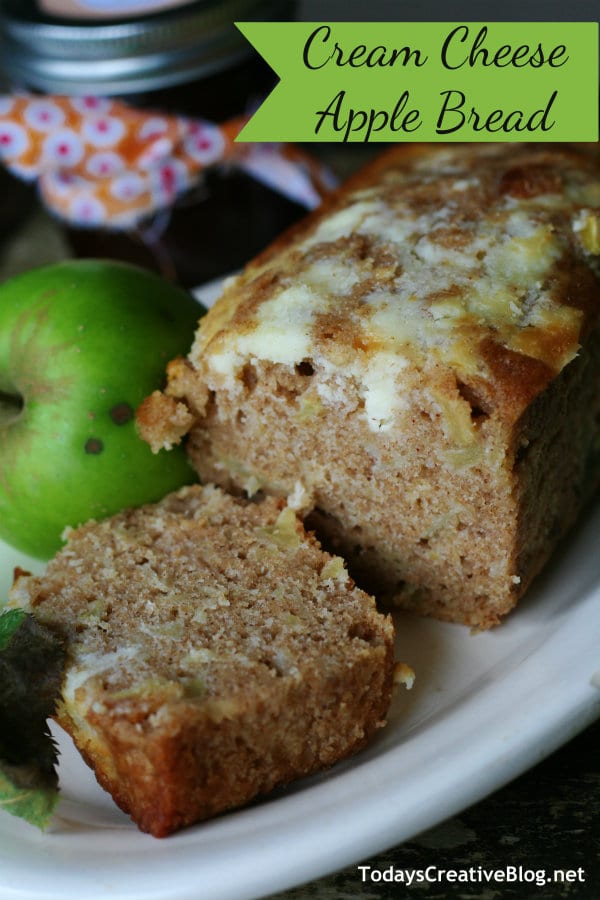 Cream Cheese Apple Bread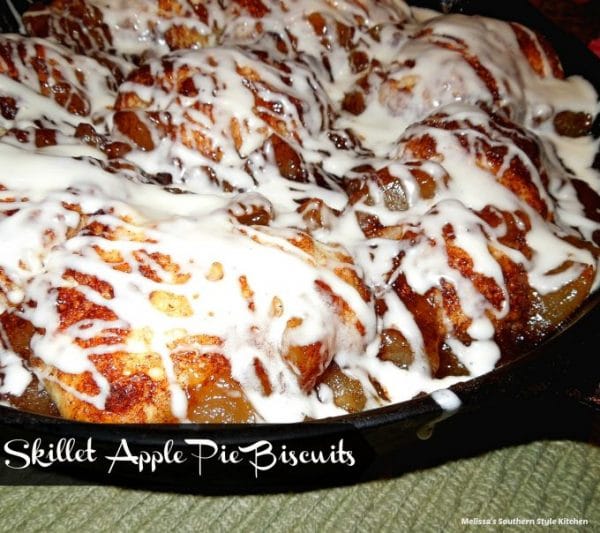 Skillet Apple Pie Biscuits
Follow Kim Demmon (today's creative blog)'s board Favorite Recipes on Pinterest.