If you're looking for Halloween Food Ideas for a Halloween party or just for Halloween night, these spooky food ideas are easy and delicious!
I am often sent some fun challenges, and this last one was with Pillsbury for Halloween Food Ideas. We were given a specific recipe and were given full creative freedom to come up with "OUR TAKE" on said recipe. As long as it was Halloween based, we were good!
It's times like this, my son walks around muttering "I love your blog" as he samples the goods. That kid can down a full tube of baked crescent rolls in 10 minutes.
Halloween Food Ideas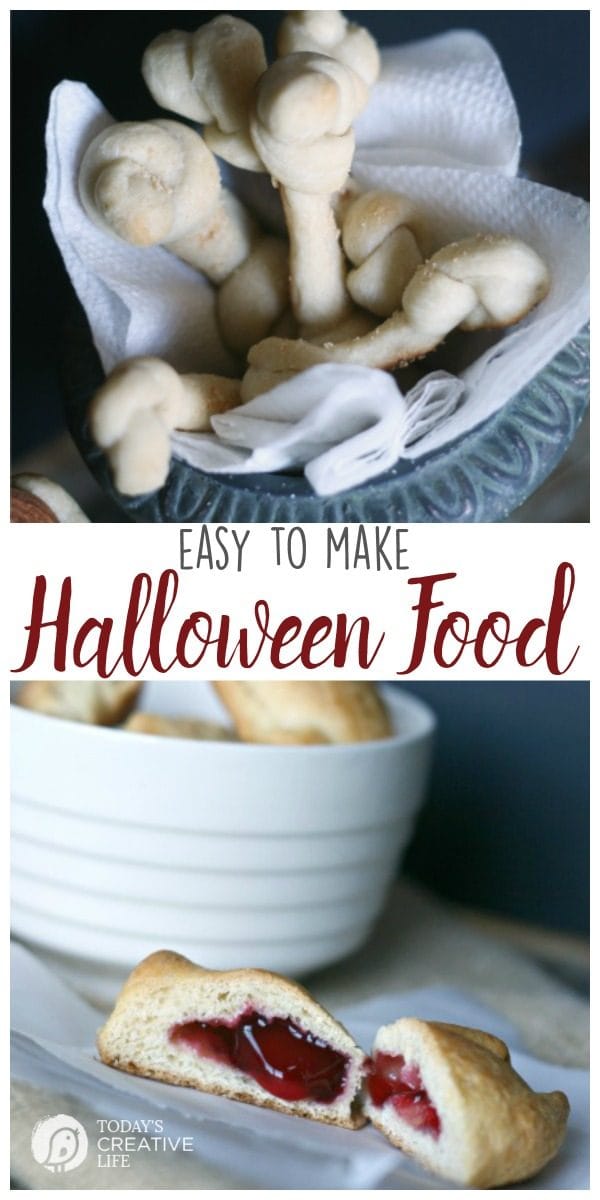 Blood Bites
The original idea was for Garlic Bites, so I racked my brain on what would be different……….gooey, oozing…… it didn't take long to think of cherry pie filling. And it didn't take long for these to disappear.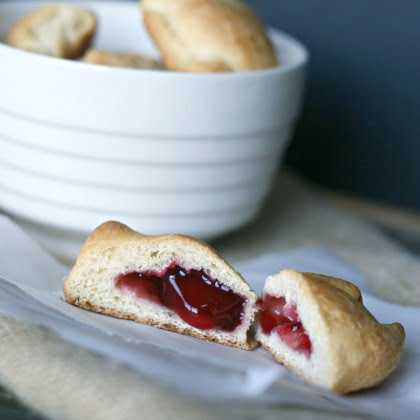 Vampire Garlic Bites
Here are the garlic bites……..I made those too! All you do is use the crescent roll dough and fold it around whatever ingredient you'd like.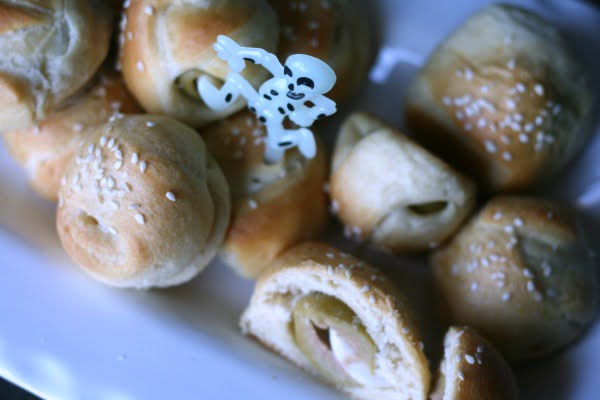 Witches Fingers and Bread Bones
I've seen different versions of these online and I've always wanted to be the cool mom that makes them……..so I did. They were so darn easy.

Meaty Monster Toes
Who doesn't love lil' Smokies wrapped in Pillsbury dough? I added a little green food coloring to make it look like Shrek or some other smelly monster. Not that Shrek was a monster……not that there's anything wrong with that.

Tombstone Cookies

The original were Mummy Cookies and I made them as well…….so easy. But I was stumped on what else, so they suggested tombstones. They clearly have more confidence in my abilities or I really have them snowed in my abilities. I'm sure they understand now that I am NOT a cookie decorator.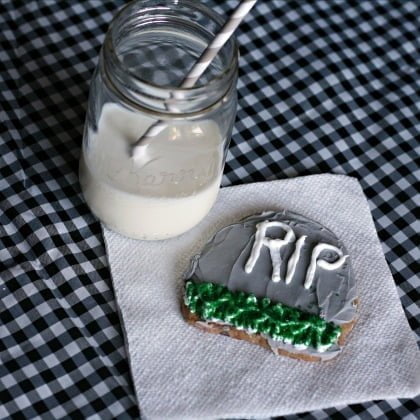 But I did feel like a genius when I thought to use a bell shaped cookie cutter, trimming off the parts not needed……then I felt no where near genius when they lost a lot of their shape while baking and I could have just cut the shape with a butter knife.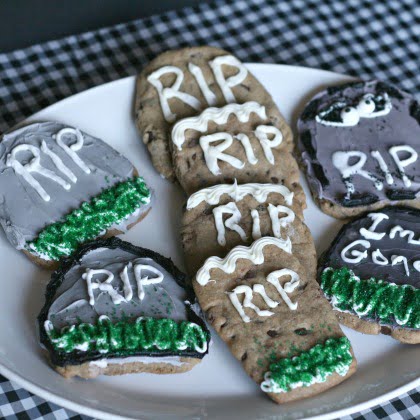 No laughing…… this is the best cookie decorating I've ever done. The mummies were much easier.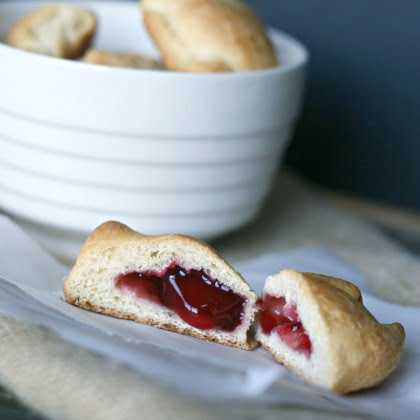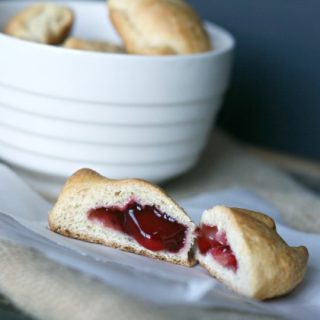 Halloween Food Recipes
Yield: many
Prep Time: 35 minutes
Cook Time: 30 minutes
Total Time: 1 hour 5 minutes
Easy to make Halloween food ideas.
Ingredients
Refrigerated Bread Stick Dough
Refrigerated Crescent Roll Dough
Sugar Cookie or Chocolate Chip Dough
Lil' Smokies
Cherry Pie Filling
Garlic stuffed olives
Almonds
Cookie Icing decorating tubes
White canned frosting
Green & Black Food coloring
Instructions
Blood Bites & Garlic Bites
Using crescent roll dough, unroll and separate each piece. Place an olive or small amount of cherry pie filling into the center and carefully wrap dough around. Place on your baking pan and follow baking instructions on the crescent roll tube.
Bones & Witches Fingers
Using breadstick dough. Roll out, season if you'd like with garlic salt. Cut to the size you'd like. For the bones, simply tie the ends into a knot.
For the Fingers, shape into a finger shape. Use a sharp knife to make slight indents into the dough to mimic knuckle wrinkles. Place a whole almond at the top for the fingernail. And bake accordingly to package directions.
Monster Toes
Using crescent roll dough, roll out entire sheet. Using a pizza cutter to slice into 4-inch strips. Wrap one strip around one little smokie and place on a baking pan. Repeat until finished and bake accordingly to package.
When they are finished, add green food coloring to melted butter and brush each one.
Tombstone & Mummy Cookies
Roll out the sugar cookie dough. I used a bell cookie cutter and cut the top of the bell off. I reshaped the top into a rectangle so I ended up with 2 different shaped tombstones. I used a gingerbread cutter for the mummies.
Bake.
Once baked, frost the tombstones with gray colored frosting. I used a bit of black food gel to mix with white canned frosting. To decorate each cookie, use the cookie icing tubes to create the wording and the grass.
For the Mummies, draw frosting lines across and back. Use edible decorative eyes, or a dab of grey frosting.


Notes
My recipes were inspired by Pillsbury recipes found on their site.
See my fun and simple
Halloween Wreath I made!
You'll want one too!
Halloween DIY Ideas
Create the Halloween of your dreams with Easy Halloween Ideas. Find Halloween decor for cheap for a budget-friendly holiday. Recipes for Halloween too!
Printable Wall Art for Halloween - DIY Halloween decor in a flash!
Easy Halloween Craft for transferring images onto wax candles.
Make this cute beetle pillow design with iron-on vinyl.
Halloween party bottle wrappers printable.
Get creative with a fun Halloween centerpiece.
This Halloween-decorated take-out box is great for treats or even Halloween party leftovers. Cricut Halloween Ideas.
Free Halloween printables.
Halloween decor for cheap! Dollar store items made into a creepy crawly centerpiece.
Iron-on crafts are my favorites!
Another great Cricut craft for Halloween.
Halloween treat boxes with vintage beetles. Print and decoupage. Free printables.
Who would know you could find the best craft supplies in a hardware store? A little spray paint, a free printable, cobwebs and you've got yourself a simple Halloween craft.
Fun for any spooky party!