I think you'll enjoy this easy to follow sewing tutorial – Learn How to Make A Maxi Skirt.
For my TCL Summer Series, I've got Andrea today from Train to Crazy. This girl can sew! She even has her own patterns! She's going to teach us how to make a maxi skirt! Don't we love maxi skirts? If you like sewing ideas, don't miss this DIY Chapstick Key Ring Holder or how to make a swim suit cover up from a 5X mens t-shirt.
---
A knit maxi skirt is perfect for almost all weather but I love wearing them in the summer. I really love this style of maxi skirt because it is much more flattering than a rectangular maxi. If you can sew a straight line, you can draft your own pattern and sew this skirt. This tutorial will teach you How to Make a Maxi Skirt with a little bit of drape and flow without having too much fabric hanging off your hips.
How To Make A Maxi Skirt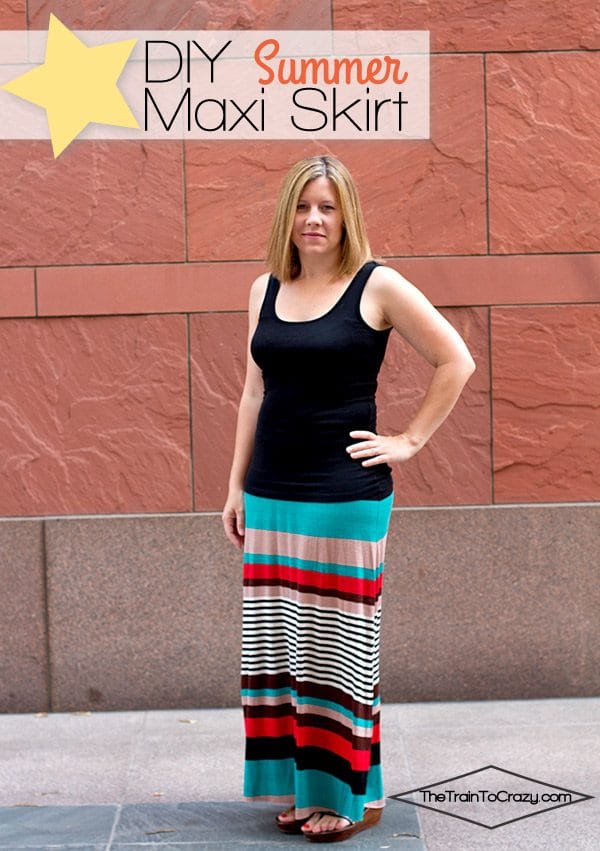 How to Sew a Maxi Skirt
Tools & Supplies:
Knit fabric – You will create your pattern to determine how much you need.
1 inch knit elastic – Do not buy No-Roll elastic for this skirt because you will be sewing on the elastic.
A measuring tape to take your own measurements – This retractable one is nice to put in your purse.
Fabric scissors or a rotary cutter and cutting mat – Here's a great tutorial on how to use a Rotary Cutter.
Coordinating thread
Sewing machine or serger – Here's an affordable Sewing Machine if you're just starting out. Here are more durable heavy-duty sewing machines.
Ballpoint needle for your sewing machine or serger
Optional: large pattern paper (or use measurements to create the pattern directly on the fabric. read all the steps first so you don't cut the fabric before the pattern is complete!)
Choosing your knit fabric:
Find a knit that you can't see light through unless you want to wear a slip!
The fabric should have at least 25-40% stretch. That means if you have a 10″ cut and pull it the way it stretches most, it will grow to be at least 12.5″.
Avoid fabrics with a lot of 4 way stretch. Your skirt will grow as you wear it.
Sewing Tips:
Wash and dry your fabric and elastic before using
Optional: Hang your fabric before cutting. (notice in the photo that the striped fabric was not hung before cutting and it stretched some while being worn)
Matching your stripes isn't that hard. I've written some helpful tips here.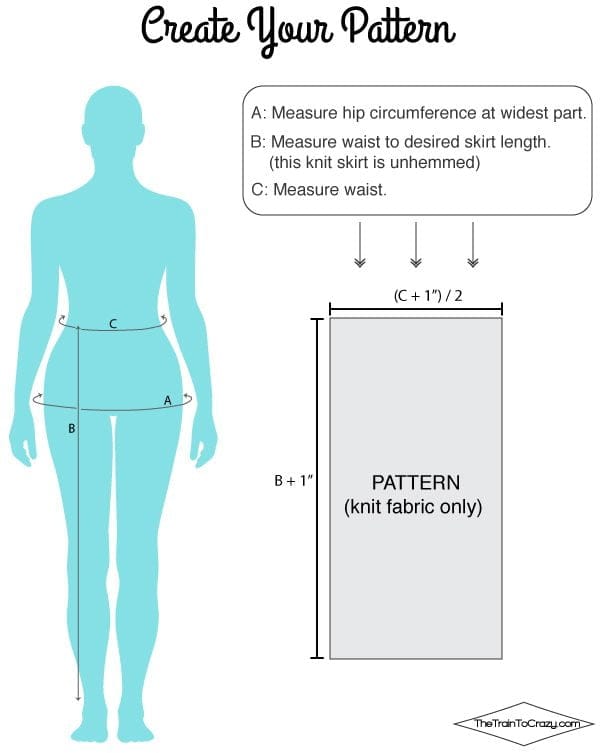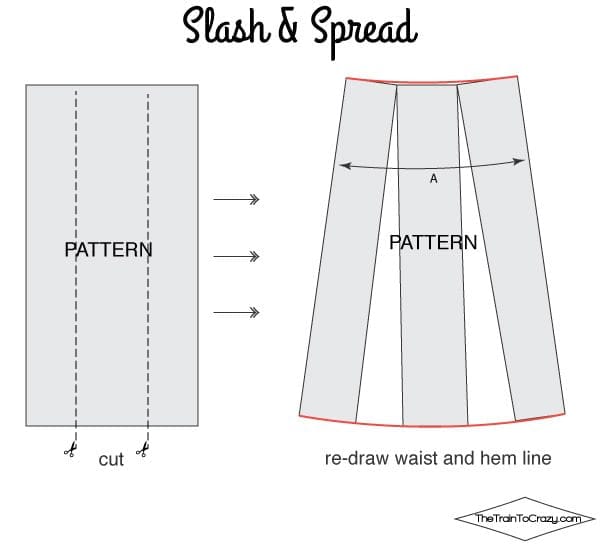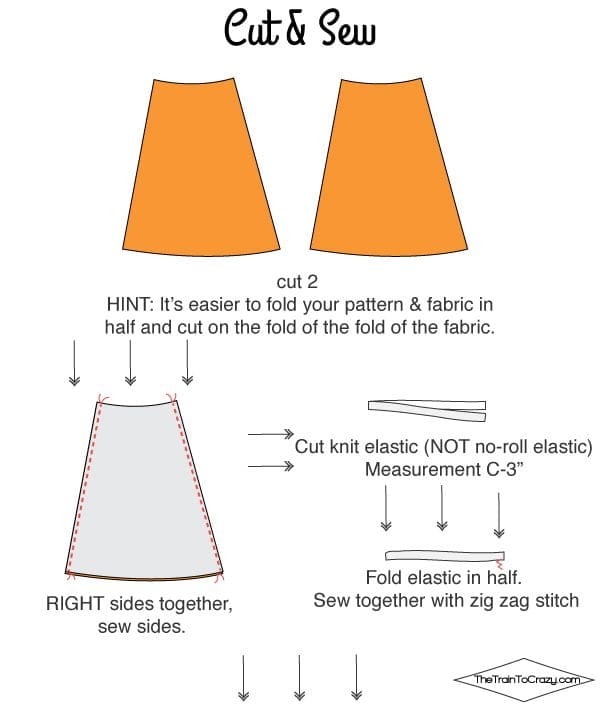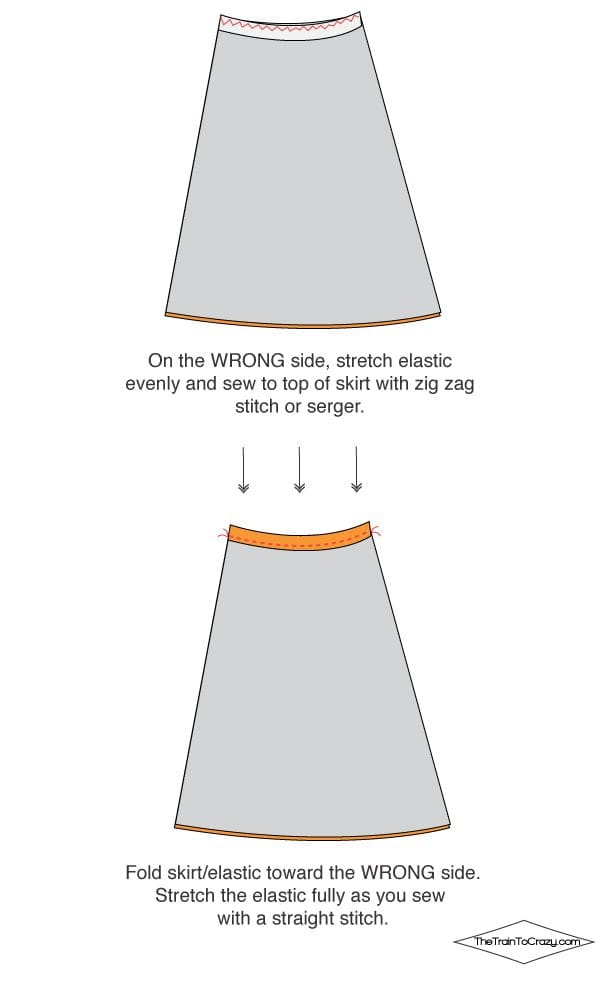 That's it! You've sewn a flattering maxi skirt!

If you enjoyed this tutorial please stop by my personal blog, The Train To Crazy to see more! I also blog at GoToSew.com, the official blog of my sewing patterns.
---
Easy Sewing Projects Ideas
Simple Sewing project ideas perfect for beginners.
This handy tortilla warmer is a great sewing project to start with.
Add a little extra to the underside of a wedding dress.
Fun project for early learners.
Sew your own bedroom decor!
Using a drop cloth to make a fun pillow.
Simple beginner holiday coasters.
Easy to carry holder you can make!
For the intermediate sewer.