It's no secret that I'm completely smitten with Tartan Plaid again. With spring quickly approaching, I am taking advantage of the rest of winter to use these DIY Tile Coasters with Tartan Plaid.
DIY Tile Coasters with Tartan Plaid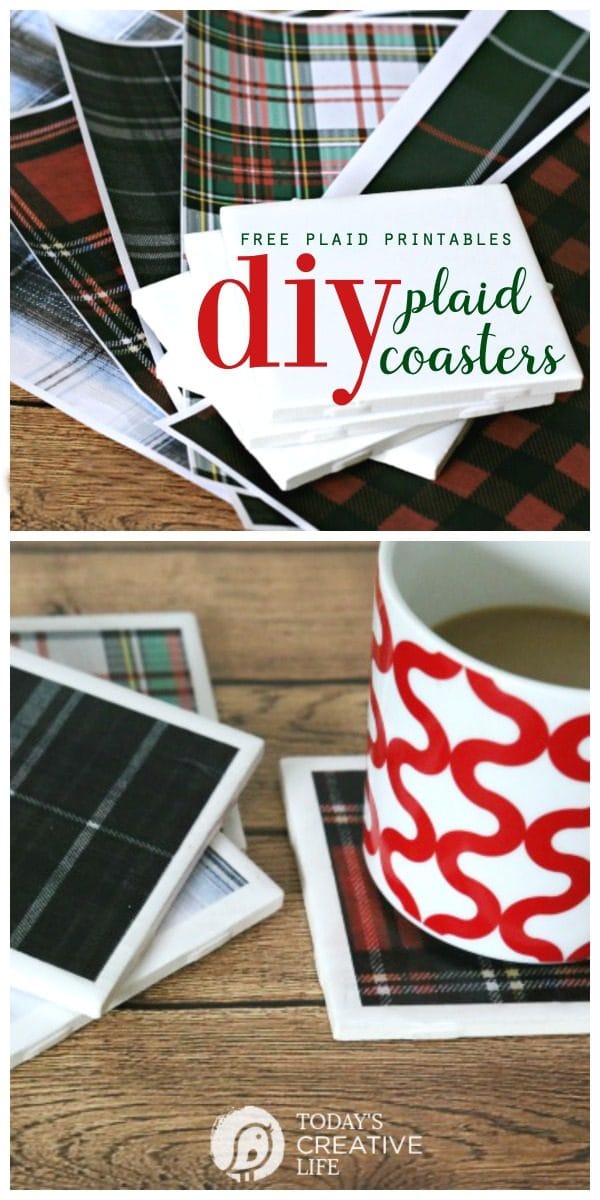 They instantly give that cozy feeling in any room, and you can make some too!
After making my Tartan Covered Desk Organizing Cans, I still had leftover printed paper that I just couldn't throw away. I still have a box of square tiles a girlfriend gave me, left over from a remodeling project. What better things to make besides coasters, right? I love making a set for every season. My holiday coasters were pretty cute too. If you search Brushezzy for Tartan, you'll see all kinds of free downloadable patterns.
Click HERE for Four Tartan Plaid Patterns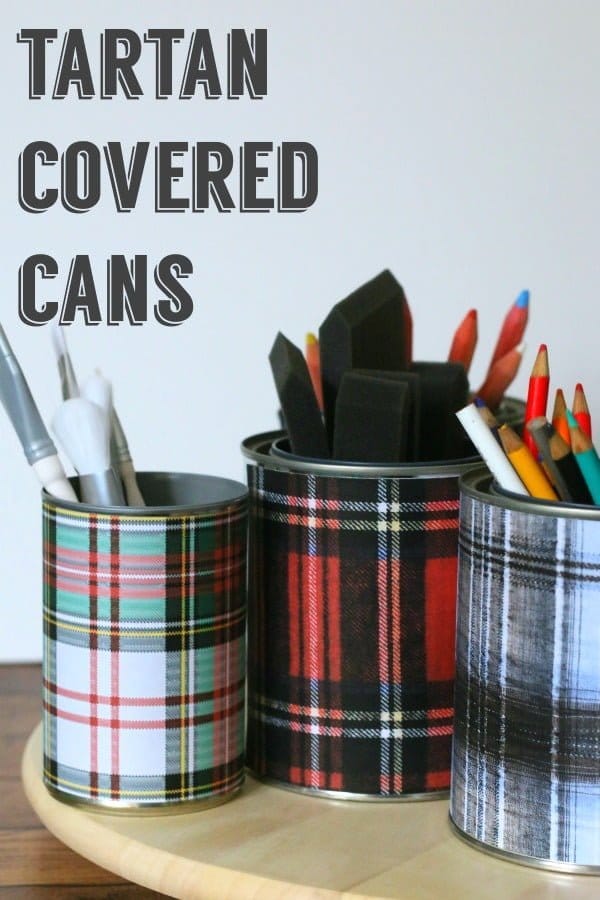 I love that this DIY Tile Coasters with Tartan Plaid project is pretty easy that a variety of ages can accomplish this and the end result is something stylish you can use in your home.
I had a heck of a time finding Tartan Plaid fabric. I checked 2 difference sources near me and …….nothing!
So after coming up empty-handed, I thought perhaps there was a download of Tartan patterns that would still be great for DIY projects. YAY! There was!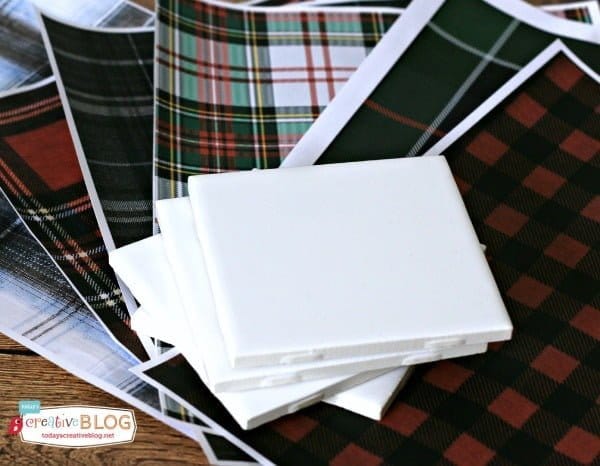 How to Make Tartan Plaid Coasters
Supplies Needed: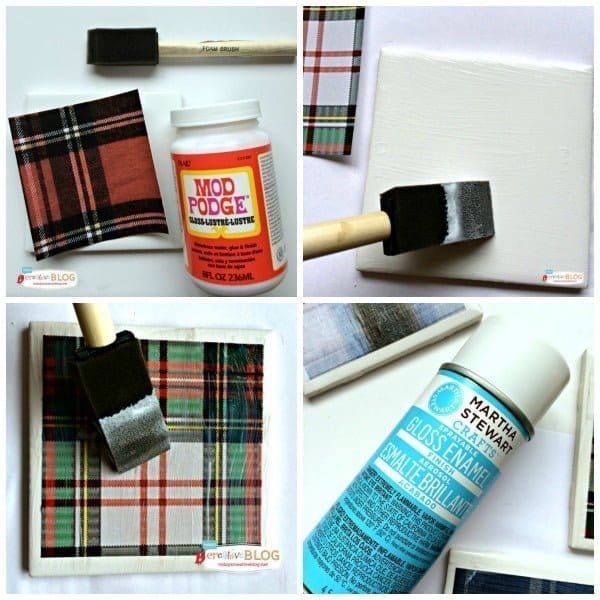 After printing your patterns, spray the printed paper with a spray sealer to prevent bleeding.
Trim your plaid printed paper to fit your tile. I wanted a border, but since the images bled a bit, they may look better covering the full tile.
Starting out with a clean and dry tile, brush a thin coat of Mod Podge over the full tile.
Place and position your trimmed plaid piece on the tile.
Brush another layer of Mod Podge over the printed plaid. Do this quickly to prevent excessive color bleeding. If it looked like it was getting bubbles, I used a roller to smooth it out and finished up with another coat if needed.
Let it dry overnight. Spray a coat of the same sealer you used after printing or a Gloss Enamel to seal it. Follow directions for drying time before using. Do not place in the dishwasher or directly in water. Use a damp cloth to clean.
Edited to add: I've since learned from a reader that if you spray your paper from a distance with Aqua Net hairspray, allow it to dry, then craft with it….you'll have no bleeding. I have not yet tried this, but it's worth a try.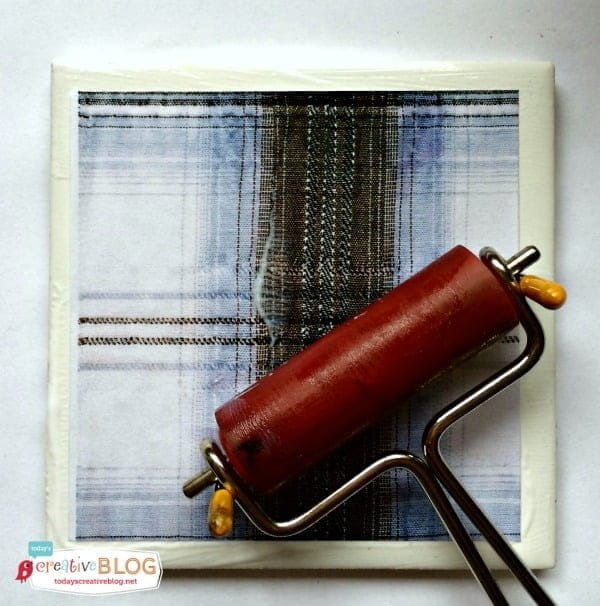 Look at these beauties! I love them!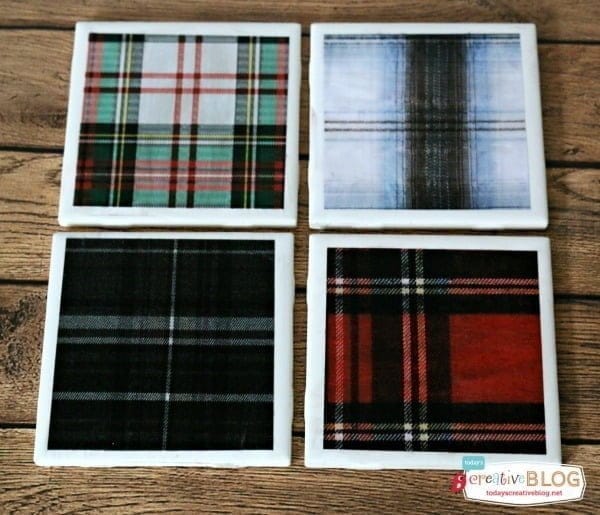 If you're able to find Tartan Plaid cotton fabric (not too thick), you can use fabric instead of paper. Just follow the same directions.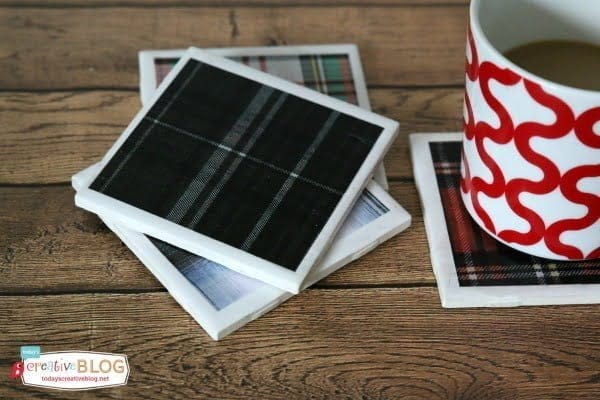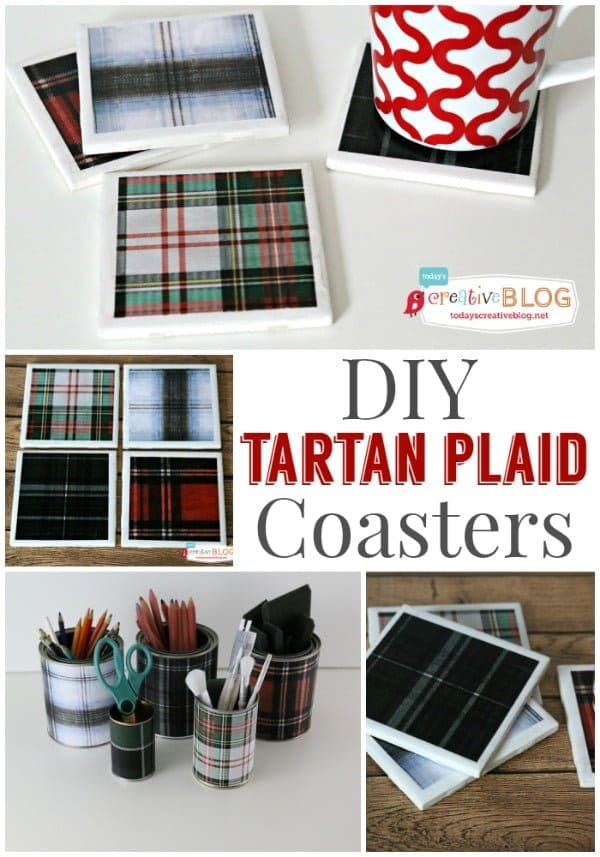 Now wasn't that fun? And it wasn't too difficult! Not to mention how great it looks!
---
More DIY Craft Ideas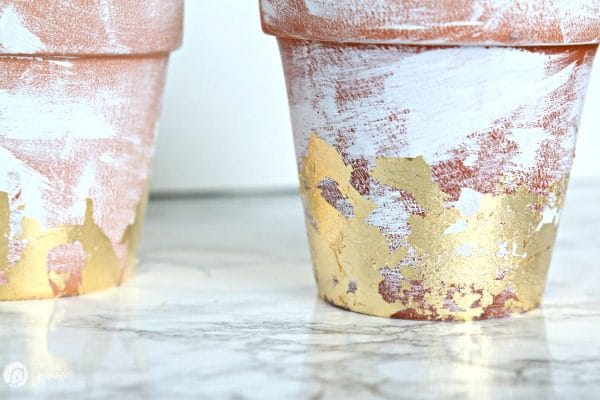 DIY Distressed Flower Pots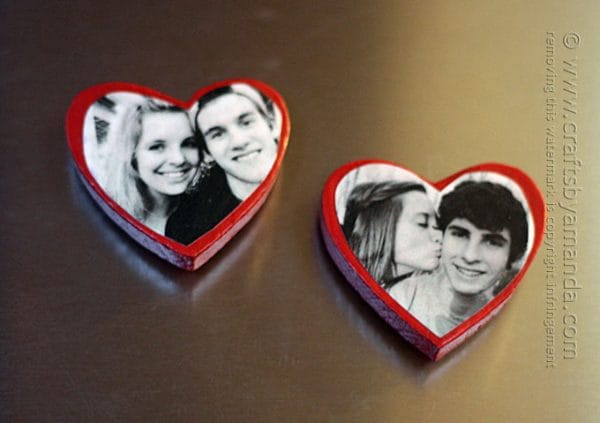 Decoupaged Valentine Wood Heart Photo Magnets
This post contains affiliate links to supplies needed for this project. This only means that if you click and decide to purchase, I will receive a very small %. There is no additional cost to you.