I have a lot of French Toast recipes on this blog! You could say we are big fans! That's why I couldn't resist making this Pumpkin Cream Cheese French Toast Casserole which can also be an overnight french toast casserole dish for convenience.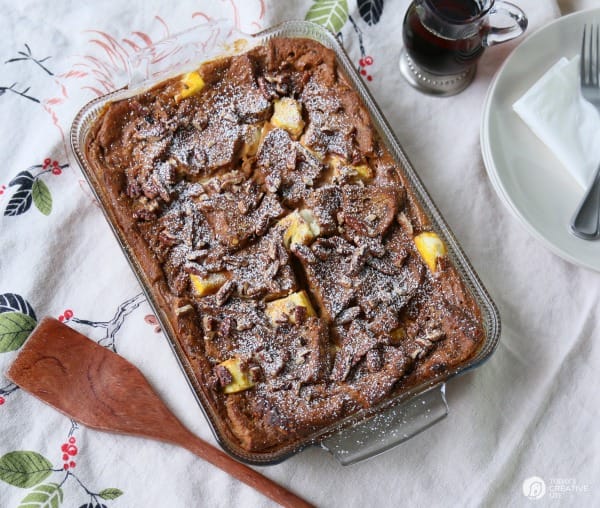 Pumpkin Cream Cheese French Toast Casserole
French toast casseroles are so much easier than making a stack of french toast. When you've got a crowd to feed or planning brunch or even a holiday breakfast, this is your recipe!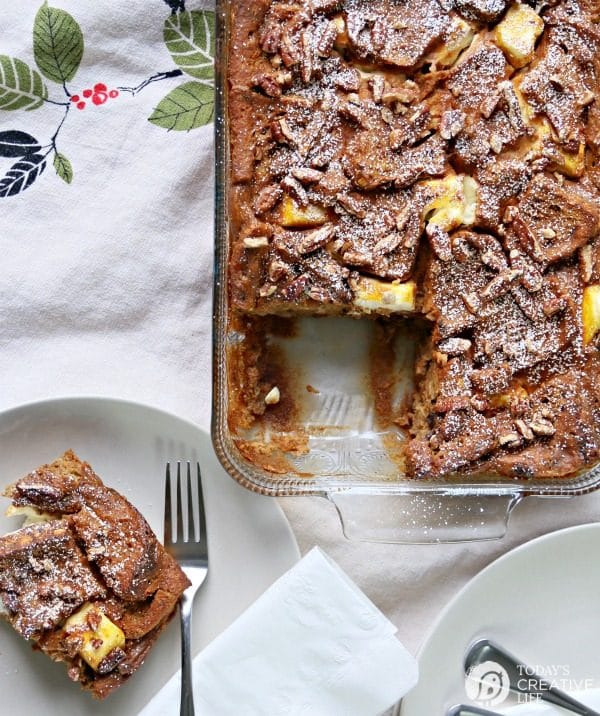 As mentioned, you can make this up the night before and let it sit in the fridge to really let the bread soak up the egg mixture, or make it the morning of. It's all about being an easy recipe!
Like my Crockpot French Toast, it reminds me a little of a bread pudding. I don't even need to drizzle with syrup, it's so tasty.
What kind of bread do you use for French Toast Casserole?
For this Pumpkin Cream Cheese French Toast, I used a cinnamon raisin bread. I like the Killer Dave brand although it's a little more expensive, it's healthier. It also made my breakfast casserole delicious!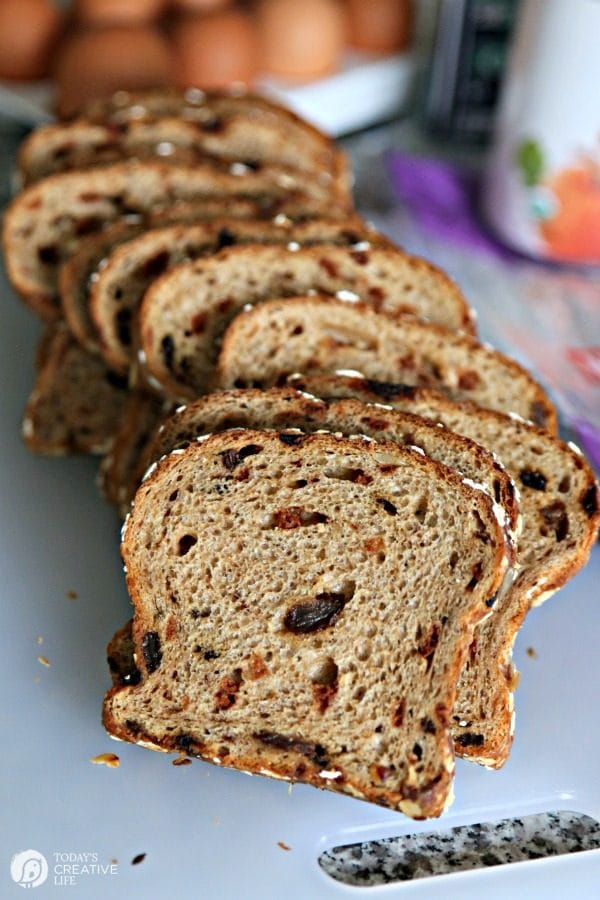 Other bread I've used:
Sliced French Bread – This is typically what I use for making grilled french toast. It's a little thicker than regular bread.
French Bread Loaf – Day old is even better. It soaks up the eggs faster.
Challah Bread – This stuff is SO good!
Brioche
Regular White Bread
Whole Wheat Bread
How to Make Pumpkin Cream Cheese French Toast Casserole
My recipes say to cut the bread into quarters, but honestly, you can rip it or cut into any size. For my Overnight Blueberry French Toast Casserole, I used whole slices, with just the crust cut off. There really are no rules.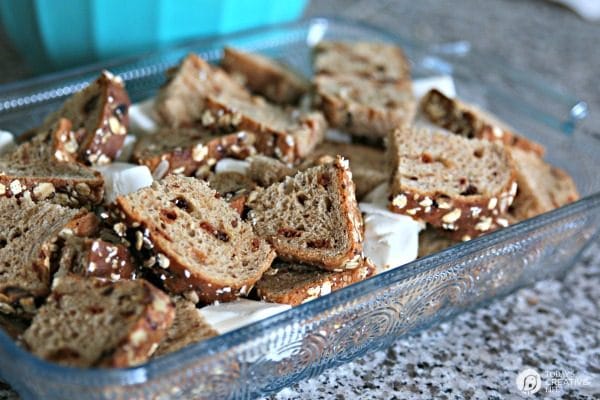 Depending on how large you want your cream cheese bites, will determine how large you cut it. They aren't going to melt, as many people think they'll do. If I have extra time or motivation, I'll roll the cream cheese chunks in cinnamon sugar before adding them.
After you've mixed all your liquids, spices and eggs, you're going to just pour it over the bread. You want the bread to soak up most of the liquid. I'll usually use a rubber spatula to press the bread down. Let it soak at least 15-20 minutes if you're baking the same morning. Otherwise, place in the fridge overnight.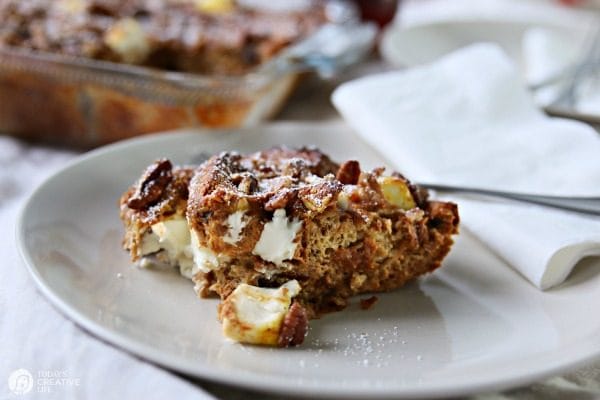 Serve this with or without warm maple syrup, it's heaven!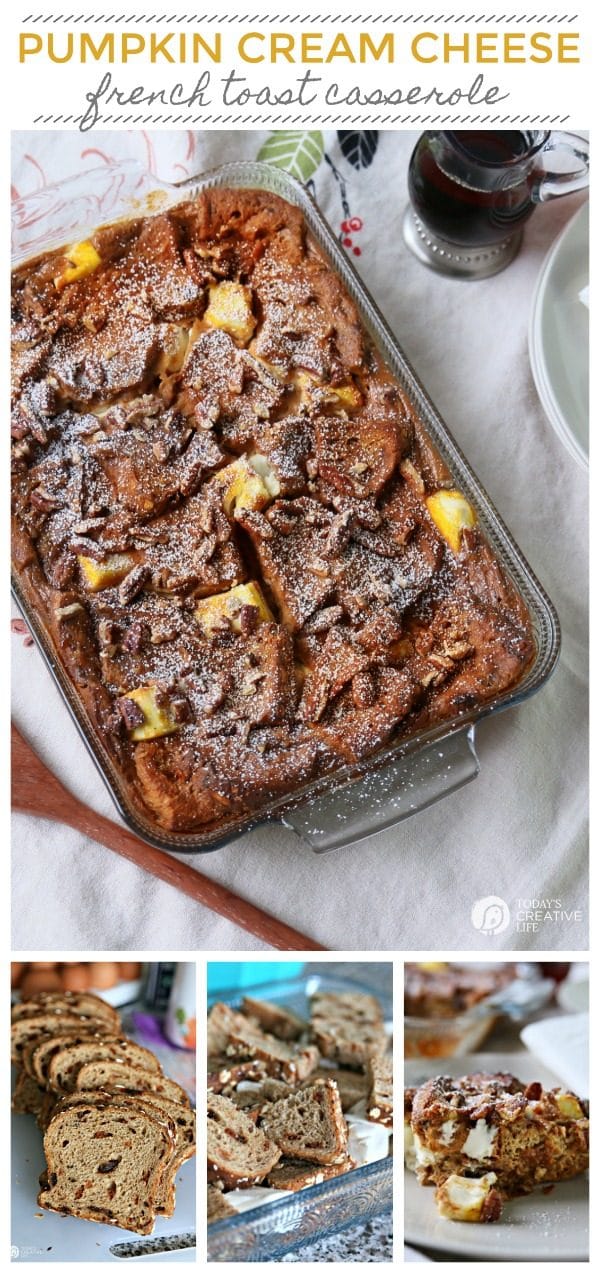 Can French Toast Casserole be Reheated?
That's assuming you'll have leftovers. I've reheated this breakfast casserole two different ways.
I'll reheat a single piece on a plate using the microwave, but if I'm reheating the whole casserole, I'll place aluminum foil over the top and reheat in the oven, usually 325° or 350° for about 20-25 minutes.
If you make this Pumpkin Cream Cheese French Toast Casserole recipe, I'd love to know what you think. Take a photo and tag me in on Instagram!
Follow along on Instagram | Pinterest | Facebook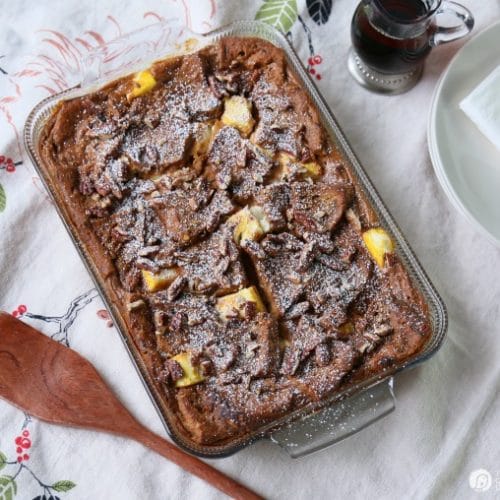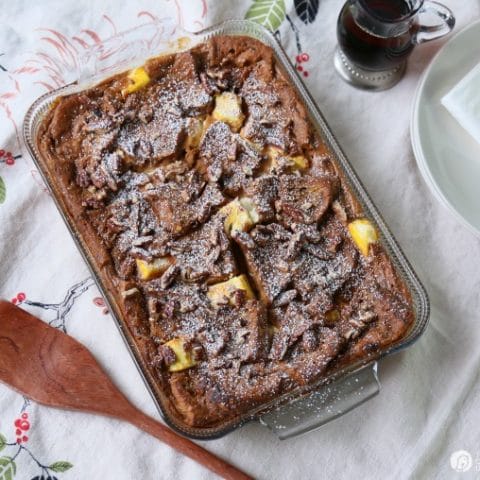 Pumpkin Cream Cheese French Toast Casserole
Yield: 12
Prep Time: 15 minutes
Cook Time: 1 hour 5 minutes
Total Time: 1 hour 20 minutes
Easy to make Pumpkin Cream Cheese French Toast Casserole. Great for brunch, weekends, and holiday breakfast ideas. Made with cinnamon raisin bread, cream cheese, pumpkin and more! You'll want to save this breakfast casserole recipe for years to come.
Ingredients
1 loaf cinnamon-raisin bread - cut slices into quarters
1 package (8oz) cream cheese - cut into 1/2 inch to 1 inch chunks
8 large eggs
1 can evaporated milk
1 cup canned pumpkin
2/3 cup brown sugar
1/2 cup milk
2 teaspoons ground cinnamon
1/4 teaspoon ground nutmeg
1/4 teaspoon ground ginger
1/8 teaspoon ground cloves
1/2 teaspoon salt
1/2 cup chopped pecans
Powdered confectioners sugar for sprinkling on top
Instructions
Preheat oven to 350 degrees if you're making it right away.
Arrange half of your bread in a greased large baking dish. (13 x 9 inch)
Layer with cream cheese chunks, then remaining bread.
In a large bowl, whisk the eggs, evaporated milk, pumpkin, brown sugar, milk, spices and salt.
After it's well mixed, pour mixture over the bread.
Press the bread down so it's able to soak up the egg mixture.
Place in the fridge overnight if you're baking the next morning.
If you're baking now, let it soak for 15-30 minutes, or until the bread is well saturated.
Place in the preheated oven, covered for 40 minutes.
Uncover and sprinkle with pecans, bake uncovered for an additional 20-30 minutes or until golden brown. Insert a knife near the center. If it comes out clean, it's finished.
Let it sit for 5-10 minutes before serving.
Dust with powder confectioners sugar.
Serve with maple syrup.
Nutrition Information
Yield 12
Serving Size 1
Amount Per Serving
Calories 227
Total Fat 10g
Saturated Fat 3g
Trans Fat 0g
Unsaturated Fat 6g
Cholesterol 136mg
Sodium 200mg
Carbohydrates 28g
Fiber 1g
Sugar 24g
Protein 8g
We do our best to calculate, however, nutrition information may not be accurate.
Easy To Make Breakfast Ideas
Breakfast recipe ideas that won't take you a lot of time!
Using refrigerated biscuits, with egg and ham makes a delicious breakfast casserole
Save this recipe for weekends or special holidays.
This high-protein breakfast sandwich is great for on the go.
The fruit filling make these muffins so moist and flavorful.
A full delicious breakfast in one egg biscuit!
Grab & Go High Protein Breakfast ideas with Egg, cheese, ham, and potato muffin cups.
The family favorite is so good with honey butter.
Easy to make French Toast Casserole with Mixed Berries.
Sausage Gravy and Biscuits is a southern specialty! This easy gravy recipe is made with pork sausage and drippings along with milk and flour, making up a thick creamy gravy to serve over fresh biscuits.
Easy to make breakfast casserole for weekends and brunch.