Some salads like this Mango Chicken Salad with Cashews are salads I could eat every single day! Clean eating, healthy and delicious! This salad, like my Shrimp Avocado Salad, are easy to throw together with a few shortcuts if needed, making it a great last minute dinner idea. And if you're just here for the recipes with fruit, you may love this one-skillet sweet pineapple chicken!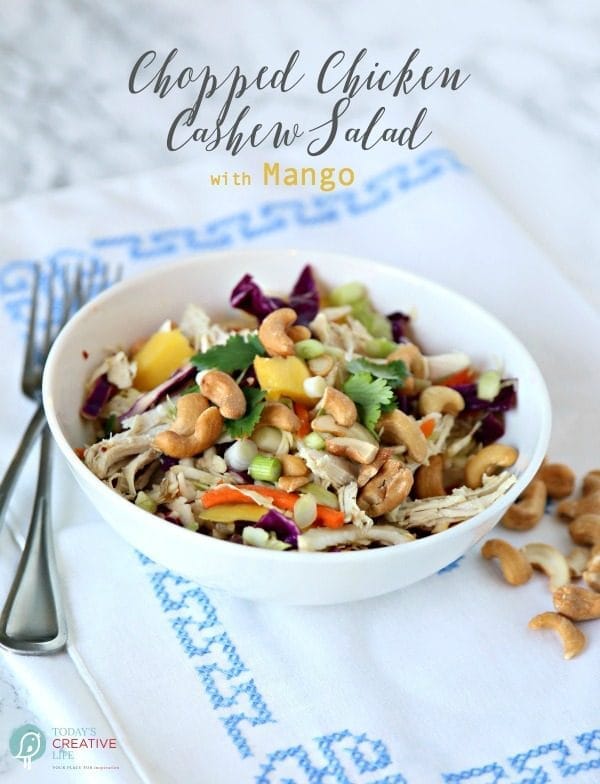 Mango Chicken Salad with Cashews
I always think of this as a seasonal salad because it's so fresh, but really… you could make it any time of year, as long as you can find ripe mangos. I suppose you could make it without, but it's SO good with!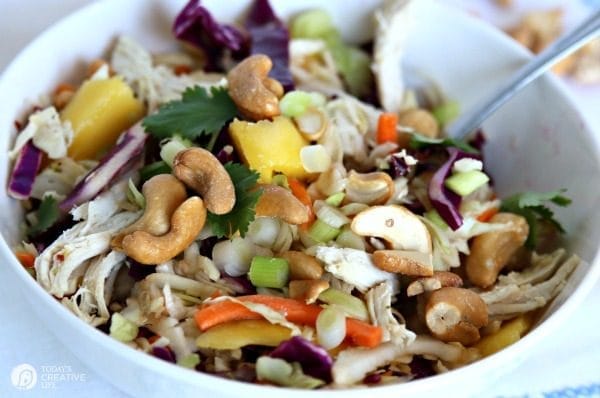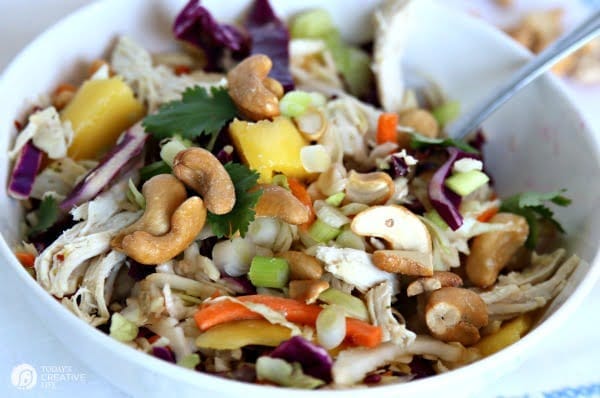 Mango Chicken Salad Ingredients
This Mango Chicken Salad is full of freshness. You'll want to have the following.
Affiliate links for products listed are for your convenience only. This cost you nothing extra. If you happen to purchase anything as a result of clicking, TCL will receive a small percentage. Thank you for your support. This allows me to continue to offer you free content. 
Napa Cabbage
Red Cabbage (it's really more purple, right?)
Carrots
Mango
Cilantro
Scallions (green onions)
Cooked chicken
Cashews – These can be expensive, but Trader Joe's has a great price.
Lime and orange juice
Toasted Sesame oil – I get mine at Trader Joe's.
Canola oil
Soy Sauce
Crushed red pepper
Sounds like a lot of ingredients, but you probably already have most of them in your pantry.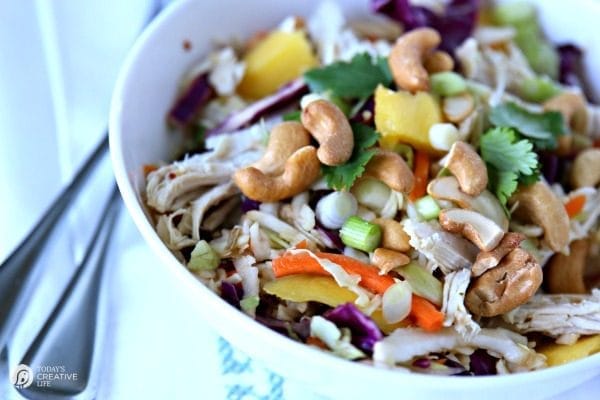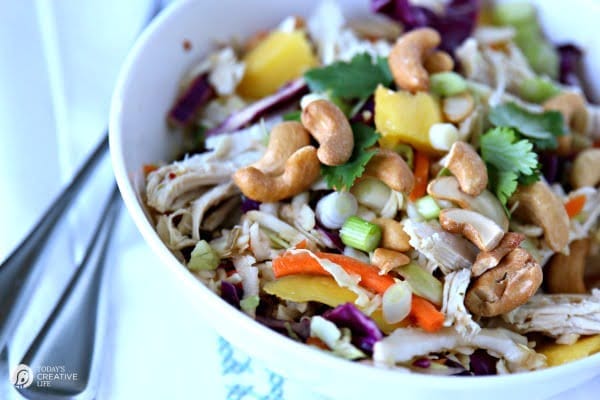 Mango Chicken Salad Shortcuts or Substitutes
Use rotisserie chicken from the grocery store. There is no shame! This trick speeds up so many recipes.
Make Lemon Garlic Crockpot Chicken for a week's worth of recipes.
Buy bagged cabbage slaw mix. It's all ready to go and that's what I usually do. Then I add more of the red cabbage for more color.
No cashews? Use peanuts or almonds instead.
Use mandarin oranges instead of mango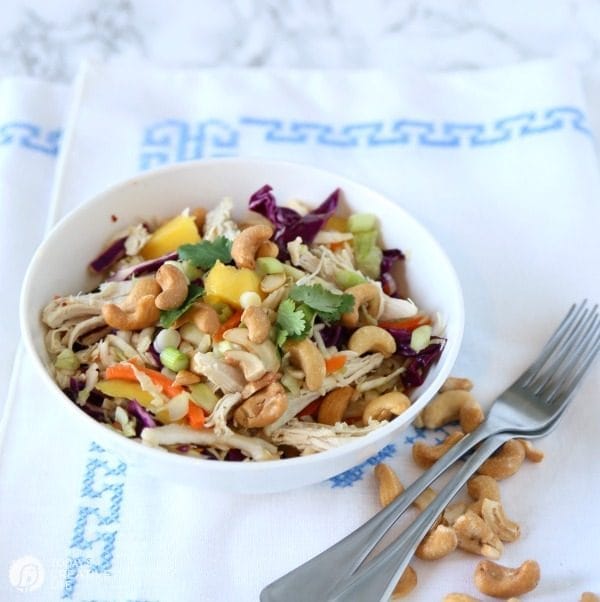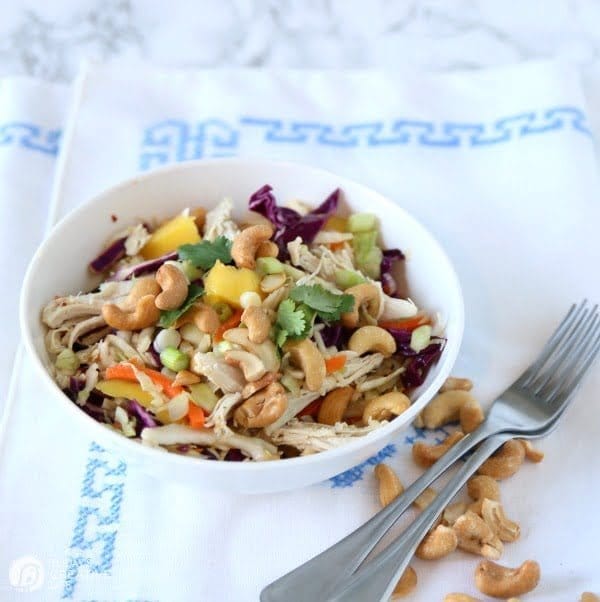 This is a great salad to make up ahead of time, but I'd add the cashews right before serving. You don't want them to get mushy. Great for potlucks, BBQs and parties! Or of course, just for lunch or dinner.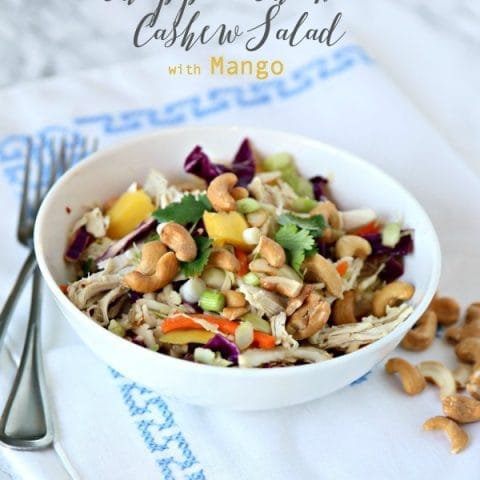 Mango Chicken Salad
Prep Time: 15 minutes

Total Time: 15 minutes
Ingredients
1/4 cup Seasoned Rice Vinegar
2 1/2 Tablespoon lime juice - I used fresh squeezed.
3 Tablespoons Orange Juice - Sometimes I just squeeze those little satsumas.
1 1/2 toasted Sesame Oil
1 Tablespoon Canola oil - vegetable is OK too.
1 Tablespoon Soy Sauce
1/2 teaspoon Crushed Red Pepper
4 Cups thinly sliced Napa Cabbage or bagged Slaw Mix
1 Cup sliced Red Cabbage or Slaw Mix
1 Cup Carrots, shredded or cut into thin sticks
1 small mango - peeled, pitted and sliced
1/3 Cup Cilantro leaves
1/4 Cup chopped Scallion and Scallion greens
2 1/2 cups cooked and shredded skinless Chicken
1/2 Cup Cashews
Instructions
Start with the dressing
In a large serving bowl, whisk together the first 7 ingredients; rice vinegar, juices, oils, soy sauce and red pepper.
Add both cabbages, carrots, mango and scallions and cilantro. Toss and mix until well blended.
Salt and Pepper to taste.
Add chicken and cashews and toss.
Notes
- Use peanuts instead of cashews.
- Use bagged slaw mix for a short cut.
- Use rotisserie chicken if desired.
- No mango? Use mandarin oranges instead.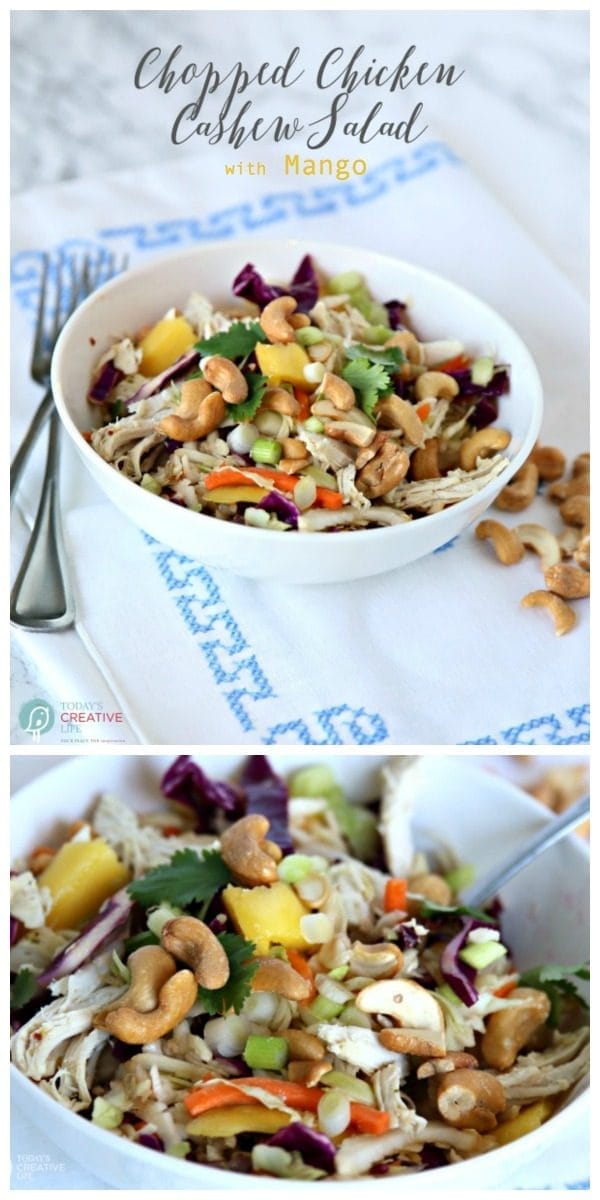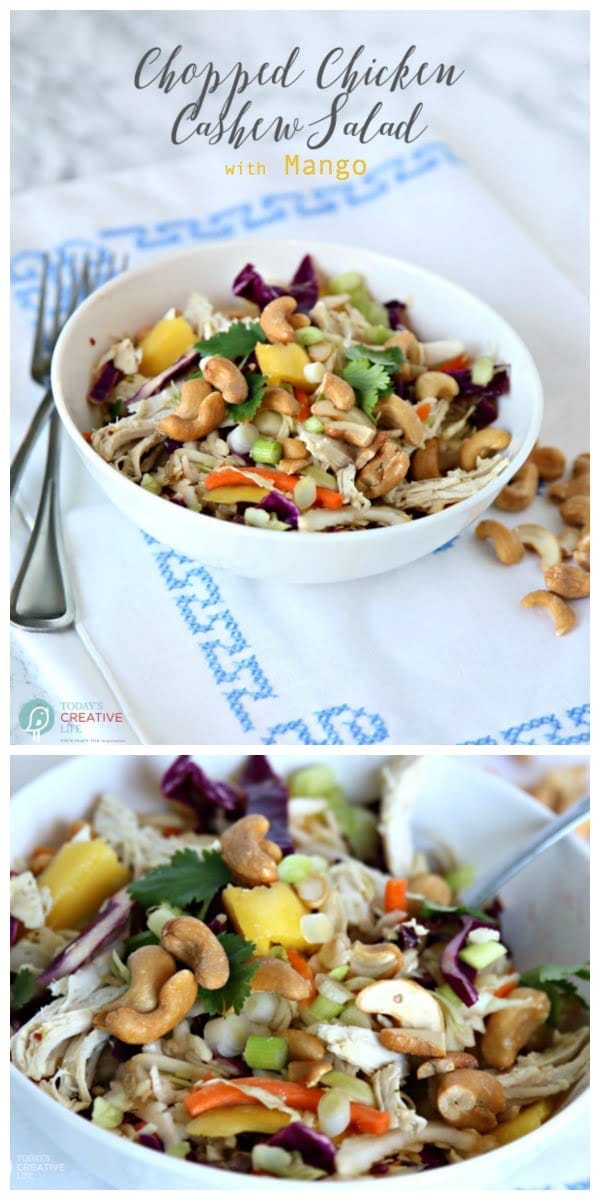 There you have it! Another fresh summer salad to add to your menu! Mango Chicken Salad is always a hit!
---
More Salad Recipes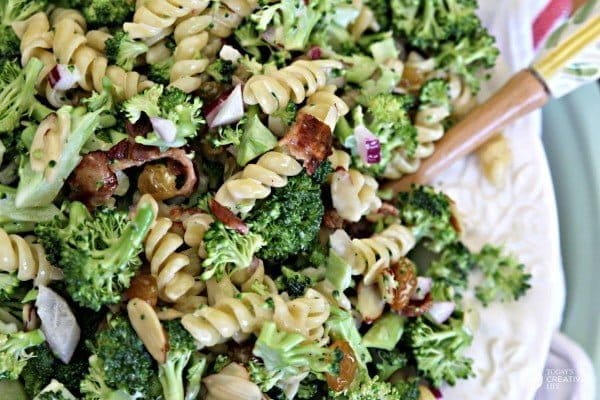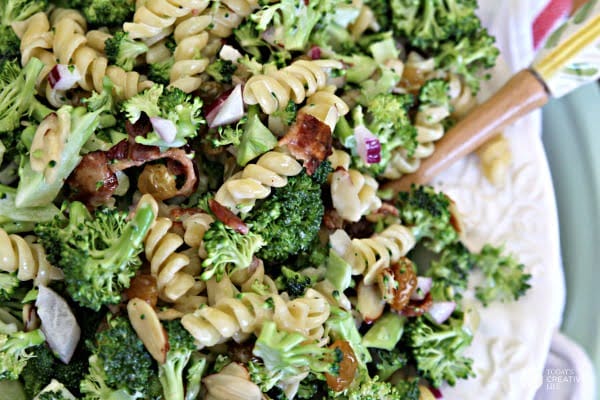 Broccoli Salad with Pasta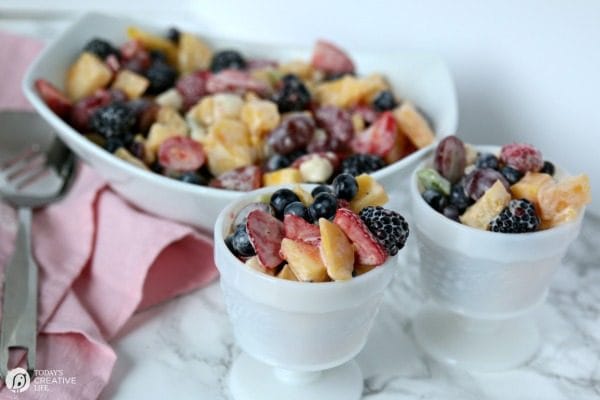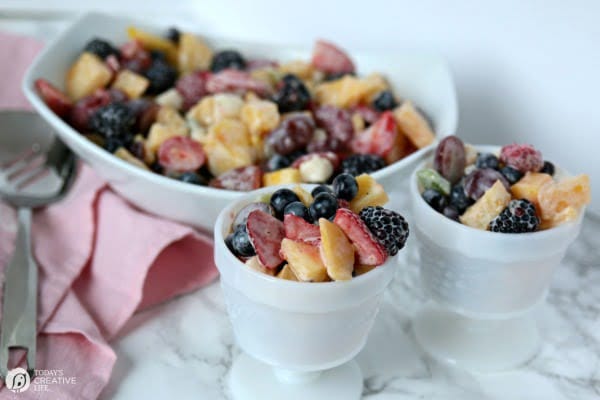 Fruit Salad with Sour Cream Dressing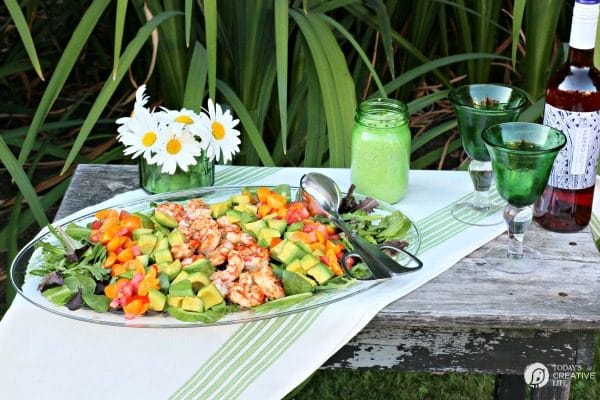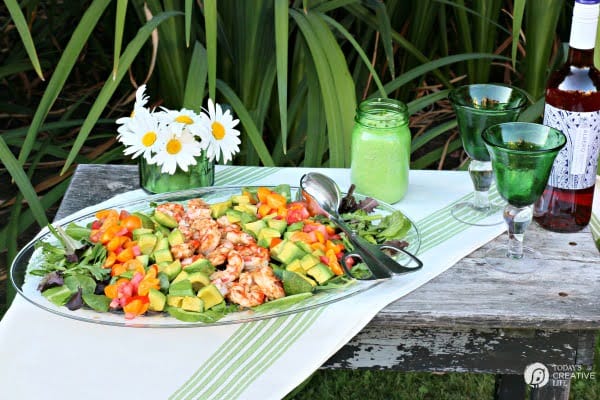 Shrimp Avocado Salad