This Crockpot Lemon Garlic Chicken is a great take on popular Lemon Chicken recipes. 
Just about every week I make some sort of Crock Pot Chicken Recipe.
Crockpot Lemon Garlic Chicken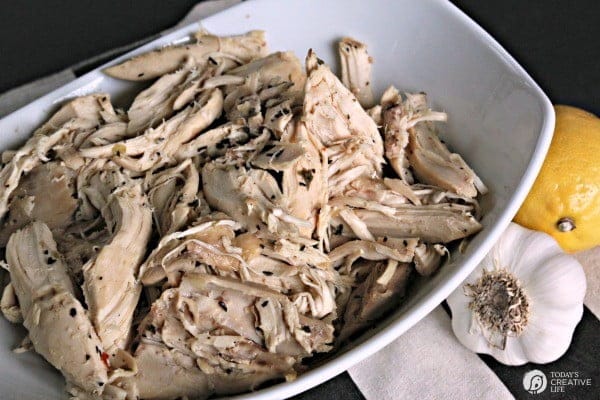 Then I use it during the week for a variety of meals, like salads for lunch, burritos for dinner, or a quick chicken and rice burrito bowl.     
It sure makes meal planning easier and it's something we all like. I have a few slow cooker chicken recipes that I use over and over.
This chicken uses a LOT of garlic cloves. Don't let it scare you away.  I know you're going to be shocked when I tell you I used 30 cloves of garlic… yep, 30! But trust me. You'll love it. It's not over powering, I promise.
Now peeling all that garlic can be a chore. I smash my heads of garlic to separate the cloves, then I use this handy garlic tool to easily remove the garlic skin.  You place your garlic clove inside the tube and simply roll on your counter top. The garlic clove magically peels itself, making the job much easier.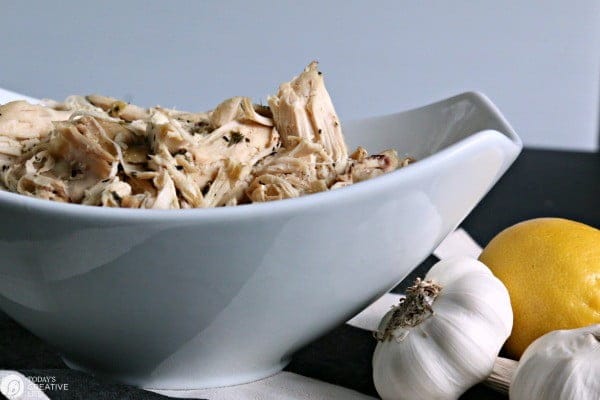 I've made this recipe using a whole chicken or just chicken breasts. Both work great, making it one of those easy dump it in recipes.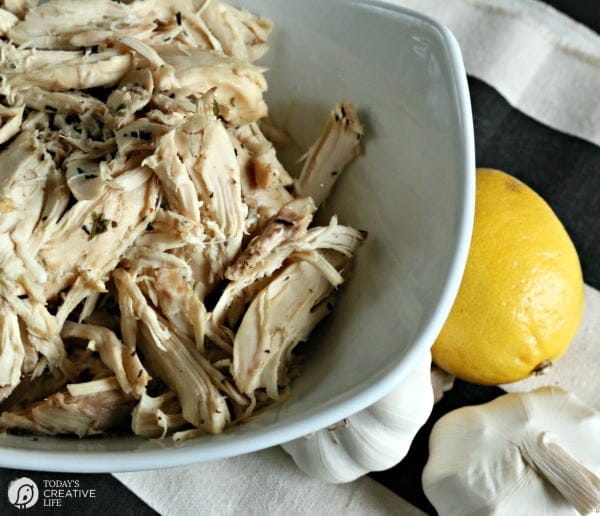 Once the chicken is done, I remove it from the slow cooker and shred using 2 forks. If I've used a whole chicken, I also remove the skin, bones and any fatty portions before shredding. Once it's shredded, I store it in either a ziplock plastic bag or Snapware glass food storage containers with the tight fitting lids.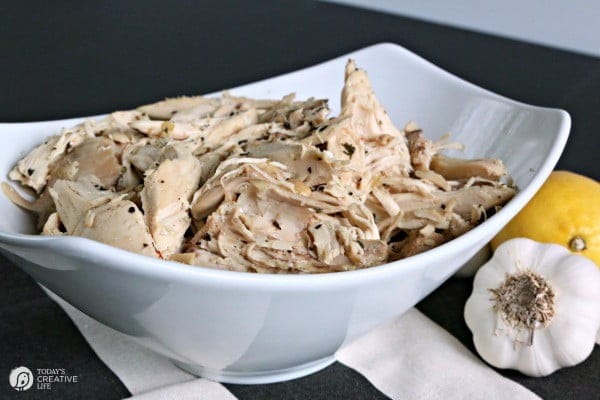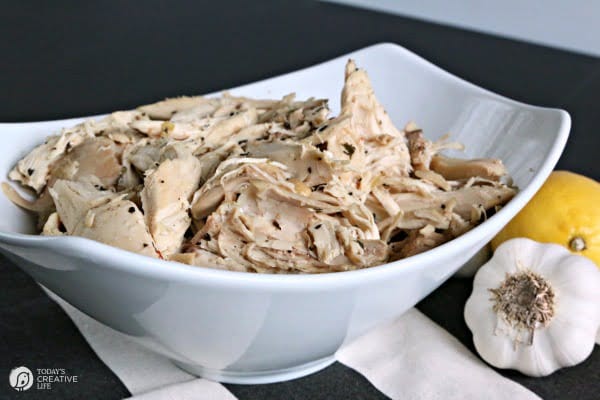 Then it's ready for use all week long.

Crockpot Lemon Garlic Chicken
Author:
Today's Creative Life
Ingredients
30 garlic cloves, peeled
3 celery ribs - sliced
1 whole chicken or 4 or 5 chicken breasts
½ teaspoon salt ( I use sea salt)
½ teaspoon pepper
¼ cup chicken broth
1 tablespoon olive oil
3 tablespoons grated lemon peel
2 tablespoons parsley (I used diced fresh)
2 teaspoons dried basil
1 teaspoon oregano
1 teaspoon smoked paprika
Instructions
I'm not one who likes a lot of prep when I make a slow cooker meal, but if you have extra time, you may consider browning the chicken in a skillet before placing in the slow cooker. I've done it both ways and both turn out great It's harder to brown a whole chicken, unless you cut it up first.
Place your garlic and celery in your slow cooker.
Place your chicken on top of the celery and garlic.
In a small bowl, mix the salt, pepper, parsley, basil, oregano, paprika, lemon peel with the broth and olive oil. Pour over the chicken.
Cover and cook on LOW for 4-5 hours, or until it's done.
Remove the chicken into a casserole dish or large plate and shred using 2 forks. Feel free to return it to the juices if you'd like or store as is.
Store in a tightly sealed container.
---
More great Chicken Recipes
Follow my Slow Cooker Recipes Pinterest board for delicious dinner ideas!
This post contains affiliate links for products suggested. This cost you nothing extra, but if you did decide to purchase, TCL will receive a teeny tiny % from each sale. Why am I telling you this? Because it's the law. 🙂