This post is sponsored by Dreamfields Pasta. I am happy to share this Pasta with Tomato Clam Sauce as part of their National Healthy Pasta Month and their Marinara-thon, showcasing some of the most delicious red sauce recipes you'll ever find. My opinion about Dreamfields and their products are 100% mine.
---
I was digging through my late mothers recipes and found this Pasta with Red Clam Sauce. My mother loved pasta, always calling it macaroni and she loved clams. I grew up eating a lot of macaroni because it was easy, convenient and delicious.
Pasta with Tomato Clam Sauce Recipe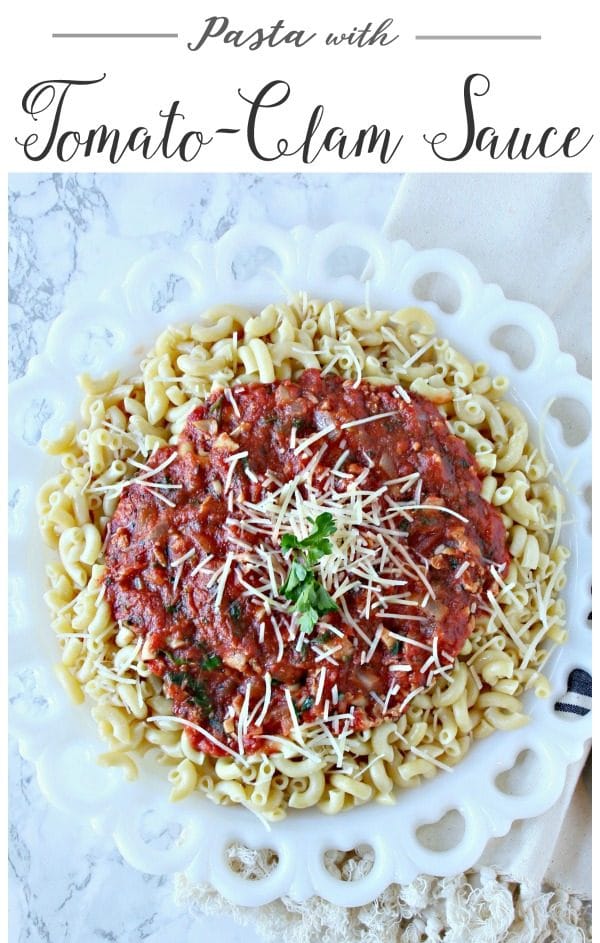 Somethings never change, but my pasta has. I can now use a much healthier pasta, like Dreamfields Pasta for all my recipes.
I get in a habit of either using ground beef or ground turkey with any red sauce when serving it with pasta. It was nice to be reminded that clams are perfect too! Not all clam sauces are white.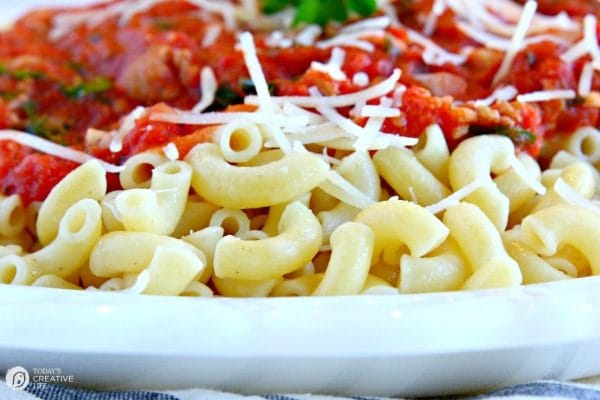 This recipe for Pasta with Tomato Clam Sauce is one of those simple recipes that offers variety to your weekly menu, or special enough for a Sunday Supper. The whole family will enjoy it!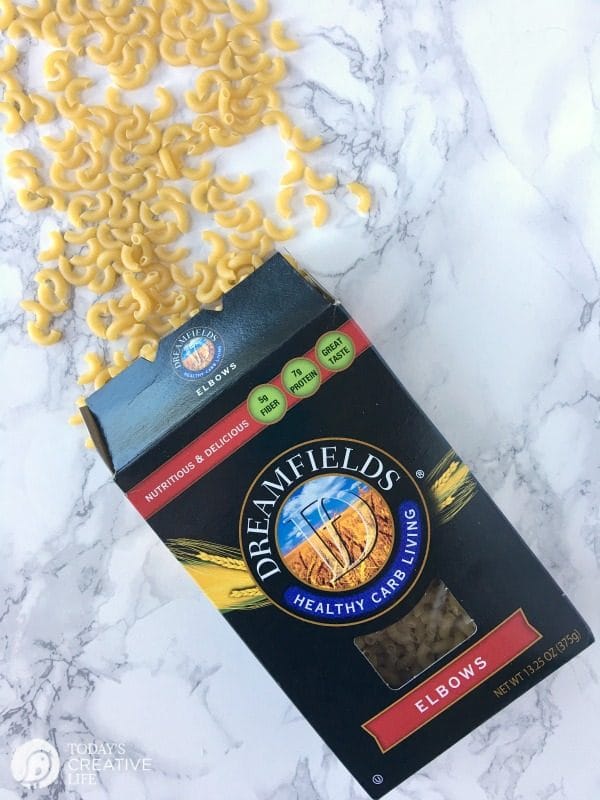 WIN A CASE OF DREAMFIELDS PASTA – DETAILS BELOW
Since October is National Pasta Month, Dreamfields has created their own National Healthy Pasta Month by offering a new recipe daily (this is one of them!) on their website. Dreamfields is celebrating with 31 days of recipes, prizes and surprises.
They're also giving one of my readers a whole case of pasta. All you have to do is visit their site and then leave me a comment letting me know what recipe caught your eye. Simple!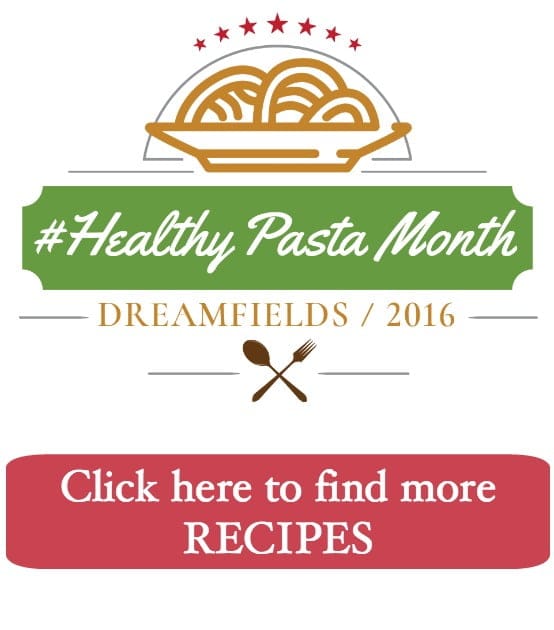 I've worked with Dreamfields a few times and one of my recipes (Penne Primavera) even won their contest last year. It's safe to say that this is the only pasta we use in this household, because of it's taste and healthier benefits.
Dreamfields has the taste and al dente texture of traditional pasta, yet each one cup cooked serving of Dreamfields has 5 grams of fiber (20% of the daily recommended intake) and 7 grams of plant protein.
Dreamfields unique recipe contains inulin, a prebiotic fiber sourced from chicory root, which helps promote healthy digestion.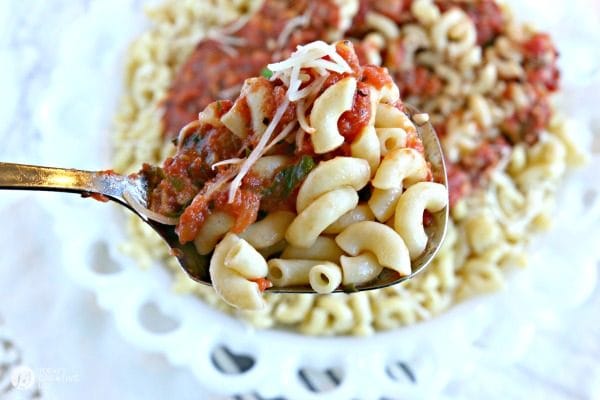 I also like the variety of cuts I can get. Elbows, Penne Rigate, Rigatoni, Angel Hair, Spaghetti, Linguine, and Lasagna. I can make any pasta dish I want using the Dreamfields brand.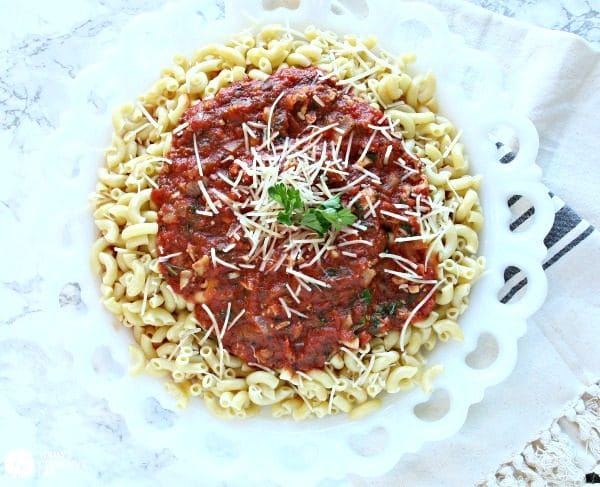 Who wants a case of pasta for #HealthyPastaMonth?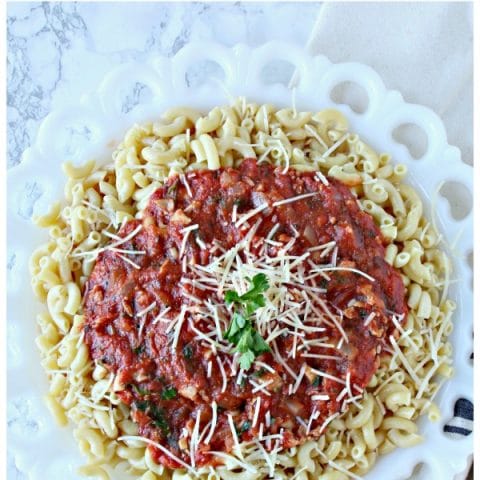 ELBOWS WITH RED SAUCE AND CLAMS
Yield: 6
Prep Time: 15 minutes
Cook Time: 30 minutes
Total Time: 45 minutes
Ingredients
1 box Dreamfields Elbows
2 cans (6.5 ounces each) chopped clams
3 tablespoons olive oil
1 small onion, diced
2 cloves garlic, minced
1 can (28 ounces) crushed tomatoes
2 tablespoons chopped fresh parsley
1 teaspoon dried oregano
1/2 teaspoon dried basil or 1 teaspoon fresh chopped basil
1/2 teaspoon white pepper
Instructions
Drain clams, reserving clam juice in separate bowl.
Heat oil in large skillet over medium heat.
Cook onion and garlic 2 to 3 minutes or until lightly browned, stirring frequently.
Add tomatoes, reserved clam juice, parsley, oregano, basil and pepper; stir to mix well. Bring to boil. Reduce heat and simmer, uncovered, 25 to 30 minutes, or until sauce is thickened, stirring occasionally.
Meanwhile, prepare pasta according to package directions. Return to pan.
Add clams to sauce; stir to combine and heat clams. Immediately add to pasta, toss to combine.
Serve and enjoy!
Nutrition Information
Amount Per Serving
Calories 390
Total Fat 9g
Saturated Fat 1g
Cholesterol 24mg
Sodium 390mg
Carbohydrates 59g
Fiber 8g
Protein 22g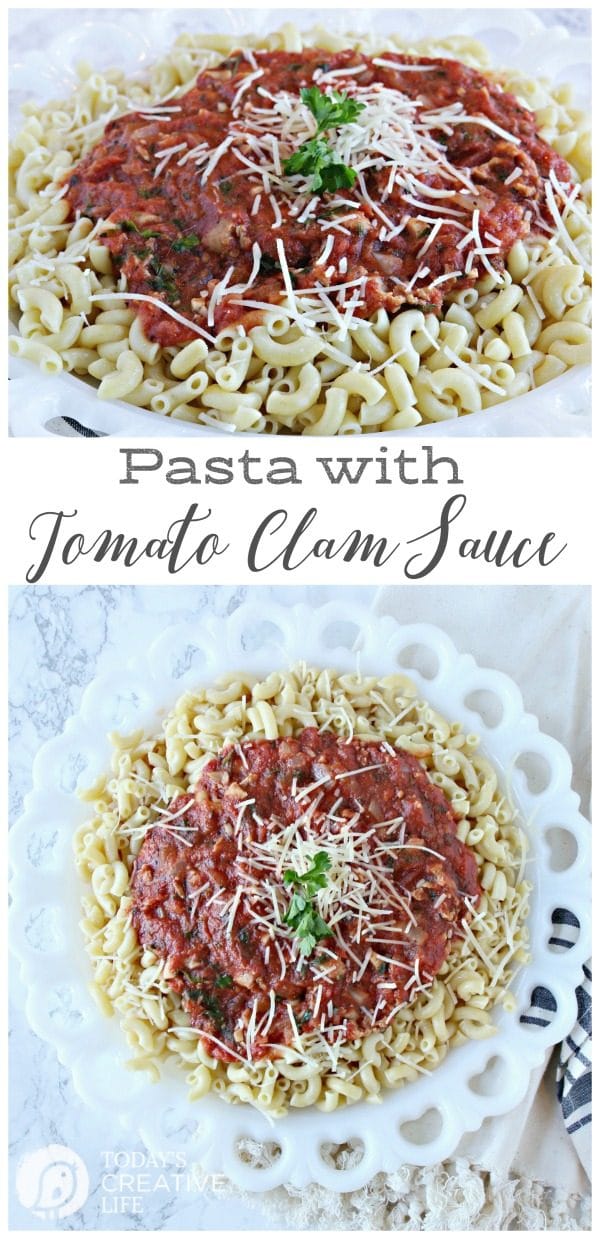 ---
See More Dreamfields Pasta Recipes