Orange Clove Natural Holiday Centerpiece makes any table perfect for the holidays!
It all started with the memory of a childhood classroom craft. This Orange and Clove Natural Holiday Centerpiece evolved as I poked clove after clove into a small bag of oranges that I'd threatening my family not to eat!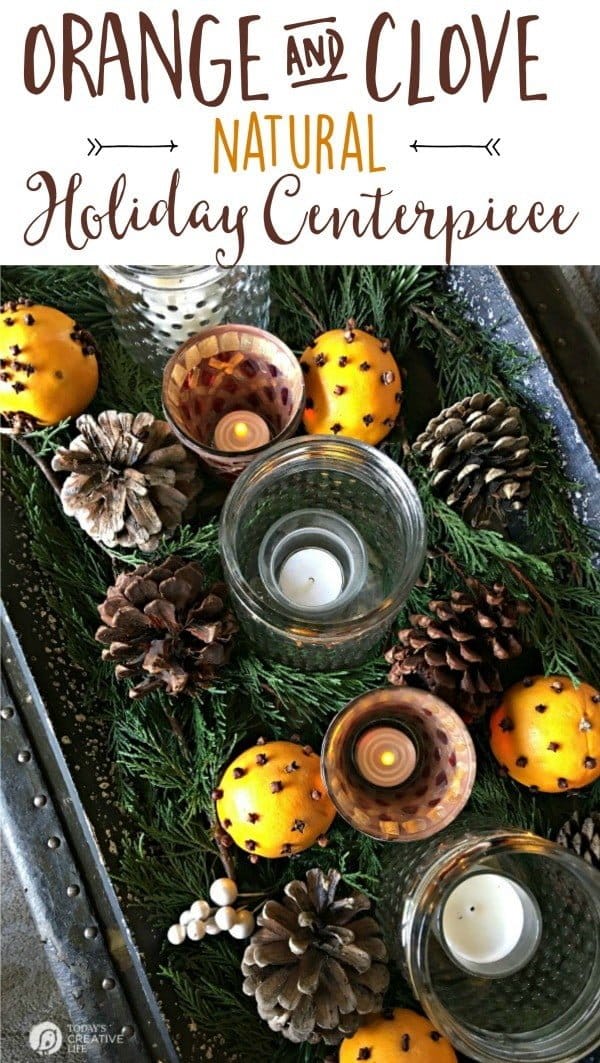 It happens often in a blogger's household. My family has called me many a time asking if I need a photo of the meal cooking in the crockpot or if the treats on the counter can be eaten.
I've been wanting to re-create clove oranges for a couple of years. I remember doing this as a child and my sister creates a simple bowl of these around the holidays. I call it an old fashioned craft. It's been around for as long as I can remember and I love that young kids can help. It's easy and it smells amazing.
Orange Clove Natural Holiday Centerpiece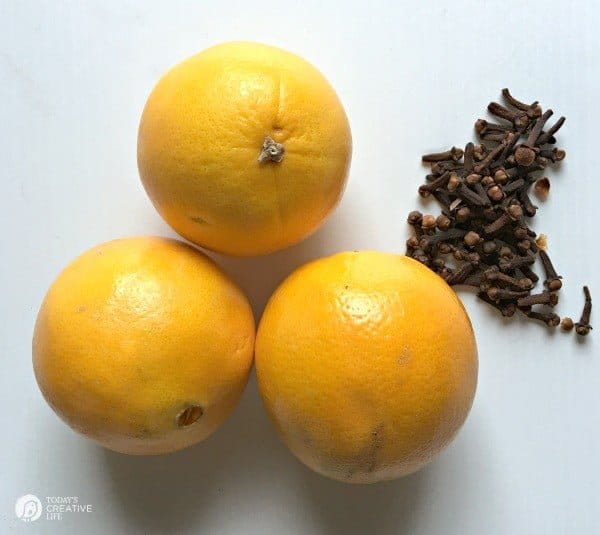 How to Make Clove Oranges
Supplies Needed:
Oranges
Whole Cloves (about 20+ per orange)
Gather your supplies
Pour yourself small pile of whole cloves
Decide on a design. I first thought I'd do some amazing swirling cloved pattered, but quickly realized it was best just to evenly cover the orange.
Poke each clove into the orange, careful not to break or pop the top kernel of the clove. It's OK if you do, it's just the portion that makes them more fragrant and it makes a dusty mess on your work area if popped.
Once your orange is completed, it's time to create your centerpiece.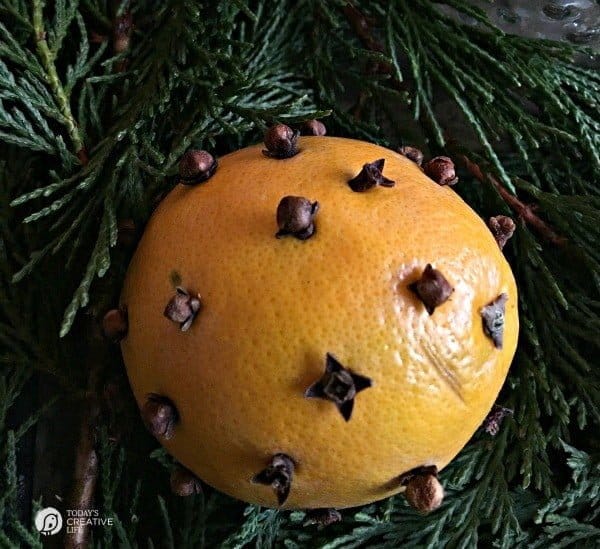 Making a Natural Centerpiece
What I used:
Evergreens
Clove Oranges
Pine cones
Candle Votive Jars and candles
My neighbor just so happened to be trimming his large cedar trees and had a huge pile of greens in his drive way. I also had a few trimmings from our Christmas tree that we had just cut.
I already have several large trays, so I grabbed the nearest one. It doesn't really matter what it looks like because you'll be filling it with all your natural goodies. A large platter or even a large bowl will also work.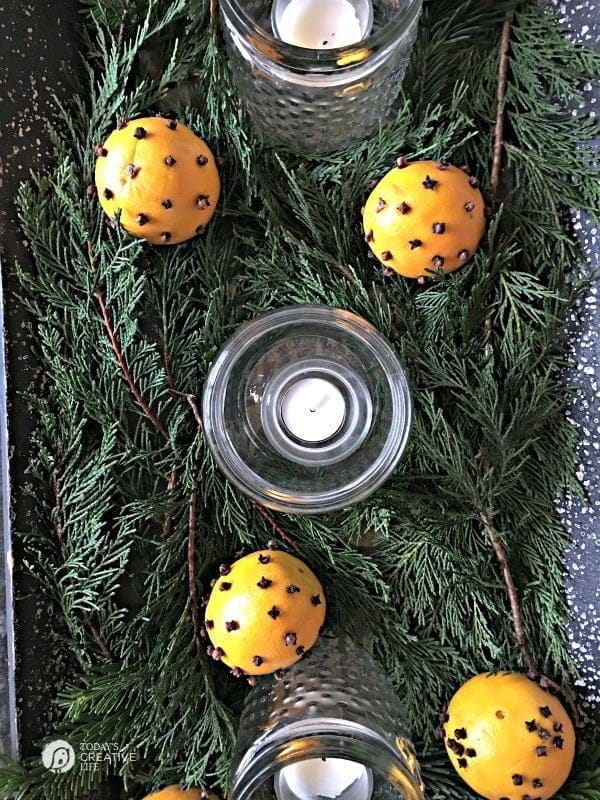 I used the same dotted glass jars I used for my 5 minute DIY Cranberry Cedar Luminaries. I picked them up at New Seasons in the plant section. I LOVE them!
I first put the jars down and filled in the blank spaces with cedar and noble greens. Then I placed my oranges around, making it look like it wasn't purposeful.
I had a few pine cones my husband found for me, so I placed a few of those in too.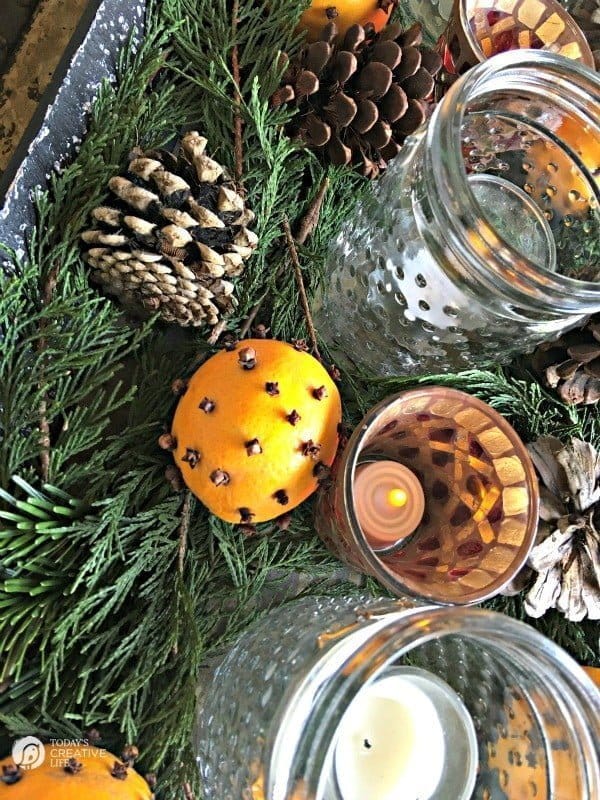 Then while putting a few things away in my hutch drawer, I found some pretty mosaic stained glass votives that I thought would be perfect! Another great idea….. throw a few Christmas ball ornaments in, or Christmas picks like I used on my boxwood wreath I embellished. So easy!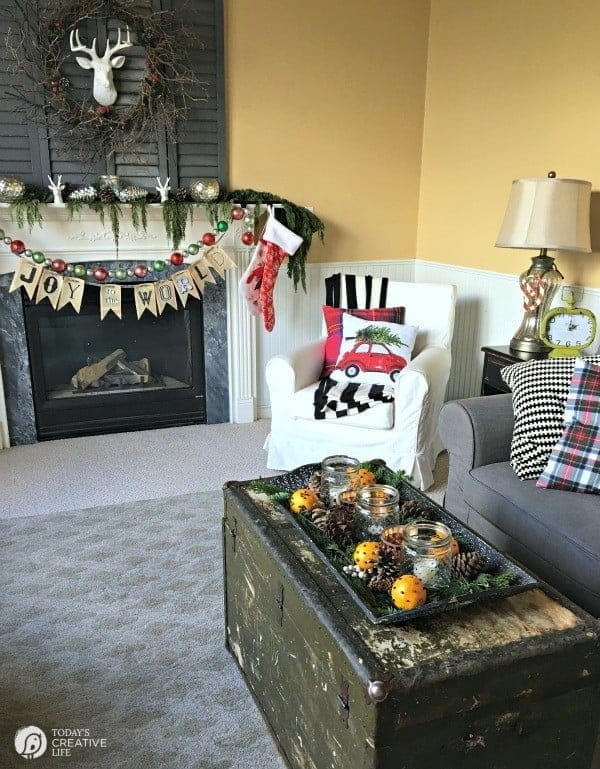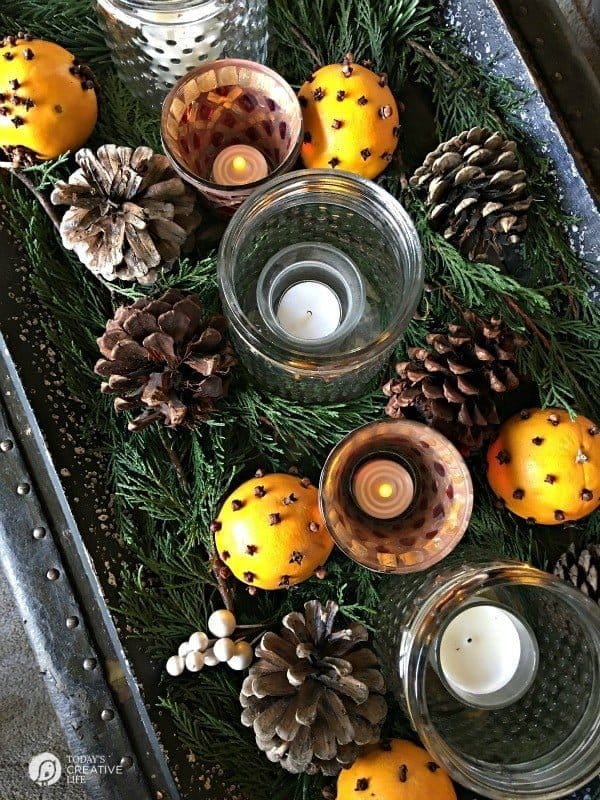 I'm a firm believer that you don't need expensive designer items to decorate. Look to nature to do some of the work, or just think outside the box and shop your home. Try new things.
I was pressed for time for decorating and was thrilled when I came across these polka dot ornaments I had picked up the year before on clearance. I went to hang them on the tree and realized they were missing their little hanger threads. Knowing I really wanted to use them somewhere, I set them down on this tray to figure it out and realized, that was the perfect place for them! Also, if you have any fake know…. or you can even use sugar or flour…. fill your apothecary jars and plop your bottle brush trees inside. Or just fill with left over ornaments. Boom!
My other secret……. just tie ribbons on everything.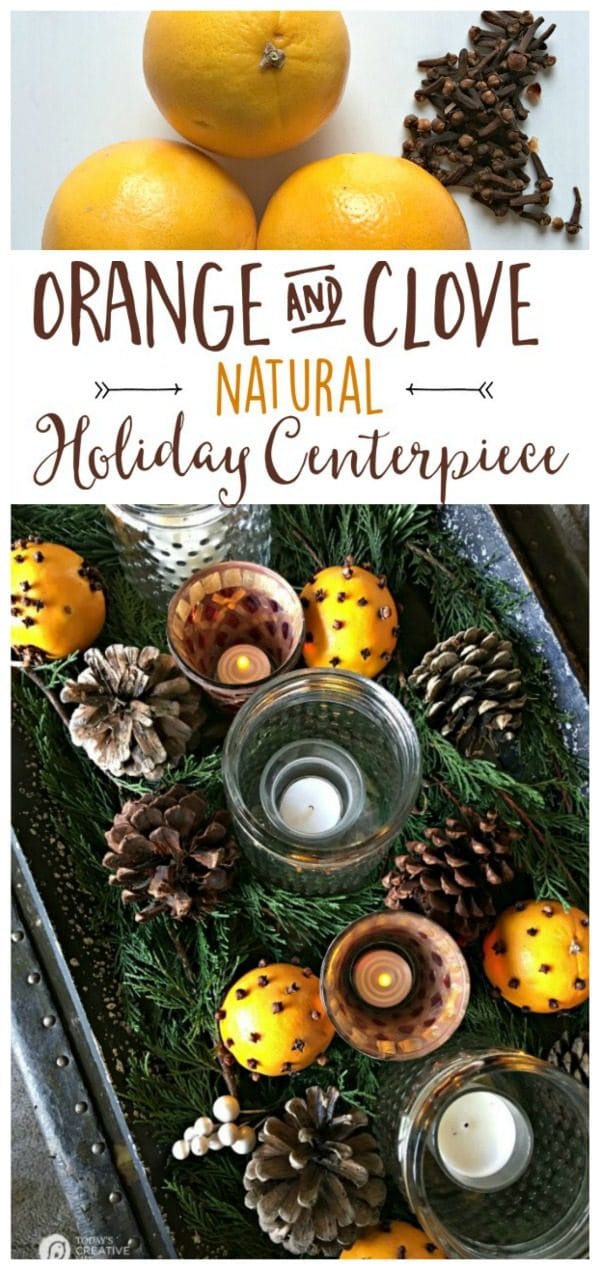 Enjoy your Orange Clove Natural Holiday Centerpiece anywhere in your home!

This post contains affiliate links for your convenience.