Peanut Butter Fudge Recipe
If you like Peanut butter, then you'll love this. It's the BEST Peanut Butter Fudge Recipe I have ever tasted. But you gotta say Peanut BUTTA fudge……..if you know what I mean!
This was my father's specialty. A Christmas tradition. Now that he's passed on, it's now up to me to make it. It's the best fudge ever! BEST PEANUT BUTTER FUDGE EVA!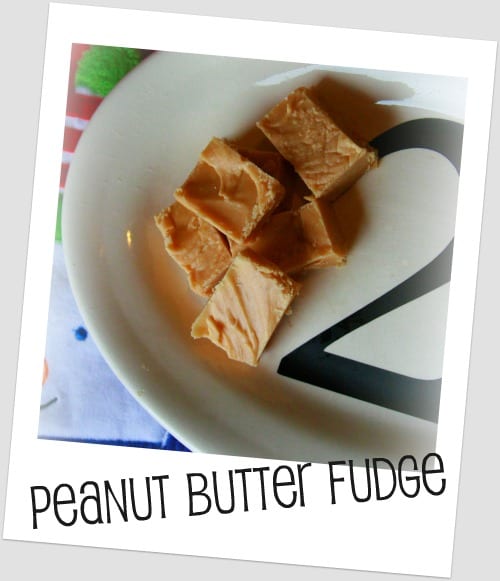 I've heard that Santa LOVES this stuff.
How to make Peanut Butter Fudge
3 C. Sugar
3/4 C. Butter
3/4 C. evaporated Milk
4 HEAPING tablespoons Peanut Butter
7 oz jar of marshmallow cream
1 C. Nuts (chopped) I don't always use nuts.
1 teaspoon vanilla
1. Combine sugar, butter and milk in med sauce pan
2. Bring to a rolling boil, stirring constantly.
3. Continue to boil, stirring for 5 min over med heat. (I usually stir until about 234-238 degree's)
4. Remove from heat
5. Add Peanut butter, stir til melted
6. Add marshmallow cream, nuts and vanilla
7. Pour into buttered 9×9 in pan. ( I use a larger one since I like my fudge thinner. My dad used a plate and got several out of it)
Enjoy!
************************