Welcome to my annual Celebrate Summer Series, where I introduce you to a few of my fellow bloggers and their creative ideas! This DIY Succulent Pineapple Planter is so adorable and my friend Jennifer from Just JP is sharing this fun DIY craft. I love a stylish DIY project that isn't super hard and turns out fantastic! See more of her ideas here.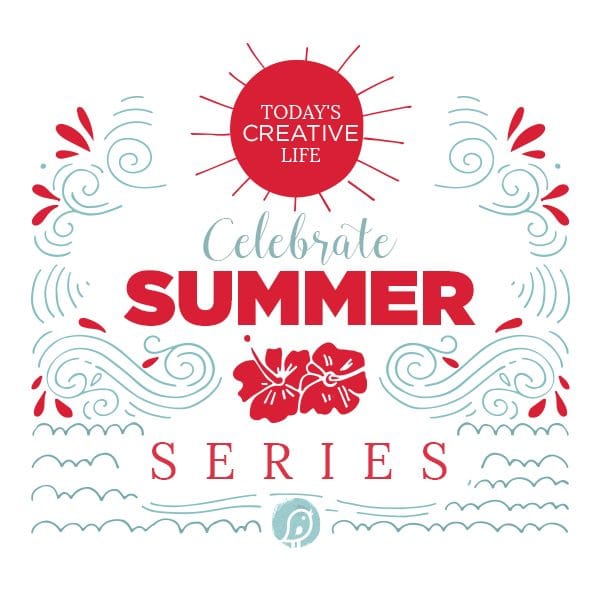 ---
Pineapples are everywhere this summer. They're sweet and super cute, just the right fruit to describe "summer". This fun DIY succulent pineapple planter is adorable as desk decor and makes a fun gift. Pineapples symbolize hospitality and this cute potted succulent would be so cute on a picnic table for a barbecue or as a hostess gift for a summer party. It would also look so cute for home decor in a DIY macrame plant hanger.
DIY Succulent Pineapple Planter
It's a bonus that this project costs under $10 to make, including the craft paint!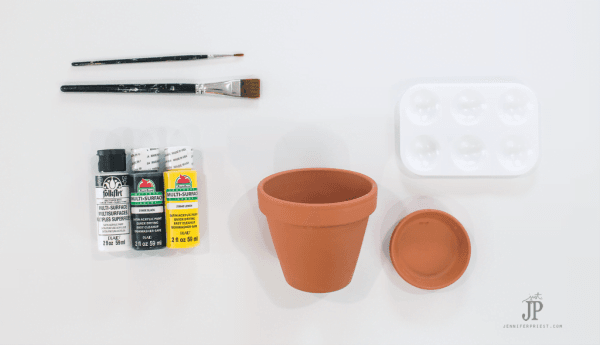 Supplies Needed:
Here's what you'll need to make this DIY succulent pineapple planter :
(links for supplies are affiliate links. This cost you nothing extra, but it will help support TCL if you decide to purchase)
Watch this video to see how to make this project. Then follow the steps below!

How to Make a DIY Succulent Pineapple Planter
Paint the outside of the pot and just inside the edge with yellow craft paint. Paint the saucer sides and inside edge with yellow craft paint. Allow to dry.
Put a small amount of black and a small amount of white paint onto a paint tray or paper plate. Dip a fine tip brush into the black paint. Paint diagonal lines on the pot, starting at the top and ending at the bottom. Now here's where it gets tricky. The pot is tapered at the bottom so the lines need to be closer together at the bottom of the pot than they are at the top. Things might start to get tilted as you work your way around the pot, painting, and that's okay. It will all look good when you're done, I promise!
After painting the lines one direction, paint the lines going the other direction. Just paint enough lines until the pot looks like a pineapple. It's not imperative that the lines all match up.
Wash the brush and then dip the fine tip brush into white paint. Apply a small dot of white paint to the middle of each "diamond" made by the painted black lines. It won't be perfect and that is totally okay. Use the fine tip brush to paint white polka dots all over the saucer. Set the pot and saucer aside to dry.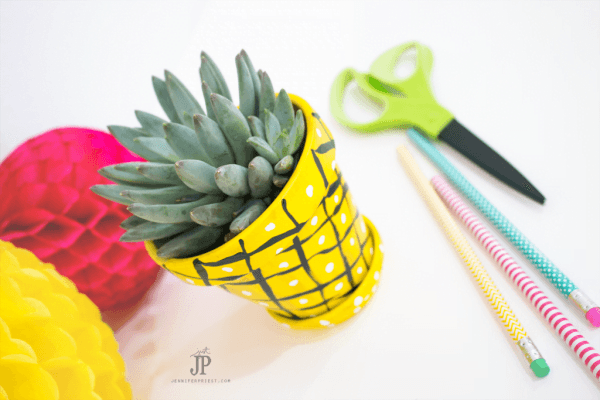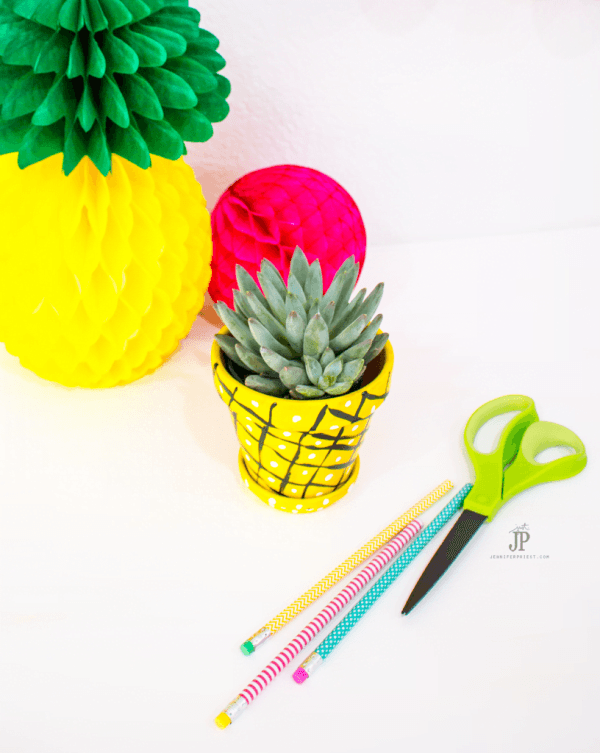 Once dry, plant a succulent in the pot. If you get a 3″ succulent, the plastic pot the succulent comes in will slip into the 4″ pineapple planter. You can then remove the succulent later and use the pineapple pot to store pens or office supplies.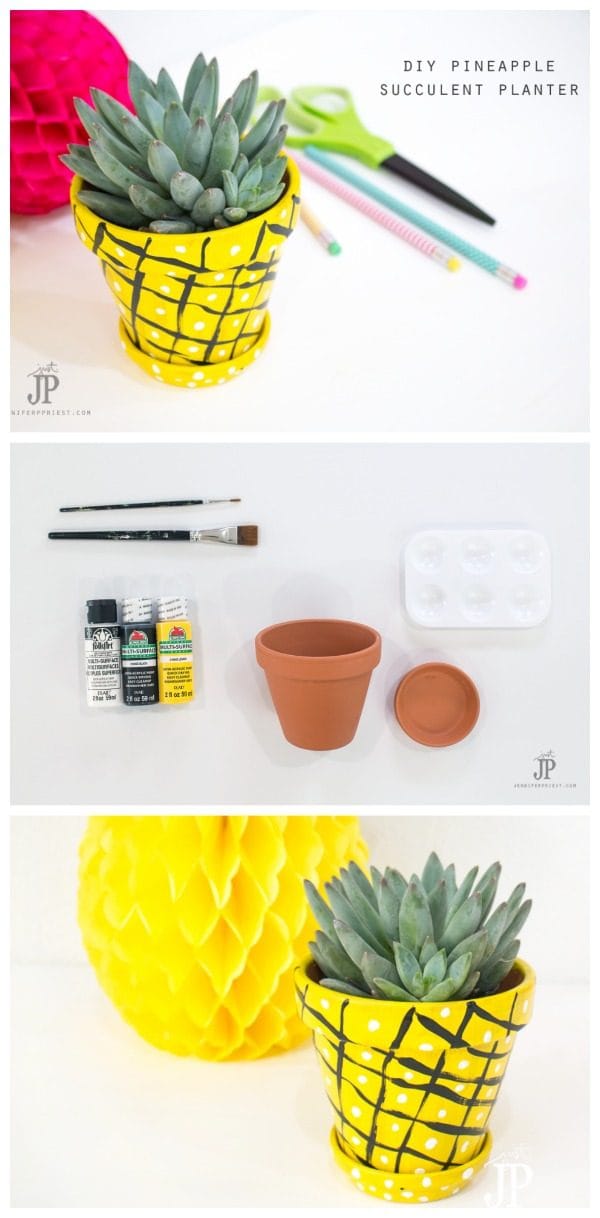 BONUS IDEA! My husband said this project looks like Spongebob Squarepant's house. It does! To make Spongebob's house, use a steel blue paint to paint a door and two circle shaped windows and you'll have Spongebob's house.
Thank you so much to Kim for having me as a guest today on Celebrating Summer Tour!
If you like this terrra cotta pot DIY, check out these other potted plant projects:
---
More More More!