Please welcome Heather to the TCL Celebrate Summer Series. Today she is showing a great craft to do with children. Easy Stitch Cards make perfect activities for kids! Not only do kids love sewing cards, but you can create your own designs to keep them interested in this stitch cards activity. These are an excellent early learning tool and practice for their dexterity and fine motor skills.
---
Hello, Hello Today's Creative Life Readers!
I'm Heather from The Sewing Loft and I'm excited to be hanging with you today.

Since summer for my family normally involves a few long car rides, I thought I would share my easy stitch cards. These little sewing cards are great to tuck into an activity bag and break out with the kiddo's get antsy on a road trip.
Easy Stitch Cards – Sewing Cards for Kids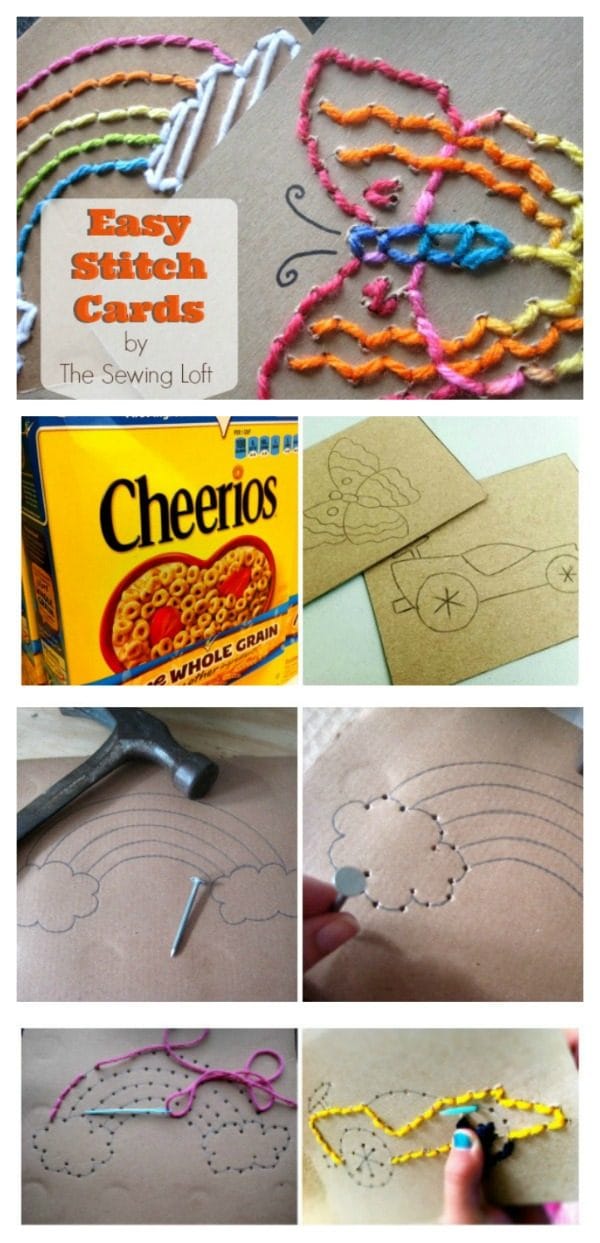 This project is for all levels.
Skill Level- 1 Button
Sewing Card Materials:
Sewing Card Tools:
Basic Instructions:
1. After you have polished off your cereal, open up the box and cut out cardboard to size. I suggest 5″ x 7″. It is easy to fill and can be placed in a frame to give to Grandma when you arrive for your visit.
2. Then draw a simple design on the card- or better yet, enlist the little ones.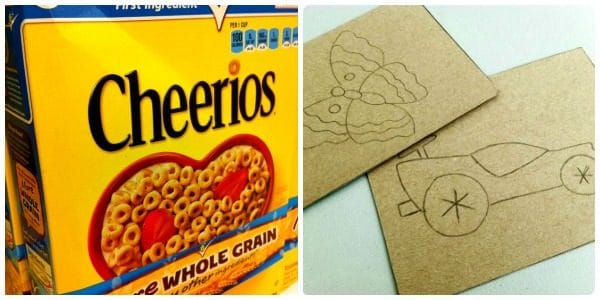 3. With hammer and nail, punch holes all along the drawing. I suggest about every 1/4″ to 3/8″. Think of connect the dots! *Tip- have something underneath it to protect your work surface. I just used an old cardboard box.
4. Now, pull out your colored yarn and thread up your embroidery needle. (My girls are using a plastic one. It has a large eye for them to thread.)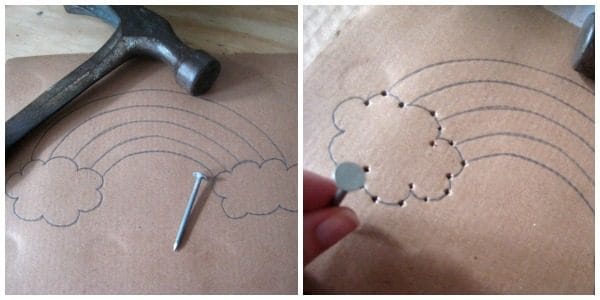 5. Tie a knot at the end and start stitching from the back of the card.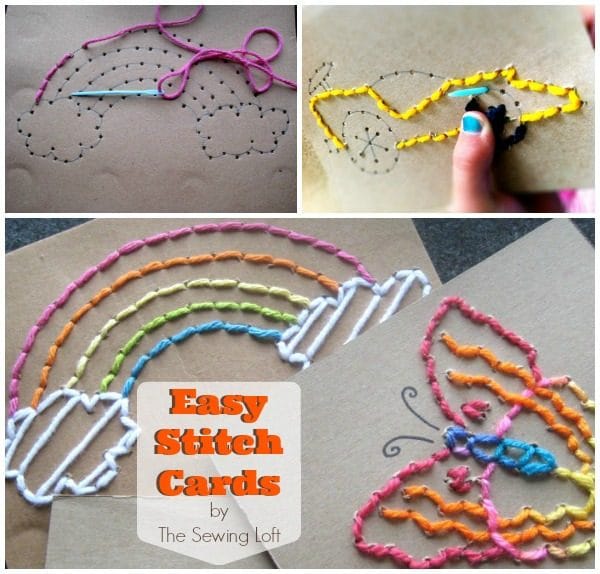 Aren't they easy! The possibilities are really endless with these cards. My girls really enjoy drawing fun designs on the cards and are always excited to stitch them up. And if you are feeling stuck for inspiration you can always use coloring books. Either way, I'm sure these cards will help keep the kids entertained on a long ride or even rainy days this summer!
Thanks for having me Kim, it's been a blast! I sure hope this project inspires you to dust off your machine and get the needle moving! Be sure to stop by and visit my
sewing blog
for more inspiration and easy
sewing tips
.
Easy Crafts for Kids
Craft ideas for kids. These activities for kids are for a variety of ages. Science crafts, Slime, Coloring, and more!
This slime recipe doesn't use Borax. Make up a batch for hours of play.
Kids science for all ages. This amazing project makes science fun!
Create decorative paper with bubble blowing. Use for art, cards, gift tags. Who knew bubbles could be long lasting.
Print and color. Create your own style.
This easy craft makes indoor or outdoor exercise fun.
Here's something they can make for their bedrooms. Solar system kids craft for learning more about planets.
Even little ones can get in on the crafting.