You will not believe all the Household ways to use vinegar! Of course, I love making my sour cream and vinegar cucumbers or this vinegar onion cucumber salad, but there are so many other ways you can use vinegar! My mother was a lifelong fan of cleaning with white vinegar as well as using apple cider vinegar (ACV) for health benefits. We drank it, we rinsed our faces with a vinegar rinse, we used it for sunburns! So many vinegar household uses!
My husband has eliminated his acid reflux by drinking ACV with lemon and water before every meal. My mom would be so proud. She would have loved learning how to make vinegar!
ACV is also the best way I've found to clean and deodorize your microwave. Of course, cleaning your home with vinegar isn't new, but here you can see a few things you should NOT use vinegar on.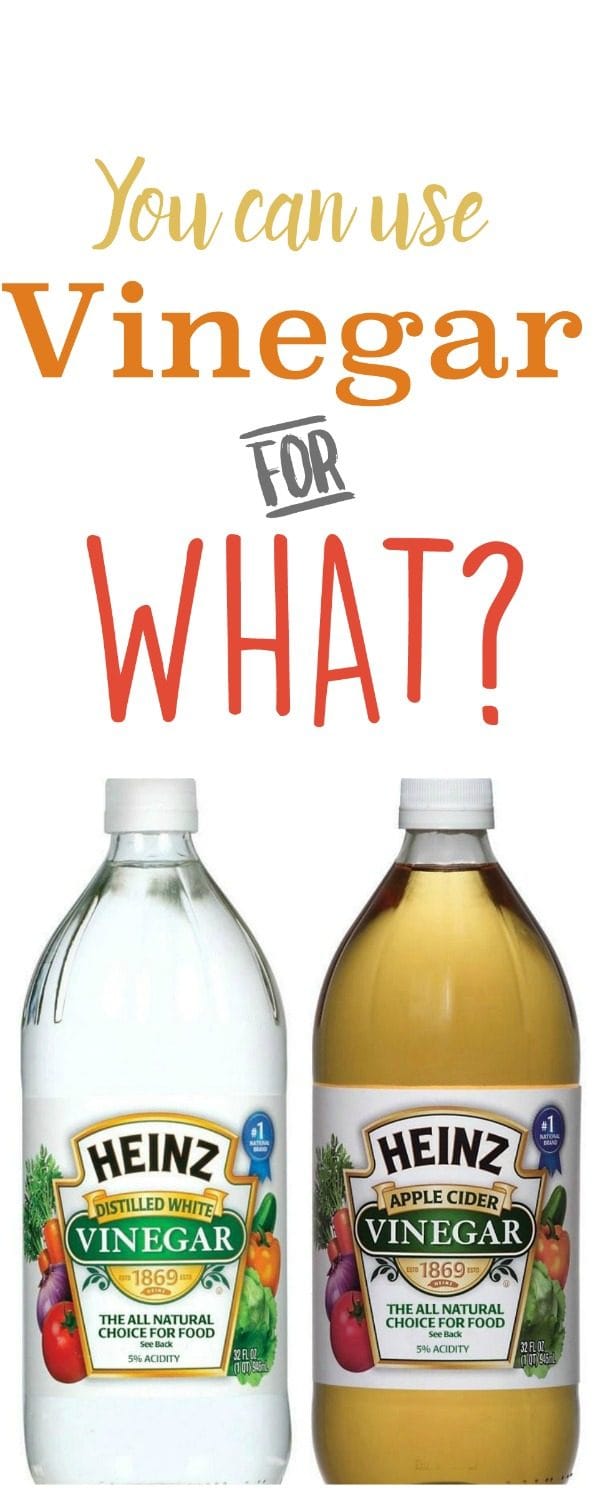 10 Household Ways to Use Vinegar
Are you looking for new household ways to use vinegar? The good news is that there are so many different things you can do with it! Here are just 10 ways to use vinegar, but my friend at One Good Thing by Jillee is sharing 50 different uses for vinegar:
Give your hair shine! Does your hair look dull lately? Mix two tablespoons of apple cider vinegar with one cup water to create a rinse that will remove product buildup and give your hair a newfound shine.
Clean your fresh produce. Are you looking for a way to remove any potential bacteria and pesticide residue from your fruit and vegetables? Fill a spray bottle with white distilled vinegar and spray your fruits and veggies down. Rinse thoroughly with water
before eating.
Treat your dandruff. Have you tried every dandruff shampoo on the market with no success? Make a half water and half apple cider vinegar solution. Rub it into your scalp. The vinegar's acidity can help ward off fungus that may be contributing to your dandruff.
Remove crayon from walls. Did your kids decide to use the wall instead of a coloring book? No worries! Simply dip a toothbrush in some white distilled vinegar and gently scrub until the crayon marks are gone.
Clean your bathroom. If you're out of bathroom cleaner, that's okay! Use white distilled vinegar to clean your sink and bathtub. Be sure to rinse it with water once you're done.
Relieve your sunburn. Are you all out of Aloe Vera gel? The PH-balancing properties of vinegar can help speed up healing and prevent blisters from developing. All you need to do is mix half a cup of apple cider vinegar with two cups water and apply to your sunburn with a washcloth.
Treat itchy bug bites. Vinegar's healing properties can help your bug bites go away quicker. Simply dab some apple cider vinegar on your bug bites with a cotton ball or washcloth.
Get rid of your weeds. Does it feel like the weeds are taking over your walkway? To get rid of them, pour white distilled vinegar over them. Be sure to cover the plant well enough that the vinegar will reach the roots and the plants will die.
Make your teeth whiter. Are you looking for a natural way to whiten your teeth? To take advantage of this home remedy, all you need to do is dip your toothbrush in white distilled vinegar a few times a week and brush them.
Remove odors from your cat's litter box. All you need to do is pour white distilled vinegar into an empty litter box, making sure to cover every inch of space. Allow the vinegar to sit for about 15 minutes and then rinse with water.
These are just 10 household ways to use vinegar! Since it is so versatile, you are bound to find plenty of other uses for it as well.
Household Hacks
Find more household hacks for creative living!
Who knew? Hydrogen Peroxide can be used in so many ways.
Magic Erasers can clean your toughest projects. One of my favorite products!
This list on what you should not use vinegar on is a must! It's not for everything!
It's not just for smearing on sandwiches.
You'll love this list on what baking soda can be used for.
I use this stuff ALL the time! Corn starch can be used for so many household hacks.
Check out the fun ways to use this stuff.