If you want to make natural homemade cleaners to save money or to be healthy, then you need a bottle of Castile soap! You will LOVE these frugal ways to use Castile Soap!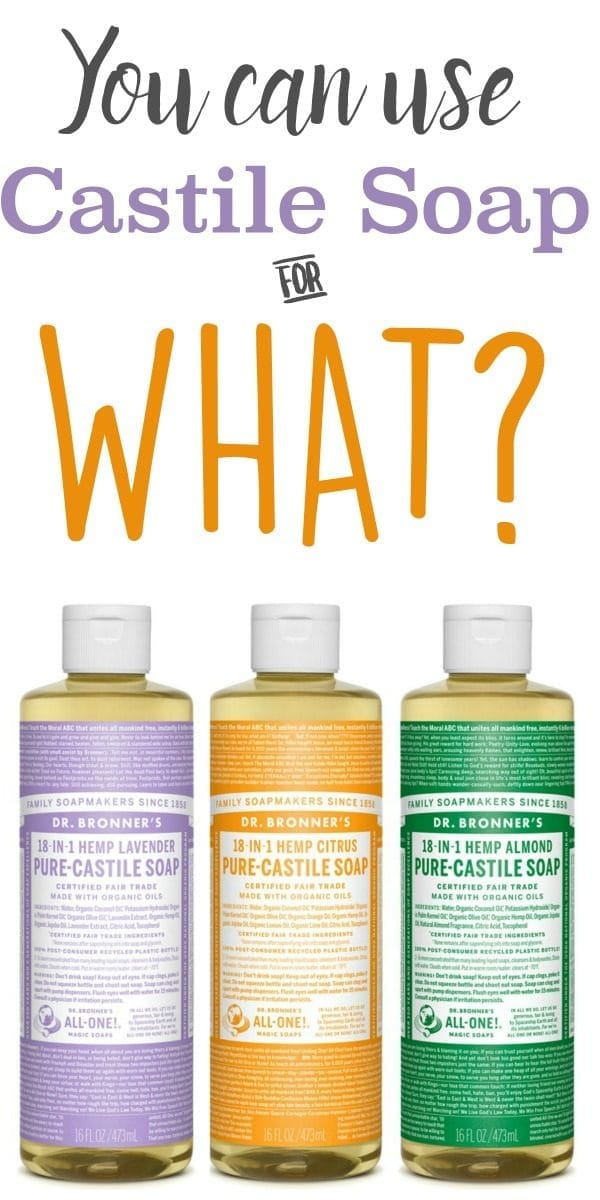 There are so many homemade products you can make with just Castile soap and water! You can even find scented Castile soaps, to give your homemade cleaners a nice scent! I've use Castile soap to make my homemade Body Wash, you can follow my tutorial to make up a batch!
10 Frugal Ways to Use Castile Soap
1. Toothpaste
There are a lot of things in your toothpaste that actually aren't that good for you. To clean your teeth naturally, consider just putting some Peppermint Castile soap straight onto your toothbrush! It doesn't taste that great in the beginning (you've got to get used to it), but it's a frugal, healthy toothpaste alternative!
2. Homemade Produce Wash
There's no reason to buy a produce wash when you can make one easily at home! All you need to do is mix Castile soap with water at a 1 to 2 ratio. Fill a spray bottle with your mixture, spray it onto your produce, then rinse your produce clean! Maybe try the almond or tea tree variety for this purpose.
3. Hardwood Floor Cleaner
One of the great uses for Castile soap is as a hardwood floor cleaner! All you need to do to create the cleaner is mix Castile soap with water at a 1 to 5 ratio. Then mop your floor clean. Leave the floor to air dry, or wipe it dry. Once dry, it'll be spotless! Many scents to choose from. This sampler is a great way to try a few.
4. Homemade Shampoo
Why soak your hair with chemicals when you can use something natural? All you need to do is mix Castile soap with water with a 1 to 3 ratio, and you've got a quick homemade shampoo!
5. Shaving Spray
Skip the commercial shaving cream and make your own shaving spray! Just mix Castile soap and water in a 1 to 2 ratio, put it in a spray bottle, then spray it on your skin. Rub it on a bit to spread it evenly, then shave.
6. Homemade Body Wash
Castile soap isn't just a good soap for your hair, it also makes a great body wash! To make body wash, mix water with Castile soap at a 2 to 1 ratio. Then enjoy your simple, all-natural body wash!
7. Natural Foot Soak
Are your feet tired after a long day? Then you'll be happy to hear that one of the wonderful uses for Castile soap is as a foot soak! You can quickly mix up a great foot soak by putting a tablespoon of Castile soap into a bucket of warm water. Then just put your feet in the bucket, rest, and relax!
8. Homemade Carpet Cleaning Solution
Easily make a safe, natural, and frugal carpet cleaning solution by mixing Castile soap at a 1 to 4 ratio with water. Mix the two together, then clean your carpet as normal. Try the Dr. Bronner's Sal Suds for an all-purpose cleaner.
9. Inexpensive Pet Shampoo
Your pet shouldn't use chemical-based shampoos either! Another of the many uses for Castile soap is as a pet shampoo! To wash your pet with Castile soap, first wet them down. Then squirt some soap in your hand, massage it into their fur, and rinse as normal. As not all essential oils are safe for pets (especially cats) you'll probably want to just use unscented Castile soap.
10. Natural Dish Soap
Wash your dishes the natural way by just squirting Castile soap onto your sponge when you go to do the dishes. It's safe and effective!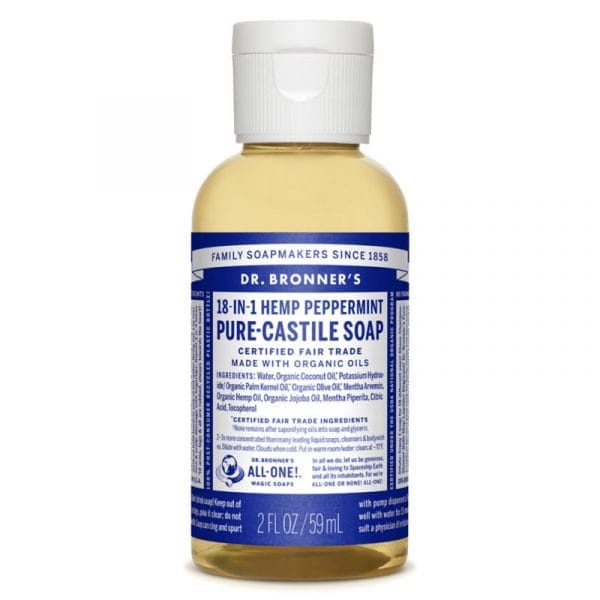 There are probably many more frugal ways to use Castile Soap.
Pure-Castile Soaps are good for just about any cleaning task. Face, body, hair & food, dishes, laundry, mopping, pets—clean your house and body with no synthetic preservatives, detergents or foaming agents – none!
Homemade Beauty Recipes
Make your own beauty recipes for a homemade spa! Simple non-toxic ingredients.

Fresh homemade body scrub with grapeseed oil and oranges.

Remove and clean hands after gardening with this easy-to-make hand scrub.

Homemade body scrubs with cocoa butter and coconut oil are the main ingredients for smooth skin.

Homemade body wash is simple to make and healthy for your skin.

This soaking recipe is great for homemade gifts too.

Easy to make body sugar scrub with vanilla. The scent will be your favorite.

Get ready for fall with this homemade sugar scrub recipe. Makes a great gift too!

Essential oils give this body scrub that invigorating scent!
---