I could eat every meal out of a bowl. I love meals you can just scoop up and eat. Who needs side dishes? This Crockpot Peanut Butter Pork Loin was the perfect dinner that had ton of veggies, brown rice and a very delicious pork loin.
Crockpot Peanut Butter Pork Loin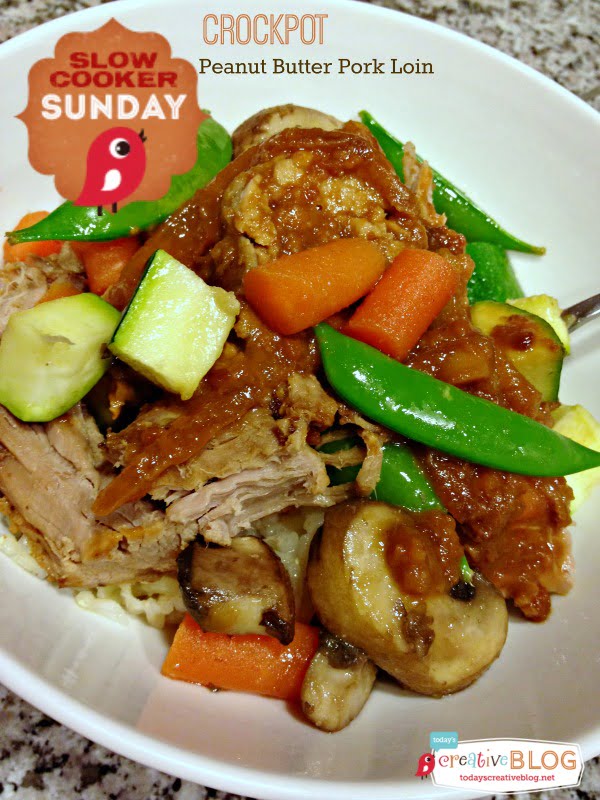 Friday morning I finished up teaching my step class at 24 Hour Fitness and headed across the street to Trader Joe's to pick up some fruits, veggies and a few items I could make easily for my son and husband since I'm doing NutriSystem. It's a pain making a dinner you're not going to eat. My husband doesn't mind cooking their dinner, but I mind that they're eating Mac and Cheese 4 times a week. Even if it is the Annie's Organic.
As I passed the pork loin I had an AHA! moment right there in Trader Joe's. I would throw that baby in the slow cooker when I got home, using one of Stephanie's recipes. This would kill 2 birds with one stone… (horrible image)….. I would have a Slow Cooker Sunday series as well as dinner for the boys.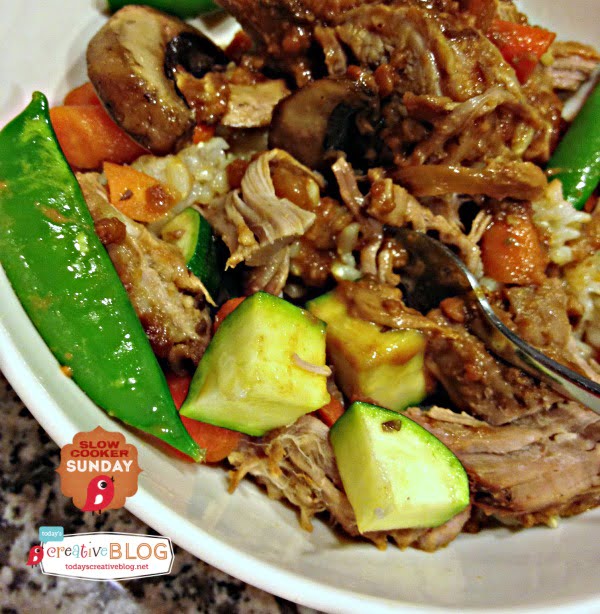 I had a couple of bites of this and it's delicious! My husband was happy because it was meat (he LOVES the Slow Cooker Mississippi Roast) and my son was happy because it was peanut butter and I was happy because it had protein, vegetables and complex carbs.
The photos aren't beautifully styled since it was dark when the meal was finished and I knew there the left overs, if there were any wouldn't be photo worthy. I figured you all wouldn't care THAT much. Right?
I chopped up carrots, zucchini, snap peas and mushrooms, threw them in a pan of hot clarified butter, garlic and sea salt and threw them on top of their bowls of rice and pork. Drizzled some of the peanut sauce over the top and dinner was DONE!
Stephanie's recipe ( from her latest book 365 Slow Cooker Suppers
) is for pork chops, but I like to live on the edge and I used the pork loin instead.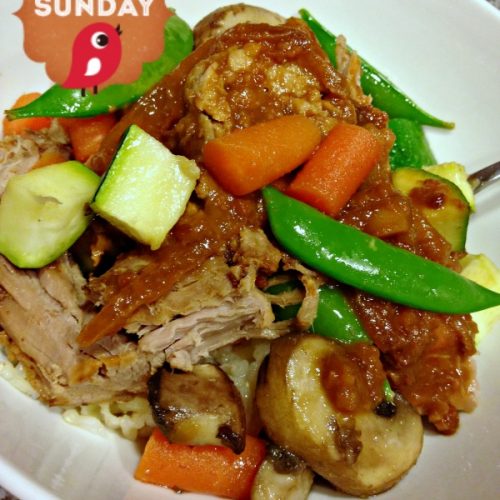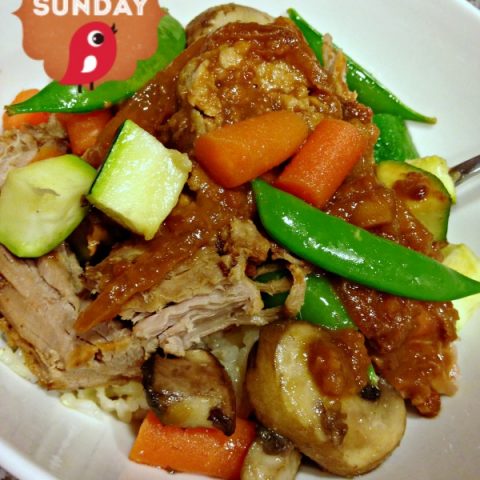 Crockpot Peanut Butter Pork Loin
Serve in a bowl with stir fried veggies or serve separately with a side dish.
Ingredients
1 Onion, sliced into thin rings. (I used only a 1/2 onion)
4 garlic cloves, chopped
3/4 cup smooth peanut butter
1/3 cup honey
1/3 cup soy sauce
2 tablespoons seasoned rice wine vinegar
1 pork loin or 4 to 6 pork chops
Instructions
I used my large crockpot.
Slice the onion and place the rings in the bottom of your crockpot.
Place your pork loin on top of the onions.
In a small bowl, combine garlic, peanut butter, honey, soy sauce and vinegar and pour over your pork. It's thick, so you may need to spread it around.
Cover and cook on low for 5-6 hours or on high for 3-4 hours.
Notes
Find many other Crockpot recipes on Slow Cooker Sunday - Today's Creative Blog