It's Slow Cooker Sunday and I've got a a delicious dinner recipe! This Slow Cooker Cheesy Chicken Broccoli Potato Casserole dish doesn't look nearly as good as it tastes, but take my word, it's good!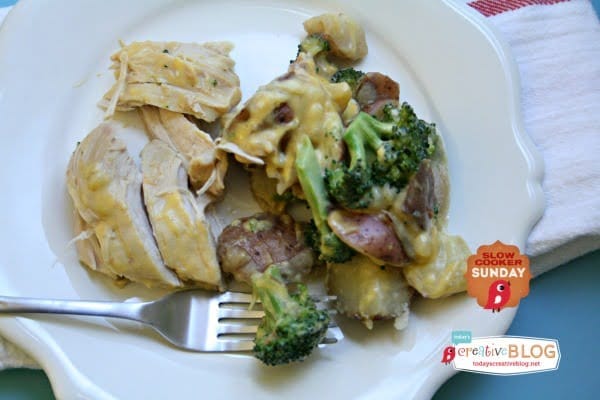 I've been making a lot of crockpot recipes this past week with our busy schedule and hopefully I'll be able to salvage the photos. It's so hard to try and photograph them when it's dark outside, so we'll see.
If you've got picky eaters who turn their nose up at anything green, I bet they'll like this. It's covered in a cheesy sauce they won't be able to resist. Heck……I can hardly resist it.
My son loves Velveeta and it's not usually a staple in our home, but it does make a few appearances throughout the holidays. I make a mean Mac and Cheese using Velveeta for Thanksgiving that was actually called gourmet by my brother in law. This gourmet Mac and Cheese is made with Velveeta. I didn't have the heart to tell him.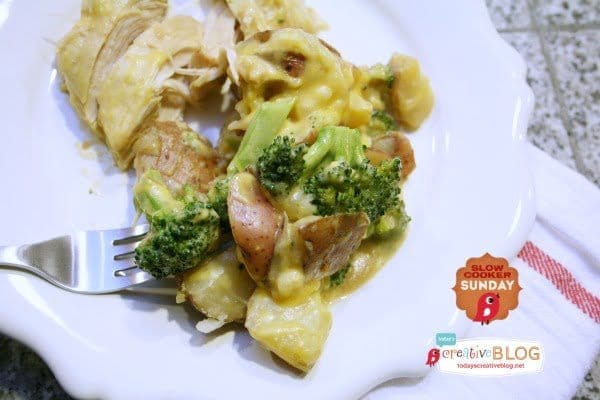 So I had part of a left over brick of Velveeta I needed to use.


Slow Cooker Cheesy Chicken Broccoli Potato Casserole
Yield: 4
Prep Time: 10 minutes
Cook Time: 6 hours
Total Time: 6 hours 10 minutes
I added more potatoes and still had plenty of sauce to go around.
Ingredients
3-4 Skinless, boneless Chicken Breasts
2 cups chopped broccoli
1 lb. Red Potatoes (any kind would work)
1 tsp. Smoked Paprika (regular would work)
1 can condensed Cream of Chicken Soup
4 oz Velveeta cheese - cubed
1 tablespoon Worcestershire sauce
Instructions
Place all ingredients except cheese and broccoli into your crockpot.
Stir to mix ingredients
Cook on Low for 6 hours.
Add cheese and broccoli about 15 minutes before serving.
Stir and serve.
Enjoy
Notes
If you want to freeze this, place all ingredients into a zip lock bag, except for cheese and broccoli.
Thaw before cooking. Place into your crockpot and follow cooking directions.
Find other Slow Cooker Sunday meals here.
Crock Pot Buffalo Chicken Sandwiches