Crock Pot Shredded Buffalo Chicken has a simple and quick prep, making it a "slow cooker dump" recipe. This easy-to-make slow cooker recipe has only 4 ingredients. Chicken, buffalo hot sauce, butter and ranch dressing seasoning mix. Any "dump it all in" crock pot recipe is a good recipe for busy households, collage students or anyone who feels challenged in the kitchen!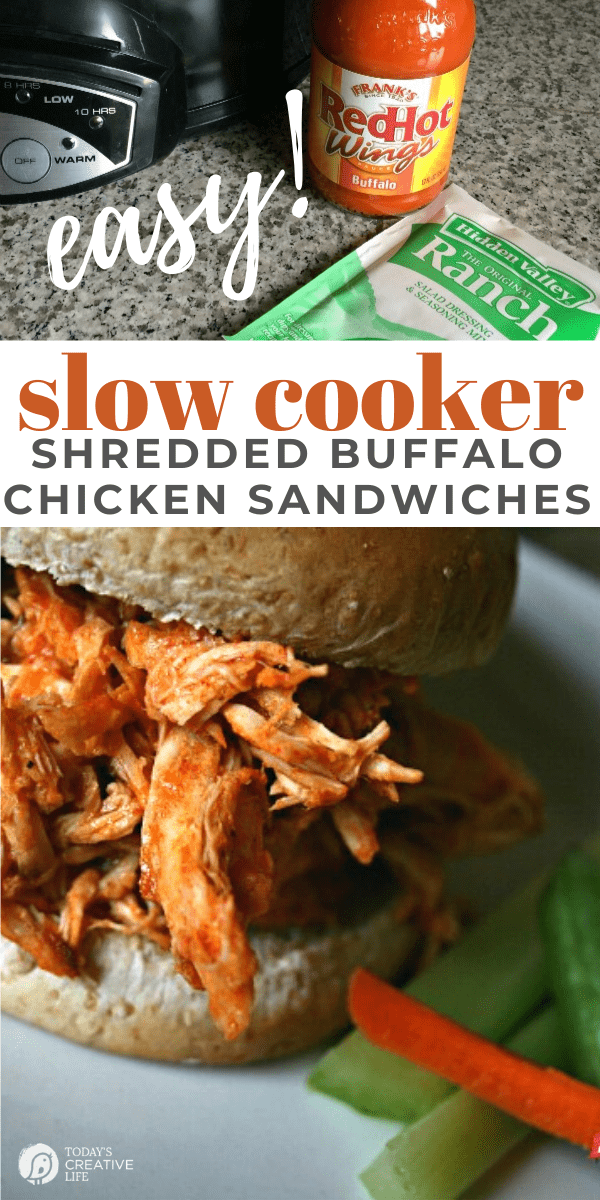 Crock Pot Shredded Buffalo Chicken Sandwiches
I had seen my friend Cheryl from TidyMom.net make buffalo wings with this Franks, but since I'm not much of a wing girl, I didn't really pay attention. Then I was going to make Shredded Chicken, so I thought I'd try this sauce I keep seeing. This Crock Pot Shredded Buffalo Chicken made the BEST sandwiches! The BEST! You could use it in a burrito instead or even a salad. Again, this shredded chicken recipe is so versatile like the Copy Cat Cafe Rio Shredded Chicken Recipe I make. Both make your life SO easy!
These sandwiches had just enough zing to give it a small kick, but not so much that your eyes were watering. My teen son ate 3 of them and he's not much into "hot" food.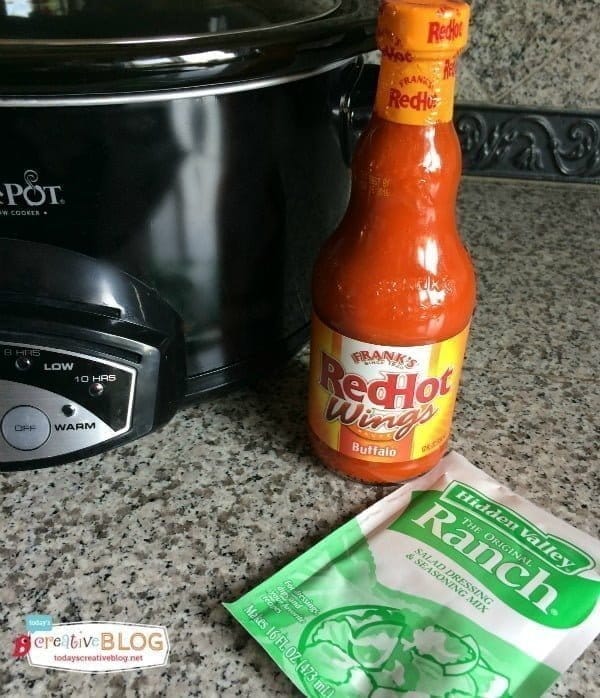 I also love how simple it was. You know I like simple!
Can You Make Slow Cooker Buffalo Chicken with Chicken Thighs?
Absolutely! You'll need to use more of them since they aren't as large as chicken breast and make sure they're also boneless. Chicken thighs are more economical as well as fattier and will give your shredded chicken more flavor. I'd use 6-8 thighs for this recipe.
I knew we were going to have a late-night since we had soccer practice 45 minutes away from home and practice wasn't going to be over until 8 pm. (you may have caught my tirade on Instagram while I sat in a creepy parking lot waiting for my perfect child) I was able to put 4 chicken breasts in the crockpot on low around 3:00 pm and they were ready in just a few hours. These were thinly cut breasts and I used my large crockpot, which I think cooks faster when it's not full.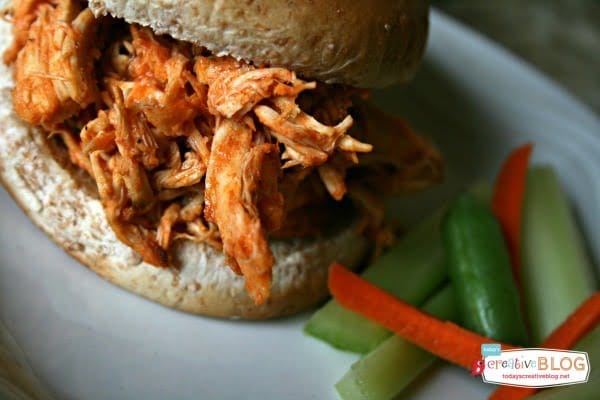 They really hit the spot after a cold soccer night and I had enough left over for a sandwich the next day. We got about 6 sandwiches out of it.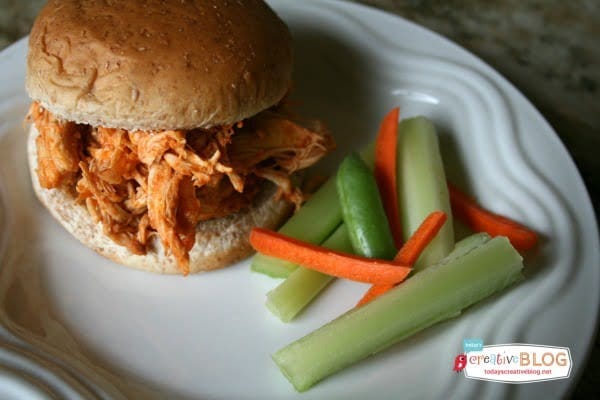 This recipe is not for food purists. It's like my Crock Pot Mississippi Roast and uses the packaged ranch dressing. But boy do they both make a delicious meal! The Mississippi Roast is also great for shredding and using for burritos. It's my husband's favorite roast.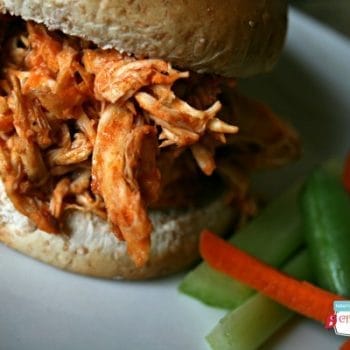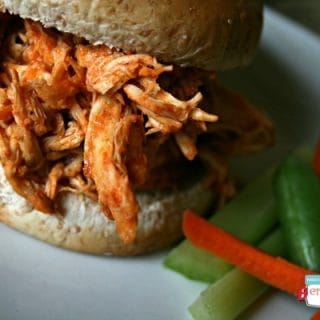 Crock Pot Shredded Buffalo Chicken Sandwich
Yield: 6
Prep Time: 5 minutes
Cook Time: 6 hours
Total Time: 6 hours 5 minutes
This Buffalo Chicken Sandwich has a nice kick but not too much.
Ingredients
4 Chicken Breasts - Skinless, boneless
1 (12oz) bottle Franks Red Hot Wings Sauce
1 package of Ranch Dressing Mix
2 tablespoons butter
Hamburger Buns
Instructions
Place the chicken, the sauce and the ranch dressing into your crockpot. Stir around a little to mix it up. Cover and cook on LOW for 6-7 hours.
Once the chicken is done, add your butter and then shred. I use two forks, pulling the meat apart. Stir into the juice to make sure the chicken is well coated with the sauce.
Serve on hamburger buns.
You can add lettuce if you'd like or just eat it plain.
Enjoy!
Notes
Chicken thighs can also be used. You'll need at least 6 or so.
Nutrition Information
Yield 6
Serving Size 1
Amount Per Serving
Calories 203
Total Fat 7g
Saturated Fat 3g
Trans Fat 0g
Unsaturated Fat 3g
Cholesterol 79mg
Sodium 536mg
Carbohydrates 6g
Fiber 0g
Sugar 1g
Protein 27g
We do our best to calculate, however, nutrition information may not be accurate.
Can You Make Shredded Buffalo Chicken in the Oven?
Yes, you can! You'll need a baking pan that's deep enough. Follow the same recipe, but bake at 400˚ degrees for about 35-40 minutes or until the internal temp reaches 165˚. I love this meat thermometer.
Shred with two forks when it's finished, mixing the chicken in the sauce you baked with it.
Can You Freeze Left Over Buffalo Chicken?
Once leftovers have cooled, you can transfer them to a freezer-friendly container and freeze for up to 6 months. I use a gallon-size Ziploc bag. Be sure to write what it is on the container and any warming instructions.
How to Warm Up Frozen Leftovers
Thaw First – you can take it out and allow it to thaw in the fridge before heating up in the microwave, or oven.
Frozen – Place in a greased casserole dish and cover with a lid or aluminum foil. Bake at 350˚ for 20-30 min.
Crock Pot Shredded Buffalo Chicken Freezer Meal
This recipe is a great one to make ahead of time and freeze. I use gallon-sized plastic bags for this too. Write cooking instructions and recipe title on the baggy. I lay them flat to freeze for space-saving. Because the raw chicken will be frozen, it will take additional time to in your slow cooker. Check the temp at the 6-hour mark and then every 30 minutes after until you reach the safe temperature of 165˚
Can You Make Shredded Buffalo Chicken in the Instant Pot?
I think I'm the only person who hasn't mastered or fell in love with my Instant Pot. I'm getting there, but I'm still at the "I'm scared" stage. My blogger friend Tony has a great Instant Pot Buffalo Chicken Recipe.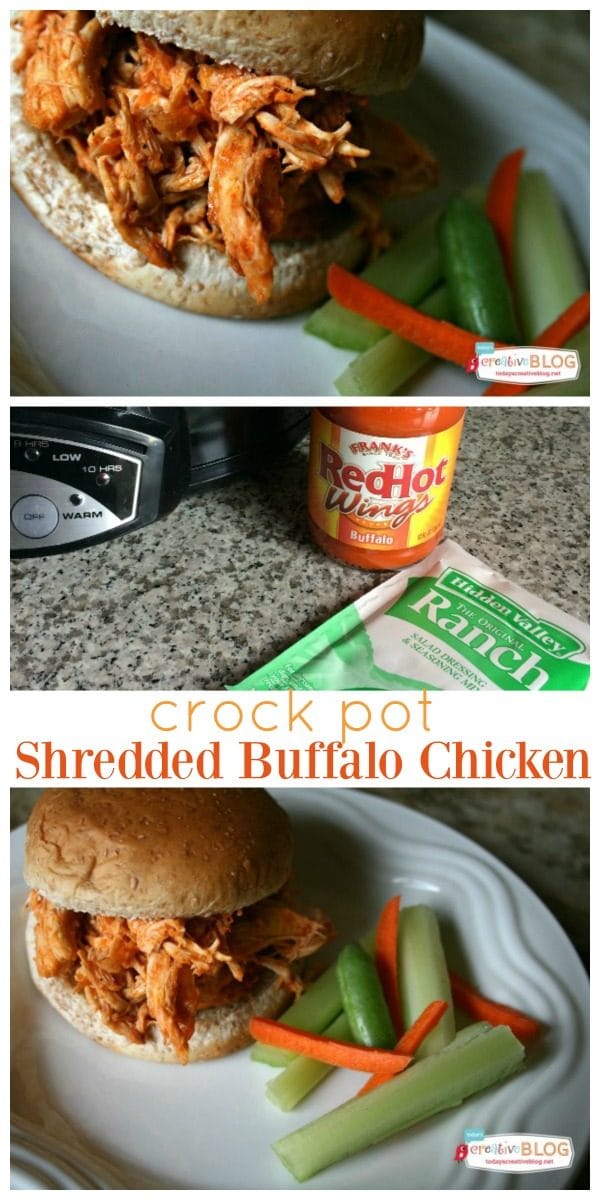 Chicken Recipes
Family-friendly Chicken Recipes.

Find several slow cooker recipes that use chicken.

Everyone loves a good pizza! This Chicken Alfredo is mouth-watering delicious.

Comfort food brought to you with this simple chicken pot pie.

Easy to make with simple layers.

Few ingredients needed for this all-time favorite.

This recipe can be used for so many dinner ideas.

Another family favorite recipe that's a keeper.

Cafe Rio has the best chicken salads! This copy cat recipe allows me to enjoy at home.

Photo Credit: www.yourhomebasedmom.com

Leighanne's recipe is simple and delicious for having chicken on hand.

Photo Credit: www.makeandtakes.com

Empanadas make dinner so special.

Made with the Cesar chicken recipe.

How to make delicious and wholesome chicken broth.

When you can't do take out!