I was recently reminded about my DIY Penny Tray I made a few years ago when my friend Rebecca was featured on Bob Villa's "Vote for your Favorite Penny Project".
I love penny projects and figured I should share mine with you again! Especially since decorating with copper accents is so trendy right now. You may also like how I created an acrylic tray from an acrylic frame!
DIY Penny Tray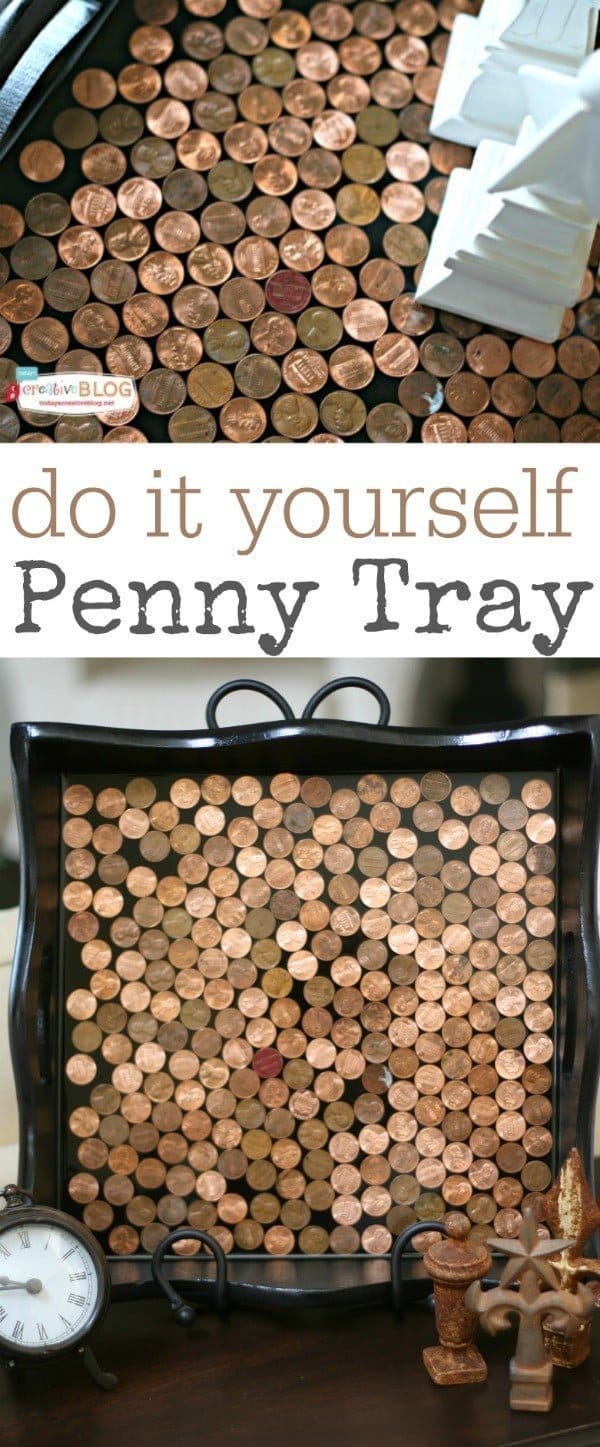 I've used my penny tray for many uses, but it's currently in my kitchen, where it holds our phone, pen cup and whatever else falls there. I made this when I was in my Enviro-Tex phase. That stuff is like magic. It makes any surface so durable! It reminds me of the Mod Podge Dimensional Magic (another addictive craft supply) that I use for the Drink Charms I made.
How to Make a Penny Tray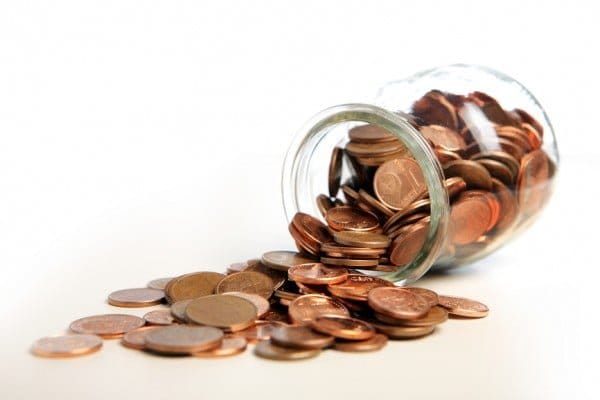 Supplies Needed:
Wooden Tray – get a well built one like this one from JoAnn.com. I used a less expensive one for my bathroom tray I made with washers and the Enviro-Tex seeped through.
Pennies – doesn't matter what kind of pennies. Maybe you have a bunch of left over Euro's or Canadian pennies, they all work.
Enviro-Tex – You can find it at your local Michael's.
Foil or Plastic wrap – When working with Enviro-Tex, you want to place foil, or plastic wrap under your project to prevent any spilling or seeping onto your unprotected surface. A plastic drop cloth would also be perfect.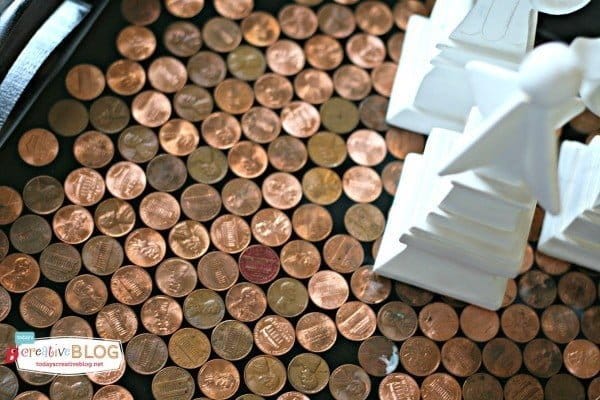 1. Paint your tray with your desired color of acrylic paint. Wash and pat dry all the pennies to rid them of dirt and dust. Once the tray is dry, arrange your dry pennies onto the bottom of your tray into your desired design.
2. Mix and prepare the Enviro-Tex as directed on the box.
3. Pour over your pennies and let it settle. If you see any bubbles, simply blow on them gently and they should pop. Here's the hard part………just walk away and leave it to dry and cure for the next 48 hours. Check for any seeping shortly after pouring. You do NOT want this leaking onto your kitchen counters or any other surface. This is why I place plastic wrap (plastic garbage bags) or foil…..because it will seep through newspaper.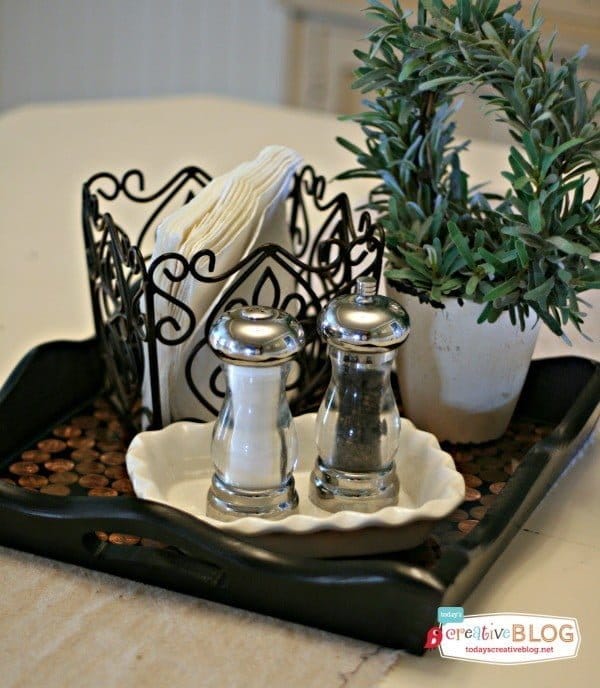 As I mentioned above, I've used this tray for many purposes. I could even use it on an easel if I wanted to use it as a piece of display art.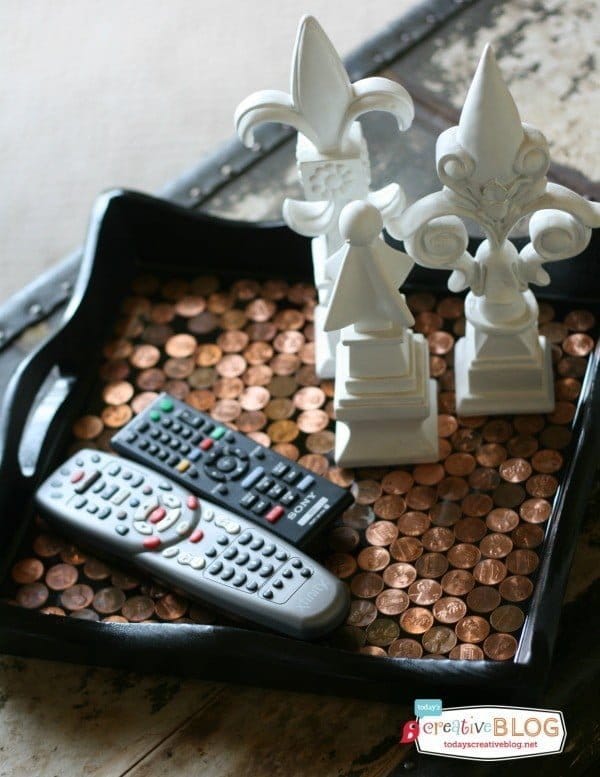 I love trays! They always add a little charm to any room, like my vintage map covered tray I also made a few years ago.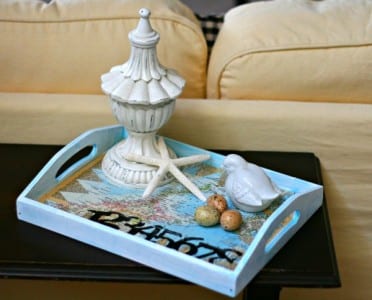 Vintage Map Decoupaged Tray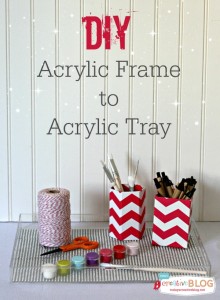 DIY Acrylic Tray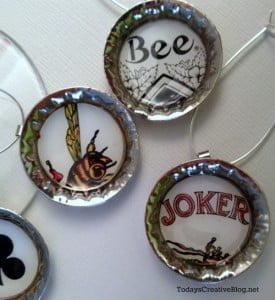 Looking for more Craft Ideas? You'll enjoy my Craft Ideas Pinterest Board.
Follow Kim Demmon (today's creative blog)'s board Craft Ideas on Pinterest.


My affiliate links to products are for your convenience and cost you nothing extra, however if you do purchase anything, I will receive a teeny % which helps in supporting Today's Creative Blog.