My newest crush is on decoupage. Decoupage How to is one of the easiest DIY crafts you'll ever do. I always think it's much harder and I always have to review the "how to decoupage" instructions before each project. That's because I'm not always a confident crafter and I'm just not convinced it's as easy as I remember. I hate craft fails.
Decoupage How To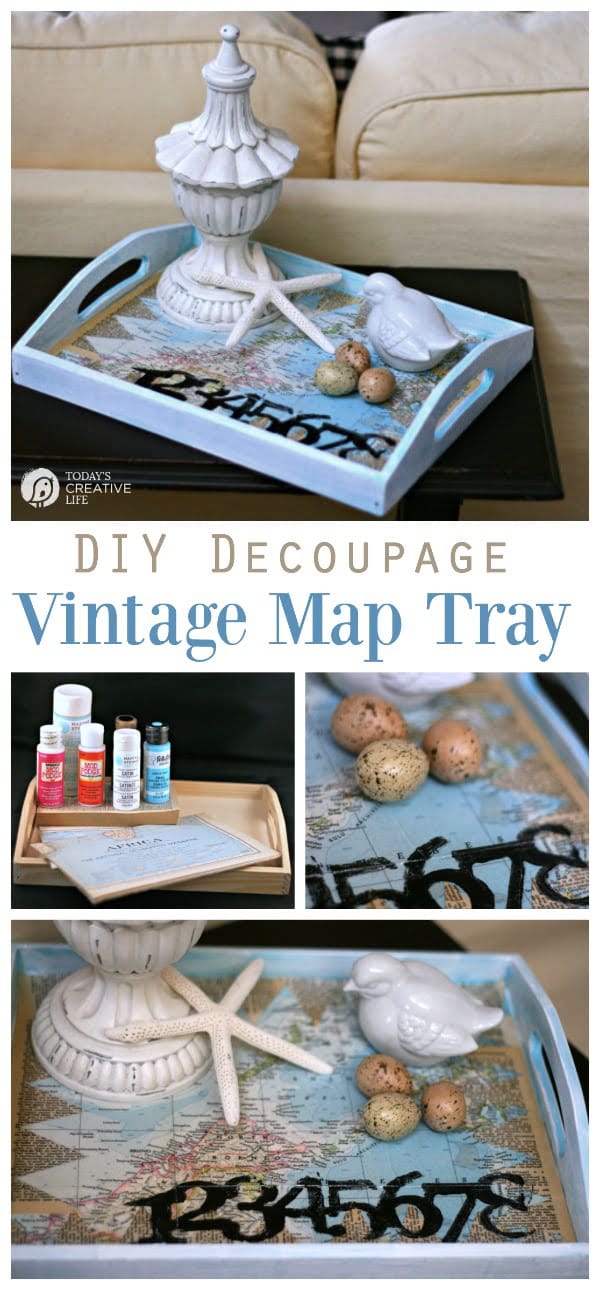 First. gather the appropriate supplies. My instructions and the supplies I photographed are the ones I used for this particular project. You only need the mod podge if you are only going to decoupage.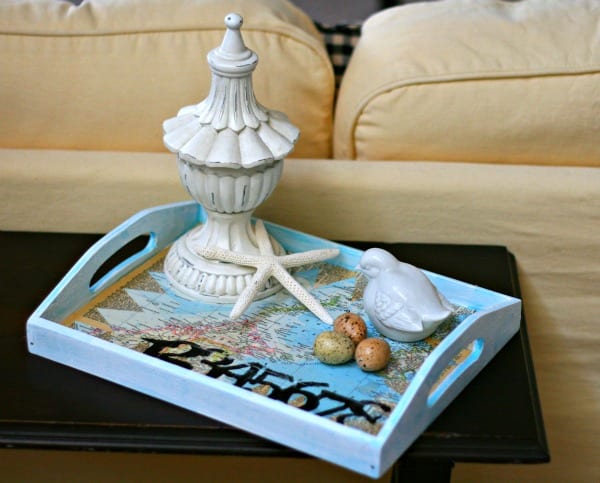 How to Decoupage Vintage Map Craft Supplies
Affiliate links for products listed are for your convenience only. This cost you nothing extra. If you happen to purchase anything as a result of clicking, TCL will receive a small percentage. Thank you for your support. This allows me to continue to offer you free content.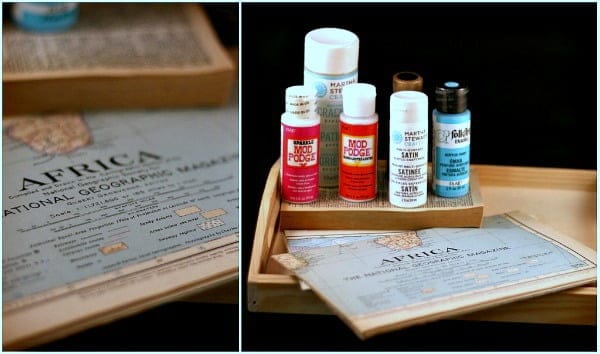 How to Decoupage Tray Instructions
Paint your handles and sides of the tray with any desired color. I used turquoise. Once dry, brush over painted surface with your crackle medium. Allow to dry.
Choose your second paint color. I chose white. Paint over the crackle medium. As it dries, you'll notice it start to crackle.

Paint Mod Podge Matte over the inside bottom of the tray where you want your map to go. Place your pre-cut map piece over the wet mod podge. Paint another coat of either the matte mod podge or use the sparkle like I did. (it's very subtle) Let it dry.
Cut your dictionary pieces in desired shapes and repeat steps for mod podge. Wet the area you first with mod podge, place your dictionary pieces down, continue to brush over it with mod podge. Let dry.
I placed a number stamp using black acrylic paint.
I am loving my new tray. I have been wanting to use my vintage maps for a while now. Decoupage is such a forgiving craft medium. I'm thinking I may decoupage a table of mine.
If you've been too afraid to try decoupage, I hope my instructions have persuaded you. Honestly……..you smear it on, place your paper or fabric, and smear some more on. If I can do it, so can you!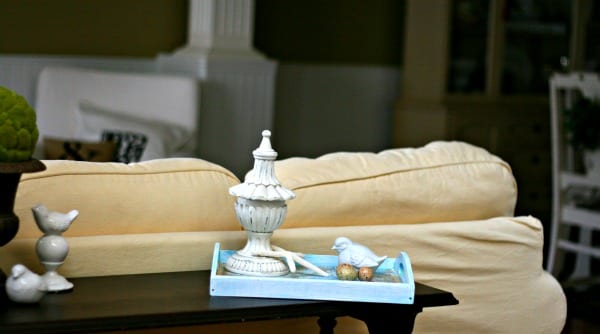 I've got some outdoor mod podge I'm going to try too. How cute to create a few things for the patio.
---
More Decoupage How To Ideas