It's Slow Cooker Sunday! If you like blackberry pie, or my fresh blackberry cobbler then you'll love this Crockpot Blackberry Cobbler!
I knew we'd want something sweet while watching the movie my husband picked out, and I knew a dessert in the crockpot doesn't take too long……...and I was still needing something for Slow Cooker Sunday! I looked around for what ingredients I had and decided something with pie filling would be perfect. If I had it my way, I would have used cherry pie filling, but my husband isn't a cherry pie fan. I don't understand it either……. I love cherry pie…….takes me back to my childhood where we ate preservative laden hostess pies. Those were so good! Since I don't make pie, a cobbler is the next best thing!
Crockpot Blackberry Cobbler Recipe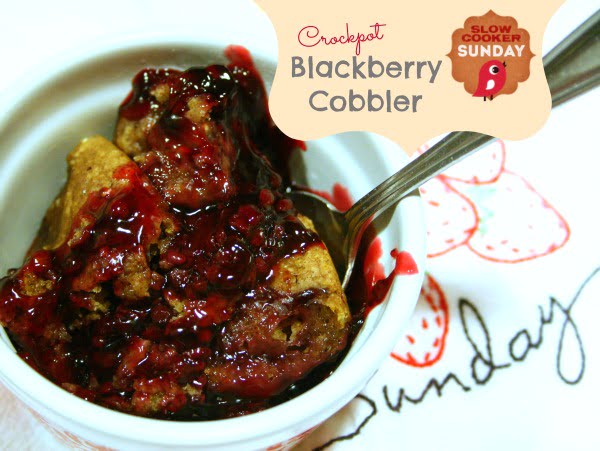 We had blackberry pie filling and baking mix to make this happen. We had a couple of hours before movie time, this was going to be perfect. The only thing better would have been having vanilla ice cream to scoop on the top.
Thank goodness I had this dessert because the movie (Lincoln) bored me half out of my mind. I really wanted to like it. I love the actors, the job they did and I love Abraham Lincoln……but dang…..I just couldn't hold on. My cherry pie filling hating husband however loved every minute.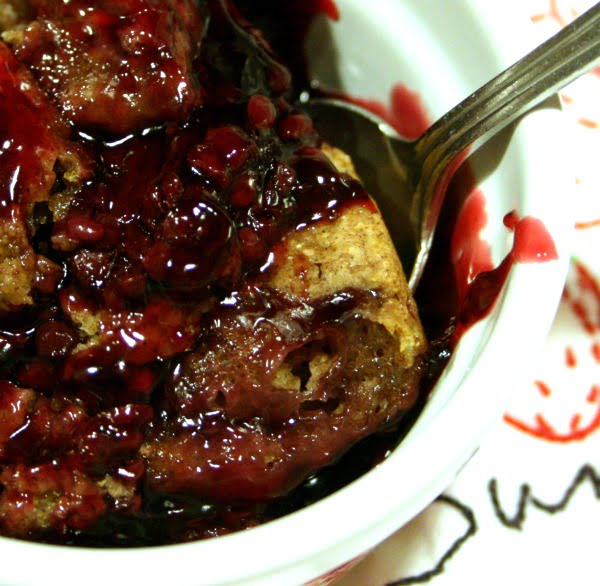 Crockpot Blackberry Cobbler
Ingredients
Adapted from Chopped@Home
1 can Blackberry Pie filling
1 cup whole grain baking mix
(regular will work also, it's just what I had on hand)
2 tablespoons sugar (I used truvia)
1/2 teaspoon cinnamon
1/3 cup milk (almond milk should work as well)
I didn't put a topping on mine, but if you'd like, here it is.
Topping
3 tablespoons butter
1/2 cup quick oatmeal or instant
1/3 cup brown sugar
2 to 4 tablespoons chopped pecans
Instructions
Spray the inside of your crockpot ( I used a 6 qt) with cooking spray. I used coconut oil, but you could use Pam or butter.
Spoon your pie filling into the bottom of your crockpot and cook on high for 15-30 minutes.
In a separate bowl, mix together the biscuit mix, cinnamon, sugar.
Slowly add milk to the dry mix and stir.
Spoon biscuit mix over your pie filling in dollops, then gently spread until your pie filling is covered.
Cook on low for 1 1/2 to 2 hours
Topping
We didn't use the topping and it was great without it.
Mix topping ingredients together until crumbly.
Sprinkle over your cobbler and cook for another 10 min.
Scoop out and EAT! Add whipped cream or ice cream if desired! YUM!

MORE Slow Cooker Sunday Recipes!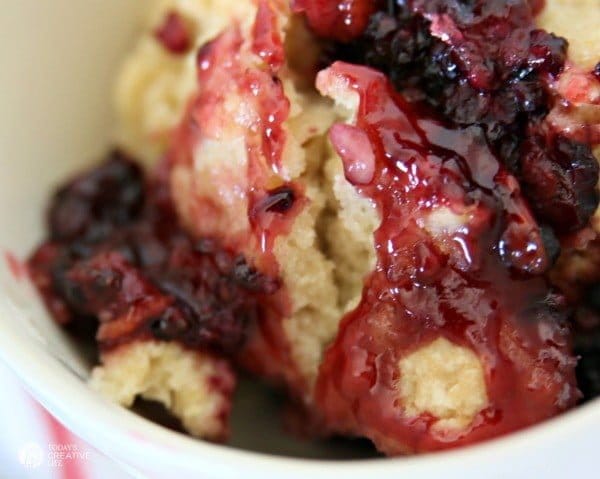 Slow Cooker Blackberry Cobbler