It's Slow Cooker Sunday! We love lasagna in this house and my family LOVED the Crockpot Tomato Alfredo Lasagna I made. I rarely make it the regular non-crockpot way anymore. Crockpot Lasagna is the way to go.

It's so easy and we like it, so it's a keeper.
Crockpot Tomato Alfredo Lasagna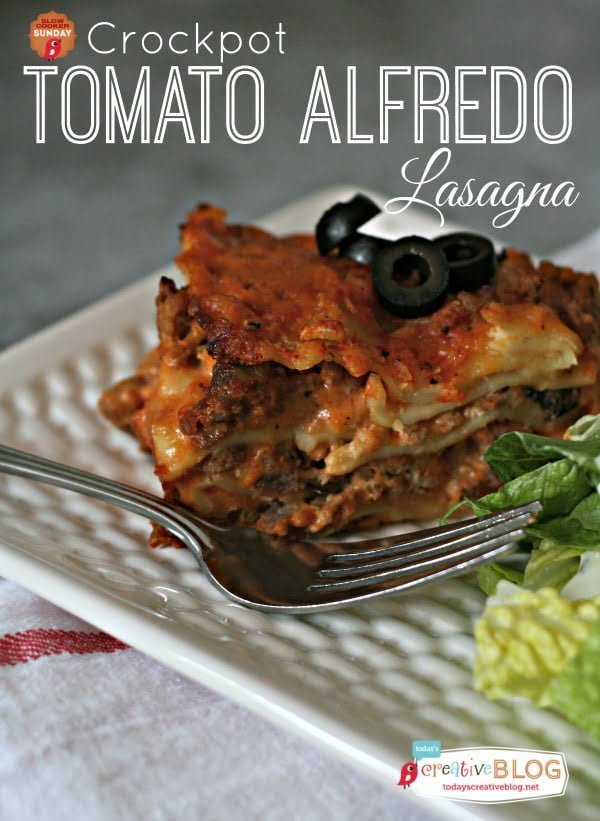 Lately my son has really been enjoying Alfredo sauce or a mixture of regular pasta sauce with Alfredo, so I thought why not make Lasagna that way? I have a friend who makes it this way and it's delicious.
We've been having a lot of stormy weather, so this meal was perfect for dinner. Snow on the ground, the Olympics on the TV………it was the perfect day for comfort food.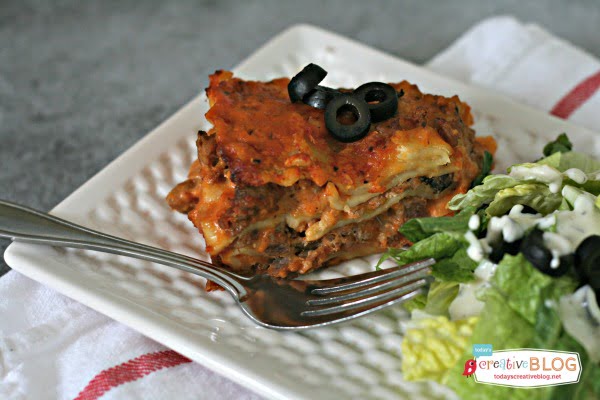 I basically embellished the Lasagna recipe I use. The one I use is from Stephanie at Crockpot365. 365 Slow Cooker Suppers

I love so many of her recipes and seem to use her Crockpot cook books more than any other. She's got 3 now! Amazing! So proud of her.
I added olives and used mostly Alfredo sauce. I did use a little regular pasta sauce……….I just couldn't help it.
Since the lasagna was pretty much the same color as the regular, my son didn't realize I had used Alfredo sauce until he took his first bite. "This is REALLY good Mom", we're his first words.
Now he wants me to make it like this every time.
Whatever my baby wants.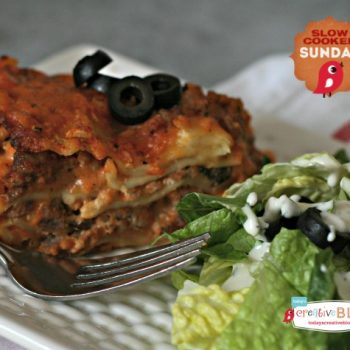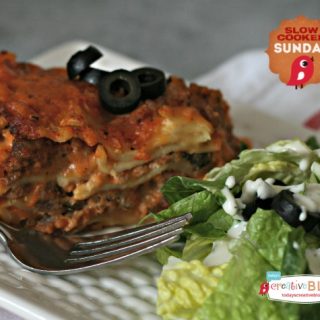 Crockpot Tomato Alfredo Lasagna
Ingredients
1/2 pound ground turkey
1/2 pound Italian sausage
1 tsp oregano
2 garlic cloves chopped or crushed
1 jar (25 oz) Alfredo pasta sauce
1/2 cup regular pasta sauce
10 lasagna pasta noodles (that's what Stephanie says, I don't count. I just place a full layer covering each time)
1 (15 oz) cottage cheese
1 pound sliced porcini mushrooms
1 small can sliced olives
3 cups shredded Mozzerella
2 cups Italian blend shredded cheese ( I use the Quattro Formaggio blend from Trader Joes)
1/4 cup water
Instructions
Use a 6- quart slow cooker. Brown the ground turkey and sausage in a skillet, adding the garlic and oregano. When the meat is browned, add pasta sauces. Save the alfredo jar, you're going to need it later.
Spoon some of the meat mixture into the bottom of your slow cooker. cover with a layer of uncooked lasagna noodles. Smear some of the cottage cheese on the noodles, and add some mushrooms,olives, a handful of cheese. Starting with the meat sauce, repeat the layers until your slow cooker is full.
Put the water into the empty pasta sauce jar and shake. Pour the contents over your assembled ingredients.
Cover and cook on low for 6 to 8 hours, or on high for 3 to 4 hours.
Check about an hour before serving, and push down the top noodles into the liquid. When the cheeses are completely melted on the top and begun to brown on the edges, your meal is ready!
Notes
For more great Crockpot Recipes, check out my other Slow Cooker Sunday Recipes and Stephanie O'Dea's Slow Cooker Recipe books.
Please do not cut and paste the recipe into FB, Pinterest or a blog post.
Recipes are CopyRight Material.
Check out all my other Slow Cooker Sunday Recipes.
You should also follow my Slow Cooker Pinterest Board. I'm still pinning!
Follow Kim Demmon (today's creative blog)'s board Crockpot & Slow Cooker Recipes on Pinterest.