Russian Tea is a warm spiced tea drink that takes me back in time! This recipe has that soothing taste of cloves, cinnamon, and nutmeg mixed with the sweet orange taste of Tang. Just mix with hot water and sip away!
Back in the '70s, Russian Tea made with Tang was all the rage. At least it seemed that way to me, a young girl who wondered why my mom never made it.
This original homemade Russian Tea Recipe is warm, soothing and full of comfort.
Homemade Russian Tea Recipe with Tang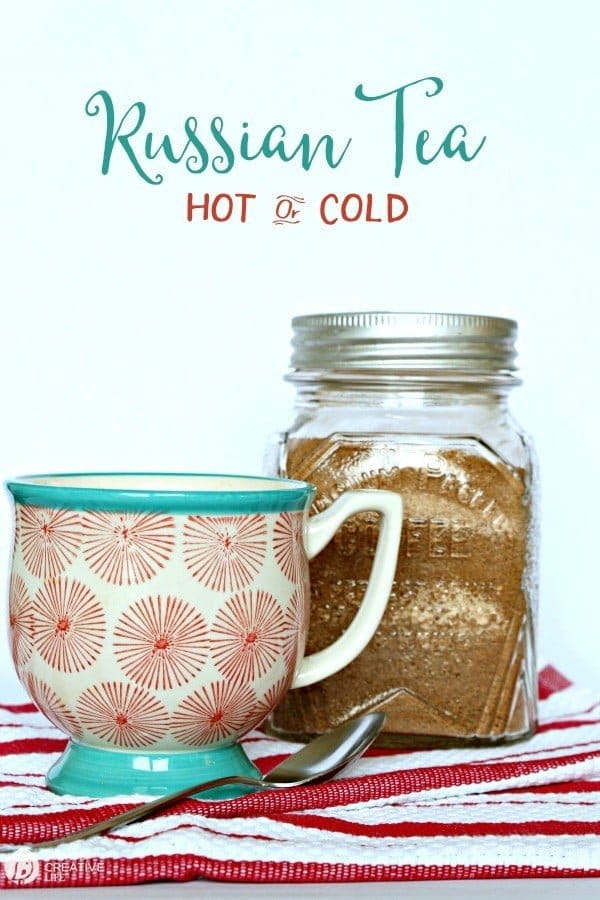 I thought this concoction was the best stuff on earth. That slightly spicy, orange tea taste with a hint of cinnamon and cloves. Yum. It's made with Tang, which was also the best thing since sliced bread in the 70s. You were the cool house if you had Tang in the cupboards.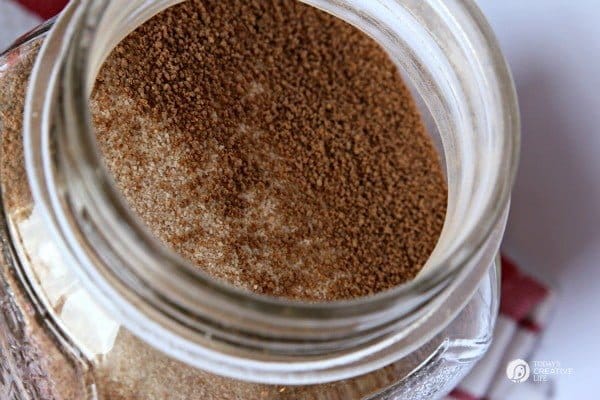 What is Russian Tea Mix?
Well somewhere along the way, housewives from all around thought to combine the instant ice tea granules, with Tang and a few other ingredients to create a delicious taste that will now take you back in time.
I always wanted it hot, but you can drink Russian Tea cold too! This time of year, I'm all about hot drinks to sip on. Once 5 o'clock hits, I've been indulging in my homemade Hot Buttered Rum hot drinks.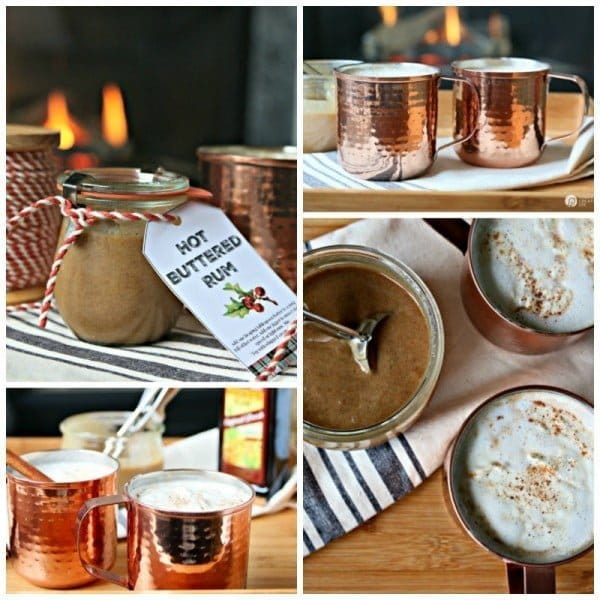 It's so good, even if I don't add the rum.
Now that I've learned how to make lattes at home, I sip on those too!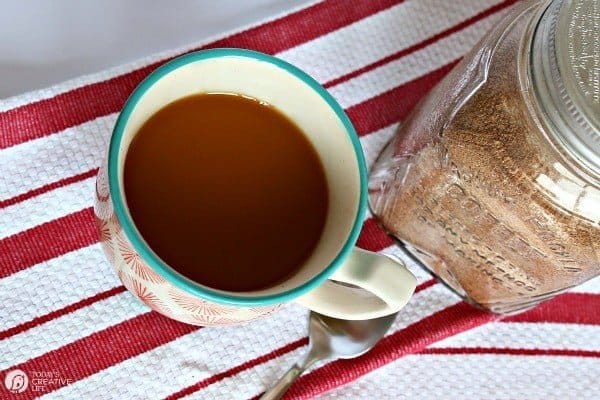 I know the holidays are over, but this also makes a great homemade gift idea. Maybe just a sweet gesture for someone who's been a great friend lately, or someone who needs a pick me up.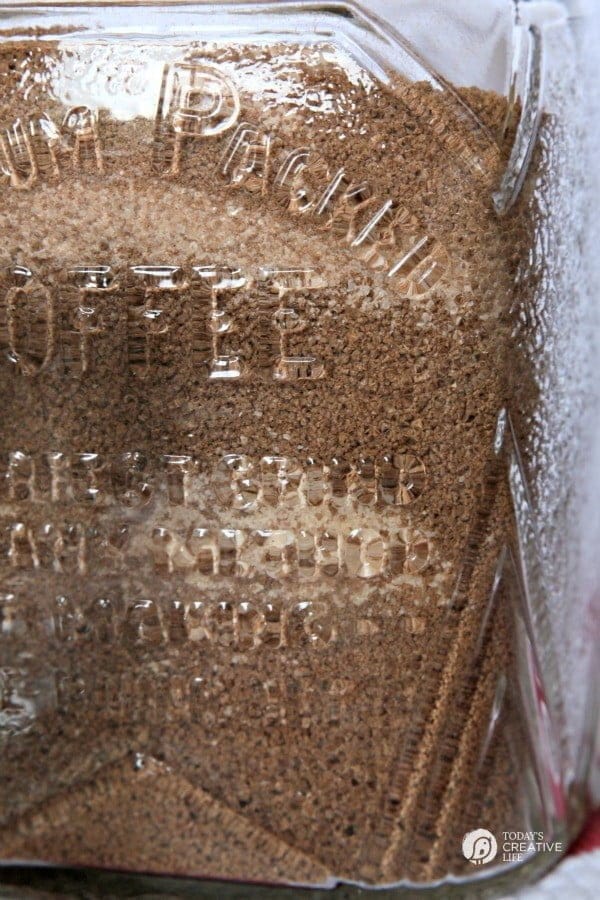 Because this reminds me so much of my mom, I am storing it in one of the antique jars I found in her cupboards. She was ahead of her time, storing many items in glass jars. I love this jar!
This recipe can be tweaked if you think it needs more cloves or cinnamon. Depending on how seasoned you like it, just adjust accordingly.
How Long Does Russian Tea Last?
If stored in an airtight container, Russian tea should last 6-8 months. It's really the moisture that will ruin the shelf life. Keeping it sealed is important so it doesn't harden and clump.
How to Make Homemade Russian Tea
You'll need:
Tang – or any orange powder drink mix
Lemonade powder drink mix
Unsweetened instant tea granules
Ground cloves, cinnamon, nutmeg
Sugar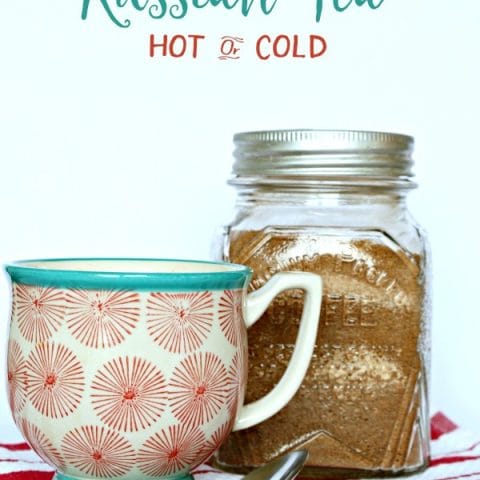 Russian Tea Recipe
Yield: 20
Prep Time: 15 minutes
Total Time: 15 minutes
This Russian Tea Recipe from the 70's is a classic drink made with Tang, instant tea, and spices. Serve piping hot or over ice.
Ingredients
1 Tablespoon Lemonade Powder Mix - use sweetened or unsweetened.
2 C. Sugar
1 teaspoon ground cloves
2 teaspoons ground cinnamon
1/2 teaspoon nutmeg (optional)
Instructions
Mixing all of this creates quite a bit of dust. I decreased this problem by using a gallon size ziploc bag.
Pour all ingredients into your plastic bag. Of course a large bowl will also work.
Mix ingredients well, either stirring or shaking it around in a well sealed ziplock bag.
Store in the baggie or in any container that keeps moisture out.
Mix 3 to 4 tablespoons of your new mixture into your mug or glass of hot water or cold water, about 1 cup. Adjust accordingly.
Recommended Products
As an Amazon Associate and member of other affiliate programs, I earn from qualifying purchases.
For those who love a little peppermint added to their hot chocolate!
This warm & delicious holiday drink makes a great gift item too! Printable tags on TCL.
Photo Credit: tidymom.net
How to make a latte at home.
Everyone loves Nutella! This recipe for crockpot hot chocolate is easy to make a great for a crowd.
For peanut butter lovers!
Recipe for crockpot hot chocolate. Creamy and decadent.
This traditional holiday hot drink is great all winter long.
---
The Free Printables Vault is password protected and for TCL Subscribers only. Subscribe here