Creating patriotic paper bag stars (or paper bag snowflakes as some call them) using lunch sacks is a fun and creative 4th of July craft project that makes decorating easy. Paper bag stars can be a wonderful addition to your patriotic decorations for a few holidays like Independence Day, Memorial Day and Labor Day. You can hang them on walls, doors, or windows, or use them as table centerpieces. Get creative and have fun with your patriotic paper bag star crafts!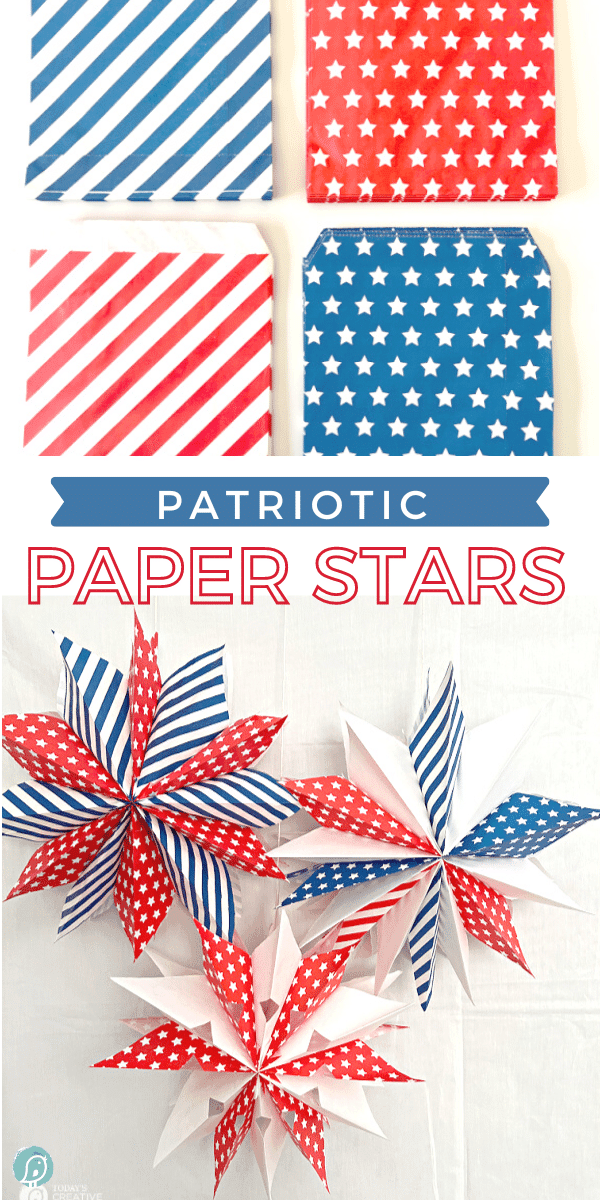 Patriotic Paper Bag Stars
Paper stars can be made with any type of paper bag. I find that lunch sacks or paper treat bags make the best paper stars. I've used all white for Christmas and of course, the regular lunch sacks in the kraft color are great for any time of year.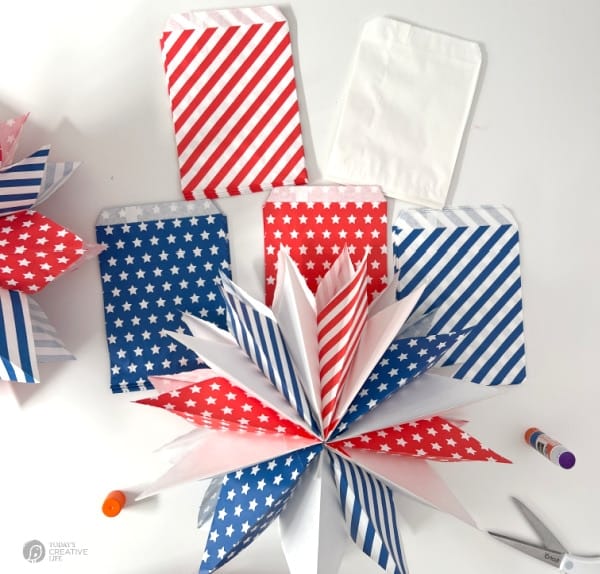 I wanted to make a few patriotic paper stars, so I bought some treat bags in patriotic colors and patterns, but I also use watercolors to paint some of the white paper treat bags I already had.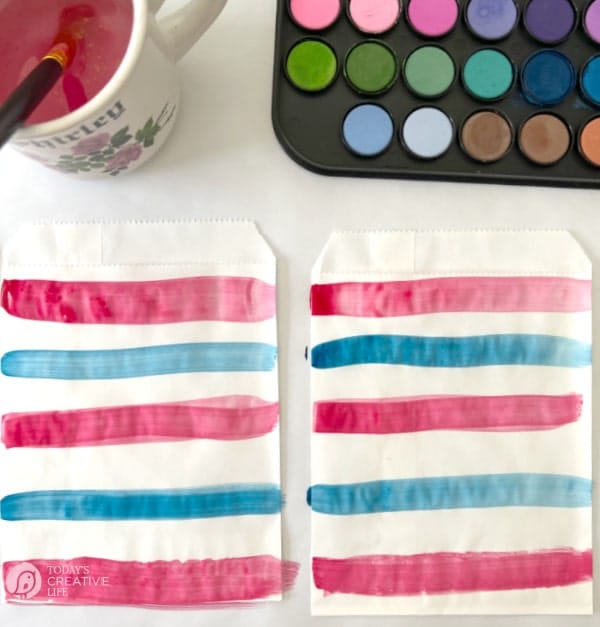 Patriotic Paper Bag Star Supplies
Paper Bags – I used treat bags for this project, but paper lunch sacks also work great. Choose a pattern to match whatever holiday you're making stars for. Or paint your own.
Glue Sticks – You can use a tape runner, hot glue gun or a good ole cheap glue stick.
Scissors – I like using my larger scissors when cutting through a stack of bags.
Hole Punch
Twine
How to Make Paper Bag Stars
Yield: 1
Prep Time: 5 minutes
Active Time: 5 minutes
Total Time: 10 minutes
Difficulty: Easy
Estimated Cost: $10
Learn how to make paper lunch sack stars for any holiday.
Materials
8-10 Paper Bags (I use about 8 lunch sacks or 10 treat bags)
Glue Stick
Scissors
Hole Punch
Twine
Instructions
Gather your supplies.
Start with one bag and run your glue stick in an upside-down T.
Stack the next bag right on top of the one you applied glue to. Repeat the glue mark and continue to repeat these steps until you have 8 to 10 bags glued together in a stack.
Cut the top of the bag into a point, or a V. You can also cut small half circles, or V's along the side if wanted. Adding cutouts along the sides will give your star more designs.
Add glue in the upside-down T to your end piece.
Slide your hands into the end pieces and pull the two end pieces to meet revealing your star. Press and hold for a couple of seconds.
Use a hole punch. I usually add one at the bottom of the V shape.
Add your twine and hang.
Notes
Cutting Shapes
Stars - Cut the paper bag ends into a point, or into a V shape that gives you 2 points.
Flowers - Cut the paper bag tops into a round shape or scallops.
Accents - Trim round or V shape cuts along the sides for more dimension
Be creative, it's only paper!
For Painted Stars
Paint bags with acrylic or watercolor paints in stripes, dots, or any design. Once dry, continue making your paper stars.
What Bags Are Best For Making Paper Bag Stars?
When I made my first paper bag stars, I used just regular brown lunch sacks. I love the kraft paper color and it's a nice neutral to mix in with white. I then moved into using the treat bags and different patterns.
Regular Lunch Sacks – use any color to get the look you need for any celebration.
Mini Lunch Sacks – I love the smaller size to make smaller stars. You can usually find them in a variety of colors too.
Treat Bags – I think these are my favorite to work with. They come in all colors, patterns and a couple of sizes. I used the glassine wax paper treat bags for Christmas one year and they were gorgeous! They looked like shimmering paper bag snowflakes.
Paper Bag TIPS
The size of your bag will determine the size of your star. You can use large or small bags to get the look you want.
Choose bags with no label or a small label. My white bags have a big label in black ink that was visible when I finished my stars. I ended up just painting over them with white paint.
Painted Paper Bag Stars Craft
Get creative and make your own custom paper stars or flowers. Grab your watercolors, or even acrylic craft paints and paint your bags!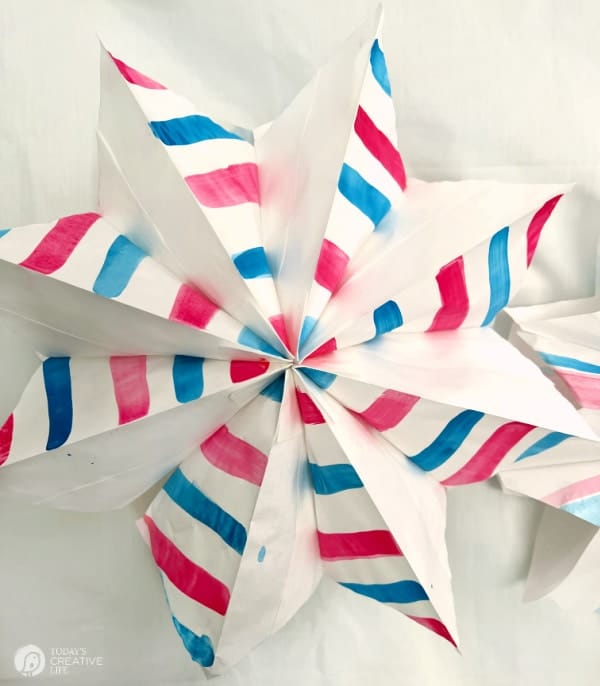 This is a great craft to do with kids.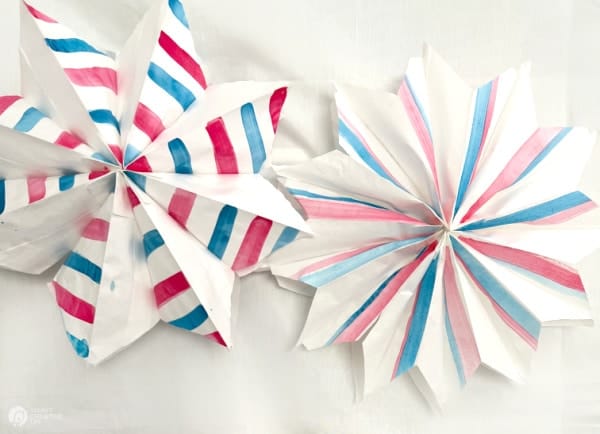 Paper Bag Snowflakes
Paper bag stars and paper bag snowflakes are made the same way. Paper sack snowflakes often use white paper sacks and usually have more cutouts along the sides of the bags, so when you open and fan it out, it resembles hand-cut paper snowflakes. Make them shine by adding glitter. Apply glue and sprinkle glitter over to wherever you want the glitter to stick. You can also add color with paints.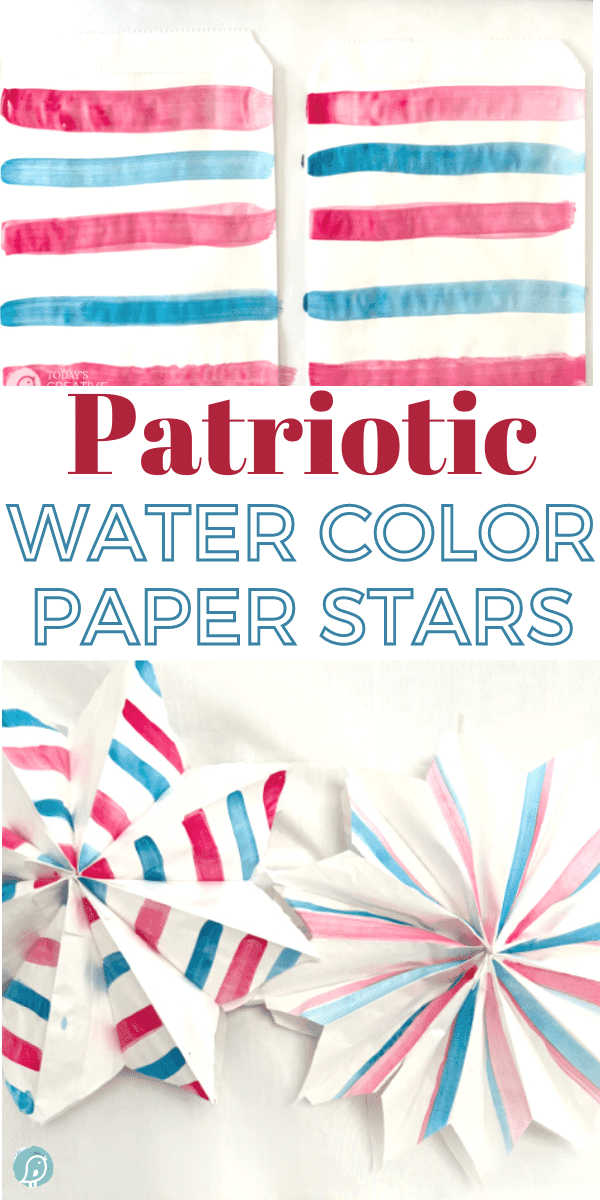 Patriotic DIY Ideas
Crafting and decorating ideas for all the Red, White, and Blue Holidays! 4th of July, Memorial Day, and Labor Day!
Free Patriotic holiday printables.
Create your own holiday star garland.
Grab a star-shaped ice cube tray and create patriotic drinks!
Grab your supplies and get busy!
More Red, White and Blue Printables.
Simple 4th of July decorations.
Simple sewing project for the holidays.
Sweet treat for your 4th of July parties!
Photo Credit: craftingintherain.com