Easy to make homemade Toasted Almond Pecan Peanut Butter Granola for snacking and breakfast. Healthy ingredients full of nutrition.
I've made different variations of this Toasted Almond Pecan Peanut Butter Granola so many times. Use a different nut butter or nuts and you've created another flavorful granola.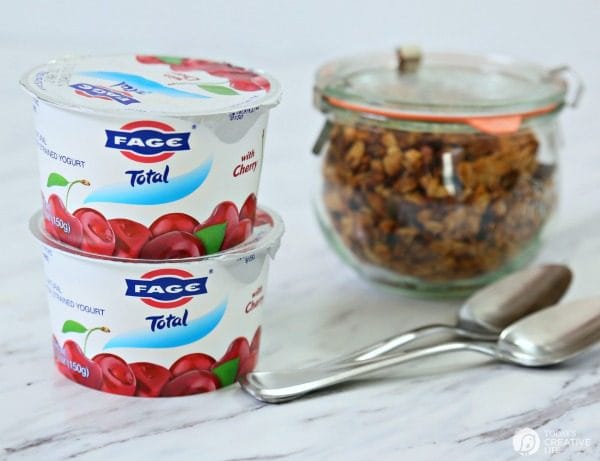 One of my healthy habits and old standbys for a quick and easy, protein-rich breakfast that I can eat on the go or at my desk (or in my craft room) is mixing my homemade granola with one of the FAGE (pronounced Fa-yeh) Total Split Cups.
Toasted Almond Pecan Peanut Butter Granola
This homemade granola recipe is a favorite with my son and husband. I started making it a few years ago so my husband would stop buying a cheap boxed brand that was full of ingredients I couldn't pronounce.
Who knew granola was SO easy to make, but do keep an eye on it because you can over toast it quickly. If you watched my Instagram Stories, then you probably saw how I burned a batch. Good thing it's quick to make! I had another batch ready to go in minutes! Print out the recipe below.
These Aussie Bites are also a great healthy snack.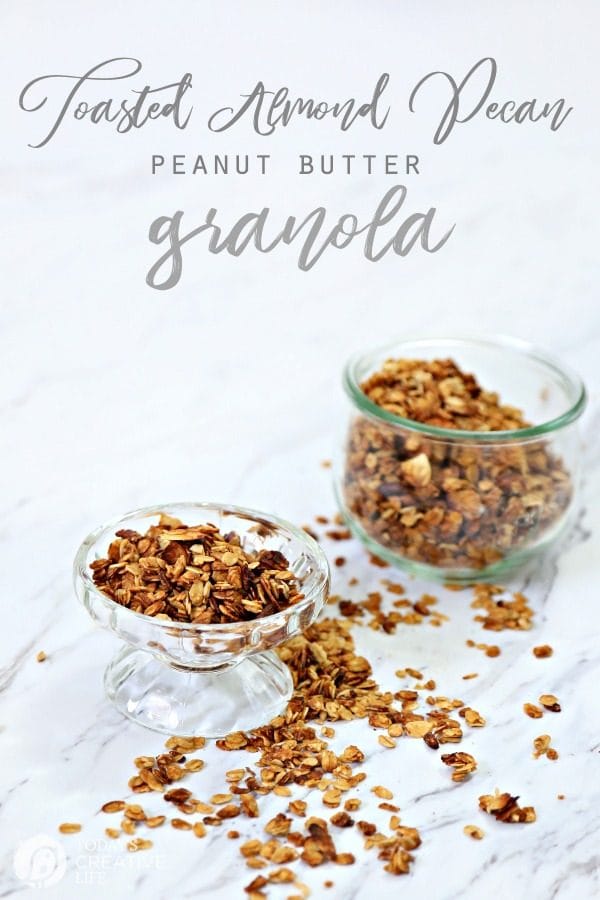 Eating healthier seems to always be a priority for most people, as it should be right?
After spending a few weeks in Europe this summer, I was impressed with their lack of food and diet obsessions and their focus on the abundance of wholesome, balanced and fresh foods. Nothing is refined! It was a good reminder to continue to make healthy decisions! Removing artificial sugars is a big one for me!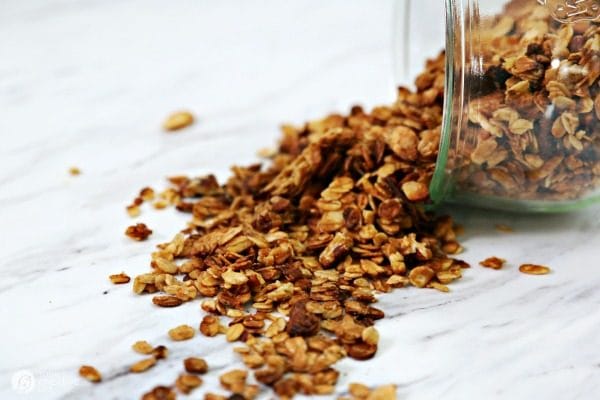 It made me feel good about my breakfast choices; FAGE Total Split Cups with my homemade Granola. I am totally rocking the healthy breakfast decisions!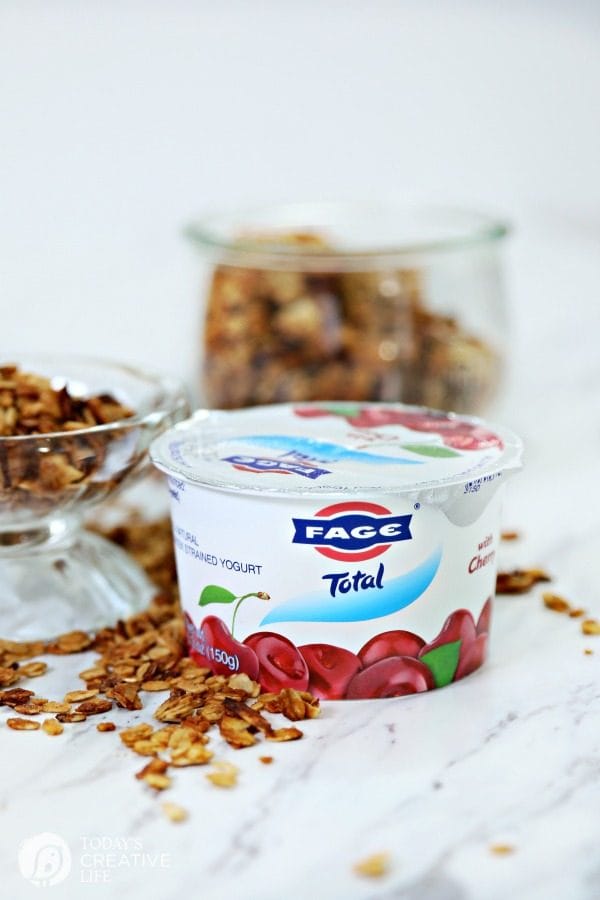 As mentioned, one of my healthy habits includes the FAGE Split Cup Yogurts.
FAGE Total Split Cups are all-natural, rich in protein, not in sugar, creamy, nutritious and always satisfying. Eat them alone or add my homemade granola for a bit of crunch. Both are my perfect solution for more satisfying breakfast or treat.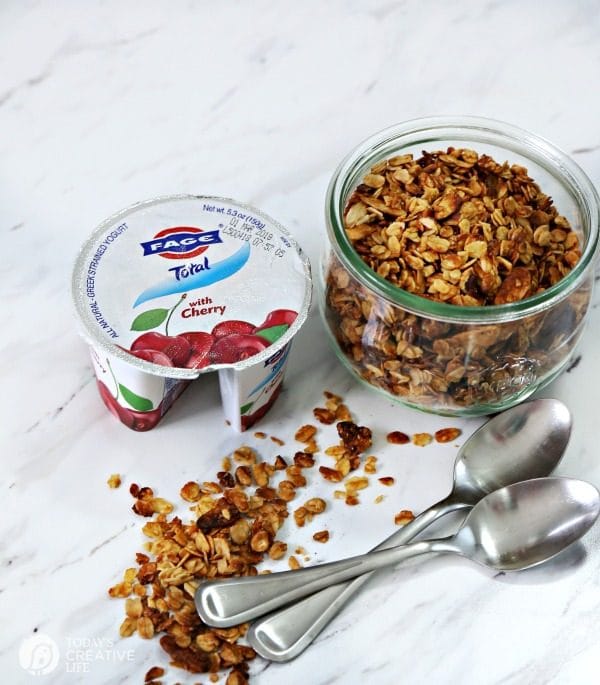 They come in 3 different fat levels; FAGE Total (whole milk), FAGE Total 2%, FAGE Total 0%, and in a variety of fruit toppings.
Strawberry, peach, and cherry are my favorites right now. Eating healthy doesn't have to come at the expense of a little decadence!
When I'm not eating them for breakfast, I'm eating one for a mid-day snack or dessert!
How to Eat a FAGE Total Split Cup with Homemade Granola
The split cup design is what I LOVE!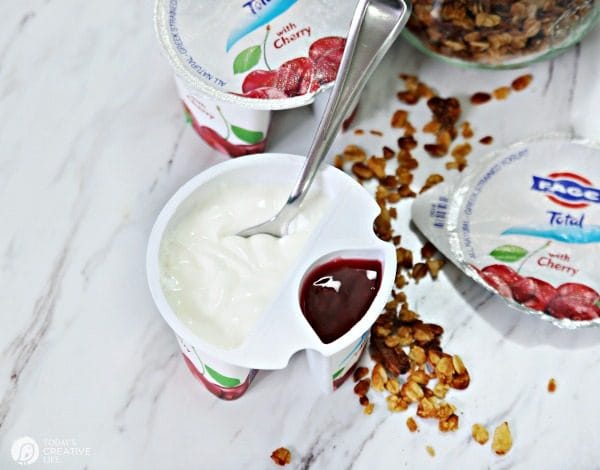 Well, I love a lot about them, but I have to admit I look forward to flipping that split cup up, allowing the delicious real fruit topping to pour out into the creamy Greek yogurt.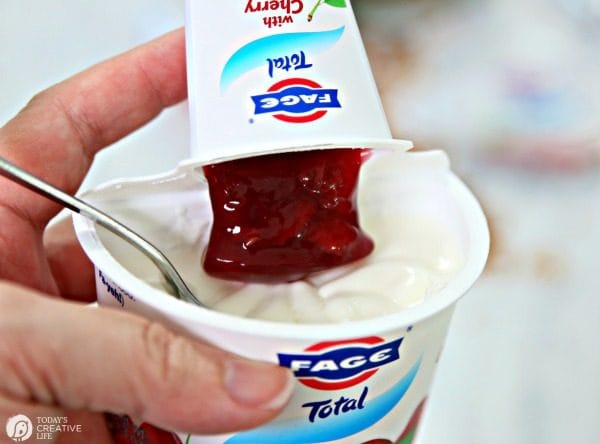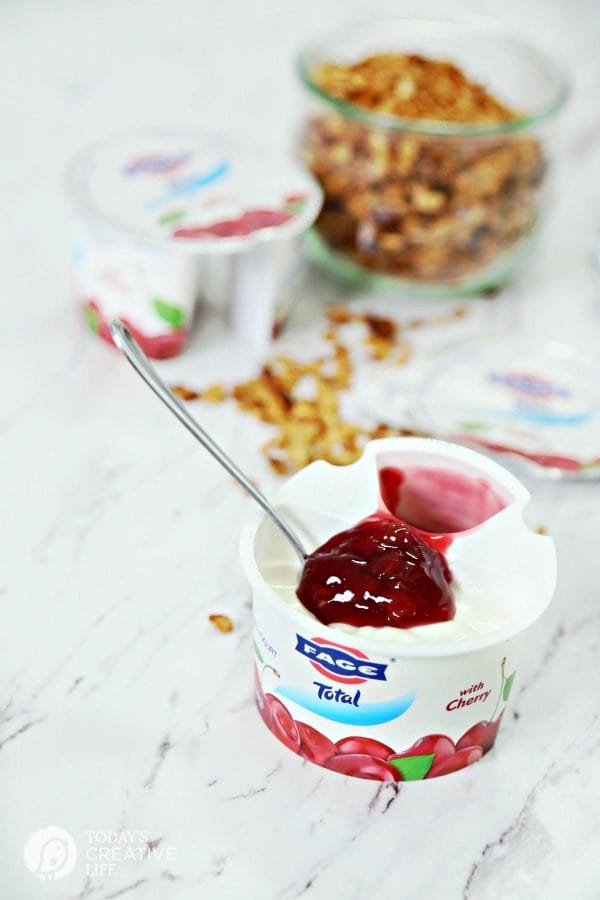 Eat it just like this, or add a sprinkle of my toasted almond pecan peanut butter granola to the top and stir.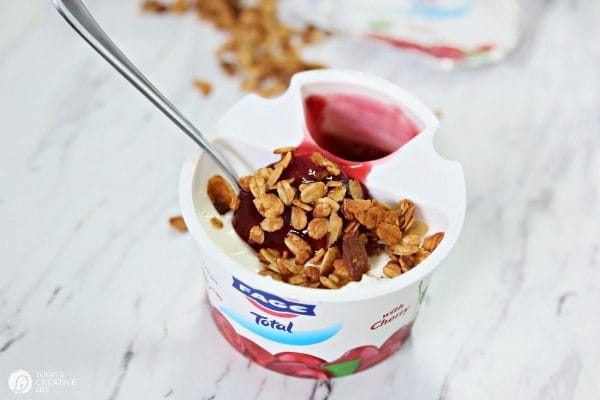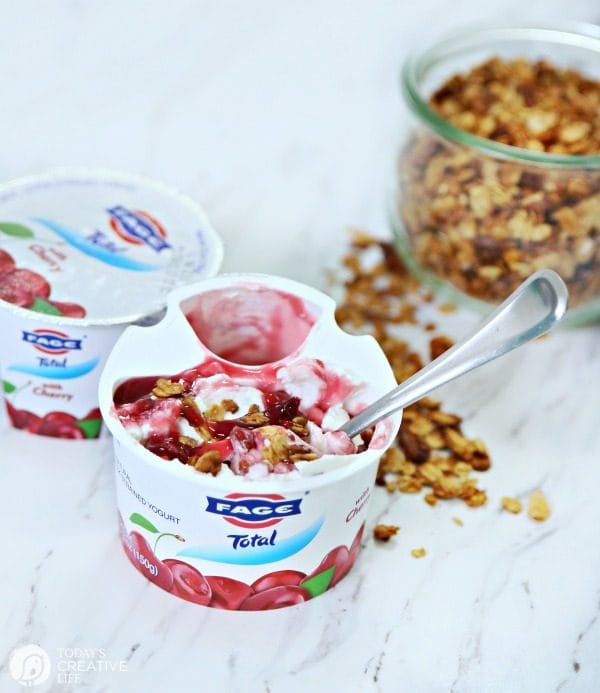 See how easy that was? And doesn't that look delicious?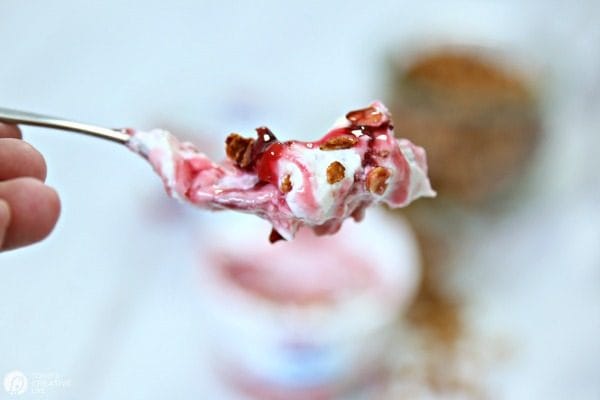 That's a little piece of all-natural, indulgent, nutritious and satisfying Greek strained yogurt heaven, all in one spoonful!
Homemade Toasted Almond Pecan Peanut Butter Granola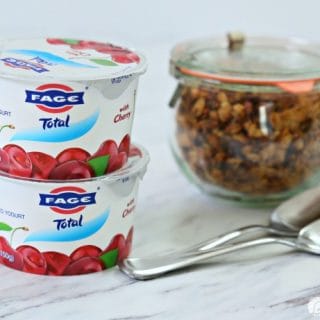 Toasted Almond Pecan Peanut Butter Granola
Prep Time: 10 minutes
Cook Time: 15 minutes
Total Time: 25 minutes
Easy to make homemade granola full of flavor and crunch.
Ingredients
2 tablespoons butter
1/3 cup peanut butter
1/3 cup honey
1/2 teaspoon vanilla
1/4 teaspoon salt
3 cups rolled oats
1/2 cup sliced almonds
1/2 cup chopped pecans
Instructions
Melt butter, peanut butter and honey over low heat.
Add vanilla and salt; stir
Remove from heat and stir in oats and nuts
Spread evenly onto a parchment paper-lined baking sheet
Bake at 375 degrees for 10 min.
Remove from the oven and move the granola around, then spread evenly.
Return to the oven and broil for 5-10 min.
Watch carefully, it can burn quickly.
Store in a sealed container.
Notes
Swap out the peanut butter for any other nut butter.
Use any nuts you'd like.
Add shredded coconut if desired before baking.
Nutrition Information
Yield 5
Serving Size 1/4 cup
Amount Per Serving
Calories 534
Total Fat 30g
Saturated Fat 6g
Trans Fat 0g
Unsaturated Fat 21g
Cholesterol 12mg
Sodium 227mg
Carbohydrates 59g
Fiber 8g
Sugar 21g
Protein 14g
Nutrition information isn't always accurate.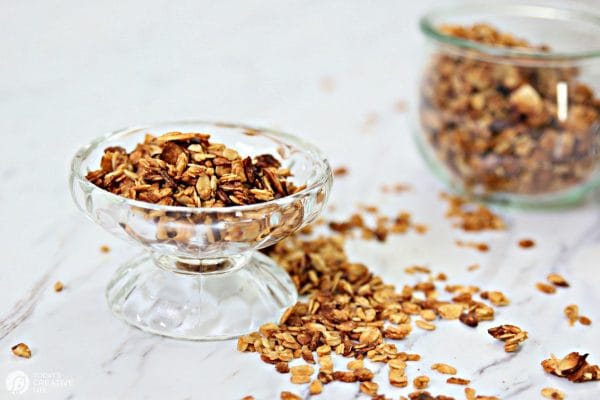 This granola makes a great snack anytime.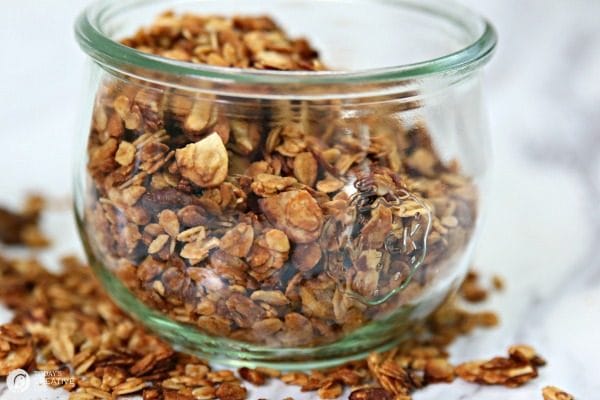 I've noticed that if I want to create bigger chunks, the key is to gently toss after baking, as to not break it into smaller pieces.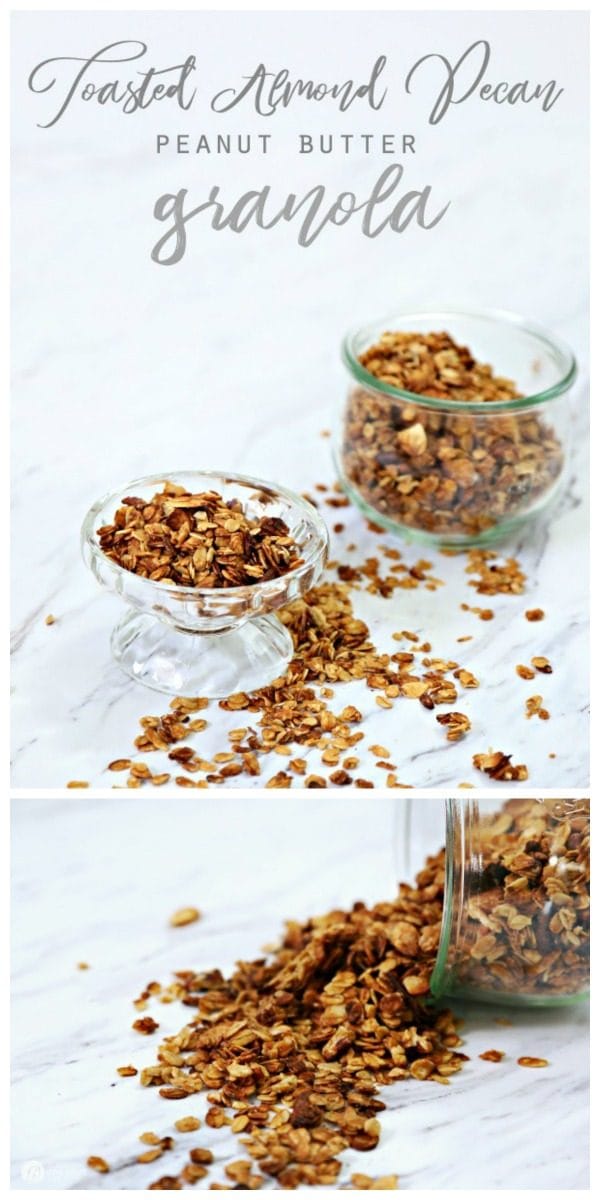 What variety and fruit flavor are you excited to try?
Breakfast Recipe Ideas
Simple and easy breakfast favorites.
Breakfast casserole recipes like this one are a great way to use up leftover holiday ham.
This breakfast casserole is a brunch favorite.
Photo Credit: www.theidearoom.net
Crockpot egg, sausage and hashbrown breakfast casseroles are easy and always delicious.
Photo Credit: kidsactivitiesblog.com
Make up a batch for the whole week.
Grab & Go High Protein Breakfast ideas with Egg, cheese, ham, and potato muffin cups.
Sausage Gravy and Biscuits is a southern specialty! This easy gravy recipe is made with pork sausage and drippings along with milk and flour, making up a thick creamy gravy to serve over fresh biscuits.