Today I'm sharing Stylish Functional Bedroom Decor that will create more storage and dedicated space for any bedroom. Storage space has always been an issue in this house and I'm now thrilled with the layout and function of our master bedroom.
Update: See the new bedding I just ordered for my bedroom.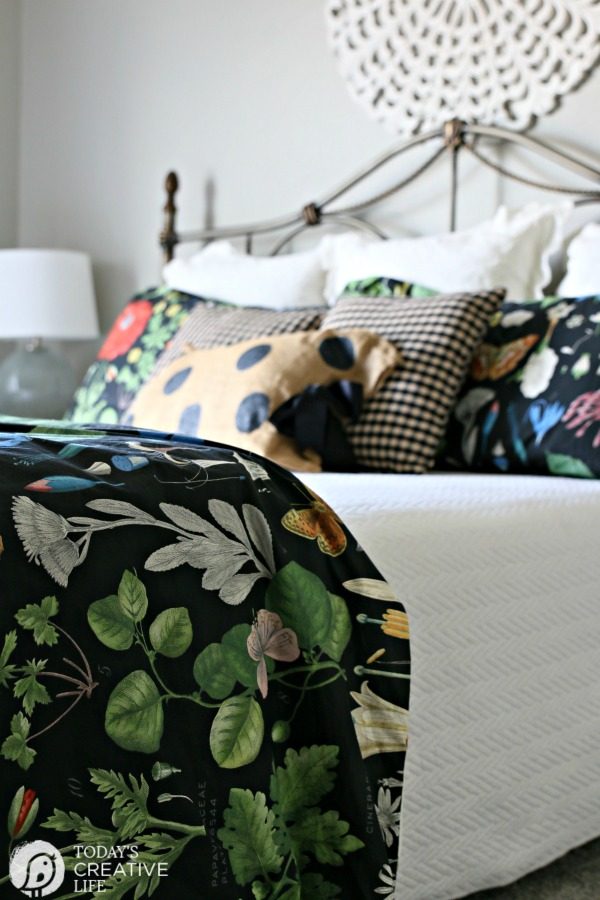 Stylish Functional Bedroom Decor
We recently had new carpet installed upstairs in our home, which was the catalyst to give my master bedroom a mini makeover! I needed to add a bit more style that was also functional. Here's the before, right after the install.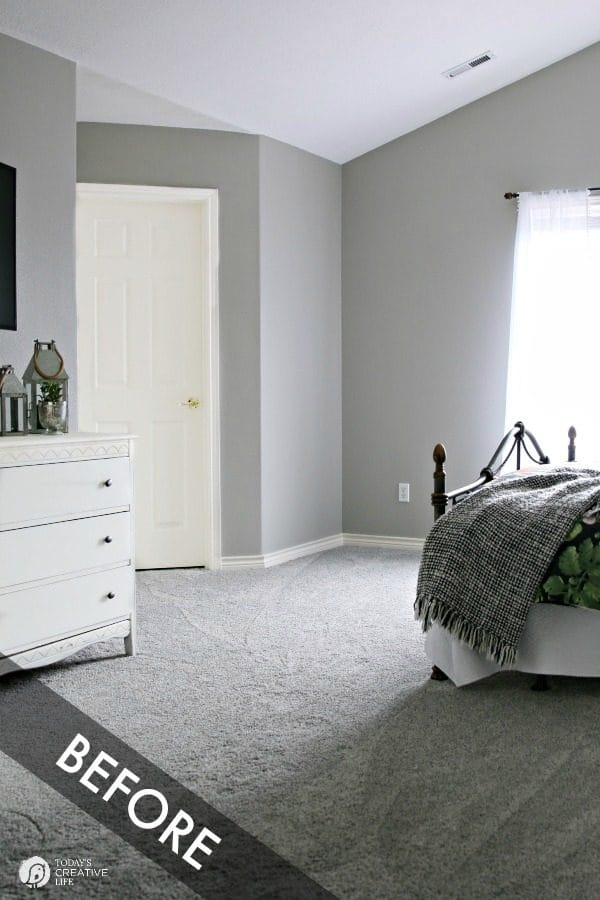 I had a large corner just waiting to be used!
Because our master bath is smaller than most, we needed more storage (always) for bath linens, a few toiletries, and jewelry. I have also been wanting an ottoman at the end of my bed ever since we moved in 15 years ago. I love that look.
Here's the after.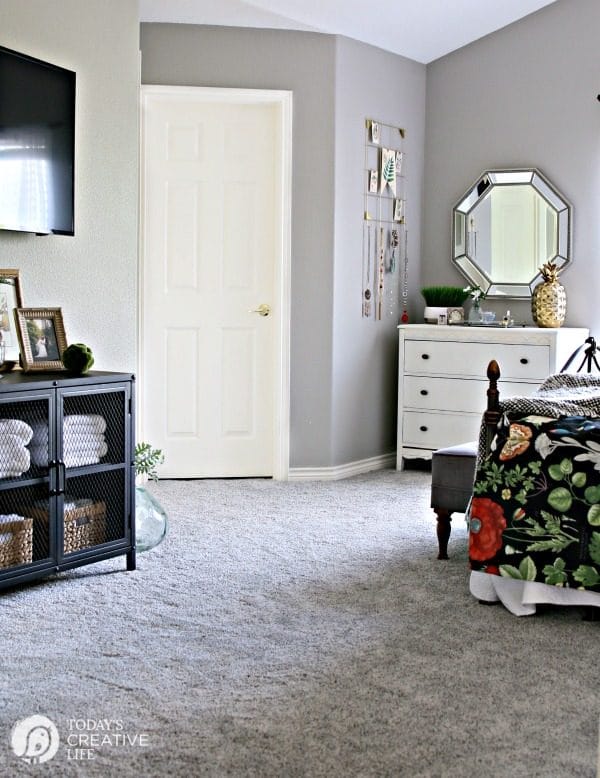 The room feels SO much better. I feel happy just walking in.
The flow of the room feels natural and inviting.
I was able to create 3 different spaces that now serve a purpose. Stylish functional bedroom decor can be tricky when you want it to be both beautiful and practical.
I was determined to create a useful space that also met my creative decorating personality.
Stylish Storage
3 new dedicated areas!
I created a space for jewelry, perfume, and small personal items. This means it's no longer taking up much-needed space in my bathroom, or lost in some drawer. Now I need to find the rest of my jewels!
I added 2 of the BHG Colette Tufted Ottomans for the appearance of one long one. Because they're smaller, I can use individually where needed or together at the end of our bed. You may remember I used one for our Fall Entry Way Decorating post last year.
I bought another Better Homes & Gardens Multi-Purpose Metal Cabinet for our extra towels. This one is the smaller 2 door version of the 3 door cabinet I shared last month in my Stylish Storage Solutions post. Since the two are somewhat close in proximity, carrying the industrial look for under the huge TV that my husband bought, seemed like the perfect combination. It kind of ties in the harsh look of the television. At least we can try to make it look stylish, right?
This industrial storage cabinet is the real star! It's so versatile and looks great with or without the added baskets.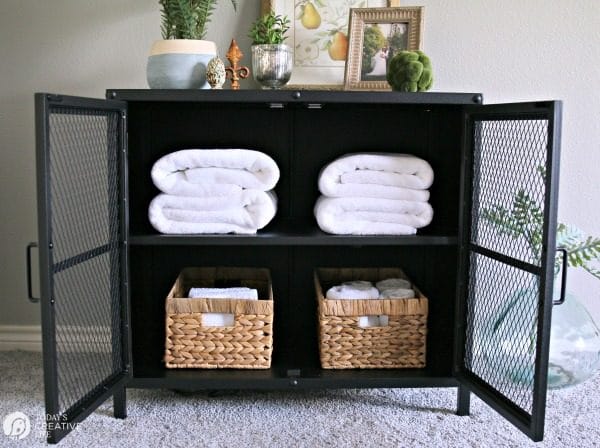 I'll be able to add a lot more than shown.
The doors close with a magnetic pull, which is nice.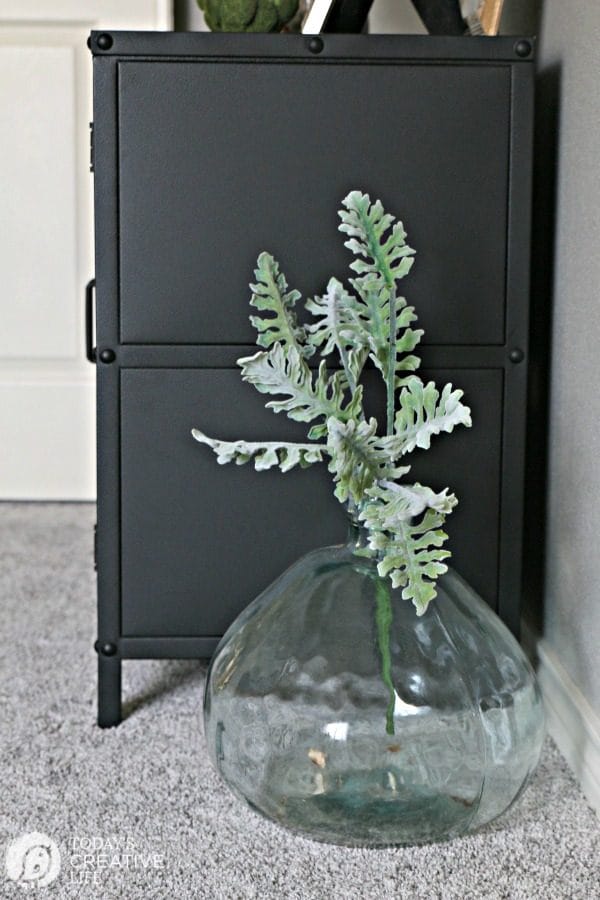 The exposed rivets give it that farmhouse meets industrial vibe.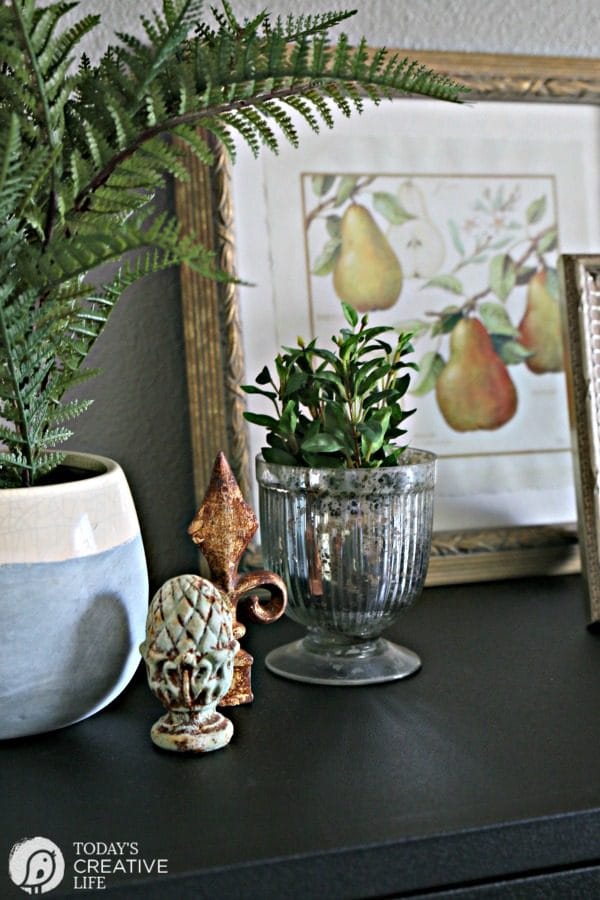 I also love how my vignettes pop on the stark black surface.
I believe in decorating with practical pieces and items you LOVE. Trends come and go, but don't forget to add a bit of your own personality for decorating longevity. If it looks like a showroom or a fancy magazine, then the personal touch is gone. This is your home! Make it look how you want to feel! Remember, home decor can be useful and practical, as well as beautiful! Stylish Functional Bedroom Decor isn't as hard as you think!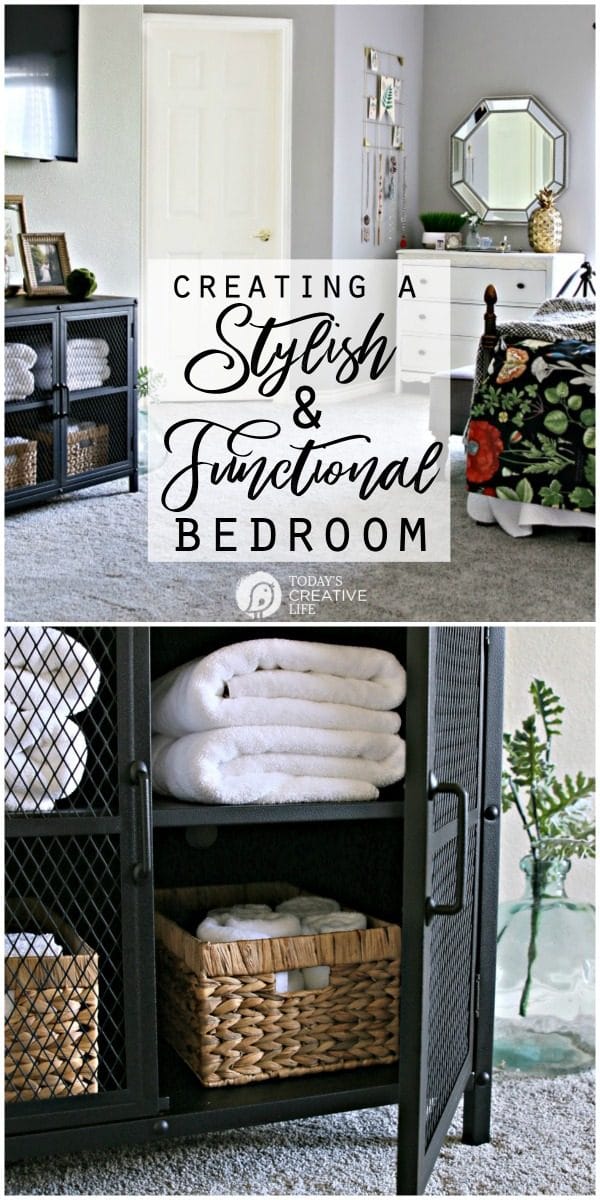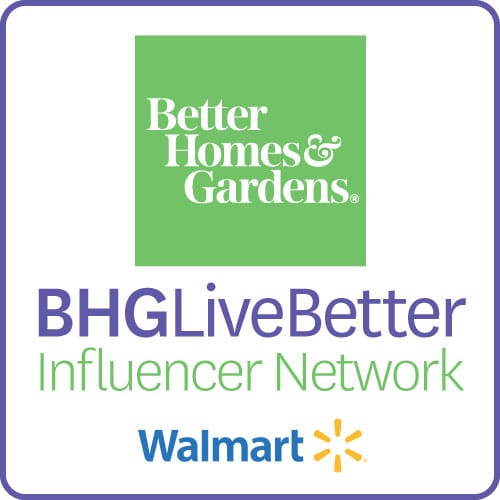 Stylish Decorating Ideas
Budget-friendly and stylish ideas for decorating your home.
Simple storage ideas that look beautiful too.
Buffalo Check with lemons makes this laundry room fresh-squeezed.
Decorating a dorm room for boys.
Create a beautiful master bedroom at a fraction of the cost.
Simple ideas for a beautiful bathroom.
Function and creative workspace on a budget.
Use what you have along with a couple of statement pieces.
This bachelor pad makeover was under $600!
---