These laundry room makeover ideas are all budget friendly but still very stylish ways to decorate your laundry room!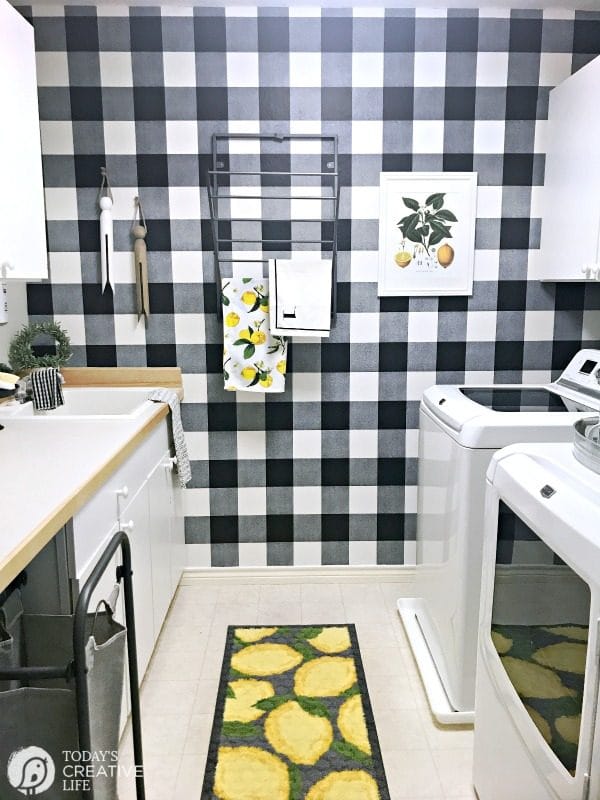 I have been wanting to create a stylish, yet functional and Budget Friendly Laundry Room Makeover ever since we moved in 16 years ago. With the help from Better Homes & Gardens sold exclusively at Walmart, I was able to do just that!
Any room makeover on a budget is my jam! I'd say it's my specialty! See this budget friendly family room makeover I transformed for my girlfriend or my own living room makeover ideas on a budget.
As one of the BHG Live Better influencers, our challenge this month was to organize a much-needed space in our home. This was the kick in the pants to finally give my laundry room a makeover. Keep reading to see the before photos.
Budget Friendly Laundry Room Makeover
Our laundry room is on our top floor nestled next to our bedrooms, which makes it so nice when doing laundry. No hauling loads of laundry up or down the stairs, making it much more convenient… if laundry can be convenient. Truth be told, my husband does 99% of the laundry. He's really efficient, whereas for me… I think there are way too many steps, I am bound to get hung up somewhere.
When he asked me to marry him, I said yes on 3 conditions. 1. He stays out of all decorating decisions. 2. He does all the laundry. 3. He manages our money. It's worked out great for the past 21 years.
Laundry Room Makeover – Before
Since moving in, I haven't done ANYTHING to this room, which won't shock anyone after looking at these before photos.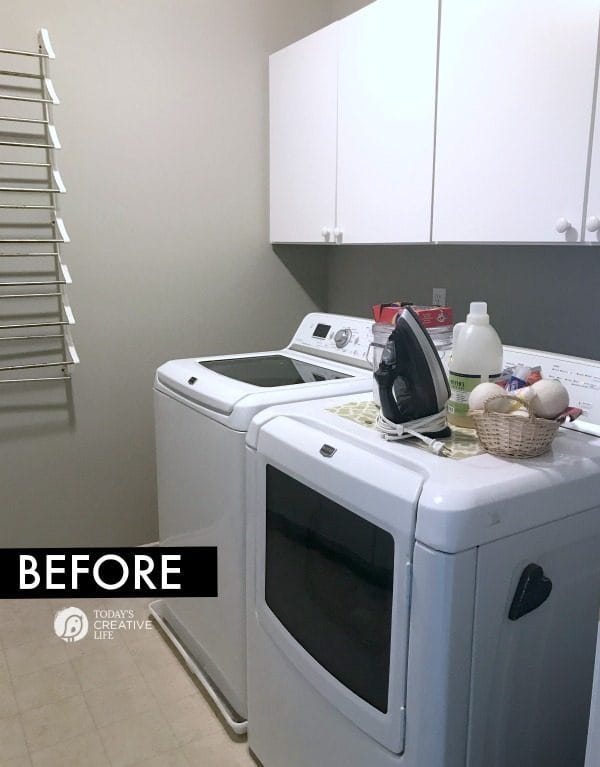 It was a functional room, it got the job done. The cupboards needed purging and reorganizing. My Party Pantry needed to be restocked and organized. It was time to take control and make it more aesthetically appealing by creating a budget-friendly laundry room makeover.
The old shoe rack the previous owners had placed and used as a drying rack was still there. It's not a bad idea and it actually worked pretty well, if it hadn't rusted. Our utility sink is stained with paint, dye and who knows what else. The walls and cupboards surrounding it are covered with paint splatters. It's definitely a "working" room!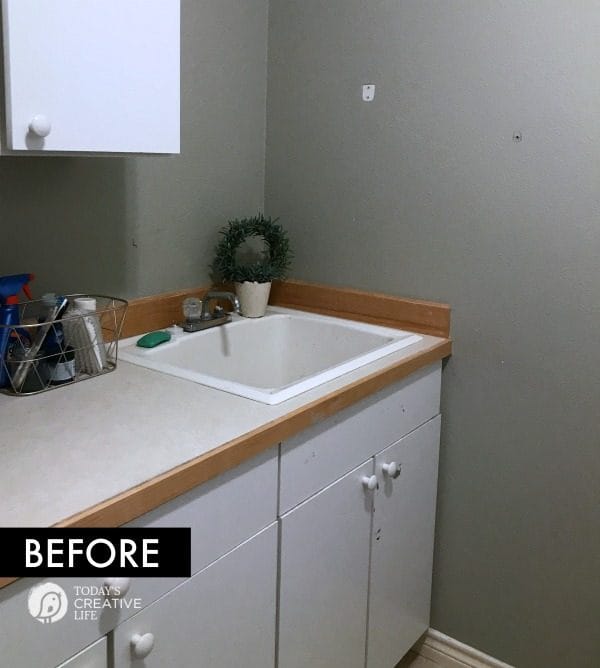 Not only was it ugly, but it was also SO dusty! I hadn't ever wiped down the walls and hadn't used a broom for at least 6 months.
Laundry Room Makeover – After
Look how gorgeous it is now! With a little elbow grease, new wallpaper and products from BHG, I put together the best budget-friendly laundry room makeover ever!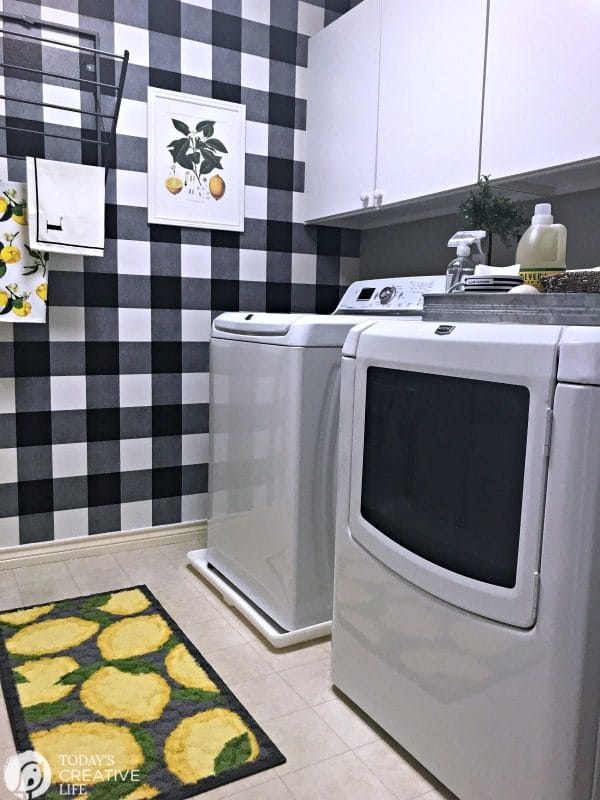 Better Homes & Gardens Laundry Room Makeover Products
Lemon Kitchen Rug $9.40 – Don't let the word kitchen fool you! Mine is the 1'8″ x 3'6″ size. It also comes in a larger and smaller size.
Oval Galvanized Tray $9.88 – I think I own every galvanized tray BHG makes. You never have enough.
Galvanized Bin $7.47 – I've used these before for the Farmhouse Office Makeover.
Gold Rim Galvanized Bin – $15.46
Canvas Lined Wire Basket with Chalkboard Label $7.47 – These are really handy! I've used them in my small pantry makeover too.
Wall Mounted Steel Drying Rack $9.97 – I've been wanting a new one forever! Because it mounts directly to the wall, I would recommend placing a couple of washers between the wall and the rack when mounting. The moving sections sharp metal corners may scratch the wall.
Wax Warmer $10.00 – I have one of these in all the bathrooms, the kitchen and the basement!
Wax Melt $3.47 – I love this scent for the laundry room!
Laundry Sorter $24.88 – This comes in a 3 bag or 4 bag size. I love the linen type fabric and large baskets. The rolling wheels make it so nice to work with.
Bamboo Organizational Box $6.98 – These come in a couple of different sizes and they stack, which make them really versatile for many uses.
Design Inspiration
The Lemon rug was my inspiration piece.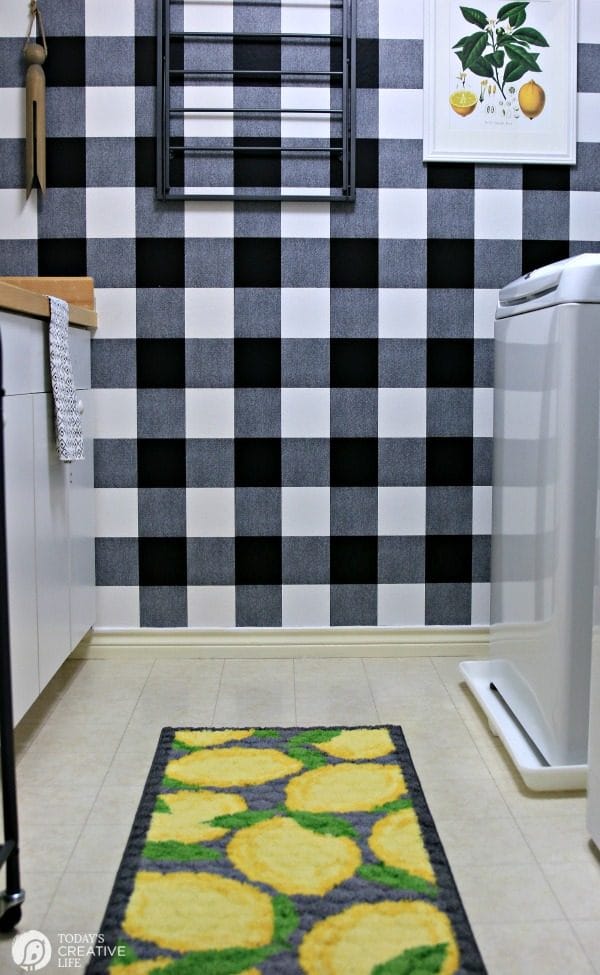 I fell in love with it the minute I saw it online. The Black and White Buffalo Check peel and stick wallpaper was already purchased. Originally, I hadn't planned on using it in the laundry room, but couldn't help myself after seeing how perfect it would be with the lemons!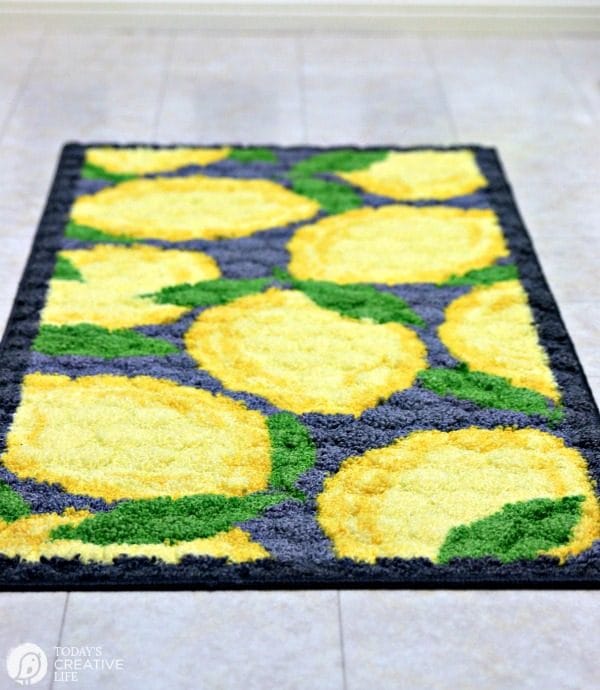 I may order another rug to make it look like a longer runner, or maybe for my kitchen.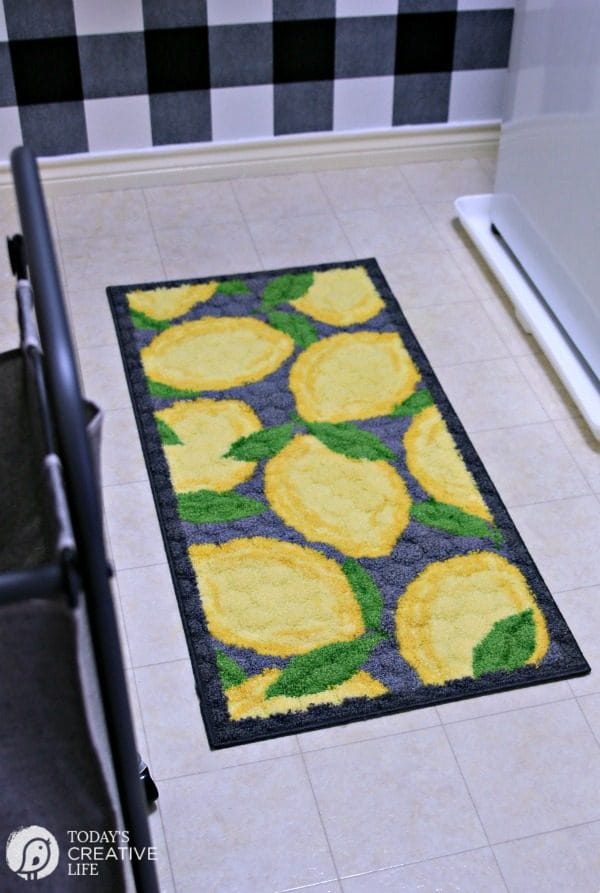 Clothing Rack
I also knew I wanted to replace that hideous drying rack so you can just imagine my excitement when I came across the wall mounted one, I was sold! Every budget friendly laundry room makeover needs a way to air dry clothing when needed.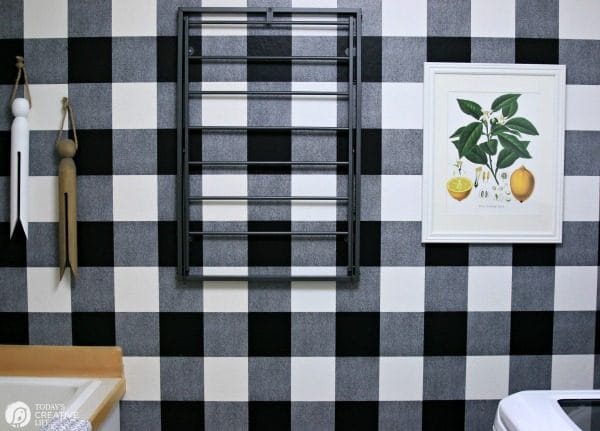 When not in use, it folds up flat to the wall.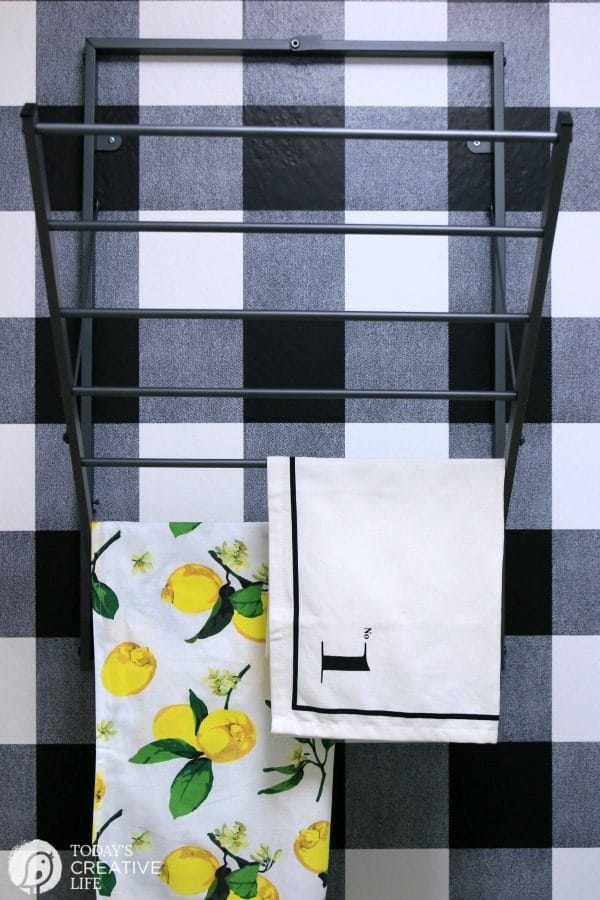 You can have it at an angle or completely horizontal.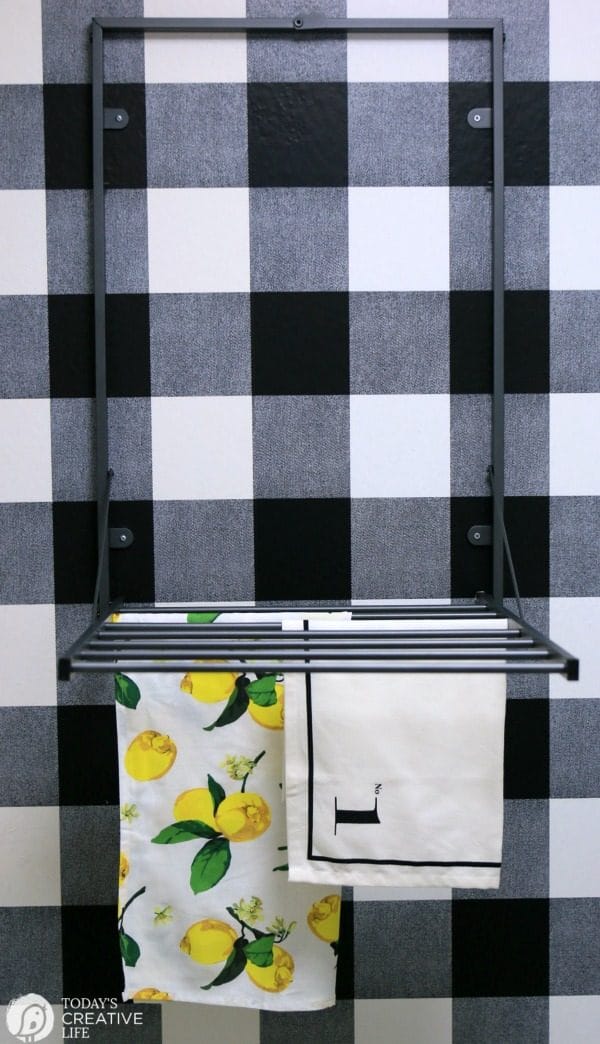 And when you're finished, just fold it back up. I love that it doesn't take up much space in my tiny laundry room.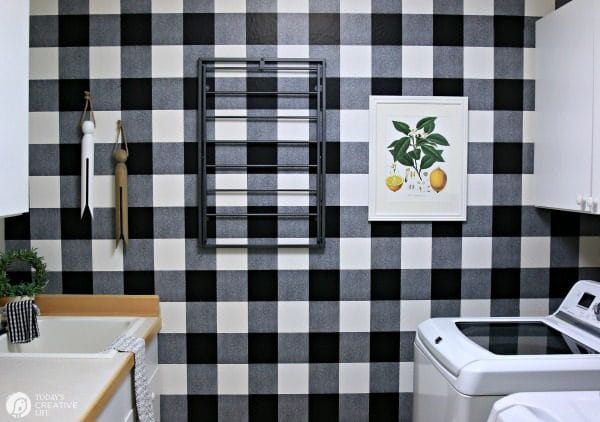 Daily Laundry Supplies
I corralled all our daily laundry supplies with a cute tray.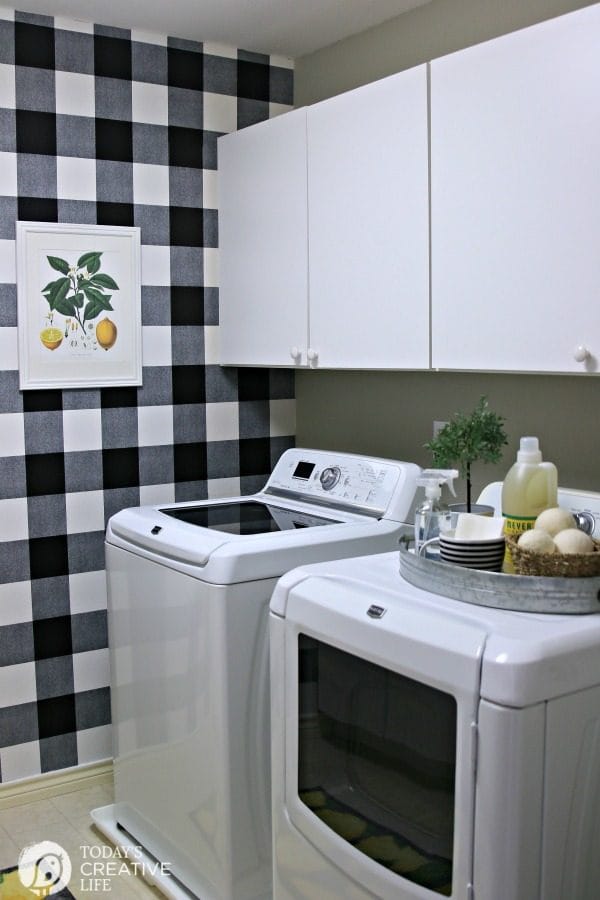 I love how deep it is and it fits perfectly on my dryer.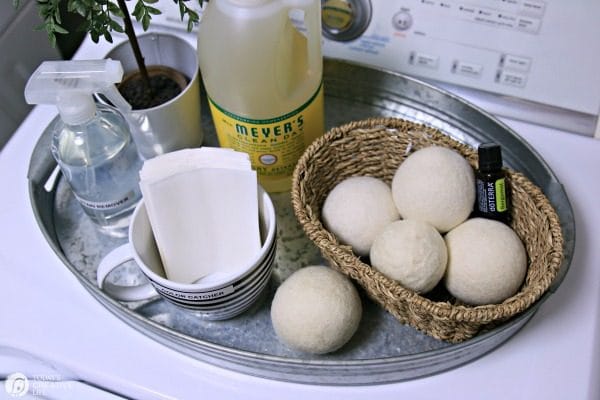 It's large enough to hold all our supplies without looking cluttered.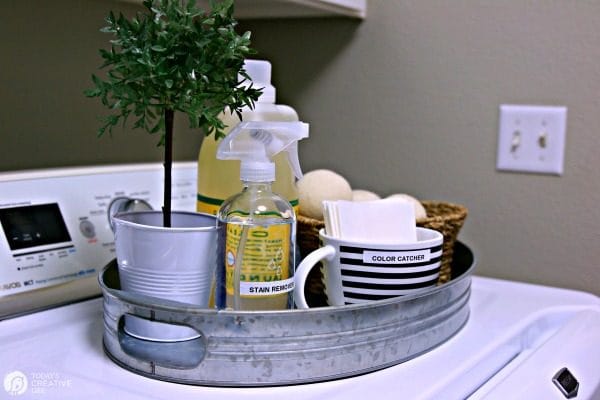 Look at those handles. I love them! They make it easy to move if needed.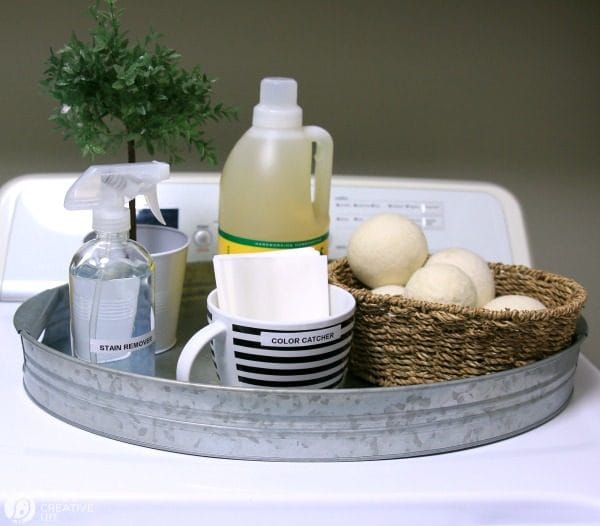 Laundry Room Storage & Organization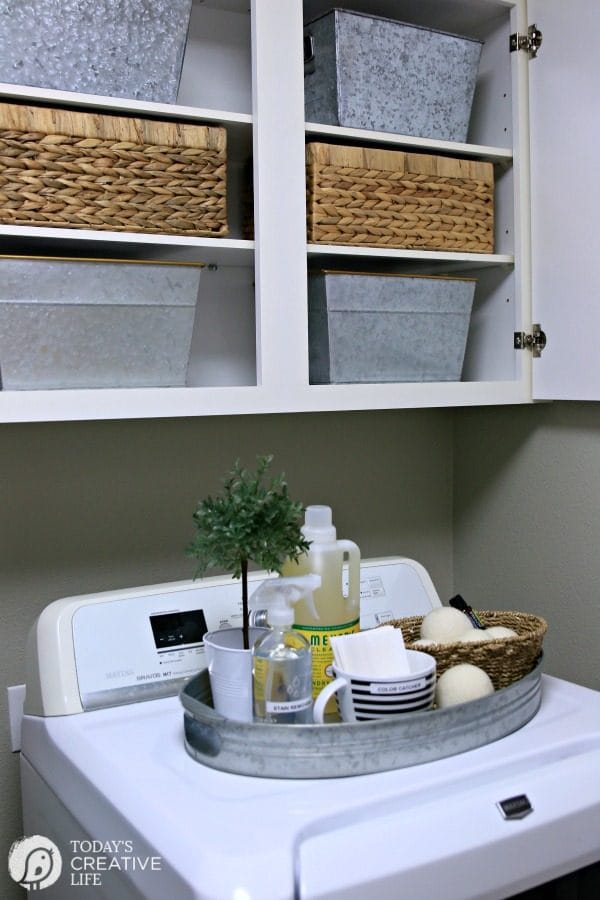 I decided to use more galvanized storage options for the cupboard. We're storing light bulbs, candles, flashlights, extension cords etc… I like that they're solid and hide all the items that look cluttered. I can add labels if wanted.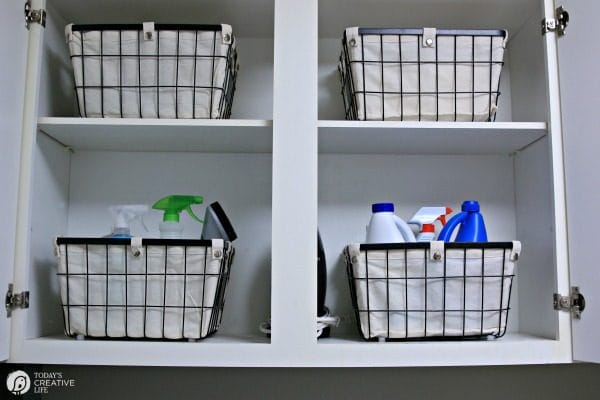 For the other cupboard, I went with the canvas lined baskets. These store extra laundry and cleaning supplies.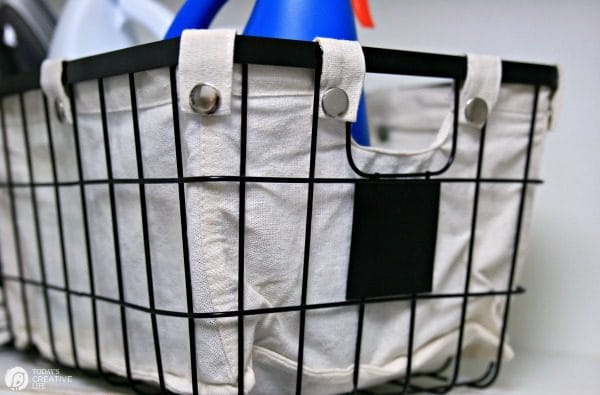 When I find my chalk, I can write on them if wanted. I like that the lining is easily removed and washable.
Dirty Clothes Bin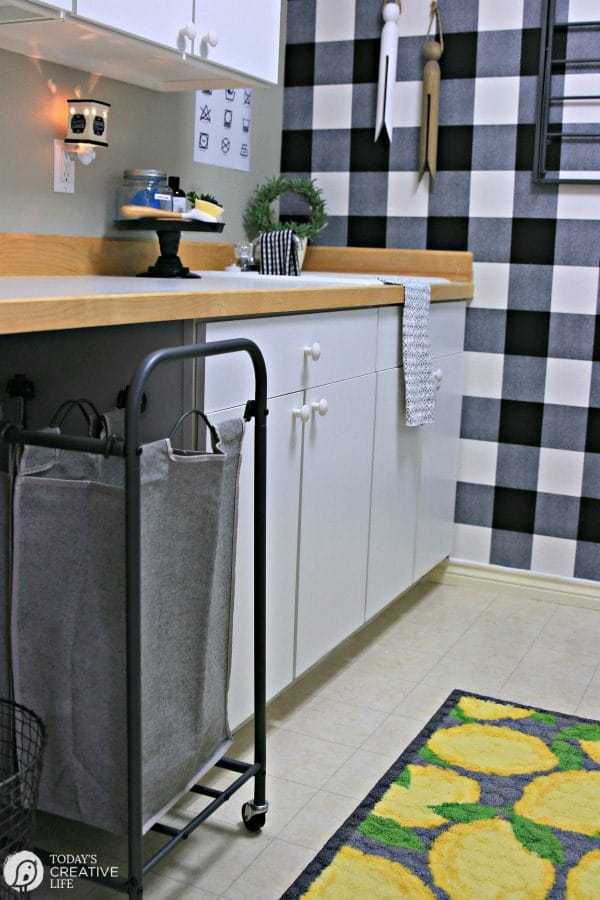 I was really surprised by the durability and linen texture and color of these rolling laundry baskets. Having removable multiple bins makes it easy to separate colors and easy washing.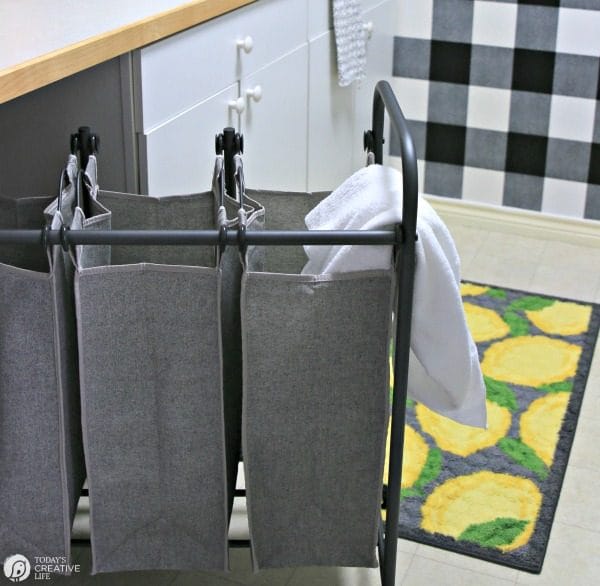 They're also big!
Extras
Just for fun, I added this wax warmer with crisp linen scented wax. The black and white design goes nicely and acts as a nightlight if needed.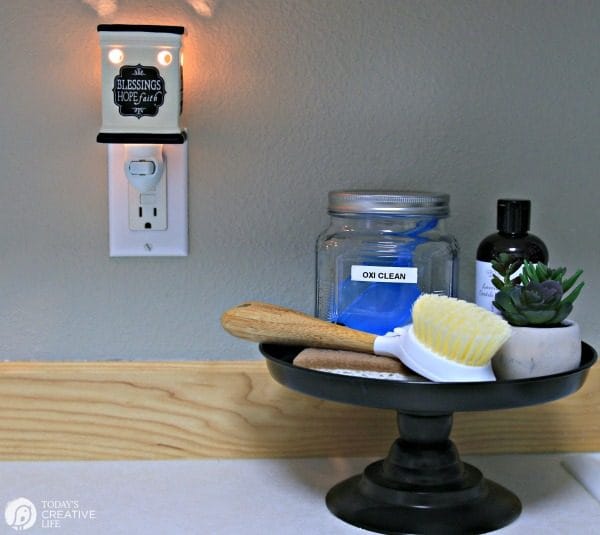 We have one drawer in the laundry room and it can become a catch-all junk drawer really quickly if not managed.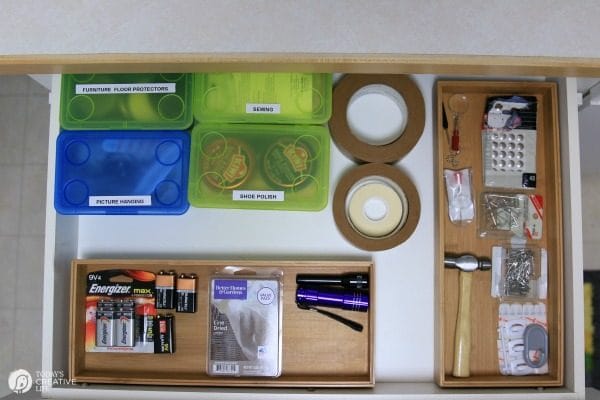 I grabbed a couple of the wooden drawer organizers for easy organizing.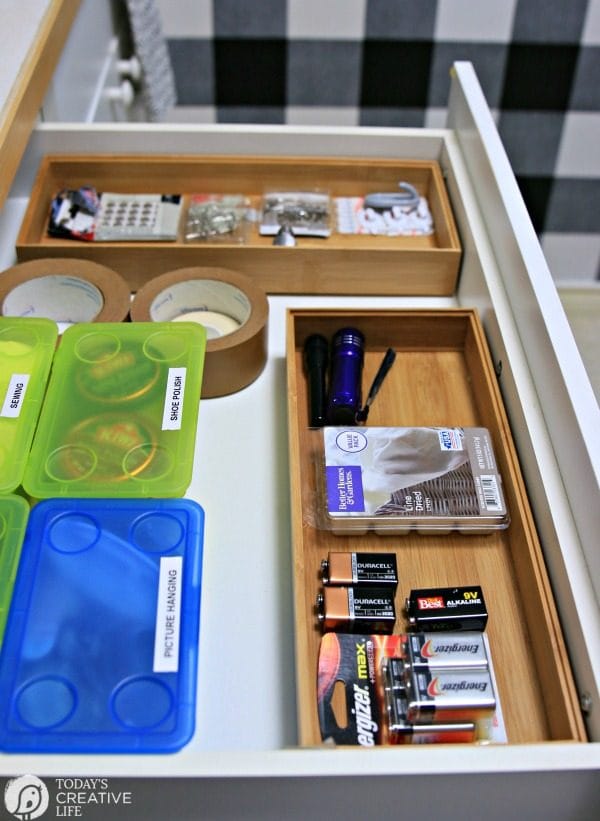 Hopefully, it will stay clean.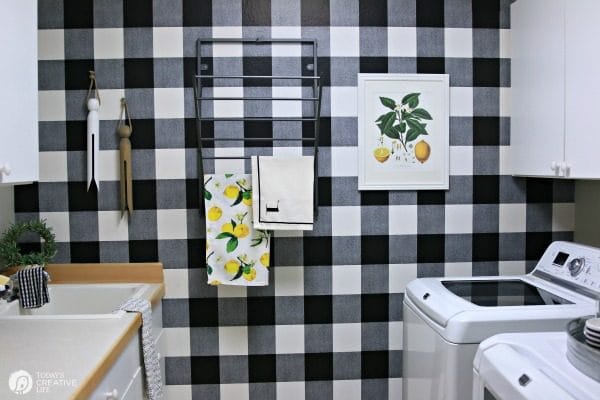 To keep this a budget friendly laundry room makeover, I kept the artwork in the laundry room simple and inexpensive. I made this Laundry Symbols printable. It's a free printable just for you!
If you're subscribed to my email list, you'll be getting it before everyone else. See the right sidebar to sign up.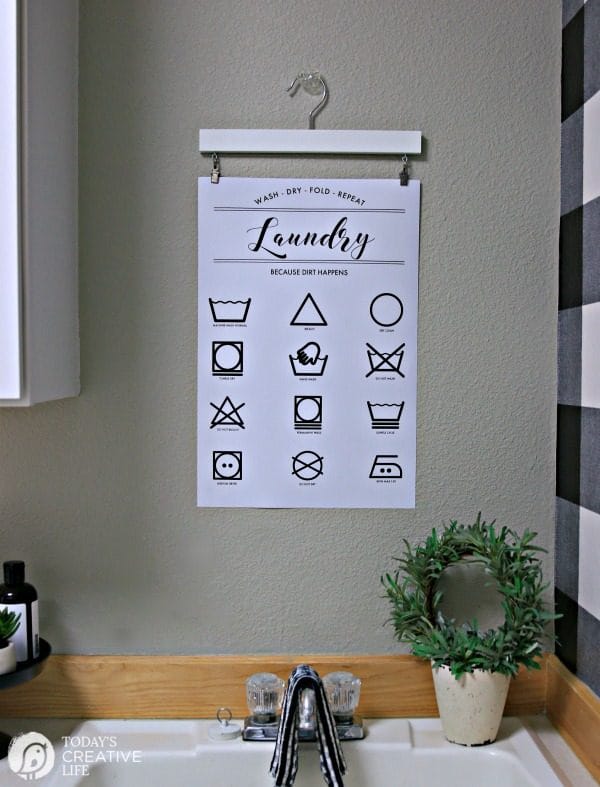 The Lemon print I already had and just framed it.
I hope you are now inspired and ready to tackle your own budget-friendly laundry room makeover!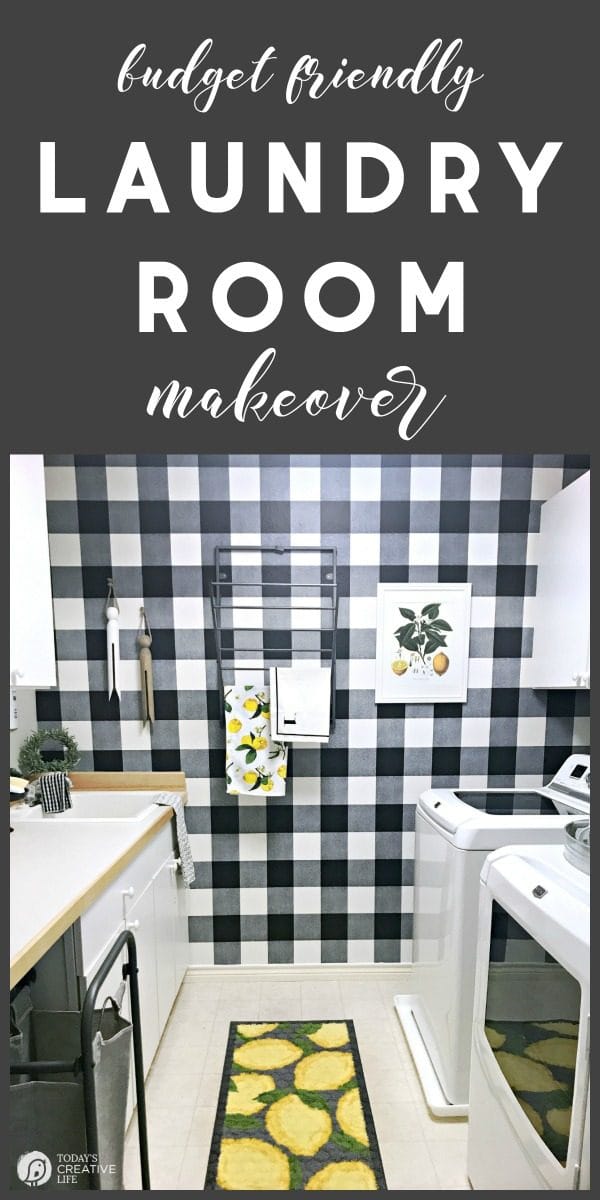 This room has literally become my favorite room. Heck, I may even start doing the laundry! Maybe.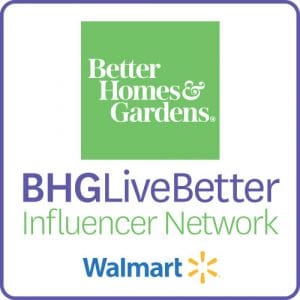 ---
Room Makeover Ideas on a Budget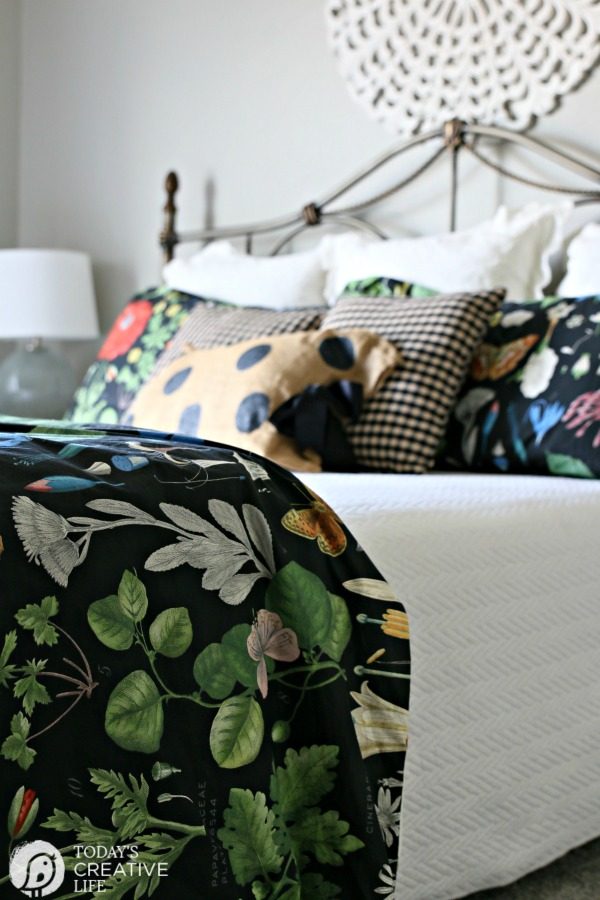 Stylish & Functional Master Bedroom Decorating
Budget Patio Decorating Ideas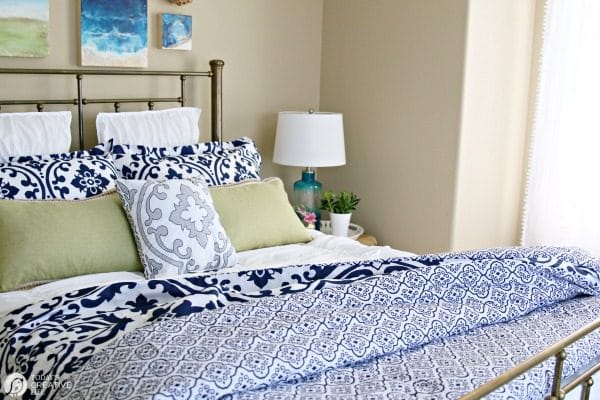 Guest Bedroom Ideas on a Budget