We love our bacon in this house! I've thought about this Sweet and Spicy Candied Bacon recipe for a LONG time! While baking my bacon in the oven, I've tried using brown sugar but decided to try a sweet pepper jelly with white wine vinegar and I'm so glad I did! The result is a tangy sweet and spicy candied bacon that is perfect for breakfast or sandwiches.
I shared on Instagram Stories when I was making this and I ate it all. Well…. I shared one piece with the pup.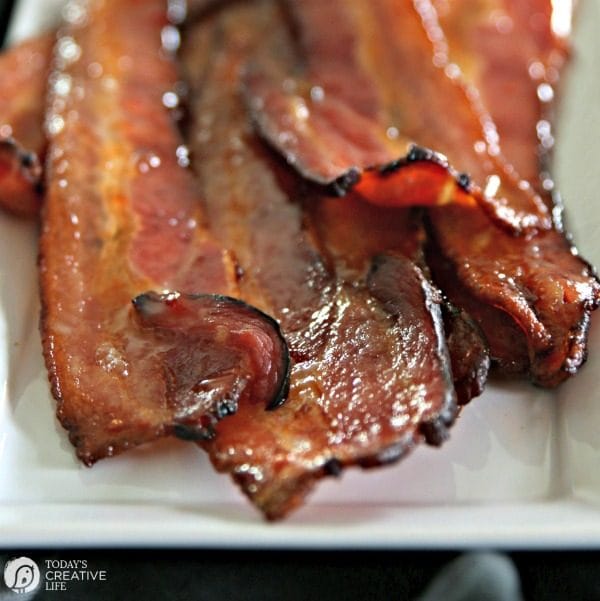 Sweet and Spicy Candied Bacon
I think the key to making the perfect sweet and spicy candied bacon is, using a thick cut and baking it until crisp.
Crispy bacon is my favorite, heck I could eat it burnt and still be happy. This recipe is great for breakfast and brunch, but think how amazing it would be in a sandwich, or on a salad. Or with a bloody mary!
You could try to make up extra to chop up and freeze for future recipes. That would never work in my home. There is never leftover bacon. Never!
How to Make Sweet and Spicy Candied Bacon
Keep scrolling for a printable recipe near the bottom.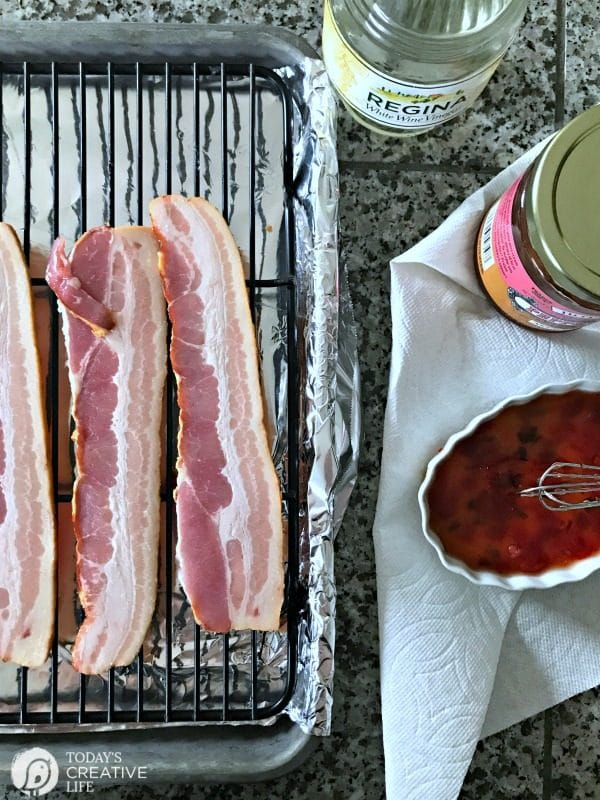 Mix up your sweet and spicy mixture.
Bake Bacon at 400 degrees for about 20 minutes. I like lining a cookie sheet with foil, then placing thick bacon on a baking rack.
When the bacon is done, leave it on the rack and brush a coat of the sweet and spicy concoction on each piece. I use a silicone basting brush.
You can broil for a minute or two, or just let it sit for a couple of minutes allowing for the sweet-spicy mixture to set.
EAT!
It's so easy and obviously delicious!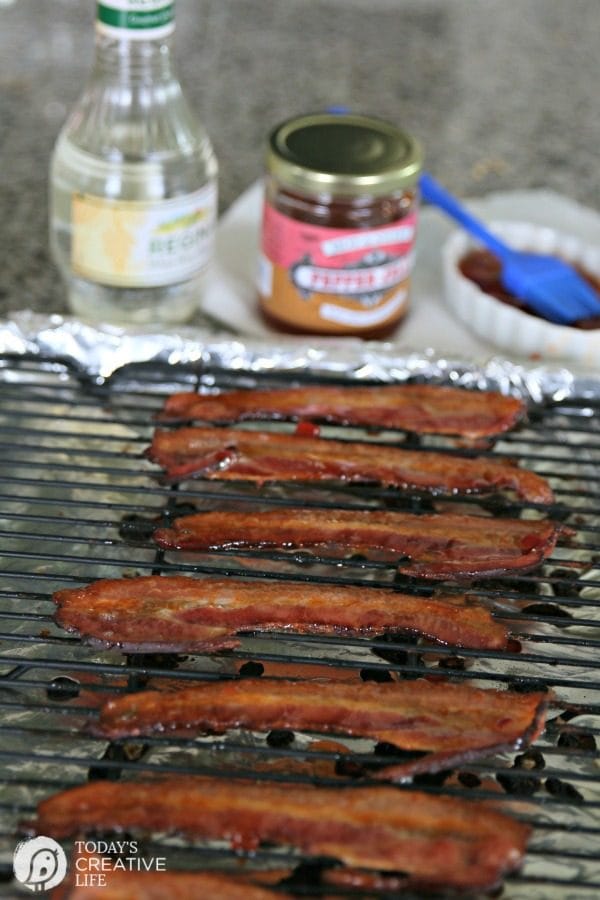 Watch how quickly they disappear!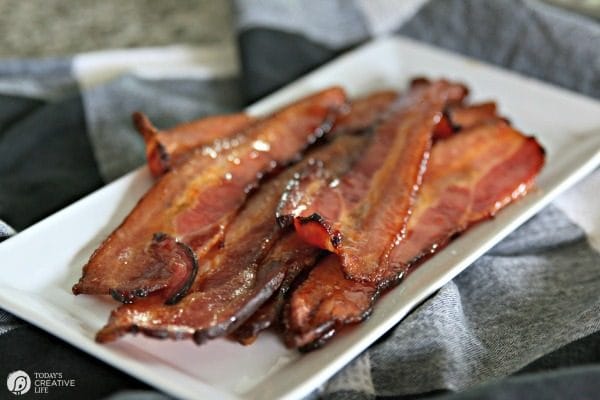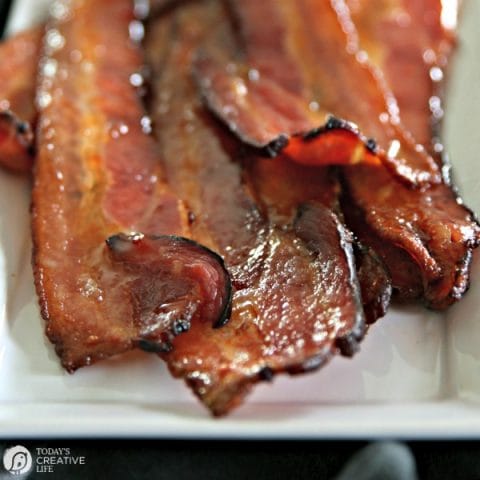 Sweet and Spicy Candied Bacon
Yield: 12
Prep Time: 10 minutes
Cook Time: 20 minutes
Total Time: 30 minutes
The perfect combination of sweet and spicy.
Ingredients
1 tablespoon red pepper jelly. I find mine at Trader Joes.
1 teaspoon white wine vinegar
12-15 slices of thick bacon
Instructions
Pre-heat oven to 400 degrees.
Line a baking sheet with foil and place a baking cooling rack on top.
Place your bacon on the rack and bake until crisp. Usually about 20-25min
While it's baking, combine jelly and vinegar in a small dish.
When the bacon is done baking, keep it on the rack and brush jelly mixture over each piece.
You can put back in the oven on broil or bake for a minute or so to get more of a caramelized coating. Or you can just simply let it set and eat.
Let set for a couple of minutes before serving.
Nutrition Information
Yield 12
Serving Size 1
Amount Per Serving
Calories 72
Total Fat 5g
Saturated Fat 2g
Trans Fat 0g
Unsaturated Fat 3g
Cholesterol 14mg
Sodium 242mg
Carbohydrates 1g
Fiber 0g
Sugar 1g
Protein 5g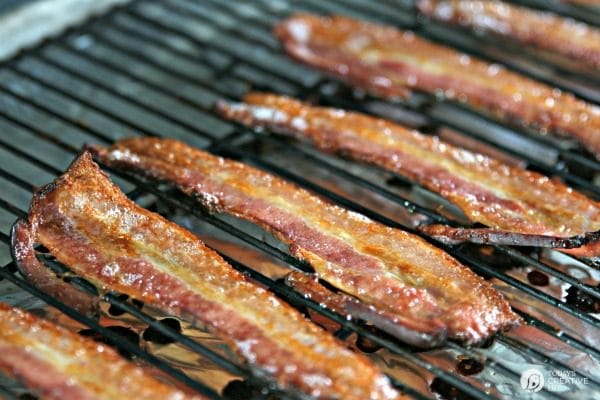 I love simple recipes that can be used for so many things.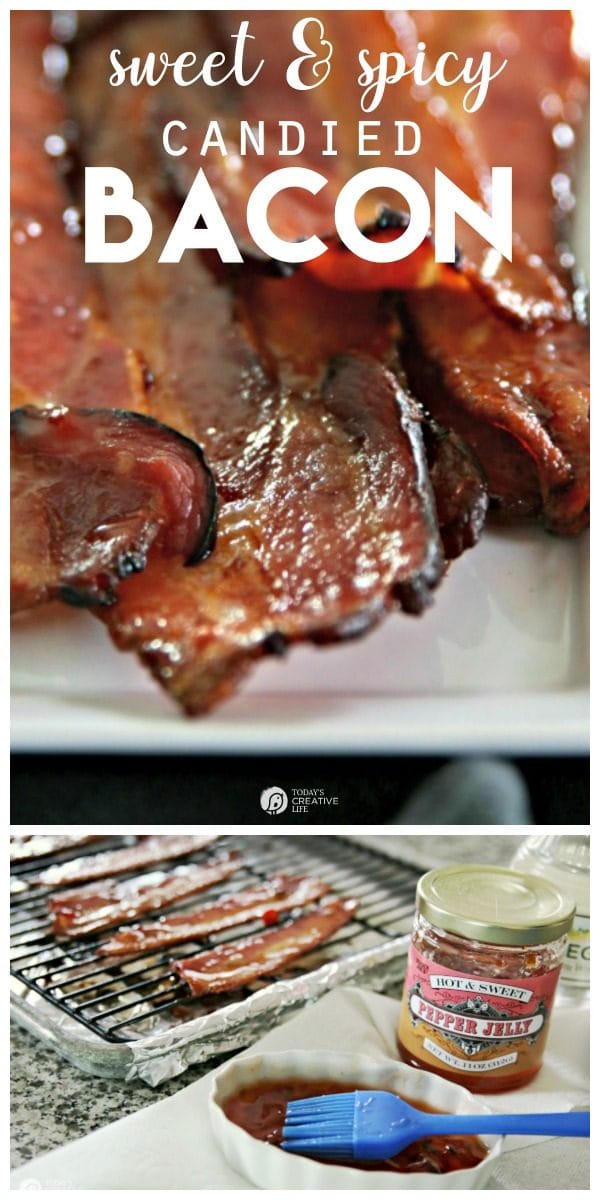 Breakfast Recipe Ideas
Simple and easy breakfast favorites.

Breakfast casserole recipes like this one are a great way to use up leftover holiday ham.

This breakfast casserole is a brunch favorite.

Photo Credit: www.theidearoom.net

Crockpot egg, sausage and hashbrown breakfast casseroles are easy and always delicious.

Photo Credit: kidsactivitiesblog.com

Make up a batch for the whole week.

Grab & Go High Protein Breakfast ideas with Egg, cheese, ham, and potato muffin cups.

Sausage Gravy and Biscuits is a southern specialty! This easy gravy recipe is made with pork sausage and drippings along with milk and flour, making up a thick creamy gravy to serve over fresh biscuits.
---