If you're looking for a creative way to decorate your patio or porch, you'll love these DIY Thrifted Rain Boots! They can be used year round for porch decor by simply swapping out the flowers. Recyled Home Decor is a great way to create a new look!
I've been known to spray paint all my door knobs, but what a great way to repurpose a worn out pair of rubber boots. Who would have thought to paint rubber boots a cute color for decorative purposes and use them to display on your porch with a plant or flowers! Perfect! She's so creative! Remember the FarmHouse Galvanized Bucket she did last year? Check out all the other Celebrate Summer ideas too!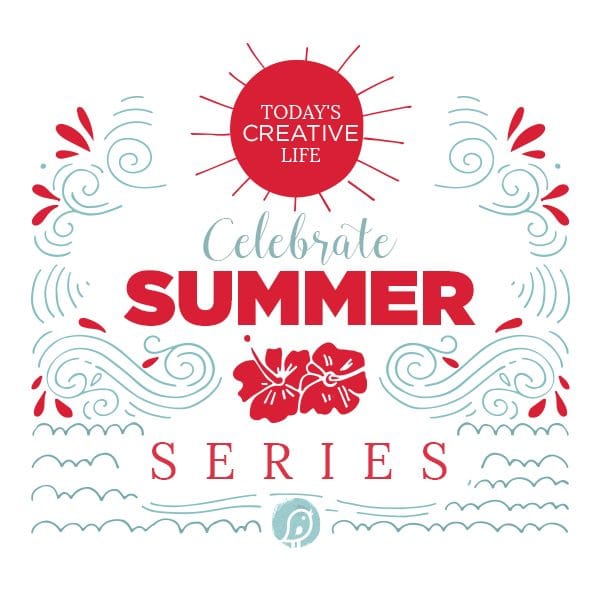 ---
Hello, Today's Creative Life Readers!
We are thrilled Kim offered us an opportunity to share a project with you today. Before we start, we wanted to share who we are. We are a husband and wife team, Salvage Sister & Mister, who desire to help create your best life by salvaging what you already have. This includes thrifting, DIY, recipes to eliminate waste and save time, junkin and junkin travel, etc.
DIY Thrifted Rain Boots for Decorating
Today we are sharing a DIY thrifted rain boot upgrade~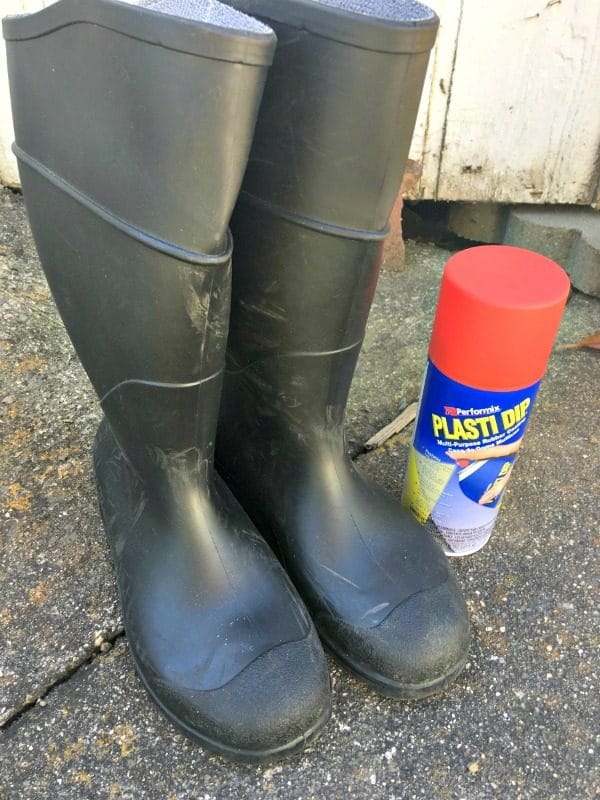 Hunter boots are all the rage….whether wearing them or for home décor. However, at over $100 that's a pretty spendy home décor item wouldn't you say?
Since they look so cute we were on a mission to salvage our own (Okay, really Salvage Sister was on this mission as The Mister really is okay without cute boots in the décor but he is always willing to help make the cute décor a reality if needed.)
At the thrift store, we found some good quality black rubber boots. Now you could totally leave them as is, and put some flowers in there but Salvage Sister wanted……colorful…bold….fun!!! She wanted to paint them…..get a spray paint can for a couple of bucks and badabingbadaboom. The Mister said not so fast. Since they are runner you need a flexible paint that will bend. Mind blown!
How to Paint Rubber Boots
Supplies needed:
TOTAL COST $15 – if you use thrifted boots.
Affiliate links for products listed are for your convenience only. This costs you nothing extra. If you happen to purchase anything as a result of clicking, TCL will receive a small percentage. Thank you for your support. This allows me to continue to offer you free content.
Clean boots so they're free from dirt and grease and completely dry.
Place boots on a drop cloth or newspaper.
Spray evenly, allow to dry then repeat.
For one pair of boots, it took the entire can of paint …..sprayed very carefully. If you are like The Mister, and are a careful sprayer, you'll be fine. If you are a little carefree in your spraying, like some people that shall remain nameless, you might need more than one can.
With the proper flex paint, we could now have FUN DIY Thrifted Rain boots, not only for décor, but these babies could be used right out in the field too. So if you have a pair of boots that need refreshing this may be the way to go.
Add whatever you like…feet, flowers, or just set them by the door and take a pretty Instagram photo of how trendy you are with your "new" boots.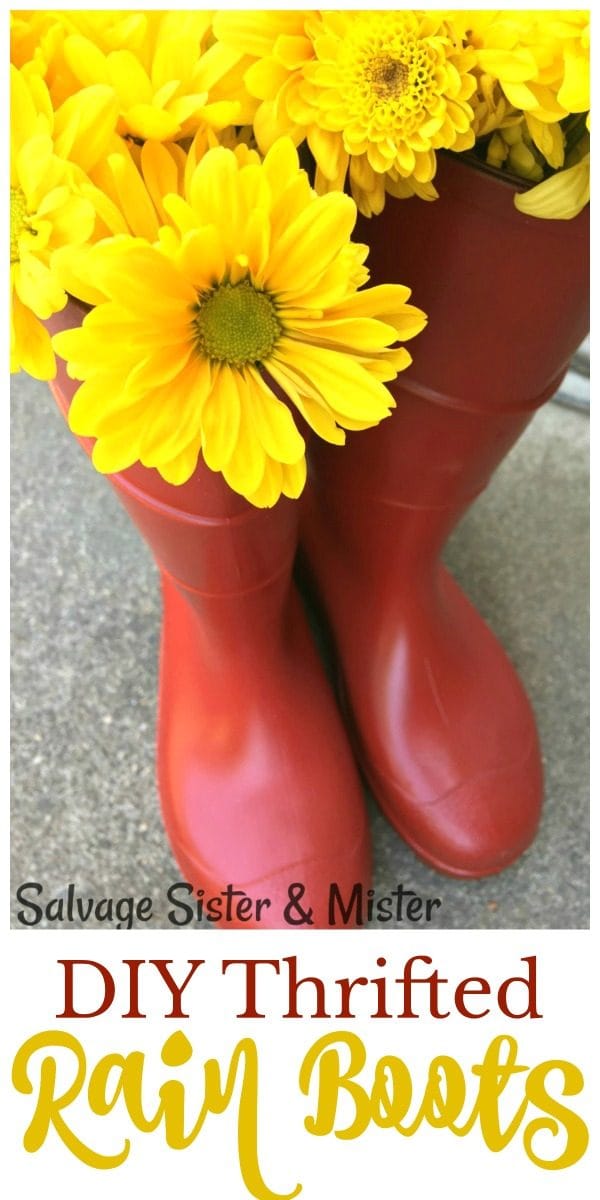 Side Note – The boot color red will be great to go straight into fall and Christmas season. It seemed a universal color for most seasons.
We enjoyed sharing this simple project with you. We would love for you to come visit us at Salvage Sister & Mister and become part of the salvage community.
---
Porch & Patio Decorating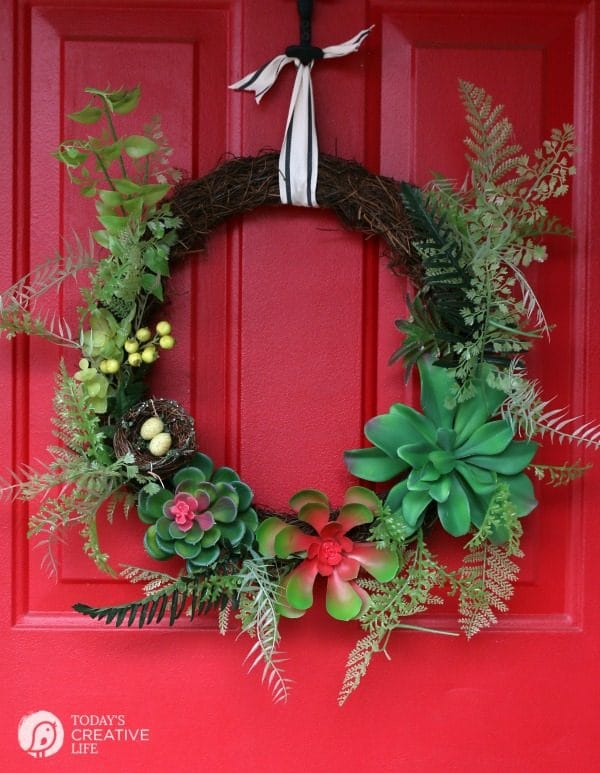 Spring Porch Makeover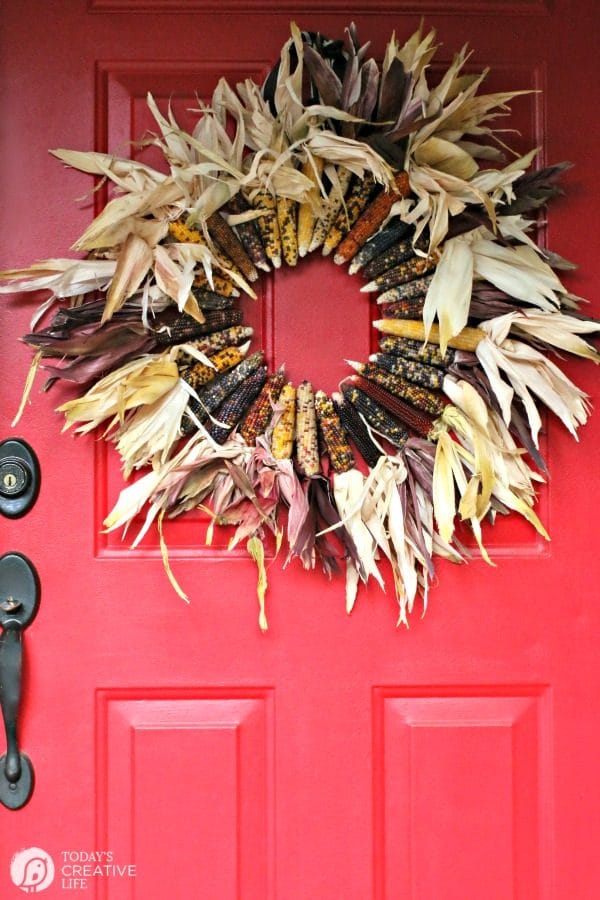 Fall Porch Makeover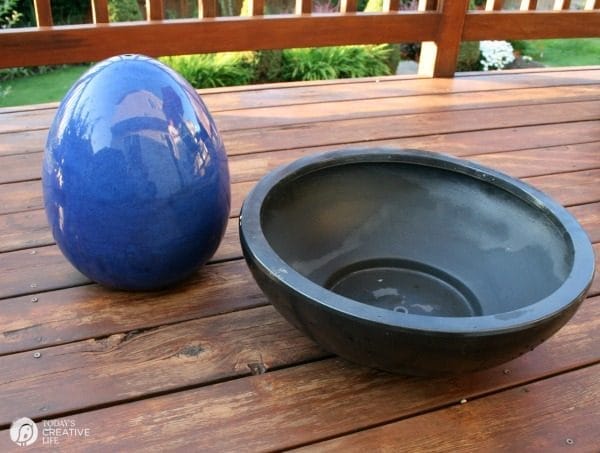 DIY Garden Fountain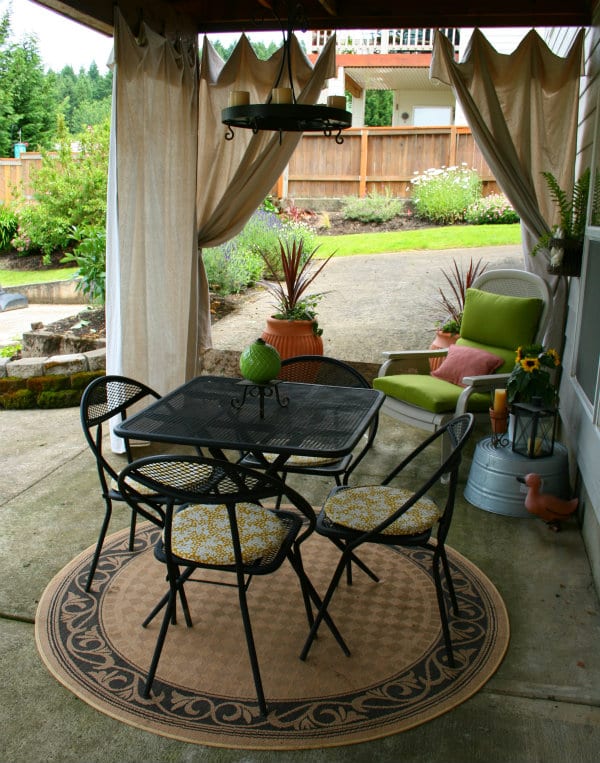 Drop Cloth Outdoor Curtains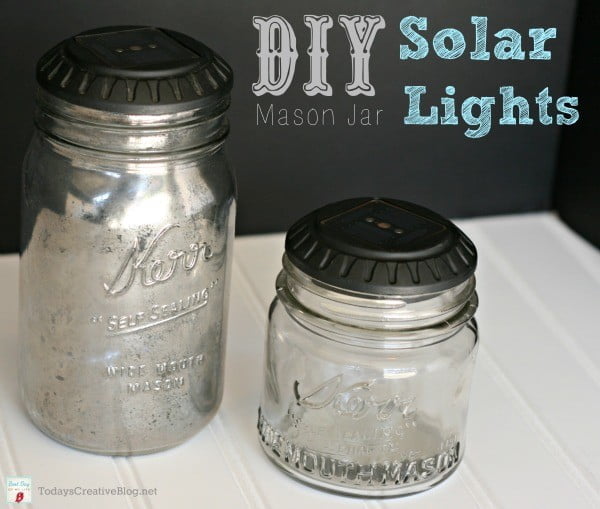 DIY Mason Jar Solar Lights