Spray painting door knobs is a great way to restore the old, worn out hardware on doors. It's an affordable and easy DIY project and I'll show you exactly how to do it yourself.
If you've ever wondered "Can you paint brass door knobs", the answer is YES! Let me show you how I painted our carpenter grade gold or brass colored doorknobs.
UPDATE: I was going through older posts and came across this one on Spray Painting Door Knobs! I thought I'd update the information and reshare since I know many of you are looking for ways to keep your home updated. After 10 years or so, my spray painted gold doorknobs are still holding up well. The front door handle that is exposed to the outside is starting to chip, but overall, it's done very well! Would I do this again? Yes!
Our home was built when all that shiny carpenter's brass was the typical door hardware to install, so besides eliminating all brass, there are also minor updates that are now needed. I hated the color of those door knobs before we even moved in, but knew we could update by replacing them, which could be expensive or try spray painting door knobs for a more thrifty approach.
Spray Painting Door Knobs

We decided to start with the main floor with intentions to do the upstairs later. Well, 6 years later, we still need to spray paint all the doorknobs upstairs. At the time, we also spray painted our front door hardware too. You can see my Spring Front Porch Ideas with my door hardware here.
Surprisingly, spray painting door knobs works really well. They have all held up really well. A few show a little wear, but that's to be expected after 6 years, right? Keeping your home updated with the little things, sometimes makes a huge impact.
How to Spray Paint Door Knobs
Affiliate links for products listed are for your convenience only. This costs you nothing extra. If you happen to purchase anything as a result of clicking, TCL will receive a small percentage. Thank you for your support. This allows me to continue to offer you free content.
Supplies needed for spray painting door knobs:
Screw Driver – for removing all hardware
High Grit Sand Paper
Cardboard box
Drop Cloth
Rust-Oleum Universal Metallic Spray Paint and Primer in One – I used the rubbed oil bronze.
Painting Gold Doorknob Tips & Tricks
Here's what we learned works best.
Remove all your door knobs. If you're doing several, you may want to mark the back of them with painters tape and which door they belong too. You may want to consider doing the hinge, but you'd have to take the door off. We also spray painted the screw heads, since they too were also brass.
Use a high grit heavy duty sandpaper to rough them up a little. This will help the paint stick better for longer lasting results and durability. Wipe any dust off that accumulated from sanding.
Use a Cardboard Box to hold them. First, we tried to just lay them on a drop cloth, but that proved hard to spray paint all the angles. We finally got smart and created a few small holes into the box and poked the back of each door knob into each poked hole. Styrofoam would also work. This helps hold them upright and stable for even painting.
The spray paint I used was a paint and primer. Make sure you're in a well-ventilated dry area or outside. It started to sprinkle as we started our project and had to re-paint a couple due to watermarks. Don't spray too closely because you may end up with dripping spray paint and no one wants drippy door knobs.
Allow to completely dry 24-48 hours before re-installing them.
From brassy to rubbed bronze. I realize these aren't the same door, but it gives you the idea of the before and after.
Our door locks were a little stiff at first so I just gently locked and unlocked a few times.
So much better!
The average cost to replace a doorknob is around $10 to $15, not to mention entry door hardware is at least $150. Spray painting door knobs saves quite a bit of money!
---
More Home Ideas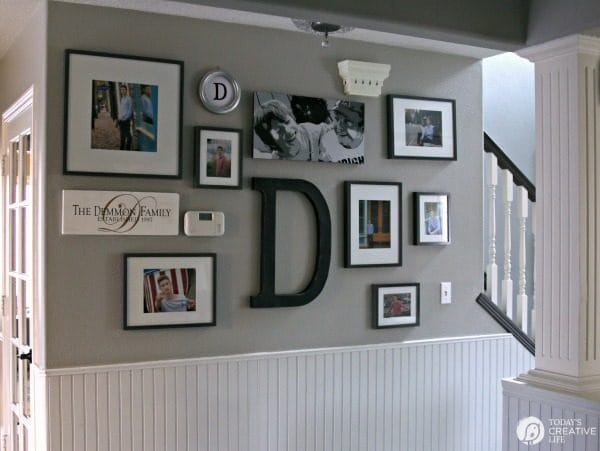 How to Hang a Picture | Gallery Wall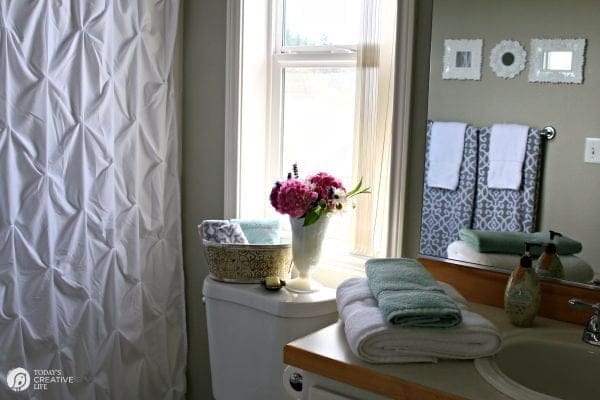 $110 Bathroom Update